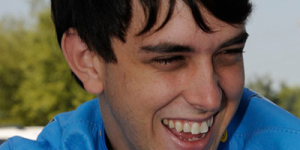 Much has happened since LE Tonglet, his dad Gary, and brother GT astounded the tough Pro Stock Motorcycle field by winning the 2010 Mac Tools U.S. Nationals and then went on a six-race tear that catapulted the rookie rider, Team Tonglet, and Nitro Fish to an improbable series championship.
He won four times and was runner-up once to own the Countdown to the Championship and the many accolades that followed.
So, there's no chance anything LE does during the 2011 edition of the sport's oldest, most prestigious event will come as a surprise when it begins its four-day run Friday at Lucas Oil Raceway at Indianapolis. He comes into the final regular-season event on a hot streak and now is third in Full Throttle points (683), one behind Karen Stoffer and 52 behind pace-setting Eddie Krawiec in the quest for the No. 1 seed in the Countdown that begins Sept. 18 at Charlotte.
Tonglet rode the Nitro Fish Suzuki GSX-R to victory at the tour's last two stops at Sonoma, Calif. and Brainerd, Minn. He also rebounded from not qualifying at Norwalk, Ohio, by winning three of the last four events. He is now 4-0 in final rounds this season, including his earlier title at Atlanta, and 9-2 overall.
"We seem to be getting our act together and winning rounds," LE said. "We've had a lot of bad luck, motor problems and wrong tuning calls on our part. Now we are trying to get back to our old routine.
"The U.S. Nationals means a lot because that's where we turned around our season last year and then Nitro Fish owner Kenny Koretsky came on board with the sponsorship we needed. Indy is the biggest race of the year … it's the Super Bowl of drag racing, and it is fun to be part of it."
"I'm proud of the way LE, his dad, and brother have worked their way out of the bad times," said Koretsky. "They are running well, and it comes at a good time. We hope to make it two straight wins at Indy."
Tonglet, meanwhile, isn't eager to claim the No. 1 playoff position.
"I heard that in the Countdown, no one from the top spot has won the championship," he pointed out, "so it might be a jinx. We just want to stay in the top three."