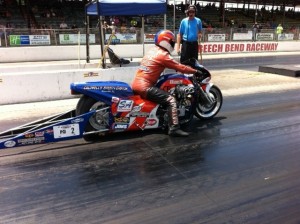 It is time for Tom Caldwell  to prepare for final races of 2013.
Old Guys Do Rule Racing will enjoy the great air and the lower temps at Rockingham, NC  for the Jim McClure Nitro Nationals.
Caldwell says,  "We have run some fantastic numbers over the years at the Rock, especially in 2012 with the 7.967 and the win, setting up the championship we finished off at No Problem, LA."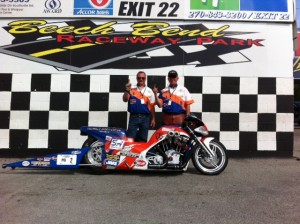 "We recently attended and really enjoyed the NHRA race at Bristol. I have raced there since 1969."
We were up against a couple of big inch and nitrous bikes in the Pro Gas class and pushed the tree a little too much in the 1st round and red lit by .012."
"My opponent ran a 7.6, which was 2 tenths quicker than he qualified, against another stellar 8.04 for Tom. I had to go for it."
"We were really pumped up with the string of 8.0's at 162+ at Bristol"
"We compiled some great data from the Bristol race to use coming into the much cooler fall races.
"The work over the winter, with a new package that Steve (SA Racing) and I built, is paying off now."
"We regret that the 2013 season has had fewer races because our R&D is behind schedule and it has been slower to come around this year."
"Old Guys Do Rule is running some good numbers and we expert more from man and machine at the next 2 events."
"I feel great and the bike is chomping at the bits!" I am finishing a couple of final details and we will roll into Bowling Green again on Friday."

"We are still 1st in the Pro Gas points; I am looking forward to seeing all my friends and throwing the clutch on the Old Guys Do Rule Pro Gasser."
THANKS TO:
SOUTHERN BIKER MAGAZINE
SA RACING
ROBERT'S MACHINE & WELDING
TRAMMEL CREEK CYCLE WORKS
S & S CYCLE
RED LINE OILS
JIMS USA
ENERGY ONE CLUTCHES
RIGGING INSTITUTE
WEST HAVEN SPEED EQUIPMENT
VP FUELS
MICKEY THOMPSON TIRES
TEAM:
DANA ECKHARDT
STEVE ALLSTAEDT
MARY LOU BREWTON
ROBERT MINGE
CRAIG COCHRAN
RAY MATLOCK
GARVIN WIAWIAOLE
JERRY CARDWELL
JANET (Sister)
Tom can be reached at tcaldwellps9@comcast.net or Tom Caldwell on Facebook.
Tom Caldwell/OLD GUYS DO RULE