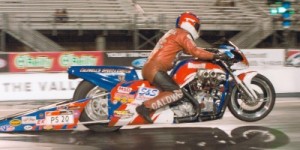 Tom Caldwell/Old Guys Do Rule Racing is locked and loaded for the AMRA National Finals at Bowling Green KY, this weekend. This event is always fun, exciting and packed with spectators.
After winning the AHDRA Numidia Nitro Nationals;  Caldwell is confident, "we will prevail with multiple 8.17 e.t.'s at 160 plus mph." Now that's some confidence, huh?
Old Guys Do Rule is currently 2nd in points in the AMRA Pro Gas class and is on track to peruse the #1 plate.  Caldwell, "It is mathematically possible considering that Bowling Green is always FAST in the Fall!   Everything is fresh and I am pumped to get there!"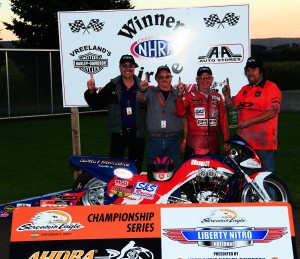 "My newest sponsor HogScrap Brands will be there displaying their cutting edge wares  and I will be signing Handouts to all who wishes to have one.  I'm so pleased that Trammel Creek Cycle Works will again be our EVENT SPONSOR at Bowling Green!  We will try a couple of new ideas on Friday's Test & Tune session going into the final 3 races of 2012."
And for 2013, the commitments are made, "As I recently stated, WE ARE GO FOR 2013! I still have the FIRE in the BELLY!
Including motor and transmission upgrades, new leathers (my 1995 Lou's have finally given up, many thanks to Lizzy's Leathers for the repairs) and strength training in the gym for the OLD GUY!
2012 Results to date:
6 #1 qualifier's
4 wins!
2 runner up
Not too shabby for the "Old Guys Do Rule Racing Team"
Thanks to:
HOGSCRAP BRAND
TRAMMEL CREEK CYCLE WORKS
STEVE ALLSTAEDT RACING (Best damn heads available)
SOUTHERN BIKER MAGAZINE
S&S CYCLE
T&T TECHNICAL MACINING
RED LINE OILS
ENERGY ONE CLUTCHES
3D PAINTING
WEST HAVEN SPEED EQUIPMENT
PMFR
VP FUELS
M/T TIRES
MSD
Team:
STEVE ALLSTEADT
DANA ECKHARDT
ROBERT MINGE
CRAIG COCHRAN
RAY MATLOCK
GARVIN WIAWIAOLE
JERRY CARDWELL
MARY LOU BREWTON
JANET (Sister)
DAN (Nephew)
& MANY PEOPLE THROUGH OUT THE YEARS