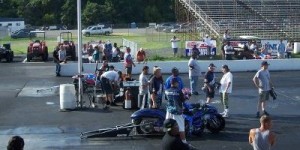 Maryland International Raceway's autumn festival of speed returns September 29-30 when the Mickey Thompson MIRock Superbike Series rolls back into town with the world's sickest drag racing motorcycles for the Fast by Gast Fall Nationals. The cooler end-of-September air meets the best-prepped track in the business and annually produces the quickest ETs and fastest speeds in the sport.
That is especially true in Orient Express Pro Street, the class that saw Ryan Schnitz and the HTP Performance nitrous Suzuki Hayabusa run the world's first 6 second street tire pass at this event last year. Schnitz not only passed the milestone, he obliterated it with a 6.90.
Two-time reigning Pro Street champ Rodney Williford and his season long rival Joey Gladstone also broke into the 6 second club earlier this year. They'll be aiming to meet each other in yet another final round, hoping to gain record points with their turbo 'Busas along the way. Gladstone's DME Racing bike is a MPH-record-breaking-mad-machine.
And don't forget—nitrous 1000cc bikes get an extra 6 whopping inches of wheelbase to try and ring up their own big number. Kawasaki ZX14s gain an extra 1 inch starting at this event.
Mark Paquette and his badass black, turbo Kawasaki Funnybike set the outright eighth Mickey Thompson Pro Mod record at 4.036 and topped his own MPH record with a trap speed of 182.58. It's a long way for busy Michigan businessman Paquette to come to MIR, but the chance to nail a 3 second lap might be incentive enough.
Also expect to see points leader Ronnie Procopio, Schnitz and the HTP Performance EFI/nitrous/Hayabusa "NJECTED" Pro Mod, Maryland native Mac McAdams, Billy Vose and the MPS Racing 'Busa, Jamie Emery's Nitro Harley, and many more.
Johnny "Turbo" Dobrin and his Exoticycles turbo 'Busa are ripping up the DME Racing Real Street class on their way to ending multi-time champ Jeremy Teasley and his nitrous-huffing Kawasaki ZX14's reign. But just because Dobrin's championship is all but secure doesn't mean that Real Street hasn't been an all-out dogfight. Kawasaki superstar Rickey Gadson, Brick City's Ashon Dickerson, "Super Dave" Stewart, Ed Murphy and others are all snarling for a piece of the action.
Trac King/APE Top Sportsman, House of Speed Crazy 8s, FBR Shop 5.60 Index, Fast By Gast Pro ET, and Brock's Performance Street ET will all feature huge packs of MIRock veterans going mano y mano for trophies, checks, and valuable points as the championship season winds down.
Saturday's Afterdark Underground will find the hook-up and crisp night air that sends the crowd pleasing, monster-long-wheelbase grudge bikes launching skyward under the stress of having all chips in.
And speaking of hook-up, fans can only dream about it as the East Coast's drop-dead best bikini models take the stage for MIR's famous bikini contest.
There is nothing better you can do with your weekend than be at MIR.
Find out more about the Mickey Thompson Performance Tires MIRock Superbike Series at http://www.mirockracing.com
This report was prepared by Tim Hailey. Enjoy everything there is to read, see and watch about motorcycle drag racing and more at http://www.eatmyink.com