Three stories illuminate the feast of motorcycle drag racing promised for The Main Event at Santa Pod Raceway, 26th-29th May:
It may be the last time that Eric Teboul's astounding, 280mph rocket bike traverses the Santa Pod quarter-mile
Hans-Henrik Thomsen aims to make his world's quickest electric bike the world's fastest too
Europe's quickest, fastest wheel-driven motorcycles will meet up again for the first time since 2019.

Hans-Henrik Thomsen
It's not the first time that Eric Teboul has threatened to retire his hydrogen-peroxide rocket-powered bike but this might just be the last time he makes the long haul from southern France to amaze the crowds at Santa Pod. At 5.19 seconds and 281mph over the quarter-mile, it is the quickest-accelerating two-wheeler ever seen.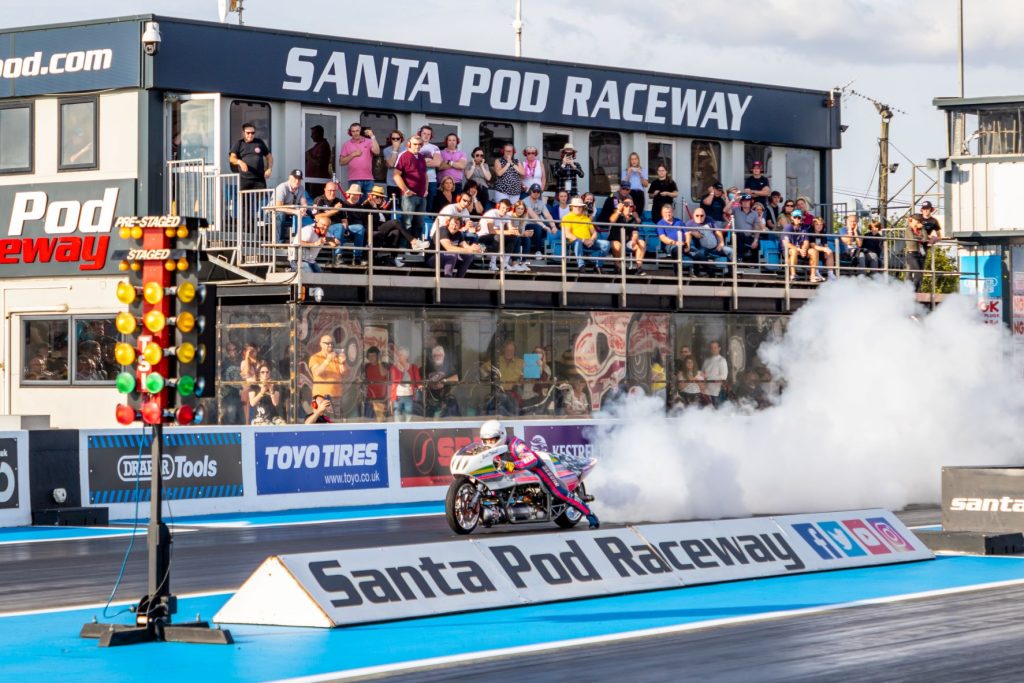 Battery power has a more obvious practical future than rocket propulsion and the first time Denmark's Hans-Henrik Thomsen brought his electric bike to Santa Pod, in 2020, he set a new world record for elapsed time at 6.869sec. Last year he lowered it to 6.740sec in Sweden. Now he eyes the 201.37mph terminal speed record set 10 years ago by American Larry McBride, and matched coincidentally on four wheels earlier this year by another American, Steve Huff. In drag racing's sound world, an electrical whirr and the squeal of rubber on concrete count as pure silence, but stand by for plentiful noise if Thomsen scores his goal. This won't just be the quickest, fastest quarter-mile electric bike on the planet, but the quickest, fastest electric vehicle full stop.
On the competitive racing front – and at the louder end of the sound spectrum – there's a first confrontation since 2019 promised for the quickest and fastest nitro-burning Top Fuel Bikes in Europe. Sweden's speed record-holder Rickard Gustafsson (250.55mph) takes on Britain's multi-championship-winning Puma bike (5.662 seconds) newly piloted by Neil Midgley. Veteran racer Midgley dipped straight into the 5-second zone on his first outing on the bike last month. Gustafsson makes his first Santa Pod appearance since Covid took hold. The pair won't have the limelight all to themselves. Seven other TF Bike entrants will jostle to steal the show.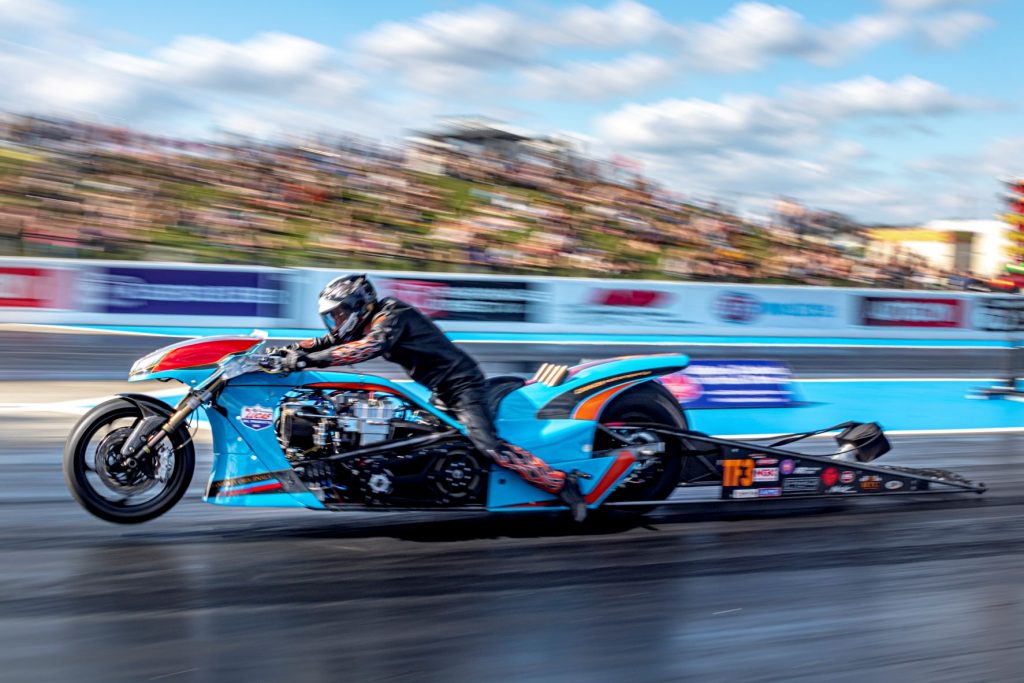 For those who prefer bass notes to their bike racing, five thumping nitro SuperTwin Bikes visit from Europe, again for the first time since 2019. Meanwhile, there's a new intensity to the gunfire crackle of SuperStreet Bikes' spooling turbos. Road-going motorcycles to all appearances, even lacking the customary wheelie bars, these phenomenal machines can clock 6-second passes at over 200mph. Last season Steve Venables found fellow Britons Jake Mechaell and Alan Morrison Jr. emerging to challenge his longtime pack leadership. Now Hungary's Dániel Lencés has raised his game with a new bike from America and promptly set new ACU record figures of 6.776sec/218.97mph. With Lencés absent at the last race, Mechaell beat Venables in the final, 6.872sec to 6.873. SuperStreet Bike alone is worth the price of admission.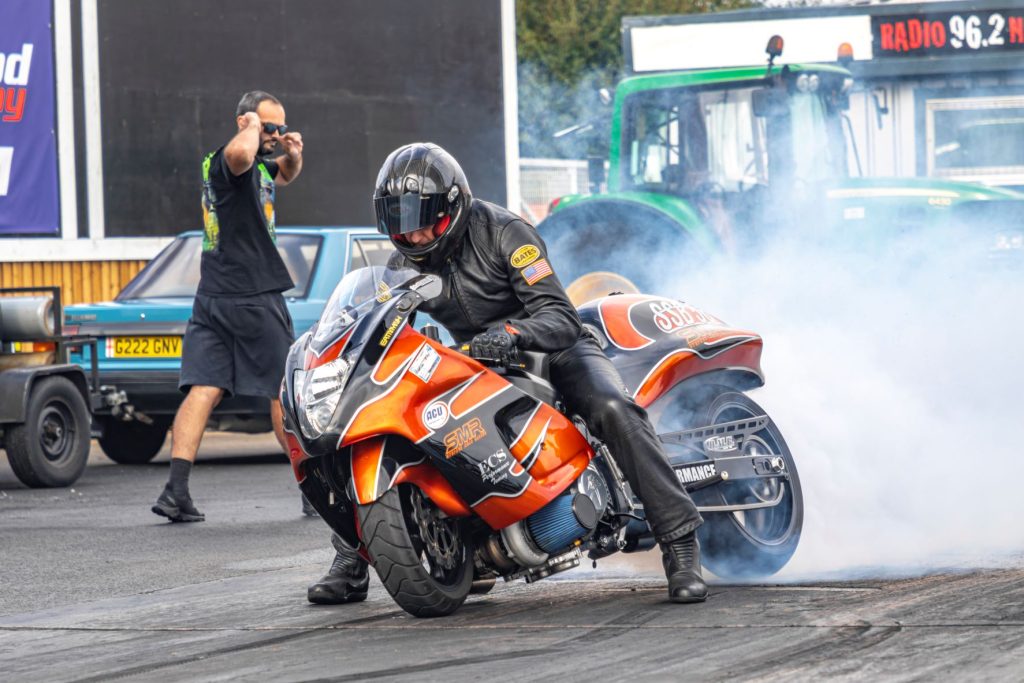 Alongside these highlights, The Main Event provides a complete, four-day programme of championship drag racing, on four wheels as well as on two, across the full array of classes ranging from the kids racing Junior Dragsters and Junior Bikes to the grown-up, 10,000-horsepower Top Fuel Dragsters.
The Main Event takes place from Thursday 26
th
to Sunday 29
th
May 2022 at Santa Pod Raceway near Wellingborough NN29 7XA. Detailed event information is available at
https://santapod.co.uk/main-event.php
. Pre-book tickets online at
https://santapodtickets.com/p/mainevent
or by telephoning the Box Office at 01234 782828. There is no admission on the gate. Adult prices begin at £20 and children aged 5-15 cost £5 per day.
There are more videos on the Cycledrag Youtube channel (please subscribe here) and the Cycledrag.com Facebook page (Please like here) and more will be coming soon. Check back daily.
To take advantage of some amazing discounts at Brock's Performance, click – http://brocksperformance.com?aff=12
USE cycledrag5 coupon code.