The much vaunted Battle of Bradenton, a clash of Top Fuel motorcycle titans took place just a week ago at the Bradenton Motorsports Park, track in Bradenton, Florida. The hype and close to a half a million dollars in track upgrades prior to the race were on the table for all to see, courtesy of social media websites. So the pressure was on for Top Fuel teams to deliver. And that pressure was immense.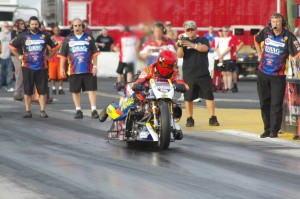 For example, when the race was over, in a post race interview, Larry McBride commented, "I could sleep for day's man. I don't normally feel like this after a race, but I'm just all beat up." The post-race emotional recovery on the Spiderman, was in full effect on Wednesday at noon, about 65 hours after his last pass for the 2013 season. That was the pass that won the race, and what a race it was.
To fully grasp the immensity of the pressure leading up to Larry's win, you have to know a bit of the history here. In the mid 1990's, around 1997/98, the last time Larry and the Svensson's locked horns, Larry still recalls that encounter. "Hey Larry do you remember last time you raced the Svensson's, how did that go" I asked him. He replied in a pre-race interview just days before the event, "Yeah I remember, they kicked my ass."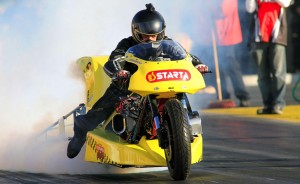 That's not the kind of thing a Top Fuel motorcycle drag racer forgets. So in knowing the Svensson's were returning to the USA, from Sweden to do battle again, Larry McBride and his team at Cycle Specialist have been hard at work for months in preparation for this race. The pressure ratchet is applied…click…click.
The battle began officially on Friday, November 8th, during the MANCUP, Haltech, World Finals, with a professional qualifying session that was less than stellar for all teams. Number one qualifier as of Friday night was Sam Wills, of Oklahoma, with a 6.66 @ 190.23 mph. Of the four remaining teams, three, including Larry, had partial runs Friday night that were not what one expects in Top Fuel motorcycle drag racing. All were early shut off passes.
And as for the Svensson's and their Team STARTA machine, they were a no-show for Q-1 leaving everyone guessing as to what they had in store for the other teams. This ratcheted up the tension level more, for there was pre-race drama.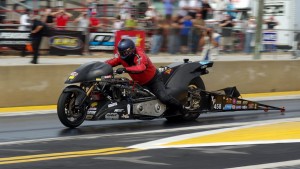 During a pre-race test session, on Thursday, Peter Svensson unleashed a brisk half track squirt, he shut off about 700' out. That run yielded a 6.17 elapsed time, coasting across the finish line. The eighth mile numbers were in the 3.80 range, indicating a mid five second elapsed time was just another 660 foot formality, away. But the Svensson's didn't want to show their hand in advance. So this applied the pressure ratchet up another click…or two.
So by Saturday, with a 6.66 as an evil opening number the teams took to the track at noon for Q-2. This time team STARTA let their Yellow Bullet fly with a 5.806 shot that got everyone's attention. Larry McBride and Sam Wills stepped up next and Larry stopped the clocks in 6.007 seconds and Sam improved his elapsed time to 6.400. In the final pair out, Dave Vantine and Chris Hand posted 8.51 and 7.21 times, well behind the pack with one final round of qualifying remaining set for Saturday night. Prior to the final round of qualifying, no team except the Svensson's showed mid-five-second elapsed time potential.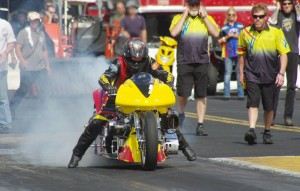 In the evening session, Dave Vantine took a big step forward with a 6.254 @ 222 mph performance that landed him in the number 3 qualifying spot that would be important on race day. Larry did run in the night session, but he struck the tire free on the throttle hit and shut it off as quickly as he launched it, adding more frustration to team McBride. Sam Wills gave the crowd some thrills on Saturday night by pushing out a head gasket at mid track. The night time fire ball was startling to say the least.
Conspicuously absent from the night session, run under the lights, was once again, Team STARTA, who had only run in Q-2. During their post run assessment, they found a problem they felt needed attention, so they opted out of Q-3 to address a clutch issue.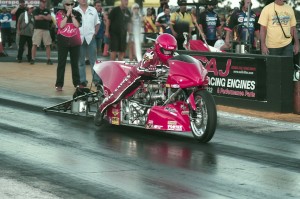 In checking everything after their 5.80 qualifying pass, which landed them not only the low qualifier spot, but a place in the MTC 5 Second Club, cracks were found in their inner clutch hub primary drive plate. There was no part failure in their hand made bike, but because the machine is home-hand-built, there are few if any "off the shelf" parts available for the machine.
After some inquiries in seeking help, the Svensson's were put in touch with Roaring Toyz, of Sarasota, Florida, a motorcycle machine shop about one hour away from the race track. Once reached, owner Robert Fisher was eager to help out and called in four of his shop staff to man the machines. A reinforcement plate was called for by Peter Svensson and together they all started in about 7:30pm on Saturday night to create one. It was after 11pm when they completed the modifications to team STARTA's clutch. Scott, Rocky, Rafi and Tom, all of Roaring Toyz, pitched in to get the Svensson bike back on the track. A big thank you goes out to all who endeavored to keep this race at it's best.
Around midnight, Peter Svensson returned to Bradenton with the component. His brother, crew chief Soren Svensson and the STARTA team pitched in to get the bike ready for round one eliminations, just hours away. They all got to bed sometime around 3am. And the pressure ratchet came up a few more notches….click …click…click. A few hours later, race day dawned.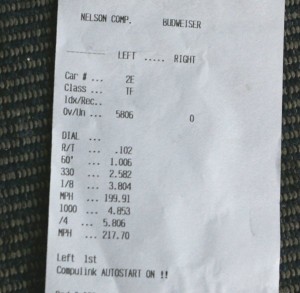 Around 12 noon, round one of eliminations began with team STARTA out first. Because they were the quickest bike in qualifying, they had the bye-run to open the show. When Peter cracked open the throttle for that bye-run, team STARTA told everyone they came to race: 5.97 @ 212mph. The overnight thrash was effective and the Yellow Bullet was flying once again.
In the first pair out in competition, Dave Vantine had lane choice over Sam Wills. Sam's decades of driving skills came to the forefront with a .018 reaction time, but his bike didn't have the combination they needed to win as it yielded a 6.42 elapsed time to Dave's 6.24 that sent him on to meet Peter Svensson in round two.
The final pair out, Larry McBride Vs Chris hand gave everyone a start as they saw Larry falter, then suddenly shoot forward and win the round. Both bike broke traction and it became a peddle fest as they call it in fuel car racing. McBride's bike regained traction first and Larry shot past Chris right at the finish line with a 6.72 to Chris Hand's 6.94 effort. And the pressure mounted as the teams hit the pits.
In the STARTA pit, there was confidence, the leak down looked good, the clutch was happy, basic between round work was performed. For Larry, the thrash was on. His team had been trying out new clutch plates and a whole new clutch package and it was just not working the way they intended. Without proper engagement to load the motor, all other aspects of the tune up were wrong causing a multitude of problems that were really caused by clutch issues.
With a bye run for McBride in the next round, they replaced everything they needed to, but decided to try the new clutch package one more time. They knew they were on the edge and if it all got "happy" the bike would fly. If not, well bad things would happen. But on a bye run, this was the time to find out.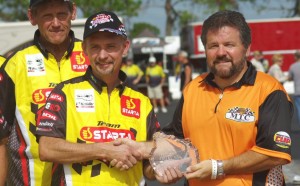 For the Svensson's, they were ready to do battle. The Dave Vantine, Greg Pollard bike having gone 6.24 @ 216 in the previous round, they were ready to come out and swing for the fence. When racing began, Dave got off the line first with a .091 reaction time to Peter's .148, but after that, the Yellow Bullet did fly. The results; Peter Svensson, 5.97 @ 212mph to Dave Vantine's 6.14 @ 219mph. A new personal best for Dave, but not enough to stop Svensson.
As for McBride's clutch adventure, the bike didn't like it. The bike faltered at the hit of the throttle and it limped across the finish line fifteen seconds after the launch with a very unhappy Spiderman on board. Larry was going into the final round against Svensson and his combination was not nearly what he needed and he knew it. So under pressure and without hesitation his team thrashed and put the old transmission and clutch back in the bike in a herculean effort to get back to square one. Every member of McBride's team between rounds was just a blur in preparation for the final round.
When the call to the staging lanes came for the Top Fuel final match up, the two teams were polar opposites. Team STARTA was all smiles, confident ready to stride to the starting position. Team McBride was still slapping on body panels, flushing contaminants out of spark plug boots, the driver was still in his race leathers from the previous pass. It was a frantic, but well orchestrated good old fashioned knuckle busting, drag racing pit stop. They were too busy to even think about the pressure. Let's do this was their mentality; it was time to go racing for real. All bullshit stops when the green light drops.
As the bikes pulled to the line with the sunset in progress, never were there two more determined racers to win a drag race. Larry struck first with a blistering .038 reaction time to Peter's .131 and as the old clutch came in on "Old Blue" as Larry calls his machine, it was business as usual. The bike churned out another five second pass as it usually does, 5.76 @ 227.10 mph. Peter Svensson in the left lane posted a 6.02 pass at 199.82mph, that was not what he, or his team wanted, but that my friends is drag racing. Like Mick Jagger once sang in a song, "You can't always get what you want." For Larry it was exactly what he wanted and needed at this stage in his career as a Top Fuel motorcycle drag bike pilot.
The hype leading up to the race was over, the pressure was over, the specter of his previous encounters with the Yellow Bullet were now over, victory was at hand. "I gotta tell you, this win was one of the biggest of all my years of racing. I have a special T shirt I wear of Elmer's, and I only wear it if it's a final round pass, and he was with me on that pass I tell ya." It was a very emotional win for Larry and he was well congratulated first by Peter Svensson.
"As soon as we got off the bikes, Peter, who is a LOT smaller than me, he just grabbed me around the waist, picked me up in a big old bear hug, and he just swung me around man. He was genuinely very happy for me" stated Larry. "The entire bunch of Swedish racers, who were present at this race, I can't say enough about them. They are some of the nicest, most sincere – the best racers on the planet. You couldn't ask for a better, more professional bunch of racers to race against or with."
When asked the big question, would he go across the pond and return the deed to pack up and race overseas Larry replied, "Oh heck yeah, I'd love to go race them on their turf. But I don't want to just go race one race, I'd like to see it at more than just one track."
Larry was then quick to point out the commitments for such an undertaking, not just financial, would be enormous. Imagine his bike being gone for close to a two month period, no racing state side while the bike is overseas, and his shop Cycle Specialist being without key staff and management. While not impossible, such an endeavor will not be happening in the near future.
But as for now, the Battle of Bradenton is over. Larry "Spiderman" McBride is once again the king of Top Fuel bike, and the pressure is off…for now.