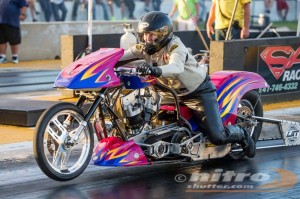 Not only did Janette Thornley and the Dream Chaser Dragbike Racin' team go a lot of miles to race, but they came a long way in performance.  Although the team didn't bring home a win during the last three appearances of the year, they feel they made an appearance and proud of their accomplishments. 
"I realize each track may bring different conditions and challenges, but to run so consistently after some of the struggles we've had makes me smile from ear to ear and hungry for the 2014 season to start!" said Thornley.  "Look at the numbers: 7.566, 7.579, 7.521, 7.746, 7.574, 7.569, 7.468, 7.438, 7.326, 7.331, 7.453, 7.419. Still room for improvement but if you had been there through the long hours, multiple engine tear downs (5 to be exact), rewires, etc., you'd feel the same", says Thornley. 
After leaving Rockingham in October, the team made their next appearance in Las Vegas for the NHRA Lucas Oil Race sponsored by Harley-Davidson where they qualified third.  They advanced to the semi-finals where they ran a 7.569 et @ 169.70 mph vs competitor Dale Niles' 7.517 et @ 179.21 mph. 
The team then traveled back to East for the Haltech World Finals presented by the Manufactures Cup race, November 8 – 10 in Bradenton, FL .  Here the team continued to show their dedication and determination when they made another showing in the semi-finals from a twelve-bike ladder.  This meant Thornley needed to get past some strong competitors, winning round one against Rich Vreeland with her 7.331 et @ 165.59 mph vs 7.469 et @ 174.35 mph.  She was then paired with number two qualifier, Rebel Glover, but that didn't matter. Thornley stayed focused and delivered a win, running 7.453 et @ 165.16 mph vs 7.533 et @ 172.94 mph.  Lastly she met Dale Niles where she had the numbers to get the win but lost to Niles' hole shot running a 7.419 @ 165.13 mph vs 7.439 et at 167.47 mph. 
"Thank you LAT Racing Oils, M&P Inc, Quality Printing and all my other supporting sponsors for a great year. Thank you to Harley-Davidson, AMRA, The Man Cup and Hawaya Racing for providing a racing venue and supporting the ProDrag class.  I look forward to the 2014 season." says Thornley.
The team is looking at schedules and financial needs for next year but does plan to continue racing full speed.  Stay tuned for updates this winter.
Please "like" Dream Chaser Racin' – Janette Thornley on Facebook.