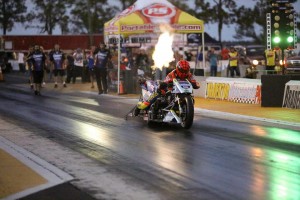 Who is the quickest and most tenacious Top Fuel dragbike racer in the world?
Fans sought the answer at one of the most highly anticipated international Top Fuel motorcycle confrontations ever, the Man Cup Haltech World Finals from Bradenton, Fla., Nov. 8-10.
Larry "Spiderman" McBride entered the race with a career best run of 5.74, ready to oppose Sweden's Peter Svensson, who has been 5.70, quicker than any Top Fuel dragbike racer.  McBride entered in possession of the official North American, backed-up record at 5.79. Both competitors have the pedigree of a champion.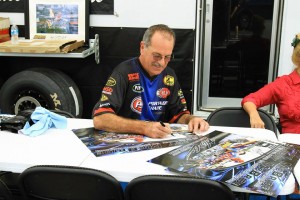 "The hype leading up to the race was very stressful. We knew all of our stuff had to be perfect," McBride said.  "We wanted to have everything in place to compete against somebody of his status."
In opening qualifying team Sweden scored first. McBride struggled to make it down the race track cleanly, while Svensson took the top spot with an impactful 5.80 at 217 mph.
"We were having clutch issues. We got some new discs and they were so aggressive they were breaking our transmissions," McBride said.
By the end of qualifying and $1,200 in transmission parts later, McBride improved to a 6.00 at 207 mph to secure the No. 2 position.  However it was Svensson who earned the psychological advantage of entering race day as the only dragbike racer to reach the five-second zone.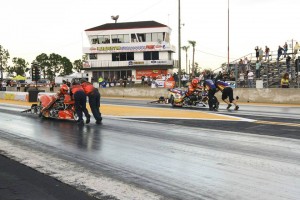 "I'd be lying if I said it didn't bother me. I'm not used to that," McBride said. "We were not able to put our finger on the problem and it was troubling."
In eliminations the Swedish domination continued.  After a 6.25 on his opening round bye, Svensson posted low elapsed time of round No. 2 with a 5.97 at 212 mph to oust the 6.14 at 219 mph of Dave Vantine.
Meanwhile McBride scored a narrow 6.76-to-6.94 first round win over Chris Hand.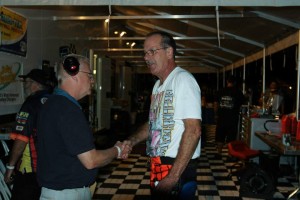 "We smoked the tire right off the line and I pedaled it hard. I was fortunate enough to catch him right at the lights," McBride said. "Chris had shut it off early because he thought he had won the race when he saw me smoke the tire. I hate to do that against a friend, but I had to stay in it."
McBride's speed was 210 mph compared to Hand's 149 mph.
McBride earned the bye into the finals and the anticipation began to grow for one of the most memorable Top Fuel dragbike finals in the history of the sport.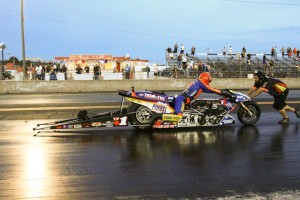 "I smoked the tire right at the hit of the throttle on my bye run. So my crew; Steve McBride, Roland Stuart, Chuck Stuart and Keith Adams (former NHRA Team Winston Top Fuel crewman) decided to put the old clutch back in it. It was a major undertaking but it was the only solution," McBride said.  We thought we were in Vegas because we just rolled the dice. We felt since we were not getting down the track we had nothing to lose and we had to try something."
That "something" worked to perfection.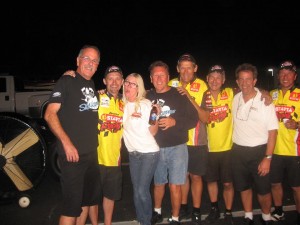 McBride, known as a gentleman off the track but an incredibly fierce competitor on it, channeled his inner bracket racer with a .038 light in the final, an unheard of reaction time for Top Fuel, and recorded low elapsed time of the event at 5.76 at 227 mph to get to the finish line ahead of his Swedish rival's 6.02 at 199 mph.
It was a comeback story akin to Rocky IV.
"We had to really rush to get the bike put back together to get the run in before dark,  so I think being so amped up helped my reaction time. I saw yellow and I was gone,"  McBride said.  "It was an unbelievable pass. It was absolutely awesome. It's hard to describe."
McBride had nothing but praise for Svensson and his team and said it was an honor to compete against them.
"Probably some of the best people I have ever raced against," McBride said.  "They were so down to earth and nothing like some people made them out to be. I have not competed against him since 1998. I found them to be such a respectful team and great competitors. They were awesome to race against. To be able to come over here in a container and do what they did, I think it was an awesome job. They were very fast and very impressive."
With the victory McBride collects his 12th career championship.
"It sounds like I'm getting old," laughed McBride. "John Force just won number 16 so I'll take 12 for sure. It's hard to believe I've been drag racing for 35 years.  This race was probably the most fun I have had. It made it sweeter."
McBride thanked his primary sponsors;  Pingel Enterprise, Trim-Tex Drywall Products, Drag Specialties-Parts Unlimited, Red Line Synthetic Oil Corporation and Final Swipe Merchant Services.



"Joe Koenig is one of the best guys I have known in my life.  He sells the best drywall products in the world."



"Wayne and Donna are like family to me. I make the joke that I'm their oldest and youngest child. Pingel has by far the best quality in America. They have the top of the line, best engineered products and they are all USA made."



"The Web Cam girls and Steve are the best. They are like family to me as well. Laurie Dunlap does so much to help the sport. They also make the best cams on the market."
McBride added –
"Red Line is the best oil on the market or Alan Johnson would not be using it."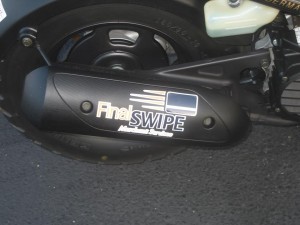 "Drag Specialties is a great company that I'm honored to be involved with. They are the best people to deal with."
"I really appreciate Final Swipe and Gary Baillio. I really want to express my gratitude for him coming on board this year. He's a great man with a great company."
"There is not one sponsor that is not important."
McBride thanked his associate sponsors and added, "Everybody is equally important. We couldn't do it without each one of these fine companies."
K&N Air Filters, Web-Cam, Vance & Hines Motorsports, PR Factory Store, Ferrea Valves, Kibblewhite, Precision Machine, World Wide Bearings, Vanson Leathers, Belt Drives Ltd, Simpson Race Products, Nitrous Express, APE, EK Chain, Arias Pistons, MSD, Protect ALL,  Cometic Gaskets, B&J Transmission, Carolina Cycle, L.A. Sleeve, PJ1, Mickey Thompson Tires, Valco, Goodridge, Carlisle Belts and Gates Belts.
McBride also thanked all of the dragbike racers who made it to the event from different countries.