On April 28th Top Fuel Motorcycle racer Sam Wills entered the desirable, rare and precious five second zone with a swift 5.97 at 243 mph during a test session at Royal Purple Raceway in Houston, Texas.
It's an accomplishment of a lifetime for Wills, who celebrated his 6oth birthday in January and has been building and racing nitro methane-fueled dragbikes since the mid 1970s.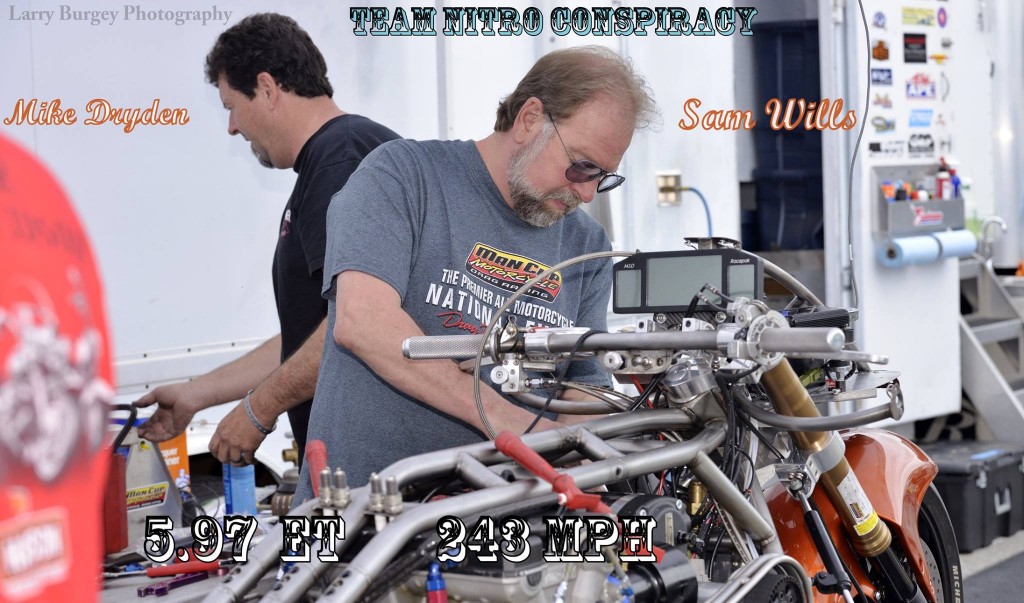 "It gives me even more of an appreciation for everyone who has run a five and everyone who is trying to do it, because the amount of work it takes is astronomical," said Wills, who won his first national event in Fremont, Calif. in 1975. "It's literally thousands of hours of man labor to get there."
Wills could not have picked a more favorable day for a test session at the famous lonestar state drag strip. It was a day after a NHRA National event and the racing surface was still flawlessly prepped from the Top Fuel dragster finals the night before.
"The track was as good as I've ever seen in my life," Wills said.  "There wasn't a single ripple. It looked like painted rubber on the ground."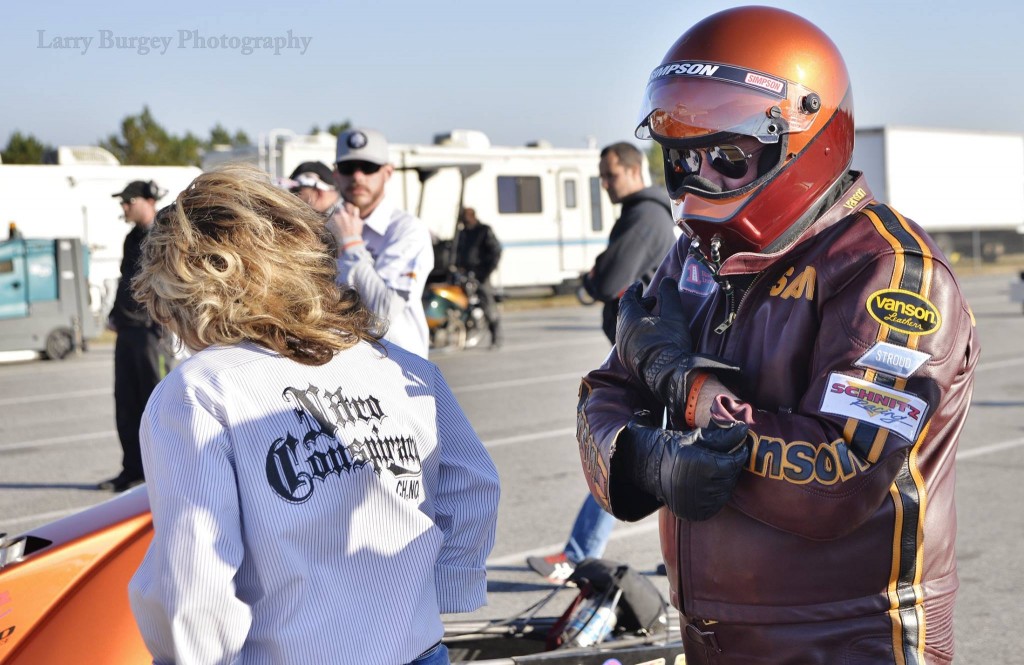 Following a powerful, straight and smooth launch, Wills knew he was on a career-best pass when he felt the beast come alive on the back half.
"It's amazing the difference between 232 mph and 243 mph," said Wills of adding 11 mph to his career best speed.  "I'm lucky Houston is such a long a track because the parachute didn't come out on the run. I didn't have a problem stopping though."
Even more reason for optimism is the room for improvement found in the first half numbers. Wills had a lackluster 1.08 60-foot time and was only clocked at 191 mph at the eighth, slow by five-second run standards.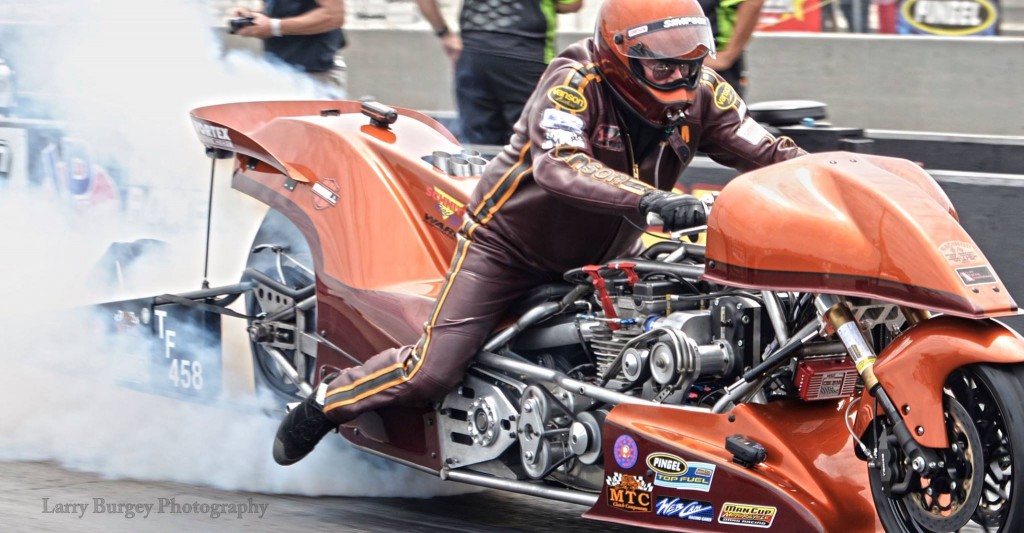 "It picked up 50 mph on the back half. It was flying," Wills said. "I've never felt it pull that strong."
Wills rides a 101-inch wheelbase machine that was built new in 2013.  The motorcycle is owned by Mike Dryden and was originally built for Korry Hogan. When Hogan decided to step away from the sport Dryden asked Wills to be the pilot.
"We have made a great team. We've gone quicker and faster every time," said Wills, the man who built his own chassis and countless other dragbike frames around the country, including the one in use on Chris Hand's Top Fuel Motorcycle. "In the Top Fuel Motorcycle class we have a nice core group of guys and we are all friends. We all help each other."
Wills has used the wisdom and knowledge of many of his fellow racers.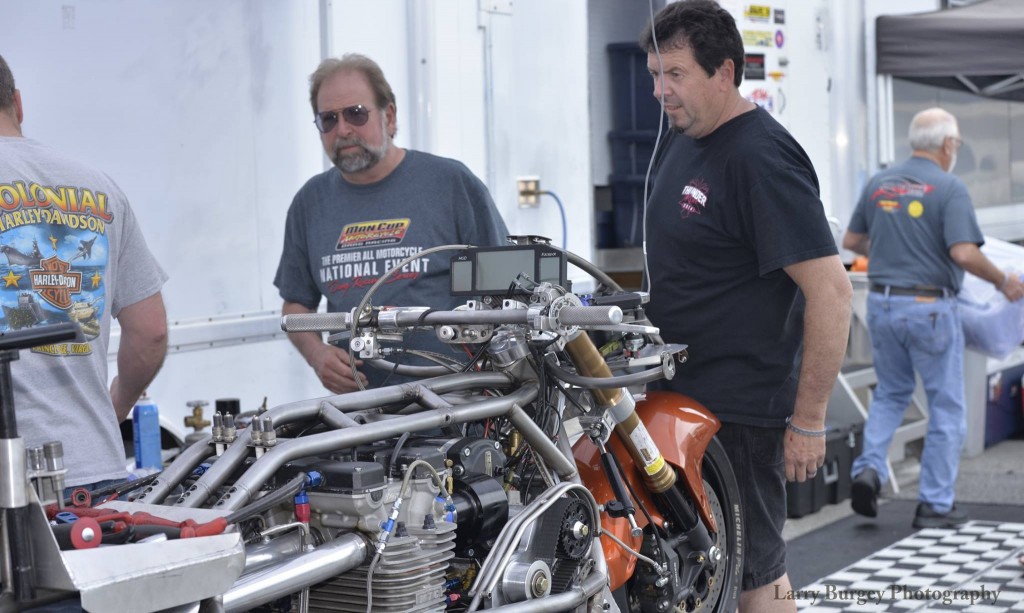 "He is one of the best people I have worked with in my life. He is such a good guy. We don't hide anything.
This is a great sport and we need to help each other to keep it alive," said Larry McBride, the first man to run in the fives in 1999. "I can't tell you how rewarding it feels to run your first five. It's hard to explain. It's incredible. I'm happy for Sam."
Recently McBride and his brother Steve helped Wills get set-up with a McBride clutch. The 5.97 was Wills second pass using Team Spiderman's control system.
"He's not a guy who is too proud to ask for help. He is very humble," McBride said.  "I started racing with Sam when I was kid.  He is real racer. He really wants to win and he builds some of the best chassis in the world. He used to build chassis for Orange County Choppers.
McBride has a strong opinion when it comes to those who won't look at the run as legitimate because it happened in testing and not in competition.
Wills and McBride on a qualifying run in Valdosta, Ga., in Nov. 2014.
"As far as I'm concerned it counts. It was a professional track with legitimate clocks," McBride said. He'll do it at a national race too."
Wills hopes McBride is right.
"That's the next step," Wills said. "We want to do it alongside all of our friends and fellow racers.
Wills extended a special thanks to Ben Hatcher at CTS Off Shore, Todd Uhlman Trucking and Farms and Dave Schnitz at Schnitz Racing, who Wills says has helped tremendously with parts.
Photos courtesy of: Larry Burgey