Motorcycle drag racing journalist John Stein is back with his multi-part series dedicated to the Pro Stock Motorcycle class. Click here, if you have not checked out Part 1 yet. It's great reading.
Bob Carpenter
In many ways Bob Carpenter was a validation for Pro Stock Bike and its philosophy: A racer without significant sponsorship who could defeat those with it. In the late Seventies, the Pennsylvania rider won both NHRA/NMRA and Dragbike! championships.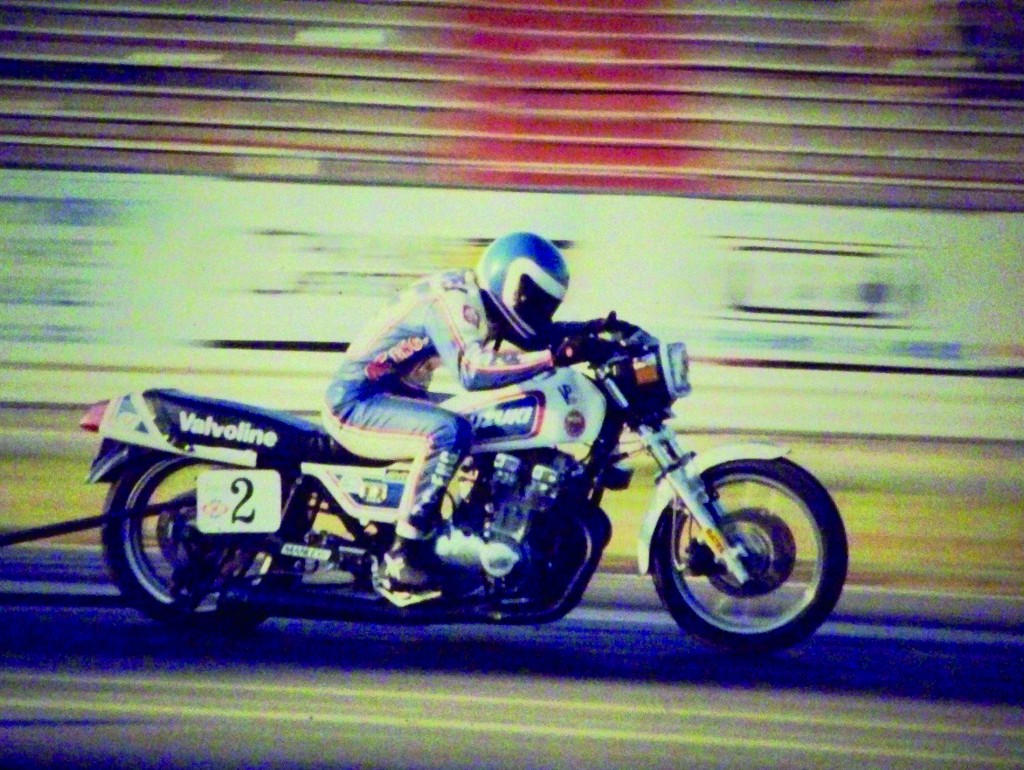 Like Dave Schultz, Carpenter started in Pro Stock Bike on a 750cc Kawasaki two-stroke and had his first professional win in 1975 at a race in Beach Bend, Kentucky, where he defeated Mike Bruso with a 10.10 pass at 133.33 mph. Carpenter's H-2 was far smaller in displacement than Bruso's Z-1 but that didn't matter.
"If the bike is a dog or even a rocket," he said, "I concentrate on how to get the best run from it. I don't even pay much attention to the competition."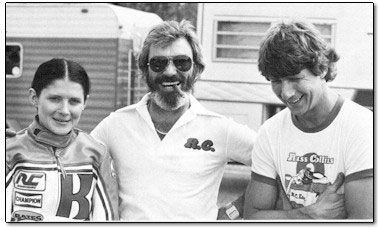 By the late Seventies four-strokes would be dominant and Carpenter in turn, began racing one. At the 1979 NHRA Winston World Finals at Ontario, Terry Vance on a Suzuki was favored to win the championship. Kawasaki Z-1-mounted Carpenter saw it differently.
Although having won only the Summernationals that season, he was consistent enough to go into the race–the last of the season–with a lead of just over 200 points. Vance, however, qualified quickest and fastest, and set a new top speed record in the process—giving him a 37-point lead.
In the Semi-Finals Vance defeated Ed Ryan on a Harley-Davidson. When it became time for Carpenter to race, his opponent Craig Burns failed to appear. In order to have a chance for victory though, Carpenter would have to better Vance's 9.16 second time. He did, with a 9.15 to Vance's 9.62–winning the race, championship, and $10,000 contingency from Kawasaki.
In 1980, Carpenter would again win the NHRA/NMRA Pro Stock Bike championship on a Z-1 and repeat it in 1983 on an R.C. Engineering Suzuki GS1100.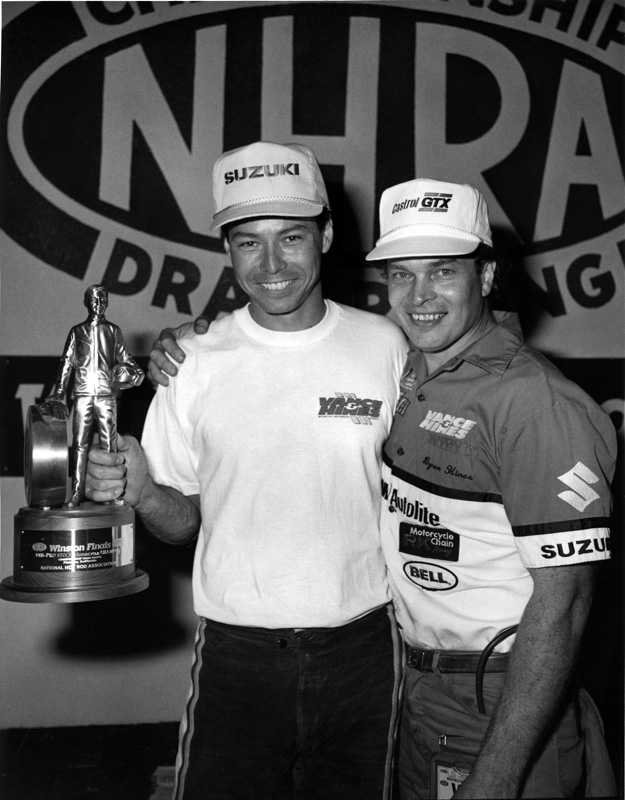 Not surprisingly, when Byron Hines left R.C. Engineering to form his own company with Terry Vance, Carpenter was hired by Russ Collins to replace him.
"Superbike Mike" Keyte
As with so many drag bike racers, Mike Keyte began by riding street bikes, ultimately trading a Lincoln Continental for a 1970 Honda CB750 that he promptly "souped up". "It ran really well," he recalls. "At a race at Hollywood Speedway near my home in Ft. Lauderdale, I beat several bigger machines and one guy comes up to me and says, "Who do you think you are, "Superbike Mike?' The name stuck."
What didn't stick was his job as an accountant. After becoming increasingly competitive, Keyte decided to devote himself full-time to racing. It quickly paid off. Over the years he would win four major championships–two of them on Kawasakis and two on Suzukis–and would be IDBA Pro Stock Bike champion in 1982 and 1984.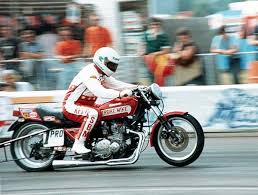 One of the things Keyte liked about drag racing was not having to make concessions for reliability. "What appealed to me is that you can shoot for maximum power and performance. I was all about speed. I didn't have the quickest machine but it was often the fastest."
Not surprisingly then, he was constantly looking for ways to find more—in one instance borrowing an idea from dirt track racers by putting his left hand on the fork tube when in a tucked position and picking up half a mile per hour as a result of it. The sanctioning bodies weren't as enthusiastic about the idea and Keyte was forced to look for others.
"Pizza John" Mafaro
In 1989, "Pizza John" Mafaro became the only Pro Stock Bike rider other than Terry Vance, Dave Schultz or John Myers to capture an NHRA Winston championship—and he did it with a truly innovative approach.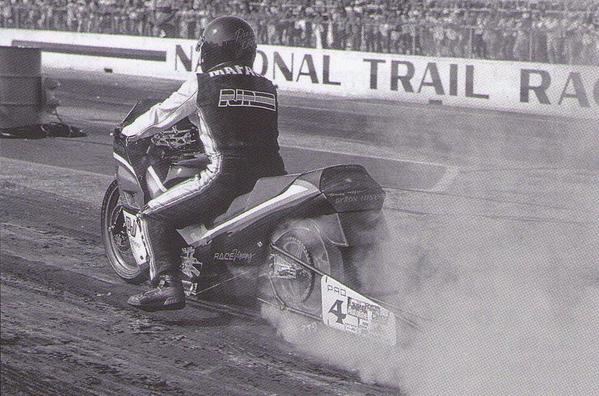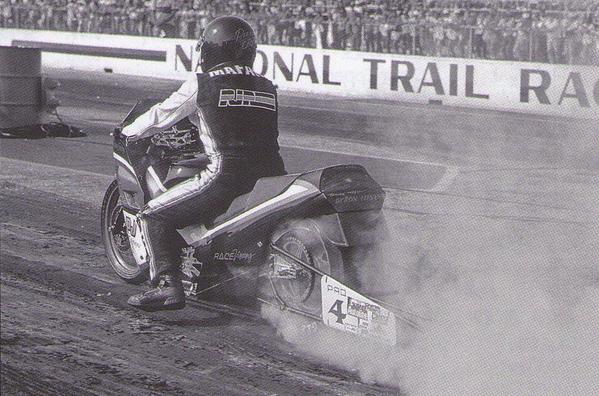 Mafaro was one of the first to appreciate the importance of aerodynamics, spending countless hours in a wind tunnel. He found, for instance, a noticeable improvement when a rider's rear end was lifted off the seat, which then led to the design of the "stepped" seat. Because riders were now able to use the lower, forward position for the launch and slide back onto the rear section after shifting into third gear, it was easier for them to tuck in their knees and helped smooth airflow over the rider's back as well.
Mafaro also determined that the "Ram Air" effect of having ducting from the front of the fairing into an air box provided additional horsepower. In all, the ducting and stepped seat were believed to lower elapsed time by .15 seconds and raise top speed by three mph.
While racing for some was a full-time job, Mafaro had additional responsibilities, including a popular Italian restaurant (hence the name "Pizza John"). "When I started to race in Pro Stock Bike," he recalls, "everyone was like me. We all had full-time jobs during the week and raced on the weekends."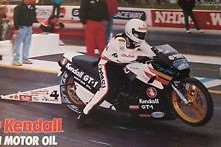 That of course, would change as the sport became more competitive and the demands on racers greater. It was no longer something one could do in their free time. For racers there wasn't any.
Sid Pogue
In addition to having been the first Pro Stock Bike rider into the eights when he recorded an 8.98 second run in 1979, Sid Pogue was also the first in the class to go more than 150 mph.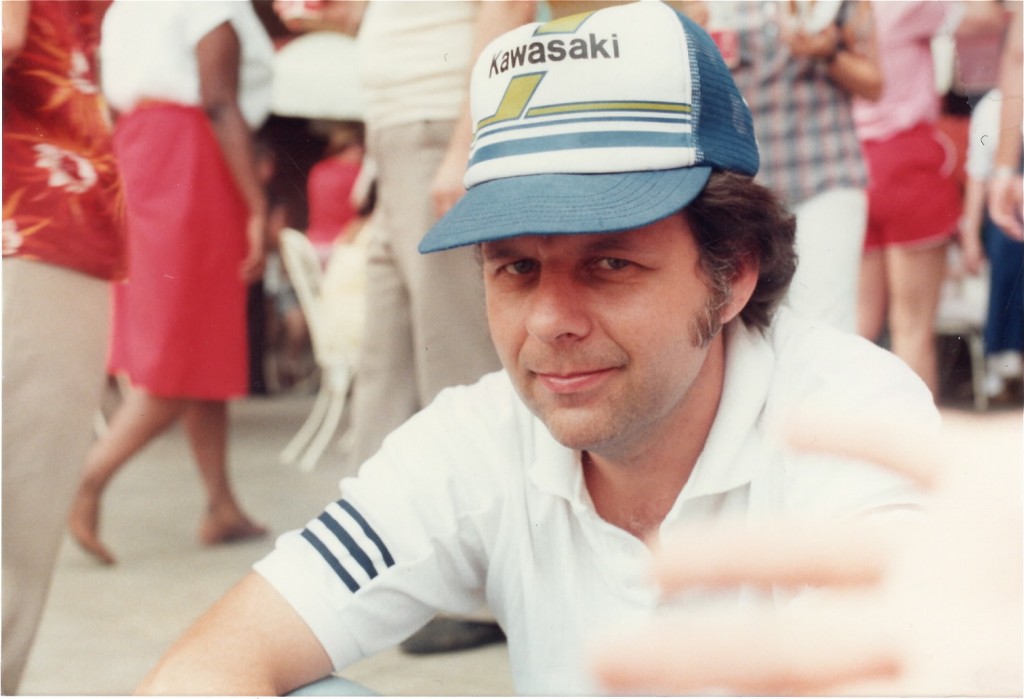 "We had a 1260cc Kawasaki Z-1," he said. "There was nothing particularly special about it. It was all about making everything work and pull together." Clearly it did, as Pogue was IDBA champion in 1979 and 1981 and either winner or runner-up at every IDBA Pro Stock Bike final.
While Pogue did much of the work on the machine, so did fellow Oklahoman Clyde Day. "If it weren't for Clyde," says Pogue, "I might not have gotten the number one plate. In fact, if it weren't for Clyde a lot of other racers wouldn't have either."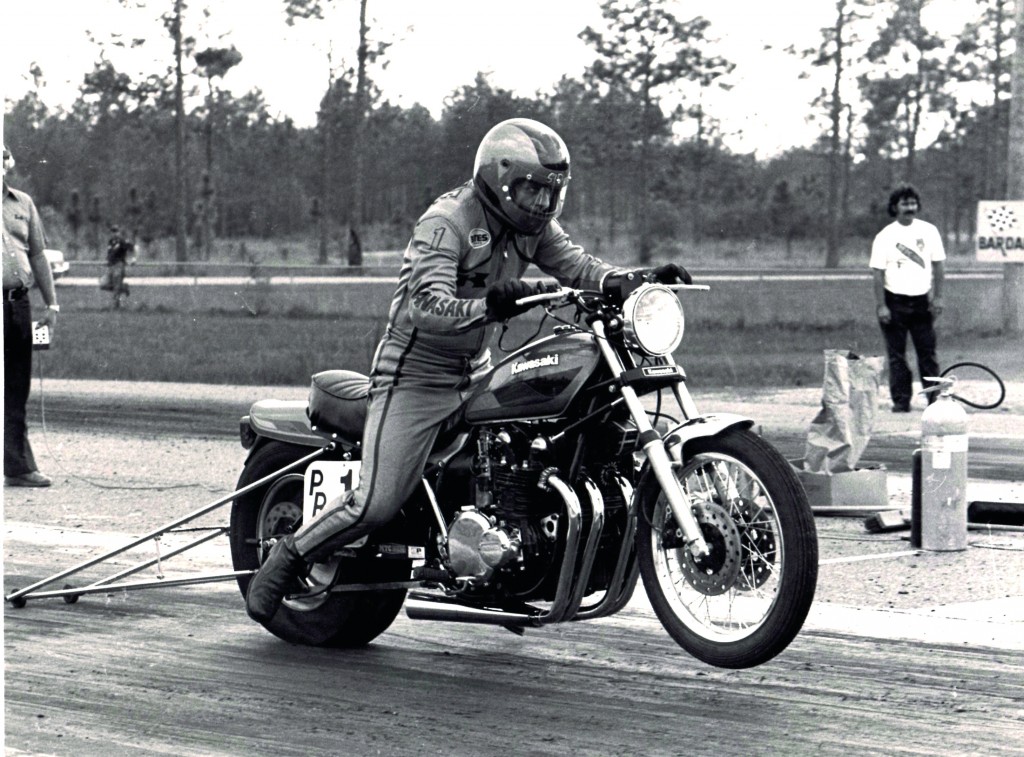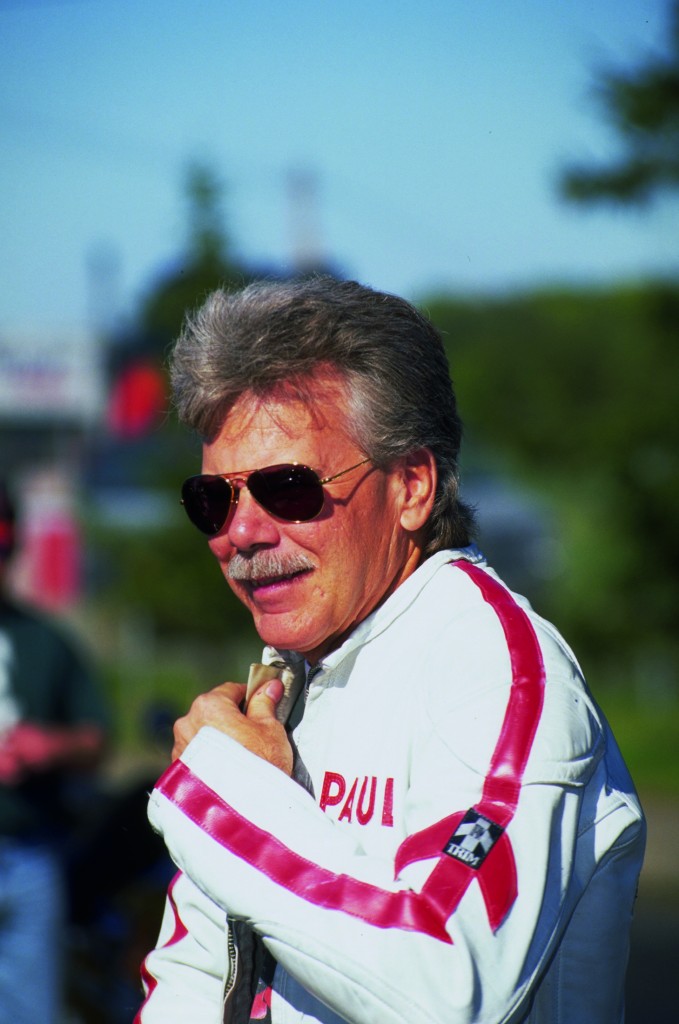 Dave Schultz
Dave Schultz was one of those rare individuals who would have excelled at whatever he had chosen to do. What he chose to do, of course, was to drag race and for his considerable efforts, Schultz won 45 NHRA national events and six Winston championships.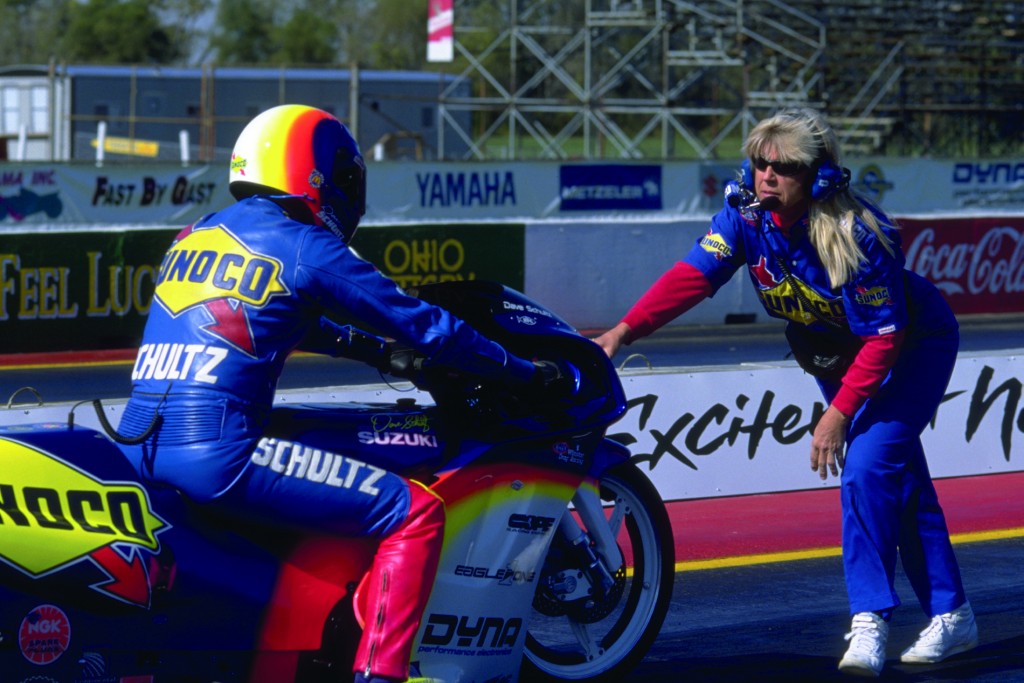 Schultz' success was due in large part to an incredibly focused and methodical approach. At the time of his passing in 2001, no motorcycle drag racer had won more races, appeared in more final rounds, or earned more championships. Over a 23-year career, Schultz won fifteen series championships and had more than 140 victories including the U.S. Nationals six times. And he was an equal opportunity winner, having captured championships in NHRA, Prostar and IDBA competition.
Like many before him–and few after him–Schultz built, maintained, and rode his own machines. He was equally good at all of them. As an innovator Schultz was the first to incorporate an on-board computer, lowered steering head, vacuum pump, and air-in-frame technology. As an ambassador for the sport he and crew chief Greg Cope helped elevate it to true professional status and for years, their team was the benchmark by which others were measured. And as a racer, Schultz was virtually unbeatable.
Though Schultz began racing a Super Stock Mustang in the mid-Sixties, it wasn't long before he transitioned to motorcycles. Nor was it long before he excelled at it: When Pro Stock Bike became an NHRA Eliminator in 1987 he won his first national event at the Winston Finals.
In 1991, Schultz claimed his first NHRA Pro Stock Bike championship. After finishing second to John Myers in 1992, Schultz was determined to regain his title once again. At the opening race of the 1993 season at Houston Raceway Park, he was thrown from his Lance Boyer-owned Suzuki and slid more than 800 feet. Although his right wrist was broken, Schultz would win seven events that season and take another NHRA championship–ending the year with a streak of six victories including a 7.59 second/181.85-mph run at the Keystone Nationals.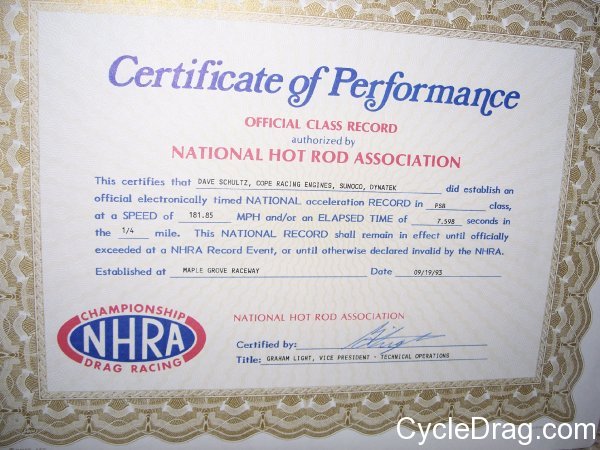 In 1994, Schultz/Cope won their third NHRA Pro Stock Bike championship—winning nine of eleven races and 40 rounds in eliminations while losing only twice–both of which were the result of red lights. He also had a record eight consecutive wins.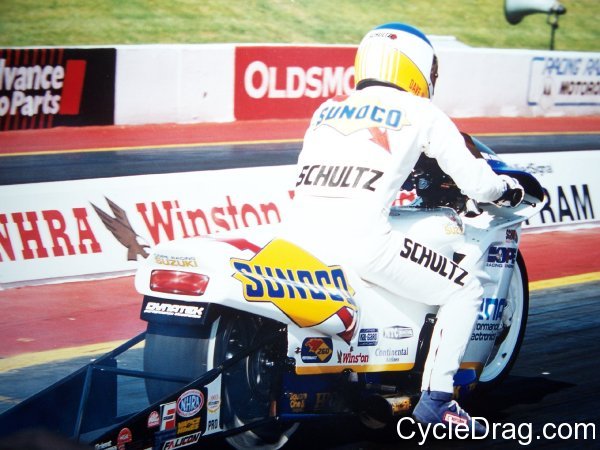 Schultz was so dominant that competitors actually put a bounty on his head. At one race a cash fund was established by racer Ron Ayers. "At first, I think Dave was a bit insulted," Ayers recalled, "But after he thought about it for a while, he realized it was the highest compliment he'd ever achieved; that we wanted him so bad we put our money where our mouth is. It was really meant in a good-hearted manner and it was all in good fun." Twelve rounds of racing later, a wad of $20 bills was presented to Schultz who responded in a typically focused manner. "Thanks," he said, "Now I can use this for more research to find more horsepower."
His final event win came at the 2000 Matco Tools SuperNationals. Just days after completing a series of chemotherapy treatments, Schultz scored an emotional final round victory over Geno Scali. It was his forty-fifth and no doubt most rewarding national event title.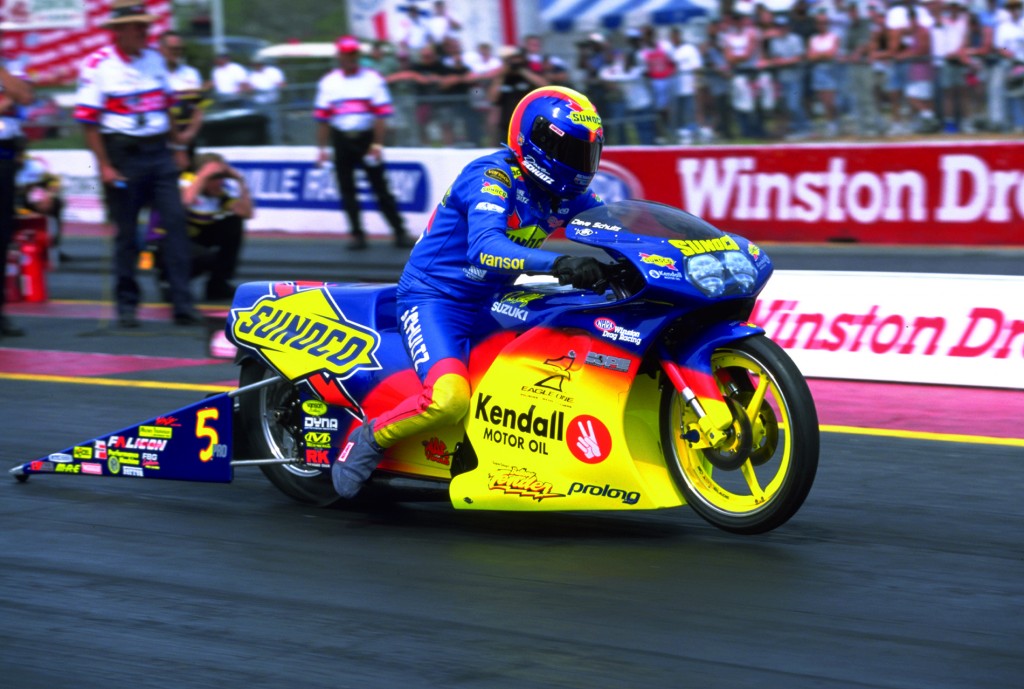 John Myers
If you asked Pro Stock Bike riders and spectators who their hero was, the name offered up most often would be John Myers. Second place, like those he raced against, would be well behind.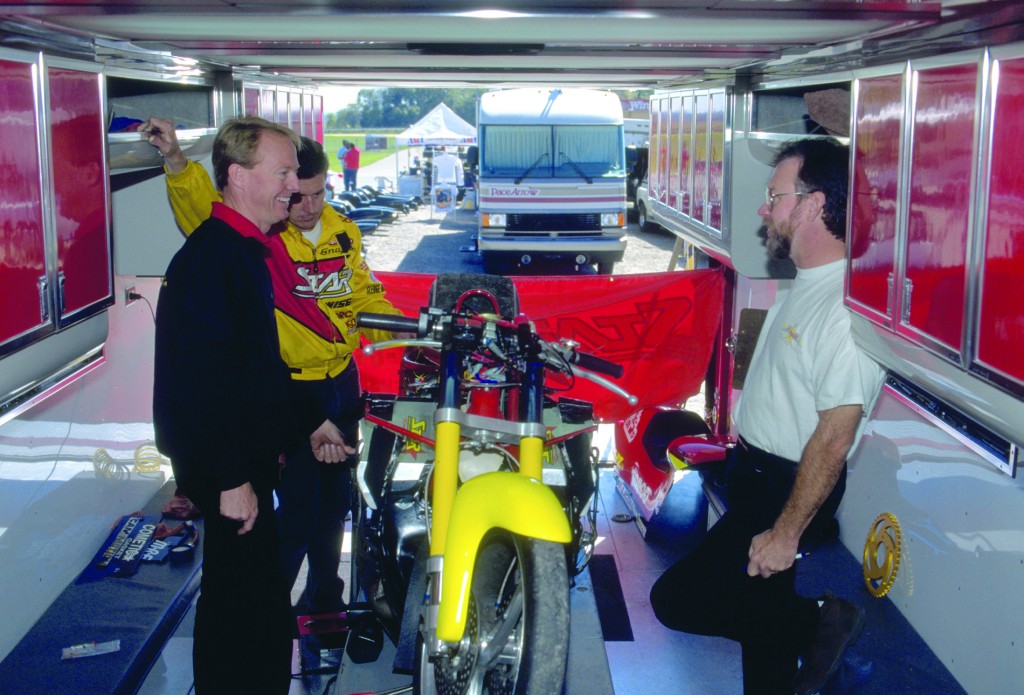 Myers was not only an enormously gifted rider he was tremendously popular. "Anyone who knew him liked him immediately," said George Bryce, "and there aren't many people who you can say that about. In my mind John was the only world champion the sport has ever had whom everyone liked, even when he was beating the tar out of them."
He did it often. The Birmingham, Alabama racer won NHRA Pro Stock Bike championships in 1990, 1992 and 1995, and the U.S. Nationals in 1989, 1996, and 1997.
His technique was exceptional. "Before I started racing," recalled Matt Hines, "my dad said 'If you're gonna watch somebody, watch John Myers because he's the best rider out there.' I think he was the best rider this sport has ever seen."
Even Dave Schultz, with whom Myers at one point had a bitter rivalry, acknowledged his brilliance. "I have told many people many times that I felt John was the best rider out there," he said. "It wasn't hard for me to admit that because that was what I truly believed. Everyone has their strong points but as a rider, John's technique was superior."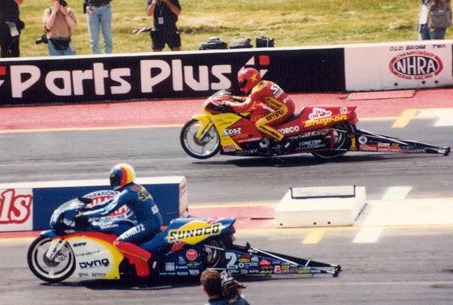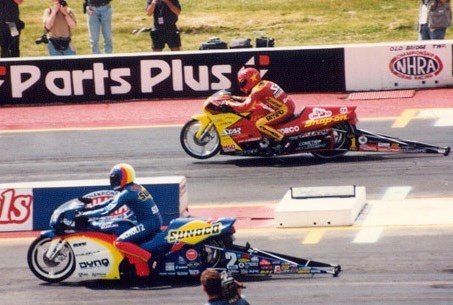 As serious as he was about his own achievements, Myers was also very supportive of other riders. When Stephanie Reaves crashed at a race in Columbus, she recalled that Myers "… almost dropped his bike to get over to check on me. He offered pointers in riding when he thought it would give me some type of edge. He offered words of encouragement when things weren't always going my way. He told me he believed in me and was proud of where I was headed. Even though I never had my chance at winning a race, just knowing that I had earned his respect was worth more than winning any race."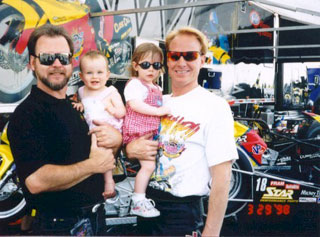 She wasn't alone in feeling that way.
Angelle Sampey
Kevin Seeling was heading to the Gulf War in November 1990 when he asked his wife to watch his motorcycle and take it for an occasional spin. When he returned home the following year, he realized that his wife Angelle had done more than that–having installed a wheelie bar, rear slick, and air shifter while competing in bracket races.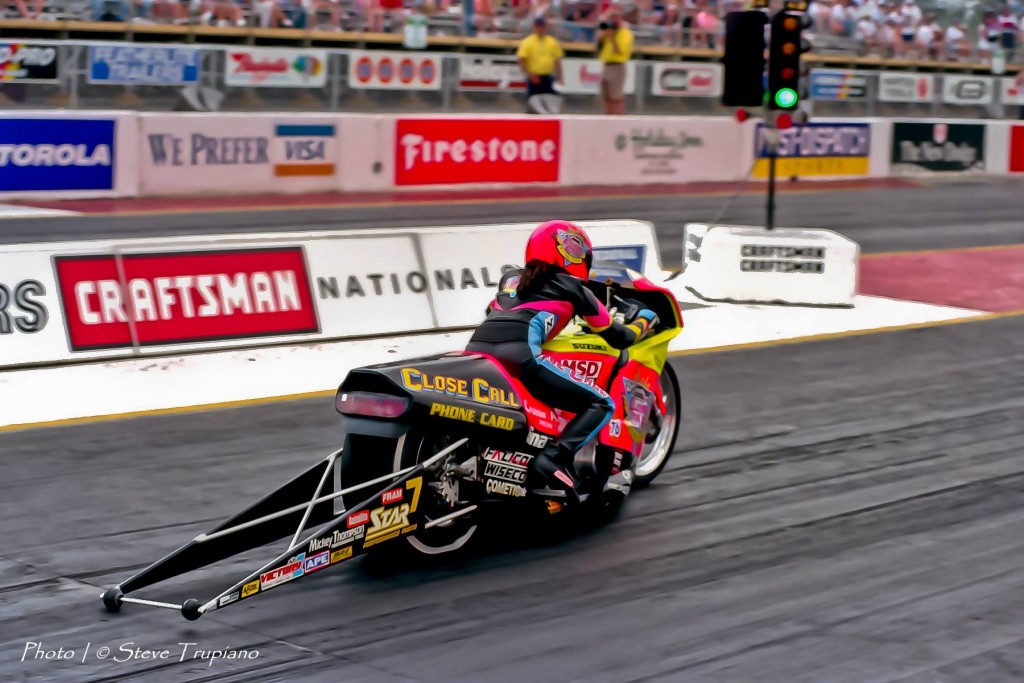 Her husband had no idea what she had done, or what she would become. And at that point, no one else could have either. Seeling (later to become Savoie and finally return to her maiden name, Sampey) would go on to win three consecutive NHRA Pro Stock Bike championships and become the most winning female in NHRA history. So important was she to the sport at that time that fellow racer Craig Treble observed, "Without her I'm not even sure Pro Stock Bike would be around."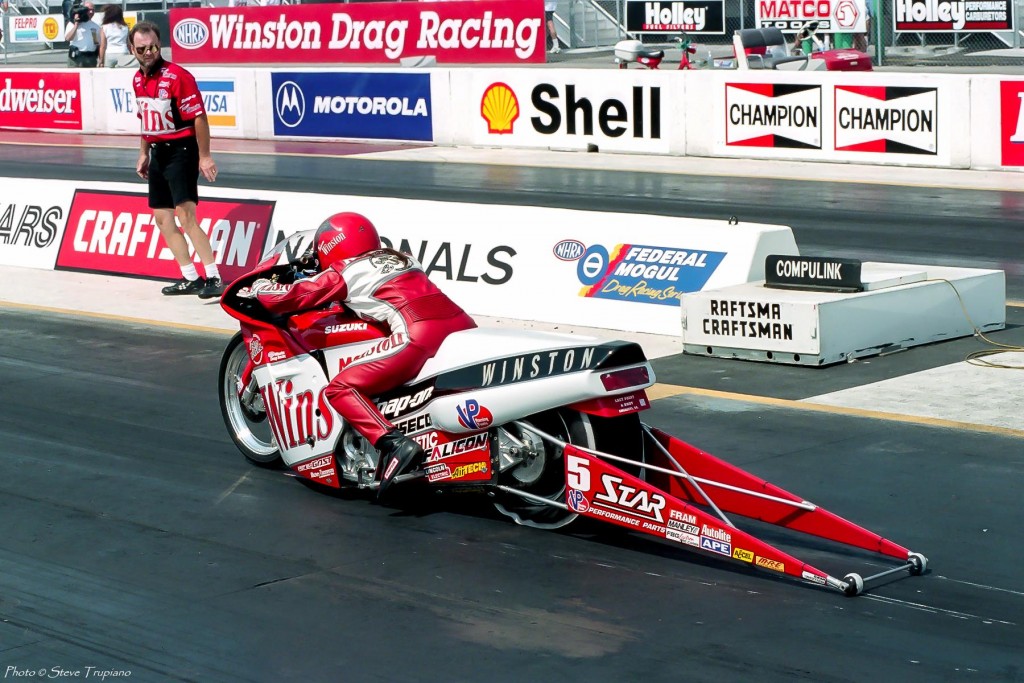 At the age of six Sampey began racing dirt bikes. "My parents tried everything in their power to get me off the bike when I was about 13-years-old. They thought it was fun and cute when I was a little kid, but when I was coming home with cuts and bruises and scrapes on my legs, my mom said, 'That's it. I've had enough. We have a son. We want a daughter."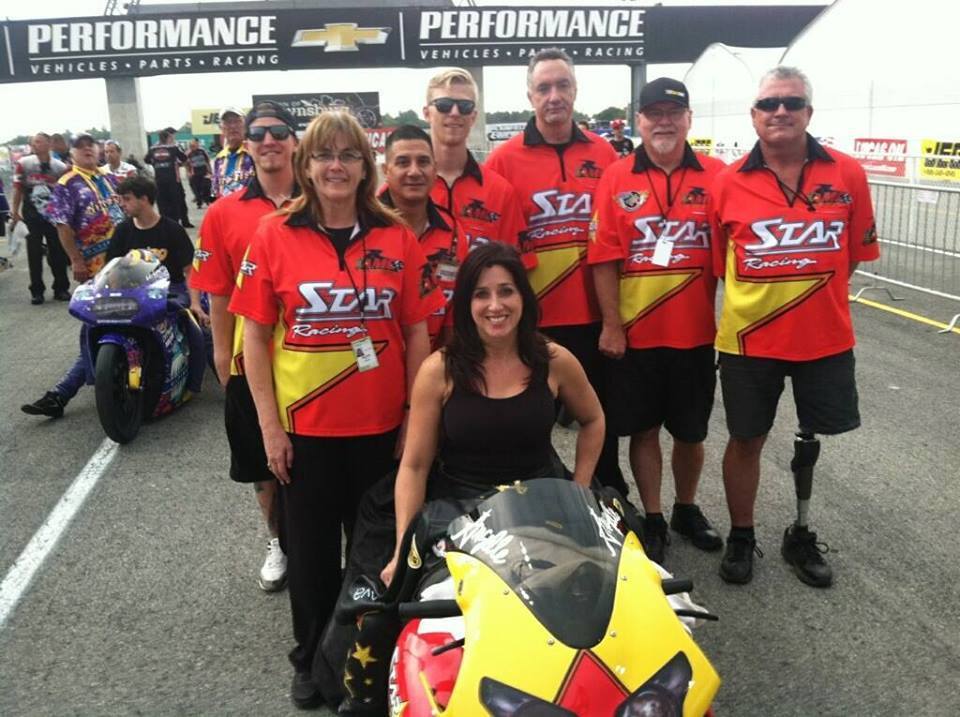 They got a racer. Sampey began competing at State Capitol Dragway in Baton Rouge, supporting herself by working as a nurse. "I worked the night shift and we had the big dry-erase boards. I'd stand there and practice my signature. They asked, "What are you doing? And I'd say, I'm going to sign autographs one day.' They'd laugh at me and I was serious. There was nobody or nothing that could tell me I wasn't going to be a professional drag racer one day."
The determination was clearly there; it would be up to Star Racing's George Bryce to determine if the talent was as well. Bryce was also an instructor at Frank Hawley's racing school and Sampey wanted to be a student. After meeting, Bryce told her that she "had natural ability and she could do it if she really wanted it and worked at it". He also suggested that she take the class again. She ended up taking it five times and setting the elapsed time record for the school.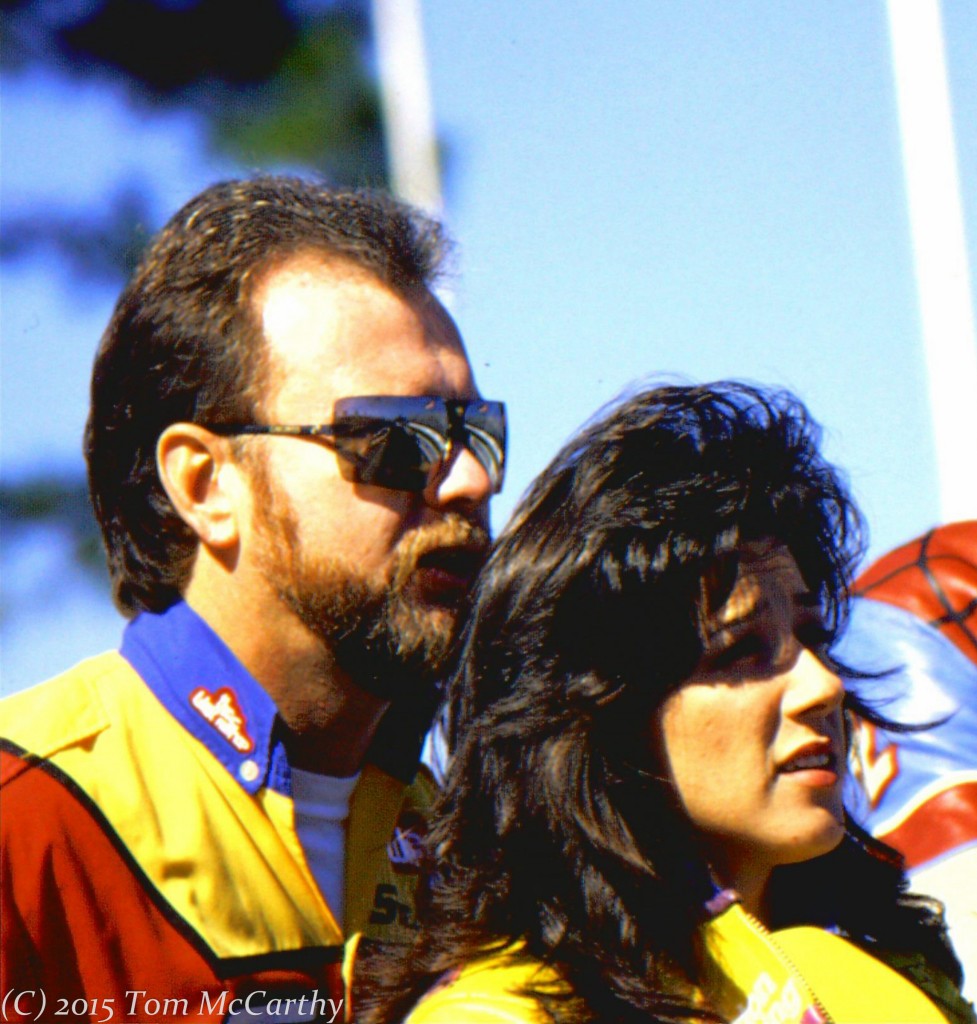 Not only did the diminutive Sampey have to ride a machine that weighed five times what she did, the situation would be made even more difficult by some of her male competitors. When she became a professional she was told to "Go back to the kitchen where you belong."
As was quickly apparent, the track was where she belonged. During the course of her career, Star Racing sponsored-Angelle Sampey has won three NHRA Pro Stock Bike championships, forty-one national events and recorded wins 72 percent of the time. She isn't someone you want in the other lane.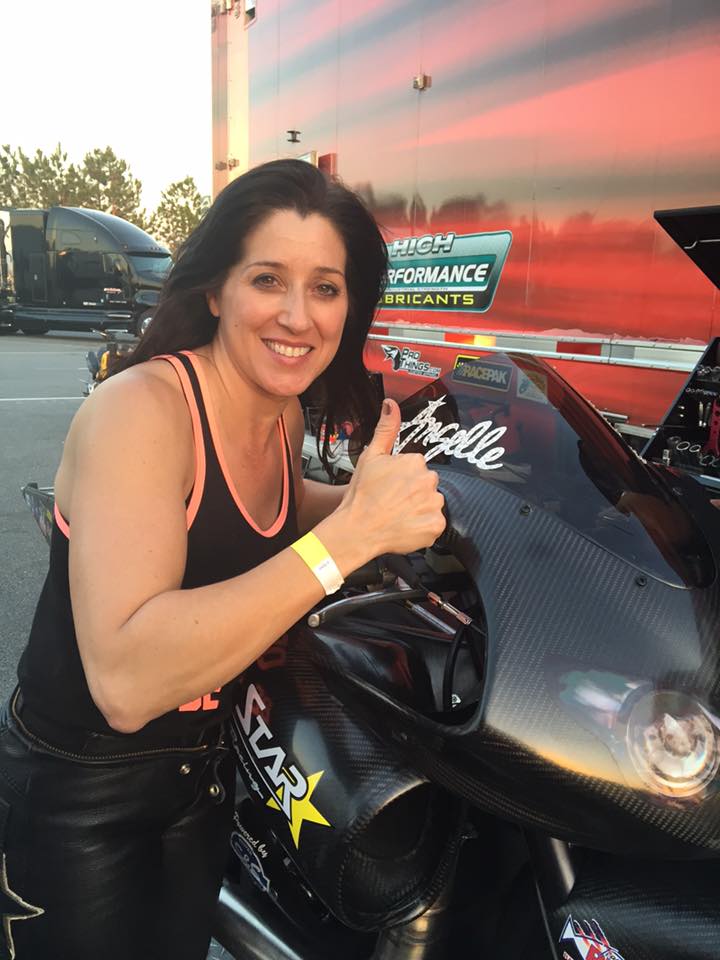 Terry Vance
When Pro Stock Bike was beginning its incredible growth in the mid-Seventies, Terry Vance and Byron Hines decided to be part of it. Although the larger displacement Kawasaki Z-1 was the choice for many, Vance and Hines chose to race a Honda 750 instead. In 1976, they entered–and won–their first AMDRA race by defeating Kawasaki-mounted Mike Bruso.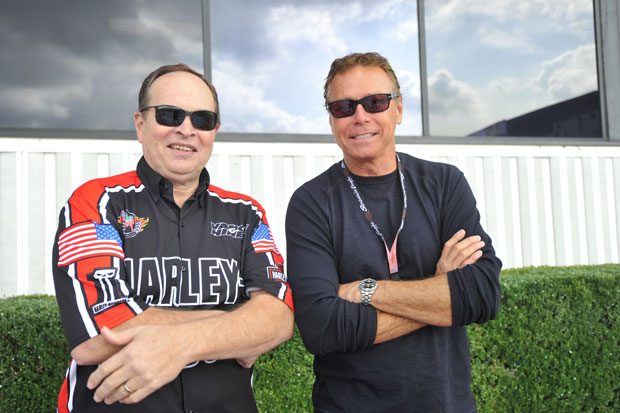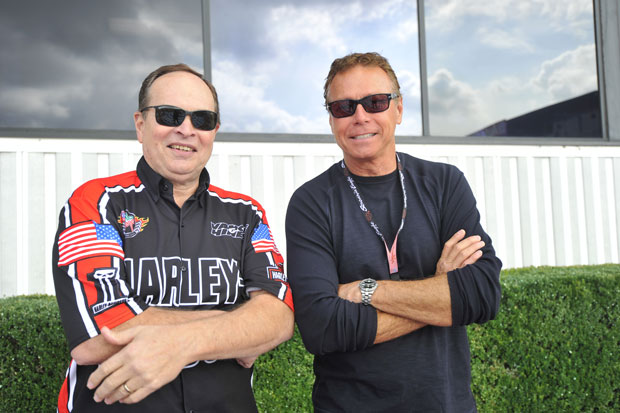 The following year, Suzuki approached Vance about racing its new GS750. "They really wanted to get something going, Vance recalls. So did he and Byron. The Suzuki offer was accepted and the team's success began. The pair also appeared in much of the company's advertising–helping them gain market share and the sport gain an important audience.
After some time spent in Top Fuel Motorcycle (during which Vance became the first motorcycle racer to record a six-second elapsed time with a 6.98, they decided to again concentrate on Pro Stock Bike. "It was more technical on the rider's side and took a lot more talent," said Vance. "At the time Top Fuel was more about not having all your screws tight."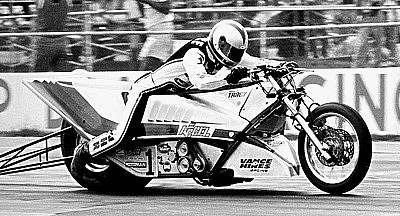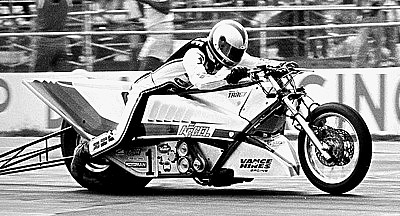 In March of 1987, the pair competed at Gainesville–the first NHRA race at which motorcycles were a professional category. Vance won the event with an 8.092 second pass at 165.04 mph.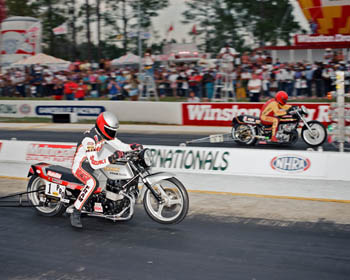 In 1988–his final year of racing–Vance won four national events. Over the course of his professional career, he compiled a remarkable 102-21 record in Pro Stock Bike and won the prestigious U.S. Nationals in 1979, 1981, 1985 and 1986. And just as importantly, the team of Vance and Hines has nurtured other riders that have gone on to win multiple titles. (More on the subject in the next installment.)
Byron Hines: Pro Stock Bike Rider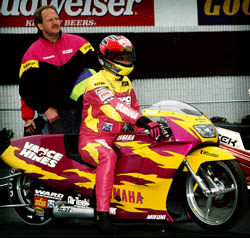 Terry Vance wasn't the only one on the team doing the riding. So for a while, was Byron Hines. After serving in Vietnam, Hines moved to Southern California—"Mecca" at the time for motorcycle drag racing. He had the good fortune to know what he wanted to do, and the equally good fortune to find an ideal place in which to do it. Hines was the first employee of Russ Collins' R. C. Engineering, the place to go for performance work on four-cylinder engines.
In 1992, Hines won an NHRA Pro Stock Bike race at Topeka on a Yamaha. "I knew at that point when I had won just one race, when the bike was capable of winning six, that it was time to get off the bike."
George Bryce and Star Racing
As with virtually all performance-oriented businesses, George and Jackie Bryce believed that the best way to promote theirs was through racing. Having won IDBA and NMRA championships on a Kawasaki Turbo Funny Bike, George decided to focus on the NHRA Pro Stock Bike class–and he would do it with John Myers riding.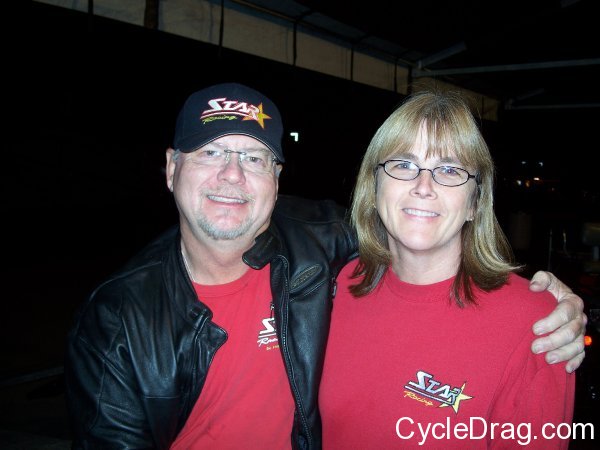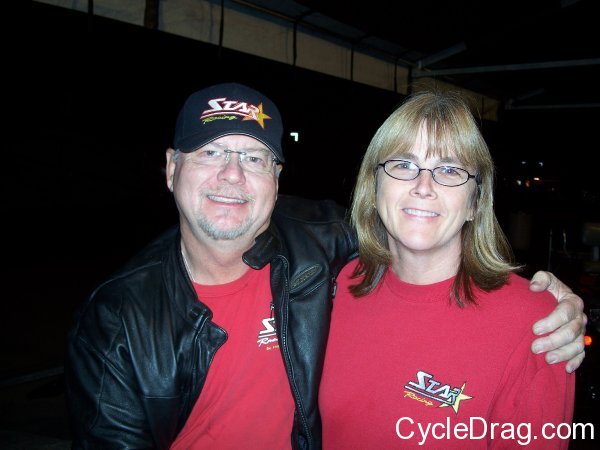 Earlier, Bryce had worked on Myers' bike at the same time that he (Bryce) was having trouble riding his own. "John said he would ride it for me to help me work it out," he recalls. "He went down the track and I said to myself 'I like the way that looks'. I immediately thought I could be more successful if I could focus on tuning the bike and have someone with the talent of John Myers riding for me." The decision was obviously a good one as Myers ended the 1989 season–the first together–second in points.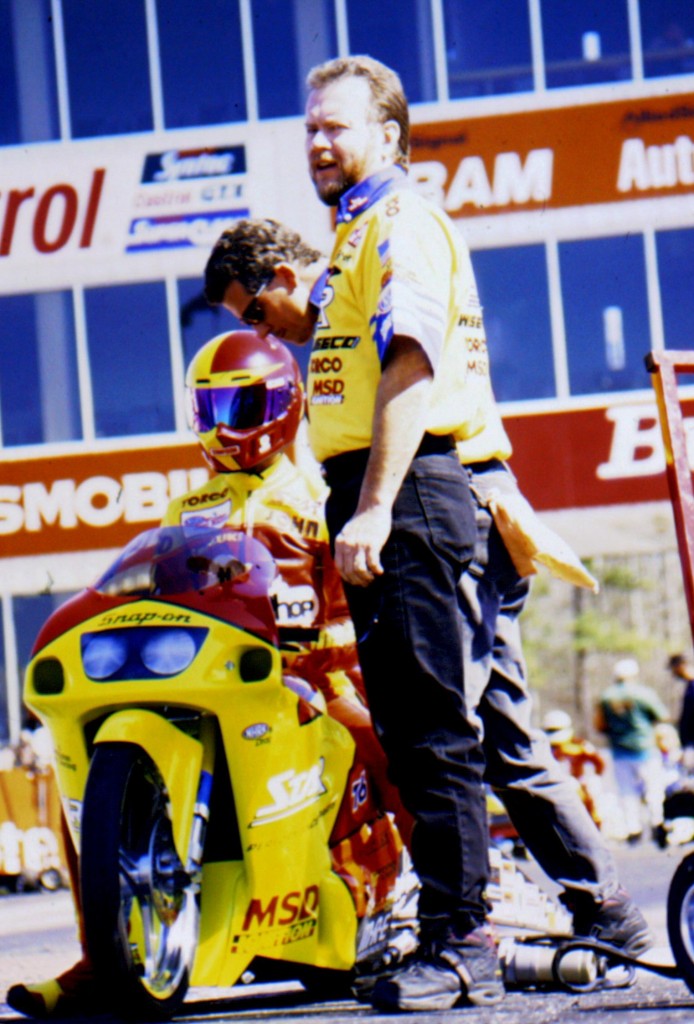 Even with a second place finish, money would become an issue as it so often does. At the U.S. Nationals that year, Bryce had to borrow money from his wife's parents to be able to race. The team had recently completed a Suzuki GSX-R on which Myers set a track record in qualifying. Afterwards, they were offered far more money for the machine than it was worth, leaving Bryce with "a lot of thinking to do".
The next day he was approached by a representative from the Wax Shop (maker of car care products) and asked if his bike was quicker than Dave Schultz's—to which he replied, "So far this weekend it is." Bryce was promised a bonus every time they beat an Eagle One-sponsored bike. "By the end of the weekend," he recalls, "we had set a new national record, won the race, and collected an extra $2,000 from the Wax Shop. It was great. It was John Myers' first win."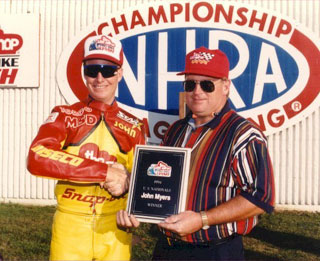 Wisely, Bryce decided to keep the bike. The team qualified first at the next 17 events and Myers would go on to win three NHRA Pro Stock Bike championships.
Star Racing was—and still is–one of the premier Pro Stock Motorcycle teams, having won 6 NHRA championships (1990, 1992, 1995, 2000, 2001, and 2002). For 13 consecutive seasons–from 1990 to 2002–team riders won the Number 1 or Number 2 plates in NHRA championship point standings.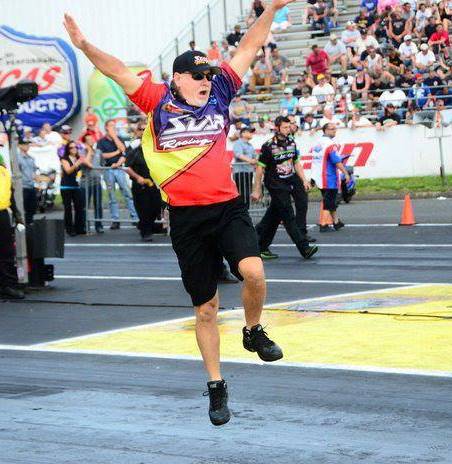 After 2000, the Pro Stock Bike class would change fairly dramatically–and in the next installment, you'll find out how.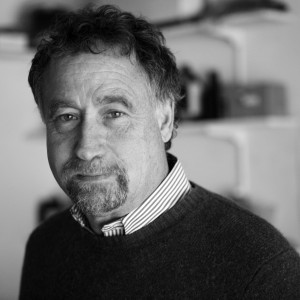 To read more of John Stein's great work and learn about the history of the sport, you can purchase Stein's book "Motorcycle Drag Racing:A History". Either go to gearheadpublishing.com or call
(310) 459-7542. The price is $40 and shipping is free.
There are more videos on the Cycledrag Youtube channel (please subscribe here) and the Cycledrag.com Facebook page (Please like here) and more will be coming soon. Check back daily.
To take advantage of some amazing discounts at Brock's Performance, click – http://brocksperformance.com?aff=12
USE cycledrag5 coupon code.