Gaige Herrera stayed perfect on the season in Pro Stock Motorcycle, going 6.717 at 201.25 in the final round on his Vance & Hines / Mission Foods Suzuki to beat Chip Ellis and claim his third straight win Sunday at the Gerber Collision & Glass NHRA Route 66 Nationals presented by PEAK Performance at Route 66 Raceway.
As impressive as his first two winning weekends have been, Herrera was on another level in Chicago, putting together a dominant weekend that included shattering the track record by a huge margin with a run of 6.672, qualifying No. 1 and winning the Mission #2Fast2Tasty NHRA Challenge.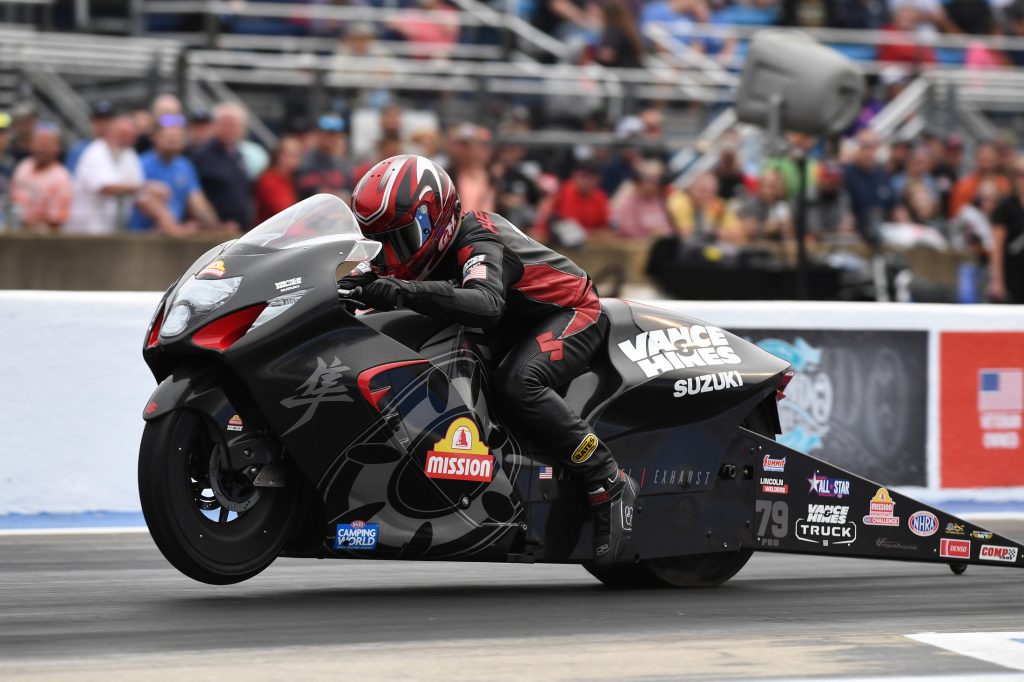 He finished things off with four strong performances, riding past Ron Tornow, Marc Ingwersen and teammate Eddie Krawiec to reach the final round. He raced past Ellis in the finals, building on his points lead and claiming the victory at his home track, where Herrera was making his first career appearance.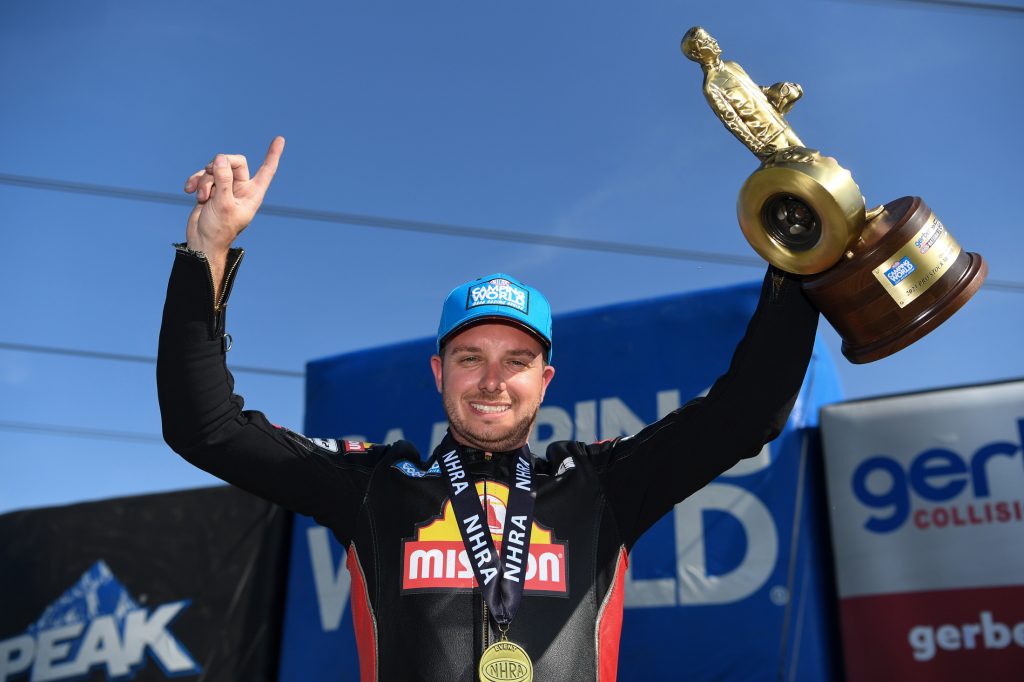 "It gives me a whole lot of confidence having a bike like this," said Herrera, who made the second, third and fourth-quickest runs in class history this weekend. "This whole Vance & Hines team has this bike on rails and it takes a lot of weight off my shoulders. To get a third straight win and do it in front of these friends, it means a lot. I'm so excited about this.
"You couldn't draw it up any better than this. We've got a lot of friends and family here, and it's a special one. It's just a dream right now for us."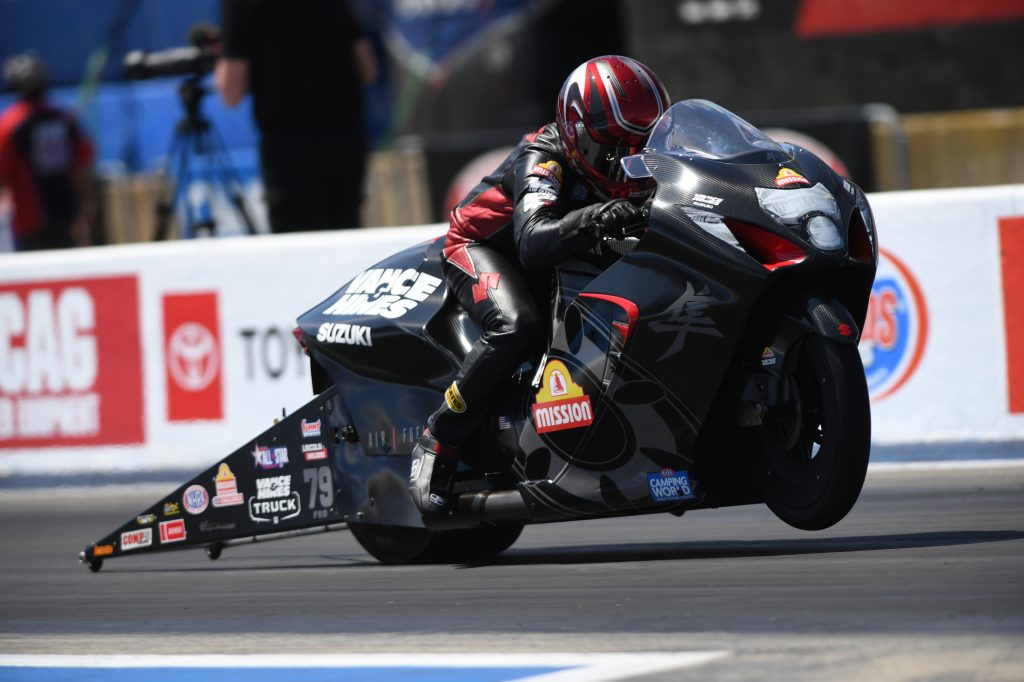 Ellis advanced to his 15th career final round thanks to wins against Chris Bostick, rookie Chase Van Sant and Hector Arana Jr.
The NHRA Camping World Drag Racing Series returns to action June 2-4 with the 10th annual NHRA New England Nationals at New England Dragway in Epping, N.H.
PRO STOCK MOTORCYCLE:
ROUND ONE — Marc Ingwersen, 6.849, 196.10 def. Angie Smith, 6.845, 198.79; Chip Ellis, 6.786, 197.25 def. Chris Bostick, Foul – Red Light; Chase Van Sant, Suzuki, 6.805, 200.23 def. Steve Johnson, Suzuki, 6.800, 198.85; Hector Arana Jr, 6.783, 201.73 def. John Hall, Buell, Foul – Red Light; Matt Smith, Suzuki, 6.849, 199.52 def. Kelly Clontz, Suzuki, 6.837, 197.59; Joey Gladstone, Suzuki, 6.752, 198.79 def. Ryan Oehler, Foul – Red Light; Eddie Krawiec, Suzuki, 6.754, 201.13 def. Jianna Evaristo, Suzuki, 6.869, 196.50; Gaige Herrera, Suzuki, 6.706, 200.77 def. Ron Tornow, Broke – No Show;
QUARTERFINALS — Ellis, 6.861, 197.71 def. Van Sant, Foul – Red Light; Arana Jr, 6.781, 200.77 def. M. Smith, 6.842, 198.61; Krawiec, 6.786, 199.08 def. Gladstone, 6.781, 197.54; Herrera, 6.725, 200.11 def. Ingwersen, 6.940, 195.31;
SEMIFINALS — Ellis, 6.817, 199.70 def. Arana Jr, 6.825, 201.22; Herrera, 6.708, 200.86 def. Krawiec, 6.776, 200.71;
FINAL — Herrera, 6.717, 201.25 def. Ellis, 6.791, 200.26.
There are more videos on the Cycledrag Youtube channel (please subscribe here) and the Cycledrag Facebook page (Please like here) and more will be coming soon. Check back daily.
To take advantage of some amazing discounts at Brock's Performance, click – http://brocksperformance.com?aff=12
USE cycledrag5 coupon code.