In the Mission #2Fast2Tasty NHRA Challenge Gaige Herrera continued his perfect season by winning the special bonus event in Chicago and also qualifing No. 1.
Herrera continued to be nearly unstoppable in Pro Stock Motorcycle, crushing the Route 66 Raceway record books and earning the first Mission #2Fast2Tasty NHRA Challenge victory in the category as well. He easily held onto the No. 1 qualifier with another massive run in the final round of the challenge, dispatching Chase Van Sant with a run of 6.672 at 200.32 on his Vance & Hines/Mission Foods Suzuki. It's the quickest run in Route 66 Raceway history in the category, eclipsing the mark he set on Friday.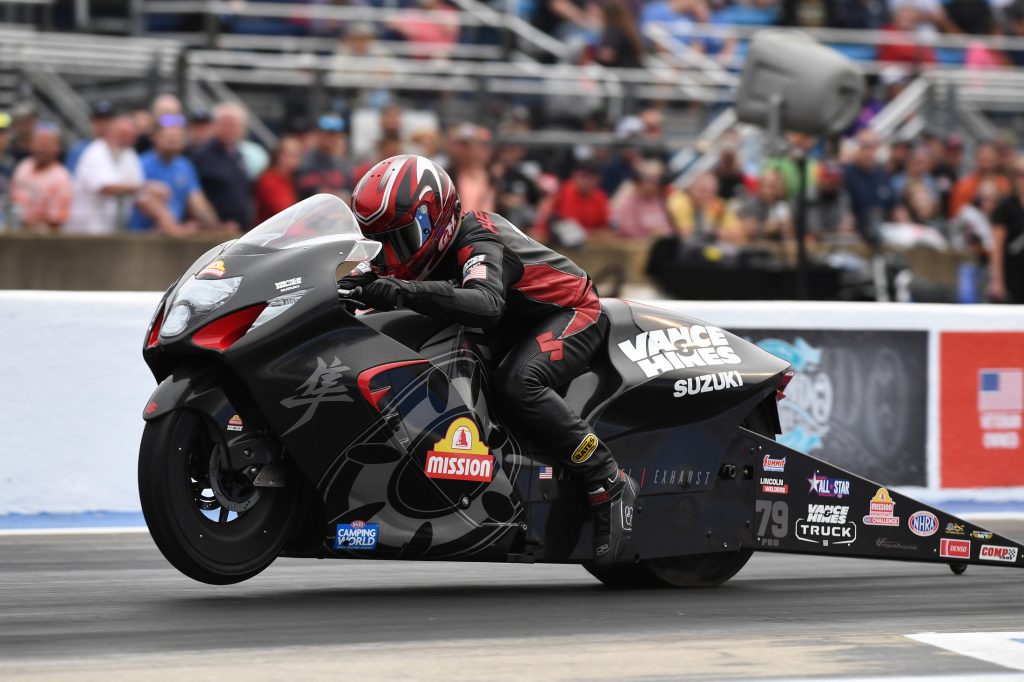 He added another 6.677 in his opening-round win against Jianna Evaristo in the Mission #2Fast2Tasty NHRA Challenge before his standout run against Van Sant. It also gave the points leader his third straight No. 1 qualifier to open the season as he looks to win at his home track in his first appearance at Route 66 Raceway. Herrera will face Ron Tornow in the opening round.
"It means a lot. Obviously, Mission is a big sponsor for us, and for Mission to put this on and to be part of it is just a big deal alone," Herrera said. "But to be able to get the win means a lot to the whole team and myself to be able to do that for Mission. (Crew chief) Andrew (Hines) has this thing on rails and it's the baddest bike out here. It's showing. They're flexing their horsepower for sure.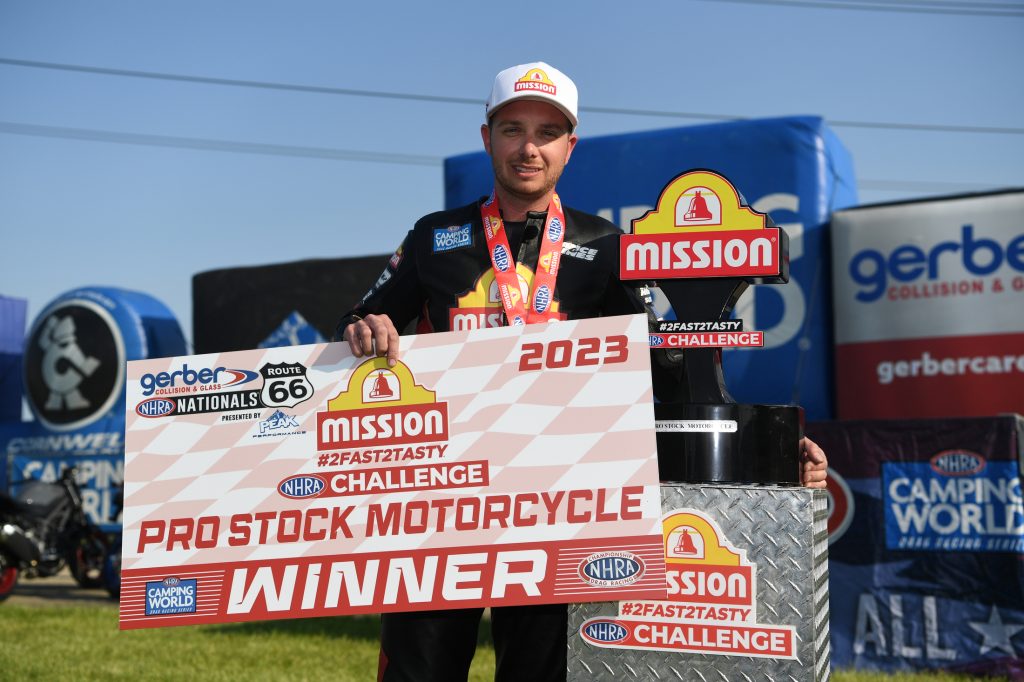 "It would mean a lot to win here (on Sunday). It's my first time racing here, having a lot of friends and family here. It's special. The amount of support I have and everything. If I'm able to get a win here tomorrow, it would definitely be a special one."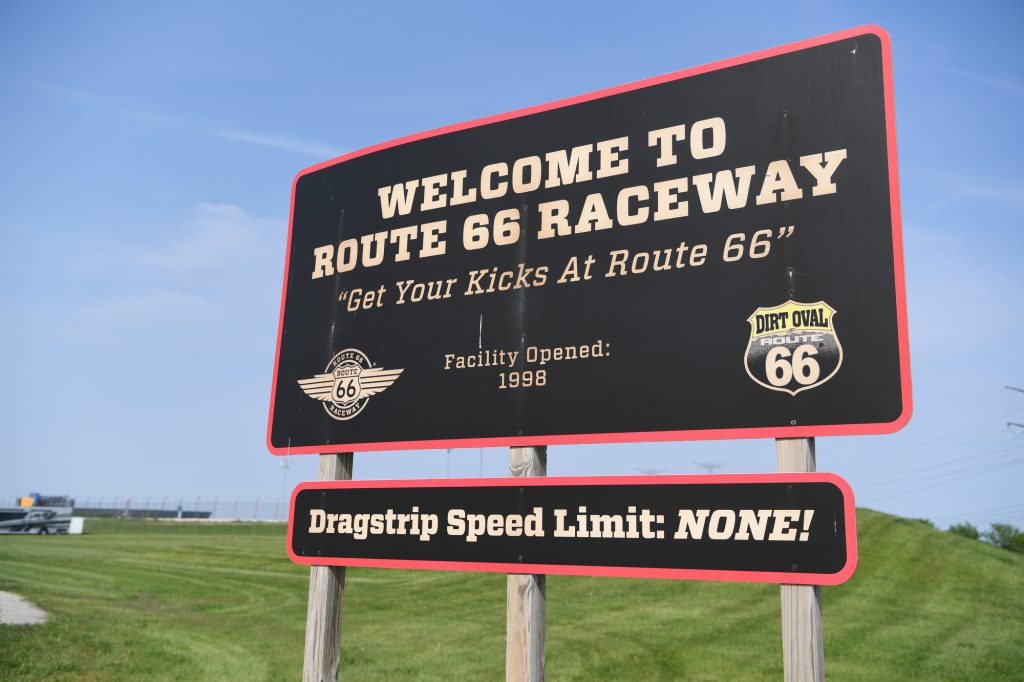 Chip Ellis took the second spot with a 6.756 at 200.68 and Hector Arana Jr. qualified third thanks to his 6.759 at 201.85.
Eliminations for the Gerber Collision & Glass Route 66 NHRA Nationals presented by PEAK Performance begin at 11 a.m. CT on Sunday at Route 66 Raceway.
Pro Stock Motorcycle — 1. Gaige Herrera, Suzuki, 6.672, 200.32 vs. 16. Ron Tornow, Victory, 6.928, 195.22; 2. Chip Ellis, EBR, 6.756, 200.68 vs. 15. Chris Bostick, EBR, 6.915, 194.63; 3. Hector Arana Jr, EBR, 6.759, 201.85 vs. 14. John Hall, Buell, 6.900, 195.39; 4. Eddie Krawiec, Suzuki, 6.770, 198.52 vs. 13. Jianna Evaristo, Suzuki, 6.888, 195.96; 5. Joey Gladstone, Suzuki, 6.774, 198.20 vs. 12. Ryan Oehler, EBR, 6.863, 196.42; 6. Matt Smith, Suzuki, 6.781, 198.44 vs. 11. Kelly Clontz, Suzuki, 6.858, 196.07; 7. Chase Van Sant, Suzuki, 6.785, 199.29 vs. 10. Steve Johnson, Suzuki, 6.834, 196.59; 8. Angie Smith, EBR, 6.800, 201.43 vs. 9. Marc Ingwersen, EBR, 6.827, 197.10.
Did Not Qualify: 17. Peggy Llewellyn, 6.959, 190.38; 18. Wesley Wells, 8.078, 179.21.
There are more videos on the Cycledrag Youtube channel (please subscribe here) and the Cycledrag Facebook page (Please like here) and more will be coming soon. Check back daily.