Motorcycle drag racing historian John Stein offers this interesting lesson. Racing tires sure have come a long way.

The Long Beach Night Drags in 1956 marked the appearance of a new type of tire from the Cadet Tire Company of Los Angeles. It was a regular street tire onto which a "slick" had been grafted. Sometimes, the arrangement worked. Other times, it didn't and the grafted portion would separate from the rest of the tire. Because of the less-than-sophisticated way the tires were made, they were often so far out of balance that some racers recall having to add as much as two pounds of lead to bring one into balance.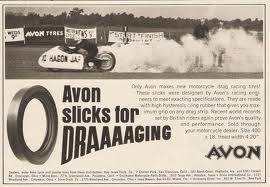 The first dedicated motorcycle dragbike slick was developed by the English Avon company in 1960, with the help of "Nero" creator George Brown. While adequate for most bikes running on gas, it was unsatisfactory for Top Fuel machines. Leo Payne could burn the tire for the entire quarter-mile as could several others. Most racers believed they could go much quicker with a wider tire but it wasn't until 1970 when they had the chance to prove it.
It was at that point that the M&H (Marvin and Harry) Tire Company got into the act, and with the help of Harley-Davidson racer Joe Smith, began providing slicks with a number of different compounds. The tires performed far better, and elapsed times soon reflected that.