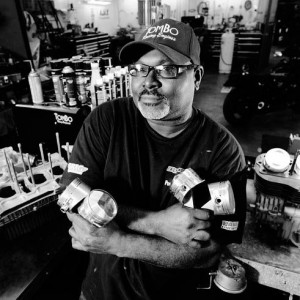 Tommy "Tombo" Bolton is one of the most accomplished and influential African-American motorcycle racers of all-time.
Tombo amassed over 25 championships, built a highly-respected business and secured major sponsors, helping to pave the way for other great African-American motorcycle drag racers like Glen Nickelberry, Rickey Gadson, Reggie Showers, Eddie Murphy and Michael Phillips.
Perhaps his greatest accomplishment came at the Texas Motorplex in 1990, when Bolton, aboard his turbo-charged, alcohol-burning, Suzuki Funny Bike, became the first African-American dragbike racer to eclipse 200 mph with a 7.18 at 205 mph.
"At the time I didn't think it was that big of a deal," Bolton said. "My peers were the ones who pointed out how only a few other guys had been over 200 mph and how I was the first African-American to do it. That's when it sunk in that I accomplished something really special."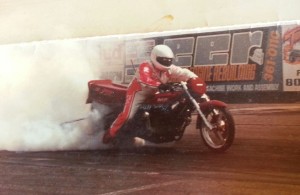 Bolton was also the first African-American to run in the 7.0s. The magical six-second elapsed time always eluded him by the slimmest margins.
The 54-year-old started working on his friends'mini bikes for pay at the young age of 11. Tombo grew up in Los Angeles in what he describes as a "drag racing paradise." Racers, drag strips and bike shops were all plentiful and he lived right down the street from the famous RC Engineering. That's where he met legends-to-be Terry Vance and Byron Hines. Nearby, he also met one of the leading pioneers in four-cylinder race motors, "Honda" Jim McGlynn, who really gave young Tombo a taste of motorcycle racing.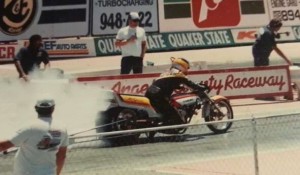 "He took me under his wing. Here I am just 15 years old and I'm riding all over the country to big races. That's where I really picked up a lot of tuning skills," Bolton said. "Honda Jim and Byron were the two most influential people to me when it came to learning how to do things right."
Tombo started racing himself at age 19 and by the mid-eighties he began to receive notoriety as the first African-American to go to the forefront of the sport. In 1988 Bolton became the first to win top-ten plates in all of the major DRAGBIKE USA categories – Pro Street, Pro Stock, Pro Comp, and Top Fuel (competing on a Funny Bike).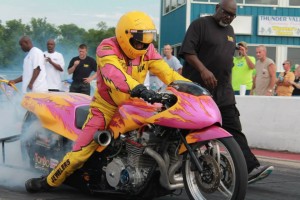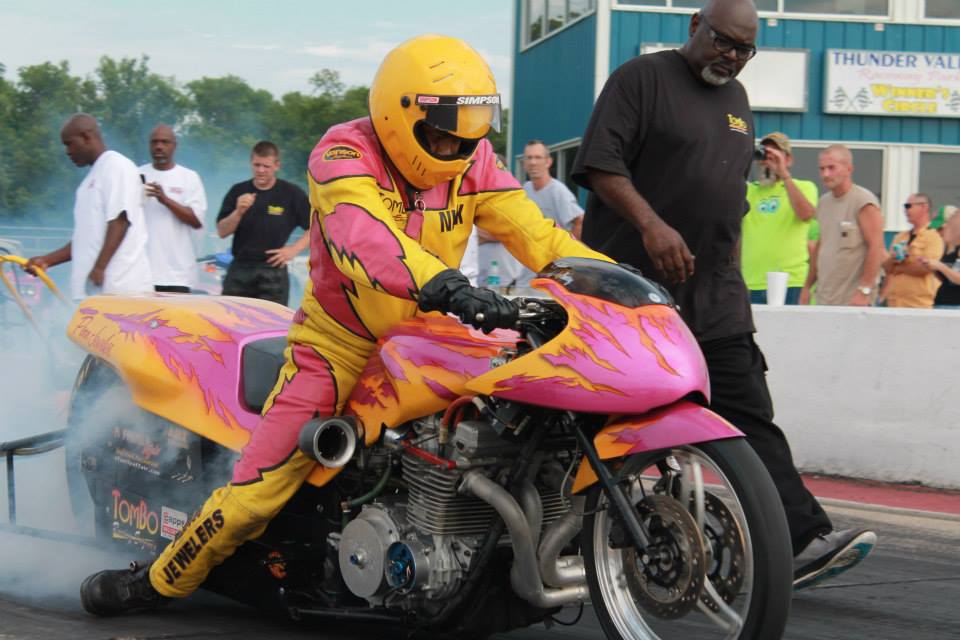 In the early-nineties Tombo ventured into the ultra-competitive world of NHRA Pro Stock Motorcycle racing. He became the category's first African-American racer to receive a major sponsorship when Torco backed him.
It seemed as if Tombo had tried and succeeded in nearly everything the sport had to offer. He even worked as the tech director for the IDBA.
By the mid-nineties the motorcycle drag racing scene was flourishing on the East Coast and Tombo moved to Oklahoma City to be more centrally located. Shortly thereafter he met racer Glen Nickelberry and was very impressed with his riding ability. That's when Tombo decided it was time to focus on tuning the bike.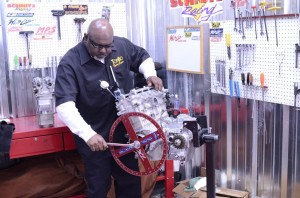 "Glen was such a natural. I knew we would make a good team," Bolton said. "We had the fastest gasoline/nitrous Funny Bike in the country. Everybody else was running alcohol. We had a great Evans Pro Chassis."
Together Bolton and Nickelberry set records and won 11 championships.
All the while, Bolton's business, Tombo Racing Engines, continued to grow. The shop builds everything from fast street bikes to some of the quickest dragbikes in the world.
In 2011 Bolton was forced to take a break after suffering a heart attack.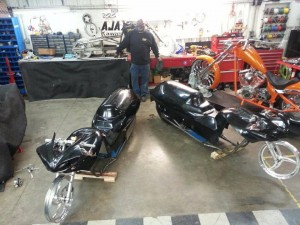 Today Bolton is pleased to report his health and his business are in excellent shape.
"Everything is going uphill," Bolton said. "We have had the opportunity to build a lot of really cool bikes and I have some very talented guys working with me."
Bolton has been busy pumping out quick street bikes, custom V-Twins and full-fledged dragbikes. He has also had a hand in some of the world's quickest Pro Mod bikes over the years.
"Some people don't see me as a Pro Mod guy but that is one of my specialties, "Bolton said. " I was doing the nitrous systems for the C&W boys when Charlie Farrar was running 6.60s."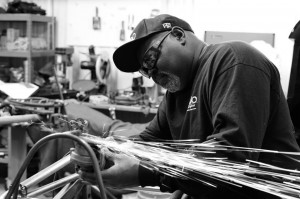 Check out Tombo's website for more information on getting hooked up with an extended swing arm kit, a complete motor rebuild or a full-blown race prep. Tombo can do it all and he promises to use his years of experience combined with his attention to detail he calls the "Tombo Touch."