No one knew exactly what would happen when the Midwest's largest motorcycle drag racing series—NHDRO—made it's first trip to one of the Midwest's largest racing facilities—St. Louis area's Gateway Motorsports Park. What broke out was intensely close Pro Street racing and no fewer than three sportsman double winners.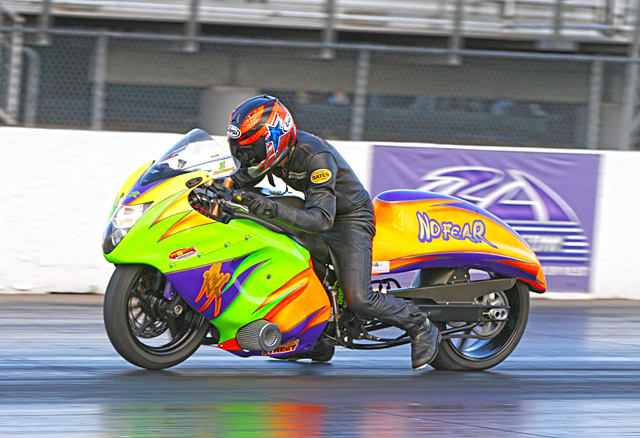 More punches were thrown in McIntosh Machine & Fabrication Pro Street than in an after school fight video. The high-powered, street tire bikes suffered on Saturday, with Mark Paquette topping the charts with a 7.004 on his turbocharged Suzuki Hayabusa. But on Sunday, Pro Street tuners found the track, despite rising temperatures, and could concentrate on fighting each other.
Justin Doucet was the first to break through, running a 6.89 at 212 mph on Big Dave Broyles' bike against a blindsided Quinn Orand in round 1 of eliminations.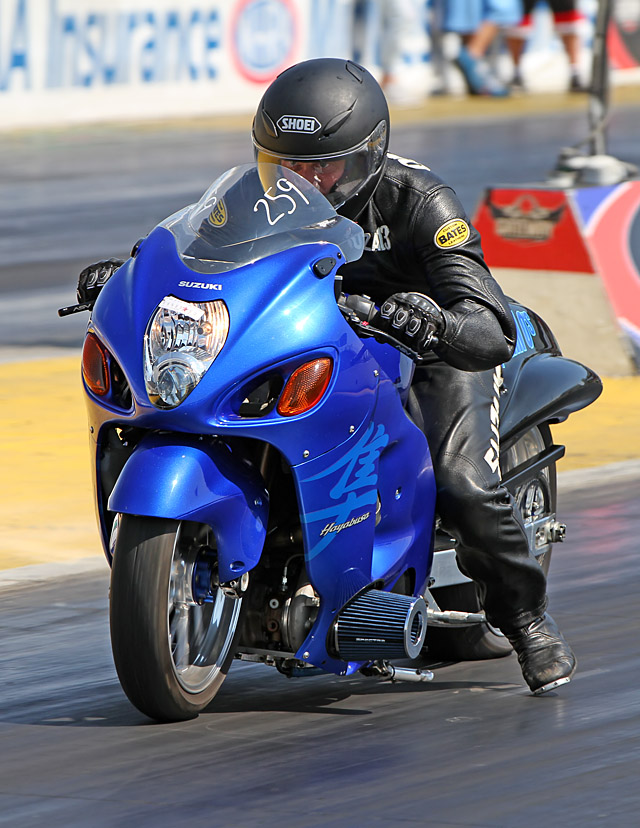 Doucet backed down to a 6.94 at just the wrong time in round 2, as opponent Bud Yoder leapt to a winning 6.89. Yoder's teammate Paquette also made the leap, running low ET of the event with a 6.86 to take out John Chant.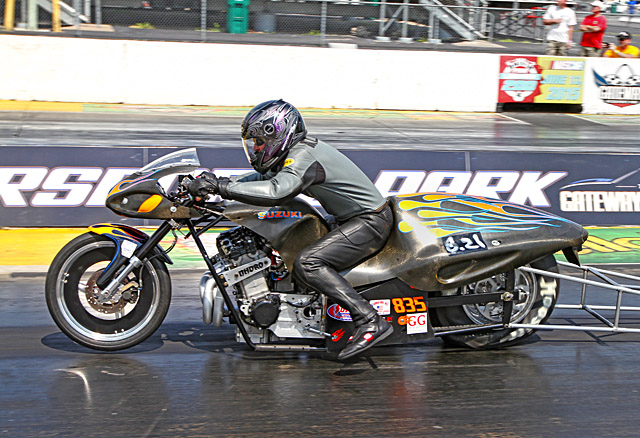 Chant's teammate Rudy Sanzottera and the St. Charles, Missouri-based Quicktime Motorsports team were all smiles despite losing to Jeremy Teasley in E2, as Sanzottera ran a career-best 7.11 at 203 mph. Ryan Hable was also laying down bests at Gateway, runner-upping to Paquette in Saturday night's Dunigan Pro Street Shootout.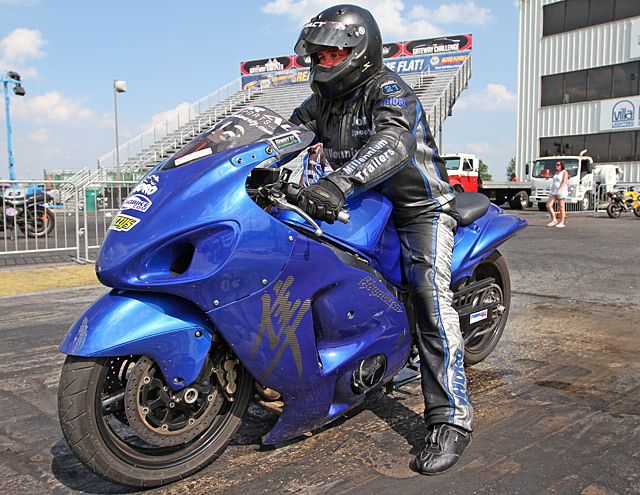 Teasley improved to a 6.88 at 209 against Sanzottera, then stayed steady with another 6.88 to end Paquette's day in the semis. Yoder had better luck in the other semi against former champ "Mothug" Doug Gall, winning with a 6.92 at 207 while Gall spun at the hit. This should be Gall's last race on his long-time bike, as it's sold to North Carolina's Rocky Tinker.
So the final boiled down to Indy winner Yoder on his unpainted carbon fiber McIntosh Machine & Fabrication bike, and defending Pro Street champ Teasley on the John Drake-owned, fluorescent "No Fear," both turbo 'Busas. Teasley was on his game with a .001 light. Yoder, now in the right lane instead of his favored left, hung tight to the eighth mile when he started having to peddle. Teasley's bike stuck for a 6.91 at 212 win.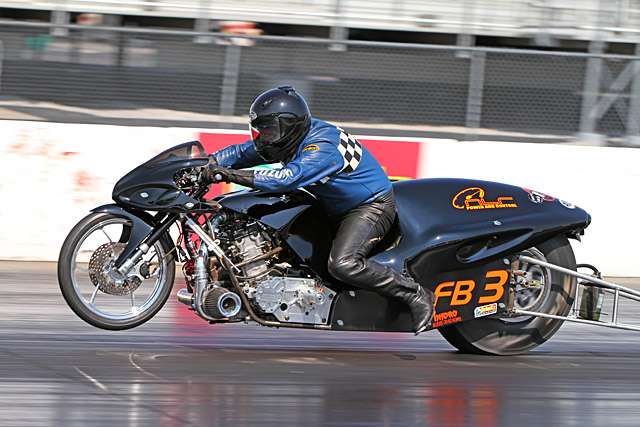 Chris Cutsinger's 'Busa Funnybike qualified number 1 with a 4.25 at 167 in the eighth mile Pro Comp class, with Ron Maddox hitting 4.47 at 164. But that would be it for Pro Comp, and with only two bikes the decision was made to not run eliminations.
Also running to the eighth mile was Quicktime Motorsports/Lindeman Performance 4.60, the world's quickest two wheeled index class. Number 1 qualifier Les Stimac carried it all the way to the final, where his .110 light wasn't gonna be good enough against Dan McCarten, who ran .001 quicker.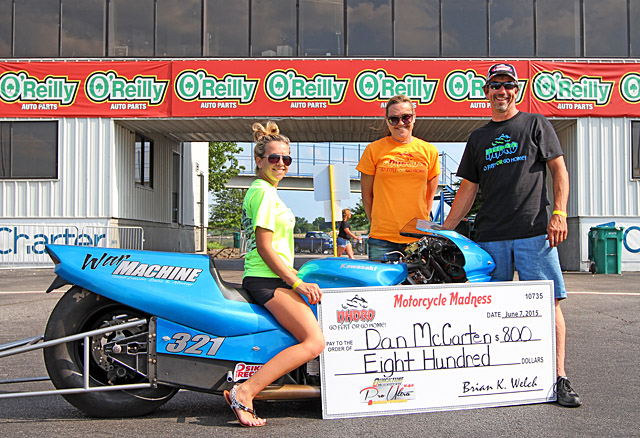 McCarten's "War Machine" has been his bracket bike for the last decade. "I've been running it in the mid to upper 7's since I bought it," said McCarten, who also took the bike as a PXM to some ADRL events. "This is the first time I've really gotten after it in a few years. I tried running Pro Mod when they were only in the .20s and .30s, but I didn't have the money to pursue it on a competitive level. It's really nothing more than a stupid fast bracket bike."
MSP True Street also runs to a short eighth mile finishline, with real hand clutches and an instant green light. Quinn Orand ceded the tree to Pro Street winner (and TS number 1 qualifier) Teasley in the True Street final, but was able to keep his Lee Tomlinson turbo power more consistently applied to take the win with a 4.94 to Teasley's 5.06. Originally built for Real Street, Orand's 'Busa has been adapted to True Street rules. "This is our first time out with this (swing)arm, and second time out total," Orand said about the bike.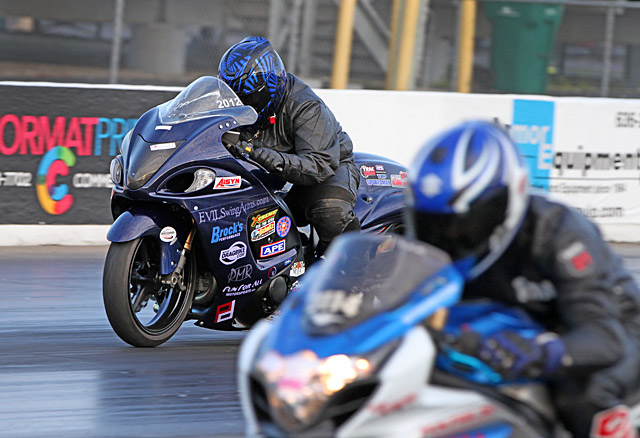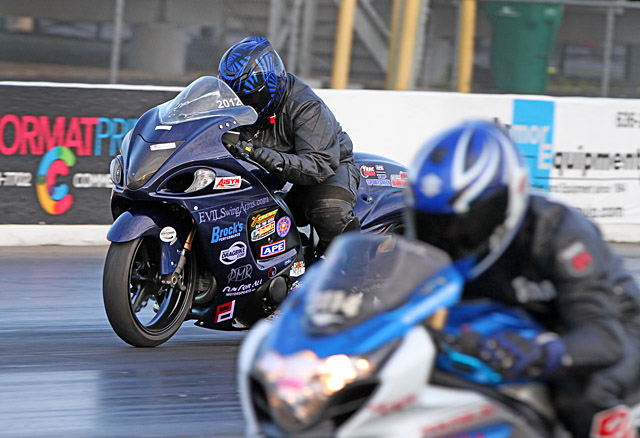 Route 21 Top Gas champion Greg Mallett was one of the weekend's double winners. Mallett's .025 light pushed "Chicken Head" Chad Otts to a breakout in Top Gas, and Greg also won Sunday's G&G Metal Spinners Pro ET final with an .011 light against Patrick Roetto, who had an .018 light himself. Top Gas number 1 qualifier Mark Eskew lost to Wagner Family patriarch Mike in the quarterfinals.
Charleston, Illinois' Chad Isley was also a double winner, beating fellow Illini Andy Sanquist for the Millennium Trailers Super Comp win, and Jim "Put it on the Underhill tab" Underhill in Saturday's G&G Metal Spinners Pro ET final. Super Comp and Crazy 8s number 1 qualifier Spencer Claycomb lost to Dustin "Tennessee" Lee in round 3 of SC and again to Lee in E3 of Crazy 8s.
Lee is hellbent on winning this year's Dragbike.com BAMF trophy, and he did himself a solid by being the NHDRO's other double winner at Gateway. Lee took the Crazy 8s final over Vince Hileman and Saturday's Dennis Insurance Street ET win over Warren "I don't need no stinking trailer" Eldred, who rode his 2000 Suzuki Bandit 1200S to the track from his Southaven, Mississippi home. Not only did Eldred ride the bike to the track, he strapped on pillow, bedroll, sleeping bag, and tent for the trip. His bug-splattered Bandit also went rounds on Sunday as well.
Streetfighter 9.50 index boiled down to John "Spooky" Markham and Shawn Books in the final. Books had a .013 advantage at the tree, but Spooky put the breakout spell on him and took the win.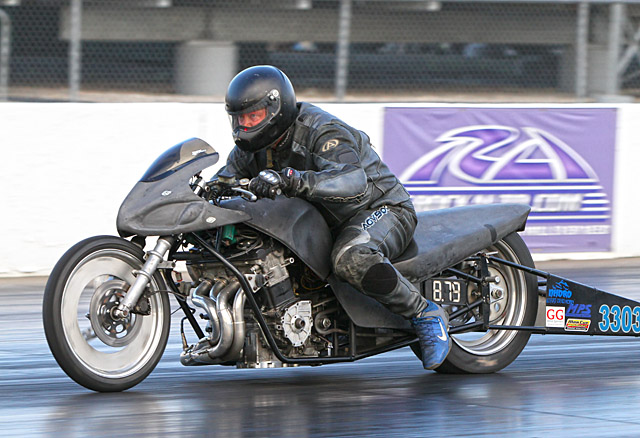 Sunday's Pro ET runner-up Roetto also runner-upped to Ben "The hardest working man in motorcycle drag racing" Knight in Sunday's Dennis Insurance Street ET race. This time around Roetto redlit. Jason Keller won Friday night's G&G Metal Spinners Pro ET Gamblers Race over Brian Selner, and Dan Raduenz won Friday night's Dennis Insurance Street ET Gamblers Race over Lee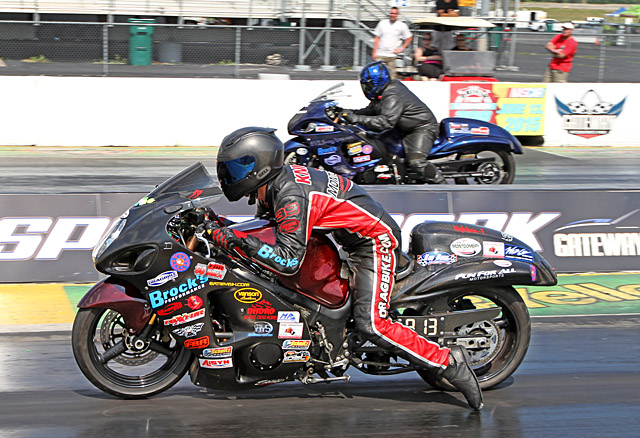 And speaking of fisticuffs, Saturday night's Port-Tech Grudge session was a wild affair. "That's REAL grudge," media mogul Aries Xecutioner shouted as he videotaped the action. Most of it centered around Damon "I stop and dry hop" Willingham and Ryan Reed. When the race was finally run, Reed took the win as Willingham popped up the front wheel at the hit. Willingham finally found someone he could beat when he spotted St. Louis Red the break on a bone-stock Kawasaki ZX14R bought just that weekend.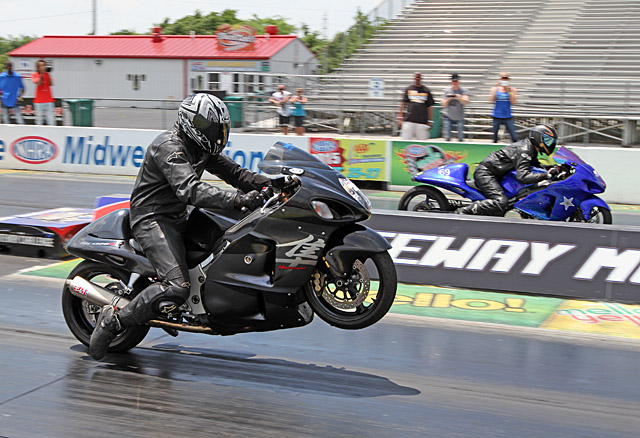 Brian and Niki Welch thank the whole NHDRO family and invite everyone to Louisville's Ohio Valley Raceway on July 10-12 for what promises to be the world's biggest motorcycle grudge race ever.
Find out more about the NHDRO at http://www.nhdroracing.com/
NHDRO thanks McIntosh Machine and Fabrication http://www.mcintoshmachineandfab.com , Quicktime Motorsports http://quicktimebikes.com , Route 21 Racing Apparel http://www.route21.us , Millennium Trailers http://www.milltrailers.com , G&G Metal Spinners http://www.ggmetalspinners.com , Kevin Dennis Insurance http://www.bettercoverages.com , and Port-Tech http://www.porttechheads.com/index.html
This report was prepared by Tim Hailey. Enjoy everything there is to read, see and watch about motorcycle drag racing and more at http://www.eatmyink.com