Pro Stock Motorcycle racer Steve Johnson closed out Houston Raceway Park in style, picking up the win in front of a sold-out crowd on Sunday at the 35th and final NHRA SpringNationals at Houston Raceway Park.
Johnson enjoyed a banner day in Houston to pick up his first win of the season, going 6.720 at 199.91 on his Slick 50 Suzuki to beat longtime rival and defending world champ Matt Smith in the finals. Johnson was simply dominant during eliminations, making the quickest run in Houston history in the opening round and then setting both ends of the track record a round later with a pass of 6.711 at 201.55. He knocked off Eddie Krawiec to advance to the finals, where he put together another strong run to earn his 10th career win and first at Houston Raceway Park.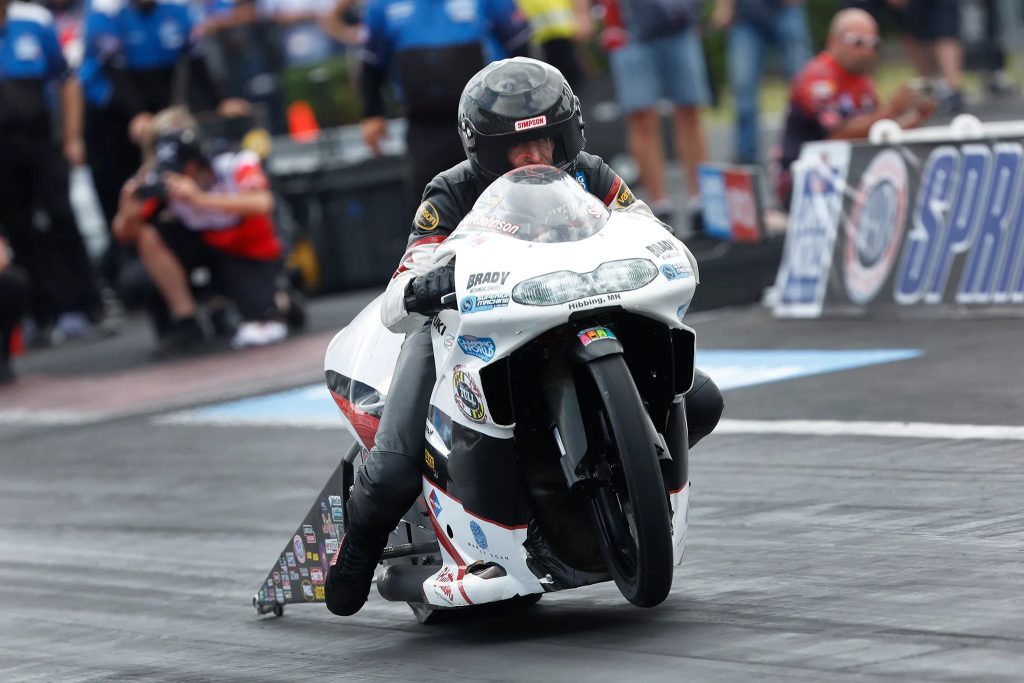 "A win like this all starts back at the shop," Johnson said. "This is a huge accomplishment for us. We didn't run well at Gainesville. I really felt like I had a good bike, but we couldn't show it. It was a huge setback for our team, so to come here and get a win was big. It's nice to get a win early in the season and this race is also so special to us because it's where I got my first sponsor. There's a lot of good memories here."
Smith advanced to the final round for the first time this season and the 66th time in his career thanks to round wins against Kelly Clontz, Chris Bostick and No. 1 qualifier Karen Stoffer.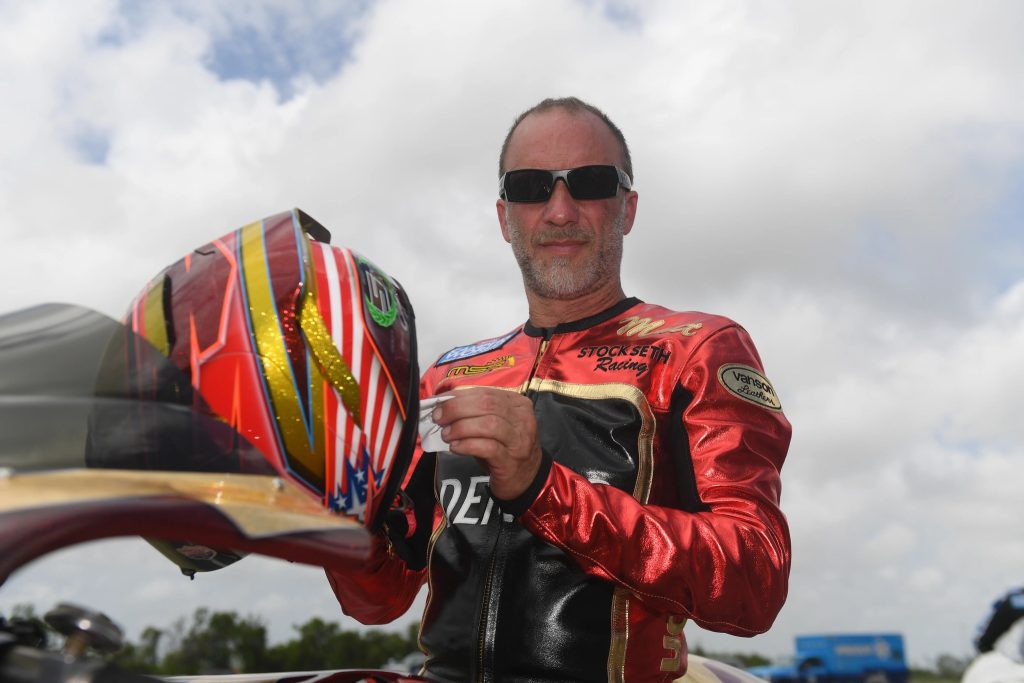 The NHRA Camping World Drag Racing Series returns to action next weekend with the Circle K NHRA Four-Wide Nationals at zMAX Dragway in Charlotte.
ROUND ONE — Angelle Sampey, Suzuki, 6.814, 201.19 def. Jerry Savoie, Suzuki, 6.908, 188.28; Jim Underdahl, Suzuki, 6.822, 197.74 def. LE Tonglet, Suzuki, 7.000, 195.79; Joey Gladstone, Suzuki, 6.822, 198.00 def. Marc Ingwersen, Foul – Red Light; Chris Bostick, Suzuki, 6.937, 194.52 def. Angie Smith, Broke – No Show; Eddie Krawiec, Suzuki, 6.786, 198.96 def. Ryan Oehler, 7.058, 191.78; Steve Johnson, Suzuki, 6.718, 200.71 def. Michael Ray, 6.923, 194.97; Karen Stoffer, Suzuki, 6.869, 196.07 def. David Barron, 8.608, 107.85; Matt Smith, Suzuki, 6.818, 198.12 def. Kelly Clontz, Suzuki, 6.968, 193.05;
QUARTERFINALS — M. Smith, 6.938, 195.96 def. Bostick, 7.059, 191.54; Stoffer, 6.832, 197.33 def. Sampey, 6.852, 201.07; Krawiec, 6.772, 199.17 def. Gladstone, 6.917, 197.42; Johnson, 6.711, 201.55 def. Underdahl, 6.896, 199.11;
SEMIFINALS — M. Smith, 6.988, 194.60 def. Stoffer, Foul – Centerline; Johnson, 6.765, 198.96 def. Krawiec, 6.802, 197.10;
FINAL — Johnson, 6.720, 199.91 def. M. Smith, 6.811, 200.47.
Pro Stock Motorcycle Points
1. Karen Stoffer, 196; 2. Steve Johnson, 173; 3. Angie Smith, 128; 4. Eddie Krawiec, 127; 5. (tie) Joey Gladstone, 124; Matt Smith, 124; 7. Jerry Savoie, 102; 8. (tie) Angelle Sampey, 83; Jim Underdahl, 83; 10. Marc Ingwersen, 82.
There are more videos on the Cycledrag Youtube channel (please subscribe here) and the Cycledrag.com Facebook page (Please like here) and more will be coming soon. Check back daily.
To take advantage of some amazing discounts at Brock's Performance, click – http://brocksperformance.com?aff=12
USE cycledrag5 coupon code.