On a record-setting day in Pro Stock Motorcycle at the 11th annual NGK NTK NHRA Four-Wide Nationals at zMAX Dragway, it was Scotty Pollacheck who claimed the No. 1 spot for the second straight race, going 6.736 at 201.16 on his Denso/Strutmaster/Matt Smith Racing EBR. It shattered the track record set less than 24 hours ago and gave Pollacheck, who also won in Atlanta, the sixth-quickest run in class history. He'll face James Underdahl, Angie Smith and Karen Stoffer to open eliminations as Pollacheck looks to win a four-wide race for the first time in his career.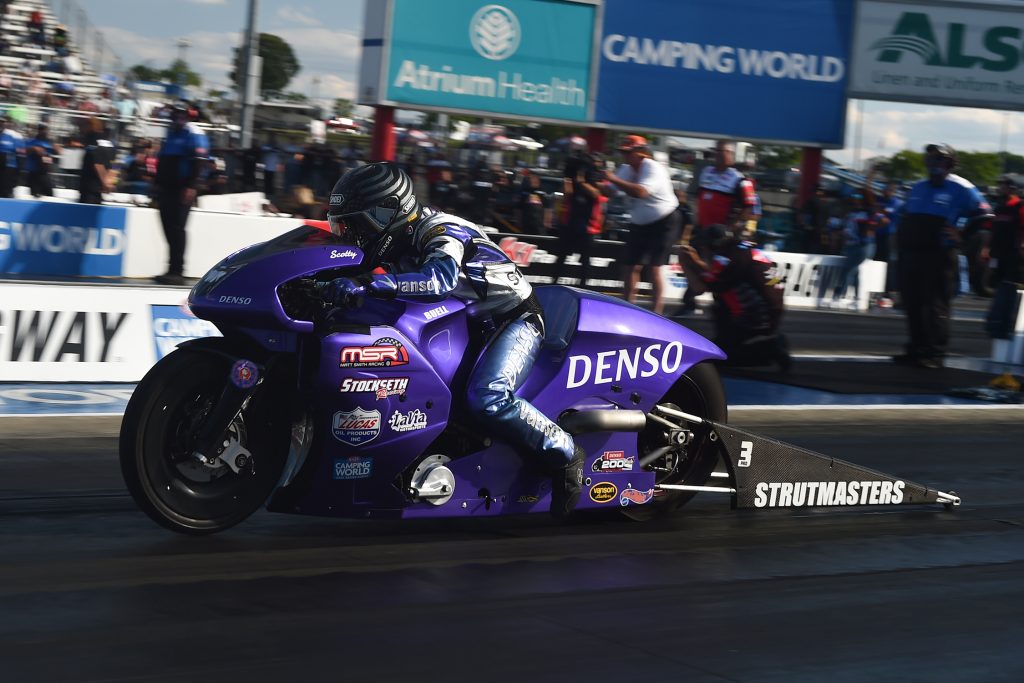 "The four-wide races are always tough, but I love racing in them and I would love to close the deal on Sunday," Pollacheck said. "I've been close before, but I've never got that trophy at the end of the day. Hopefully, we can change that (on Sunday)."
Steve Johnson qualified second with a 6.738 at 196.90, making the seventh-quickest pass ever in the class and teh quickest ever for a Suzuki. Johnson accomplished the feat with his own engine program and a Monster cylinder head.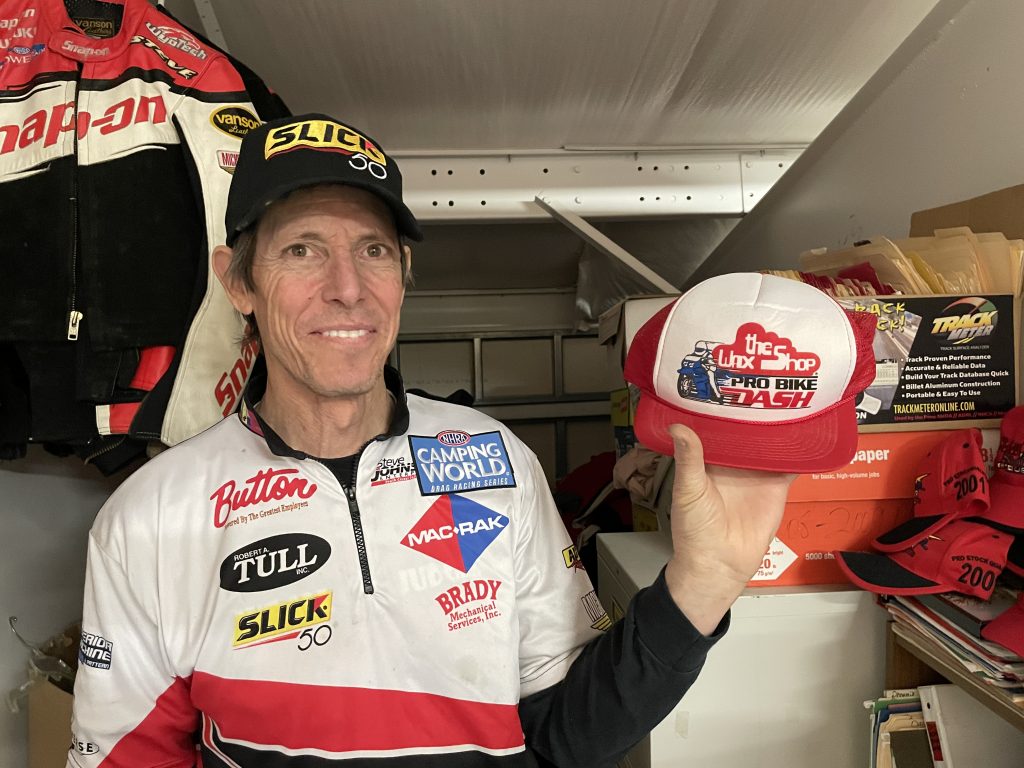 Matt Smith was third thanks to a 6.740 at 201.73. Eddie Krawiec also made history on Saturday, making the fastest run ever in the class with his run of 203.49.
In E3 Spark Plugs NHRA Pro Mod Drag Racing Series action, points leader Justin Bond earned his second No. 1 qualifier in three races, as his run of 5.631 at 253.75 in his ProCharger-powered Bahrain 1 Racing Camaro from Friday held up. Khalid alBalooshi qualified second with a 5.658 at 253.61 and Jose Gonzalez took third after going 5.678 at 252.80.
Eliminations for the NGK NTK NHRA Four-Wide Nationals begin at 12 p.m. ET on Sunday.
Pro Stock Motorcycle — 1. Scotty Pollacheck, EBR, 6.736, 201.16 vs. 16. Jim Underdahl, Suzuki, 6.866, 196.64 vs. 8. Angie Smith, EBR, 6.782, 199.02 vs. 9. Karen Stoffer, Suzuki, 6.799, 198.61; 2. Steve Johnson, Suzuki, 6.738, 197.62 vs. 15. Kelly Clontz, Suzuki, 6.862, 194.72 vs. 7. Andrew Hines, Buell, 6.773, 202.15 vs. 10. Chip Ellis, EBR, 6.824, 198.50; 3. Matt Smith, EBR, 6.740, 202.18 vs. 14. Cory Reed, Suzuki, 6.851, 199.08 vs. 6. Eddie Krawiec, Buell, 6.771, 203.49 vs. 11. Jerry Savoie, Suzuki, 6.845, 195.65; 4. Hector Arana Jr, EBR, 6.761, 202.70 vs. 13. Ryan Oehler, EBR, 6.848, 198.96 vs. 5. Joey Gladstone, Suzuki, 6.763, 200.53 vs. 12. Angelle Sampey, Suzuki, 6.847, 198.20.
Did Not Qualify: 17. Chris Bostick, 6.871, 196.36; 18. Marc Ingwersen, 6.914, 195.99; 19. Jianna Salinas, 6.945, 192.88; 20. Pablo Gonzalez, 7.025, 191.65; 21. Ron Tornow, 7.036, 193.90; 22. David Barron, 7.274, 160.08.
There are more videos on the Cycledrag Youtube channel (please subscribe here) and the Cycledrag.com Facebook page (Please like here) and more will be coming soon. Check back daily.
To take advantage of some amazing discounts at Brock's Performance, click – http://brocksperformance.com?aff=12
USE cycledrag5 coupon code.