It was a long time coming for Pro Stock Motorcycle veteran Steve Johnson, who picked up his first victory in more than seven years, going a track-record 6.729 at 198.03 in the final round on his Mac Rak Suzuki at the 11th annual NGK NTK NHRA Four-Wide Nationals at zMAX Dragway.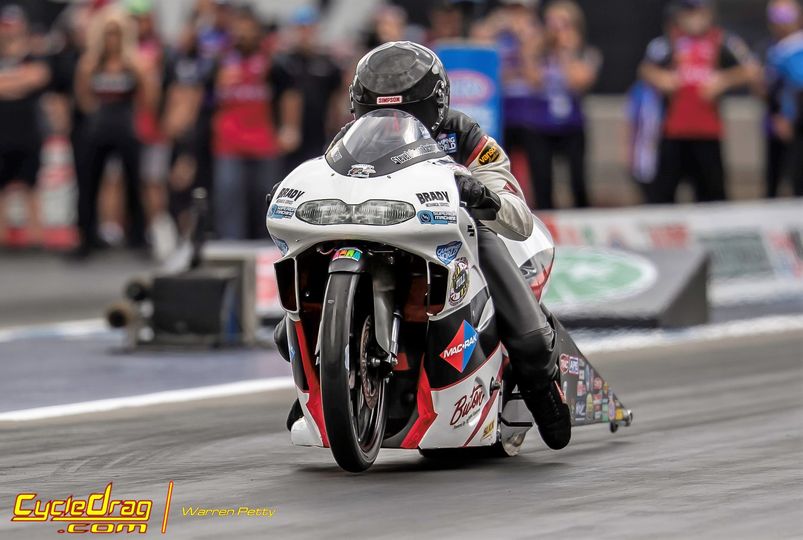 It also gave Johnson the third-quickest pass in the history of the class and the quickest ever run in class history for a Suzuki. To win for the first time since Gainesville in 2014 and the seventh time in his career, Johnson had to beat defending world champ Matt Smith, Karen Stoffer and Joey Gladstone in the final round.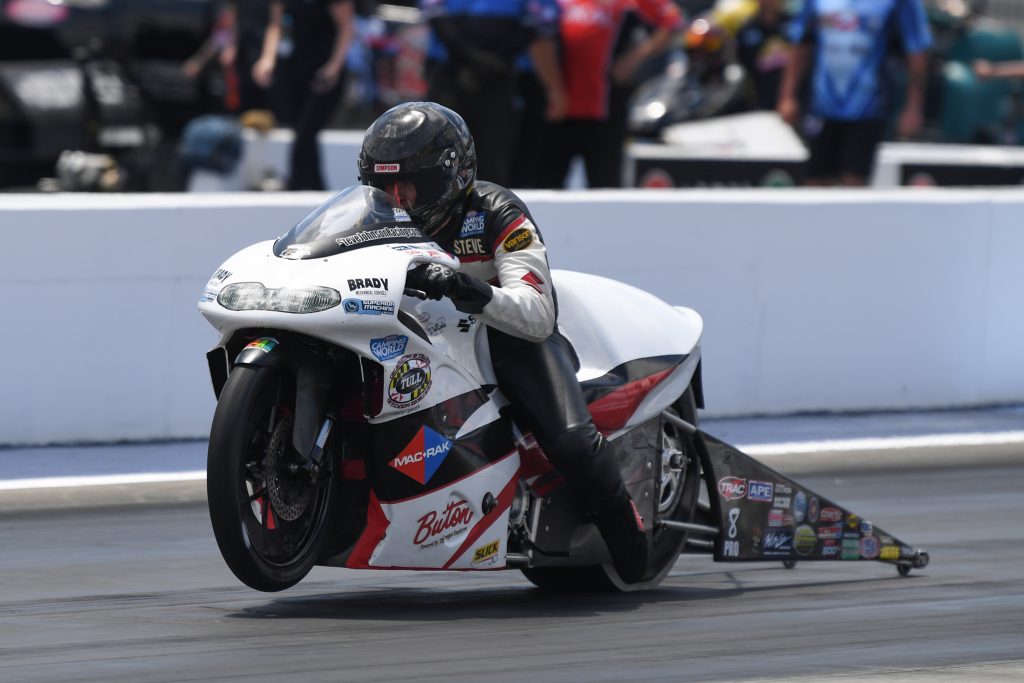 "When you have a career path and you reach a goal, it can be euphoric," Johnson said. "We are committed to this sport and I'm so excited about the emotion of our sport. I feel like our sport is really doing well. This trophy is so cool and this is the most special (win)."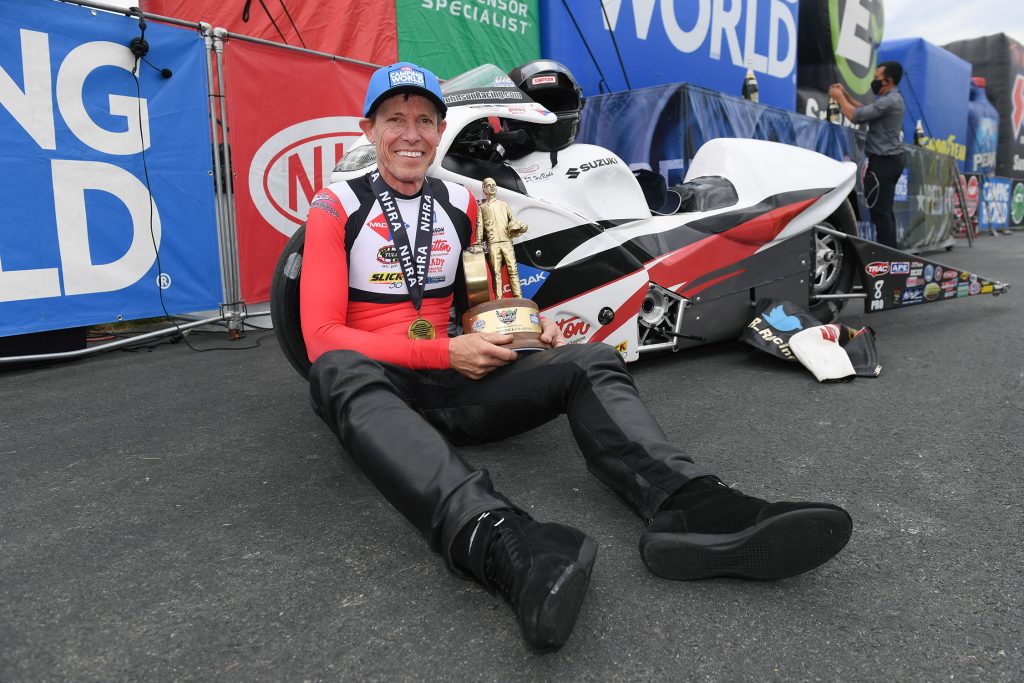 Points leader Smith finished as runner-up in advancing to his 60th final round in his career and third this season. It was just the second career final-round appearance for Gladstone and the first for Stoffer since 2019.
There are more videos on the Cycledrag Youtube channel (please subscribe here) and the Cycledrag.com Facebook page (Please like here) and more will be coming soon. Check back daily.
PRO STOCK MOTORCYCLE:
ROUND ONE — Hector Arana Jr, EBR, 6.771, 203.06 and Joey Gladstone, Suzuki, 6.765, 200.29 def. Angelle Sampey, Suzuki, 6.766, 202.03 and Ryan Oehler, EBR, 6.836, 199.20; Karen Stoffer, Suzuki, 6.756, 197.88 and Jim Underdahl, Suzuki, 6.899, 195.76 def. Scotty Pollacheck, EBR, 7.035, 166.13 and Angie Smith, EBR, 9.845, 85.76; Steve Johnson, Suzuki, 6.783, 198.23 and Andrew Hines, Buell, 6.777, 200.71 def. Chip Ellis, EBR, 6.841, 197.94 and Kelly Clontz, Suzuki, 6.873, 195.34; Eddie Krawiec, Buell, 6.774, 202.45 and Matt Smith, EBR, 6.781, 201.25 def. Cory Reed, Suzuki, 6.838, 197.10 and Jerry Savoie, Suzuki, 6.847, 196.85;
SEMIFINALS — M. Smith, 6.760, 202.00 and Johnson, 6.767, 197.80 def. Krawiec, 6.860, 200.92 and Hines, 7.025, 200.38; Stoffer, 6.791, 197.68 and Gladstone, 6.791, 198.61 def. Arana Jr, 6.853, 200.80 and Underdahl, 6.932, 195.17;
FINAL — Johnson, 6.729, 198.03 def. M. Smith, 6.744, 202.48, Stoffer, 6.771, 198.64 and Gladstone, 6.773, 198.90.
The NHRA Camping World Drag Racing Series returns to action May 21-23 with the Mopar Express Lane NHRA SpringNationals presented by Pennzoil.
To take advantage of some amazing discounts at Brock's Performance, click – http://brocksperformance.com?aff=12
USE cycledrag5 coupon code.