Star Racing/Precision Service Equipment riders Angelle Sampey and Cory Reed celebrated their best weekend yet since joining forces at the beginning of 2016. Reed got his first career win and Sampey reached her third semifinal round in 2016.
Sampey reached the semifinal round at the 10th annual Summit Racing Equipment NHRA Nationals after taking out Steve Johnson and Matt Smith.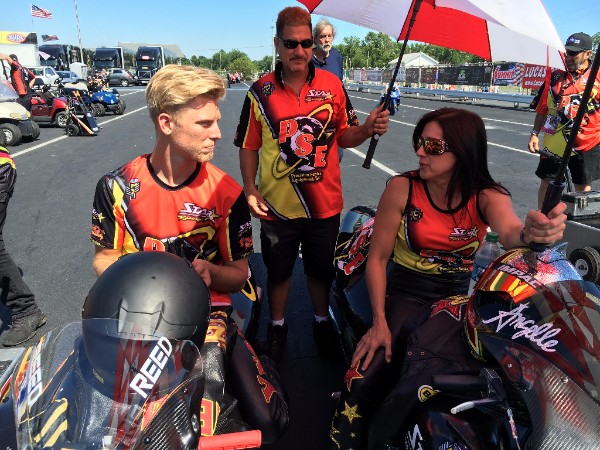 In the first round, Sampey had lane choice over Steve Johnson. With that lane choice, she was able to turn on the win light with a 6.914-second pass at 194.97 mph. Her second round matchup against Matt Smith resulted in a really close side-by-side victory when she ran a 6.885, 195.31 over Smith's 6.909, 192.96.
Her 6.885-second pass in the second round gave her lane choice over 5x World Champ Andrew Hines by .004-seconds. Sampey and her team always bring their best to table when racing any competitor, especially the Vance & Hines duo. Sampey launched and found her bike hitting the rev limiter when she shifted into second gear and she was forced to abort the run. Sampey ran a 10.165, 83.70 and Hines advanced to the final round.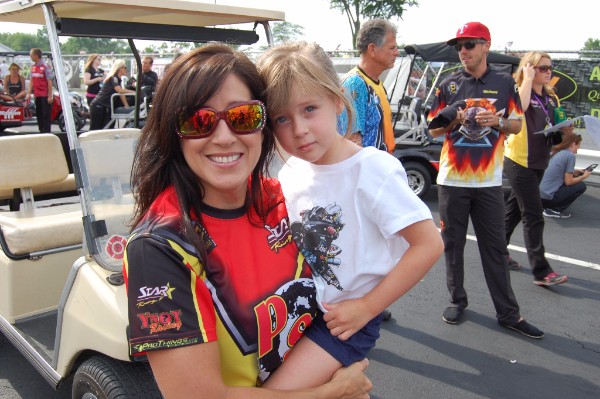 "I'm definitely happy to have been able to run three rounds of eliminations today even though I lost in the semifinals because I was lucky to have gotten in with only one decent pass during qualifying," Sampey said. "I don't feel like I was on my game this weekend. I don't think I was the best racer I could be this weekend. We were missing a member of our team this weekend so we all had to pitch in and do some things we weren't used to doing and we changed some things around. I don't feel upset about this loss because I feel like I was lucky to have got in."
ANGELLE SAMPEY, PSE/STAR RACING BUELL
Qualified: No. 6
ELIMINATIONS
First Round: SAMPEY (6.914-second, 194.97 mph) def. Steve Johnson (7.085, 192.14)
Second Round: SAMPEY (6.885, 195.31) def. Matt Smith (6.909, 192.96)
Semifinals: Andrew Hines (6.893, 195.79) def. SAMPEY (10.165, 83.70)
QUALIFYING
FRIDAY:  7.081, 155.74 (Session 1); 7.263, 145.09 (Session 2)
SATURDAY: 6.876, 195.08 (Session 3); 10.398, 77.37 (Session 4)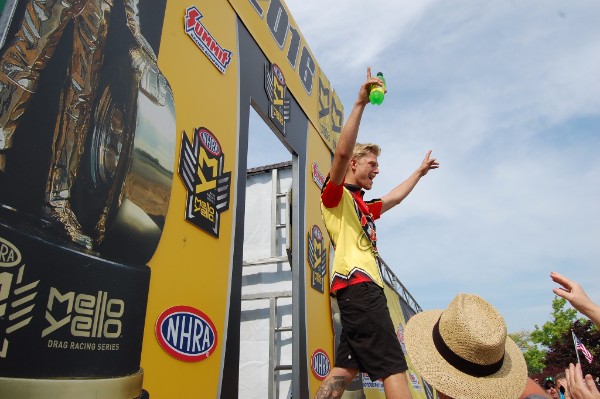 Reed started his raceday effort from the No. 7 spot, his highest qualifying position to date.
First round, Reed was impressive on the tree with a .009-second reaction time. With that reaction time, Reed drove his way all the way to the finish line with a 6.956-second pass at 194.24 over Scotty Pollacheck's 7.730, 133.12.
"I was speechless when I saw my win light come on," Reed said. "It felt really good to get that win. It was like a weight off my shoulder and my dad [Pro Mod driver Jim Whiteley] was the first at the top end, which was really cool."
Reed came back to the lanes for second round at Summit Motorsports Park with a matchup against Andrew Hines. Reed was stellar on the tree once again but this time it came just shy of a perfect light when he was -.001-seconds red. Ending his chances to take the round win, Reed's red light gave the win light over to Hines.
"Losing sucks but I think my lights today were really good and I think it sends a message to the whole field that they have to be on their game when I'm in the other lane."
CORY REED, PSE/STAR RACING BUELL
Qualified: No. 7
ELIMINATIONS
First Round: REED (6.956-second, 194.24) def. Scotty Pollacheck (7.730, 133.12)
Second Round: Andrew Hines (6.889, 194.83) def. REED (6.949, 192.44)
QUALIFYING
FRIDAY: 6.972, 191.43 (Session 1); 6.884, 192.88 (Session 2)
SATURDAY: 6.964, 192.99 (Session 3); 7.010, 191.13 (Session 4)