The Star Racing team has announced that they will run a full NHRA (National Hot Rod Association) circuit with two riders for the 2012 season, after several years of sporadic participation in the series. In addition to this news, Star Racing has also partnered this season with the Hungarian Sovereign Racing Team, the 2011 European Pro Stock Motorcycle Championship Team.
The new Sovereign-Star Racing Team came together after Star Racing owner George Bryce traveled throughout Europe with the Sovereign Team as their coach and chief tuner during the 2011 race season. The Sovereign Team name is derived from the owner's large sugar distribution company based in Hungary. After an extremely successful race series in Europe, Sovereign Team owner Jeno Rujp expressed interest in running the NHRA circuit in America with the help of Bryce.
"Jeno won in Europe. His team won six out of seven races," Bryce said. "And, now, he wants a big challenge, and I said, 'You picked it if you want to race in America, if you want to race NHRA.' I told him it was going to be like running Formula 1 compared to what he was doing. It's a big challenge, and it's a big dream for him."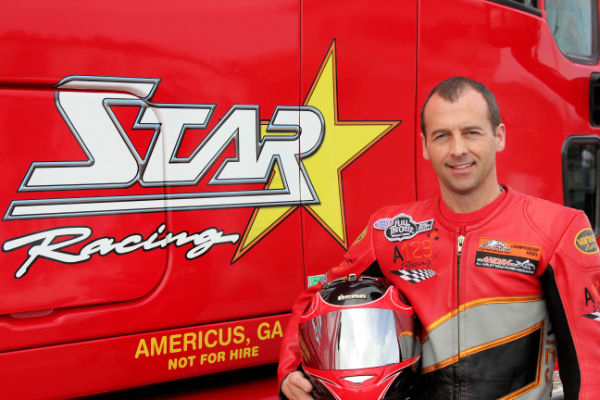 As the new Sovereign-Star Racing team began to take shape, the only missing element was qualified racers. After weeks of searching, Star Racing has announced John Hall and Scotty Pollacheck as the team's new NHRA Pro Stock Motorcycle racers for the 2012 season. This year's Star Racing riders have 43 combined years of drag racing experience on street bikes, Pro Stock motorcycles and even a world famous electric bike.
Both riders, Hall and Pollacheck, are graduates of Bryce's drag racing school in Gainesville, Fla. Pollacheck attended the school in 1994, not very long after it began. He remembers that the late, great John Myers was also at the school when he attended. Hall went to Bryce's school only a few years ago and actually bought a Pro Stock motorcycle while in Gainesville.
Hall said, "When I started at the school, George (Bryce) said, 'I'll let you know when you're done – when you can move up from a school bike to your bike.' I did that; I became consistent on the school bike. Then, George said, 'OK, we're going to run your Pro Stock bike.' I came down here and ran my Pro Stock bike a couple times. I did well, and he asked me if I wanted to try the Buell out. I ran the Buell; I did well; and here we are."
Hall, a New Haven, Conn., native, ran with the Star Racing team at the November 2011 Manufacturers Cup Race at South Georgia Motorsports Park in Cecil, Ga. During this time, Bryce was able to coach and evaluate Hall as a racer with true potential.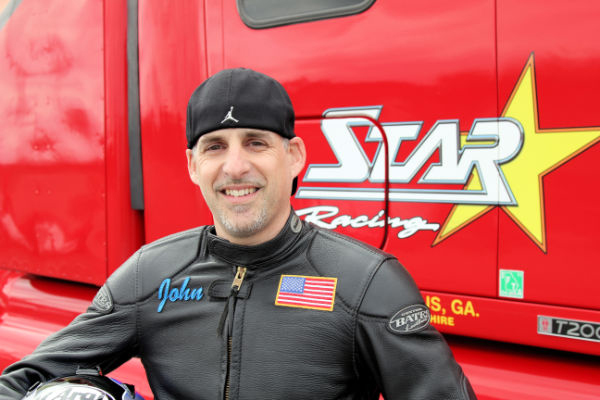 "John is a very laid-back guy; he's very calm," Bryce said. "He's easy to program; he's easy to tune. You tell him to make these changes and he does it. He has just grown and accelerated his racing style since we met. Then, once he was picked by us to be one of our drivers, he's gone right out there and run some really fast numbers now on the Sovereign-Star Racing Buell. We're really excited about his potential."
Hall began bracket racing about 16 years ago. He later raced AMA/Prostar 600 SuperSport on a Yamaha for Orient Express. He finished within the top ten for the season his first two years in the circuit. After moving up to 1000 SuperSport for Orient Express, Hall won a national event at South Georgia Motorsports Park in Cecil, Ga. He also took home third and fifth place season wins in the 1000 SuperSport Class. After later converting the bike to comply with Real Street Class regulations, Hall claimed his second national event win on the same bike, which he swears he'll never sell.
Pollacheck, Star Racing's other racer for the 2012 season, has experienced similar success from his home 3,000 miles away in Medford, Ore. The addition of Pollacheck to the Star Racing team comes several weeks after the company listed the opportunity and requirements on various online sites, including Facebook, Dragbike.com and Yellowbullet.com. After hundreds of eager responses, Bryce chose Pollacheck as the most qualified applicant.
Pollacheck has been racing for 27 years. He started out with cars for a couple years before moving to motorcycles, where he has remained ever since. Pollacheck began racing street bikes and later moved up to wheelie bar dragbikes, which is when he got involved with the KillaCycle. This world famous wheelie bar dragbike is one of the quickest, fastest and most powerful electric vehicles in the world.
"I've been riding that since 2000; and for 11 years, we were the quickest and fastest anything in the world – up until 6 or 8 months ago," Pollacheck said. "I've gone 7.82 at 174 miles per hour on that bike. We've been all over the U.S. We've been to Iceland and New Zealand – some good places. It's a huge crowd favorite just because nobody expects anything electric to go that fast, so the crowd is always enthused with it."
Pollacheck is more than comfortable with gas-guzzlers, as well. He won the 2003 NHRA Division 7 Motorcycle Championship, the 2006 AHDRA ProGas Western Division Championship, many NHRA Division 6 and 7 race wins, and track championships. Pollacheck's past success in NHRA has spurred him to strive for bigger wins on the national stage.
"I have 15 Wallys, but none of the big national event ones," he admits. "I'd definitely like to get a few of those."
After a few whirlwind weeks, Pollacheck recently visited the Star Racing facility in Americus, Ga., to meet the team and to get a feel for the Sovereign-Star Racing V-twin he'll be riding. Bryce's crew took both riders for a day of testing and tuning at the South Georgia Motorsports Park in Cecil, Ga. As expected, the newly assembled team seemed a perfect fit for the coming racing season, with both riders getting career best times on their first day.
"With both of the drivers, their size, their demeanor, their availability and their budget – those are really, really important," Bryce said. "If you can't afford to go or can't afford to take time off from work, then it ends up being a handicap rather than an advantage. We have some very serious requirements that we threw out on the Internet, and both of these guys were a good pick.
"Scotty has always had a dream to race NHRA; John's always had a dream to race NHRA; Jeno wants to race in America; and I would like to win. So, by pulling all these people together and putting all these entities into place where everyone's contributing, everyone's investing and everyone's pulling the rope in the same direction, we have a chance to achieve those goals.
"They (Hall and Pollacheck) performed above and beyond my expectations for the first day. I give them an A+ each. I'm very proud to work with them. I can't wait to go again. That's how I feel right now – I can't wait for those guys to come back. One has to come all the way from Oregon; the other one comes all the way from Connecticut; and I can't wait to meet up with those guys and run some more," Bryce said.
The Sovereign-Star Racing team will get their first chance to prove themselves at the Tire Kingdom NHRA Gatornationals March 8-11 in Gainesville, Fla.