Top Fuel Motorcycle legend Larry "Spiderman" McBride and his brother Steve are accustomed to being incredibly busy at their Newport News, Va. high-performance headquarters, Cycle Specialist. Competing in one of drag racing's most demanding categories requires long hard hours.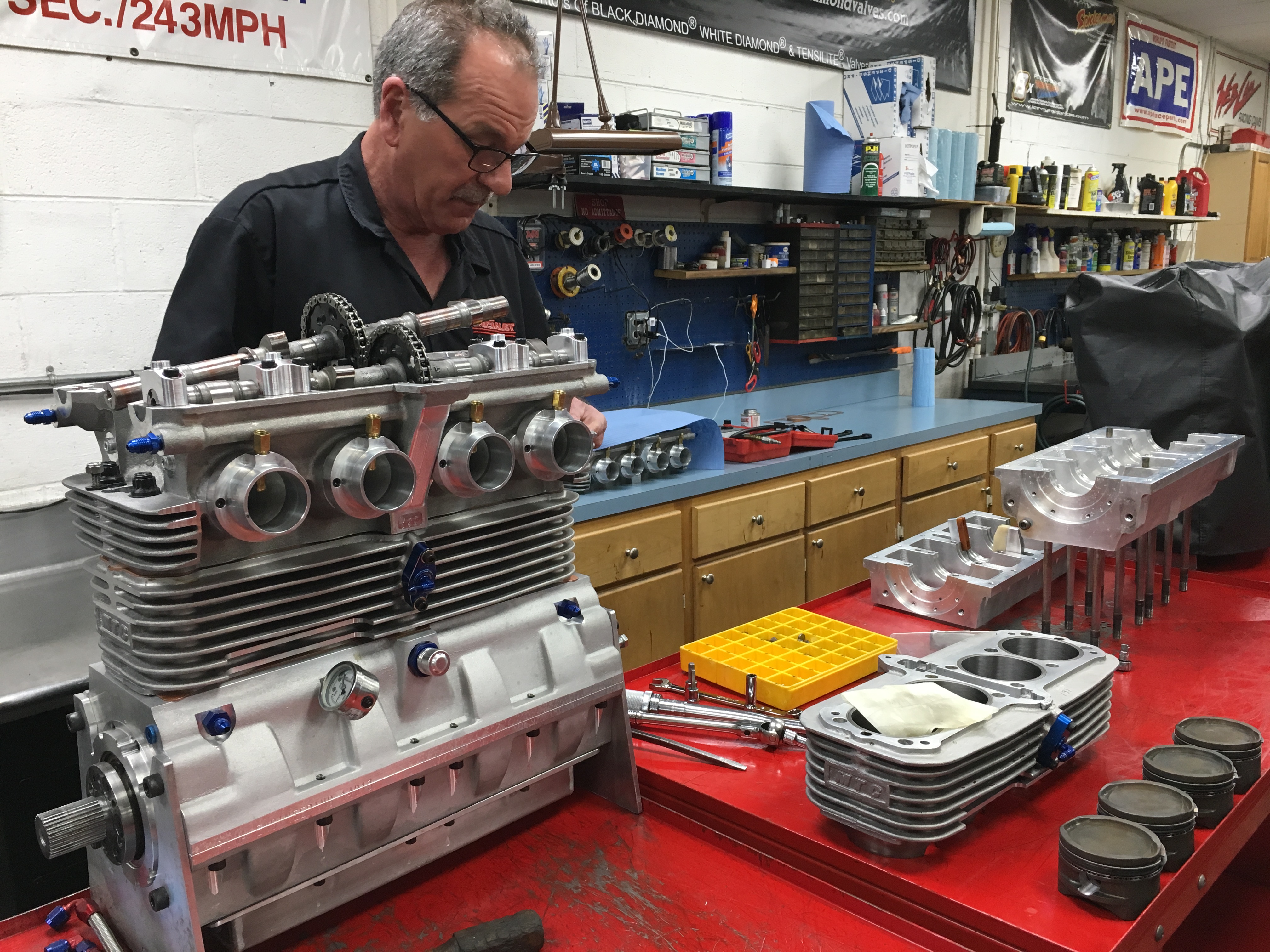 However the 19-time champion can't recall ever being as busy as he is now, building three modernistic Top Fuel bikes, refurbishing a Nitro Harley and trying to maintain his own championship program.
The brothers McBride are so busy building dragbikes they have not opened the front door of their shop to the public in over a year.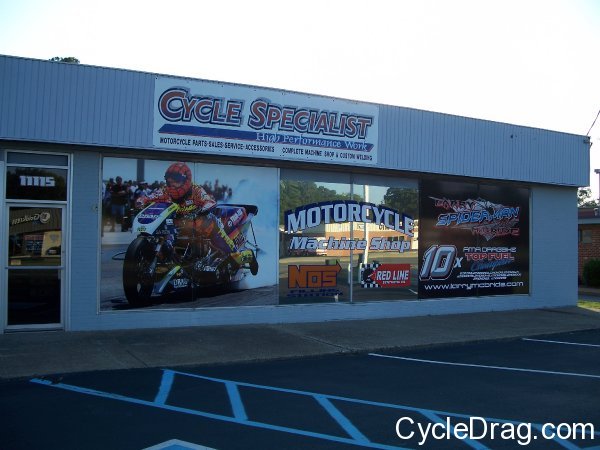 "We have more going on than I think I ever had in my life," McBride said. "There is a lot of pressure to get this all done but I'm loving every minute."
McBride admits his perfectionist nature is a big part of what is taking the builds so long. McBride says other shops may be quicker but he feels strongly no one can top the quality of he and his brother's builds.
To McBride's point, only one shop has ever produced a 5.60-motorcycle and it's his.
"There are a lot of things we run into that we could overlook and get by on. That's not how Steve and I work. We end up taking everything to the next level, right down to the hardware and mounting. Everything has to be as perfect as we can get it," world-record holder McBride said.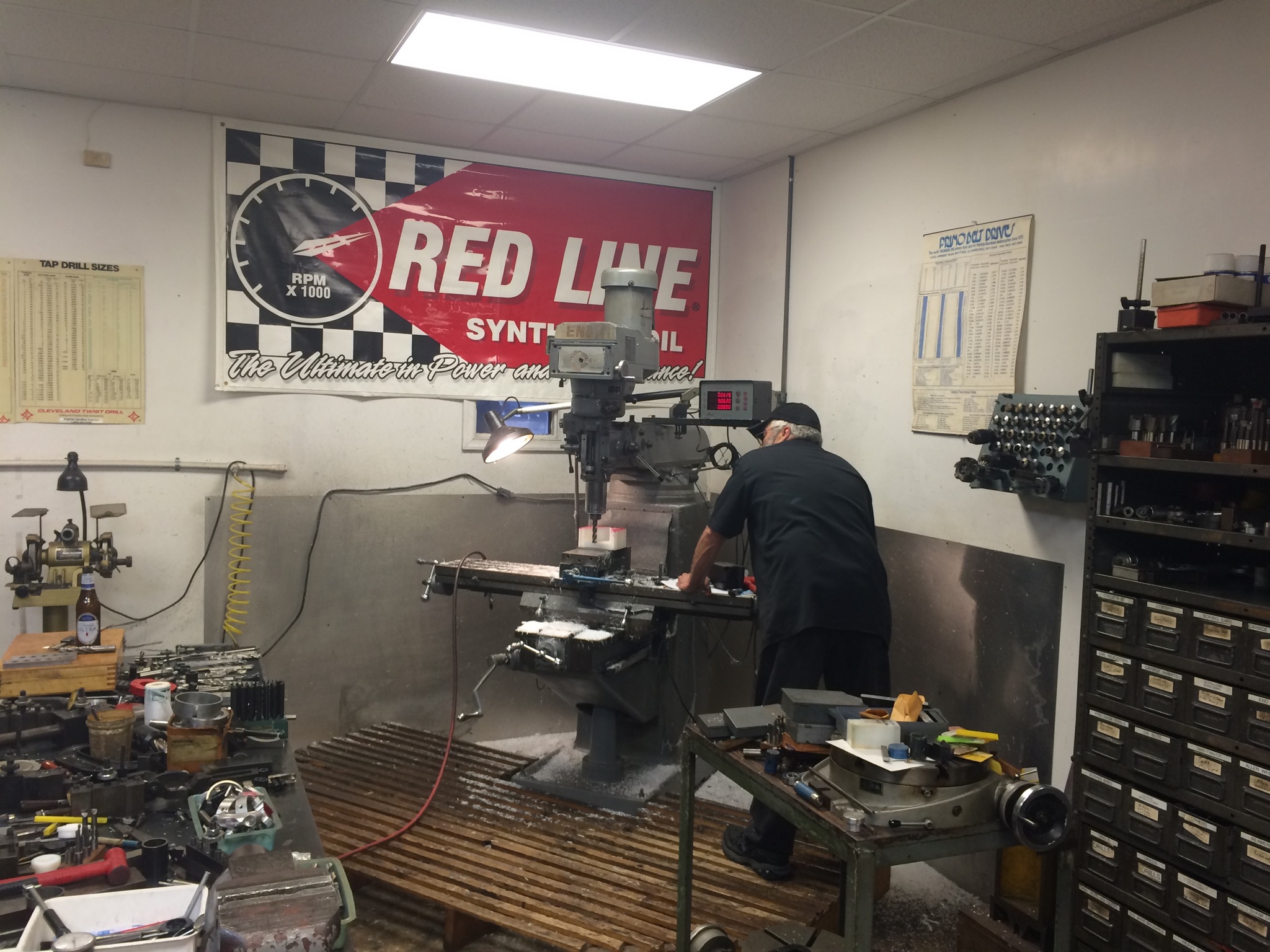 One example of the said hairsplitter mentality is the brothers spending days ensuring the rubber mounting on Tim Kerrigan's Nitro Harley is impeccable and unblemished. Not having been raced in over a decade, the machine has been at Cycle Specialist to get overhauled and updated. McBride hopes to complete the project by the end of February.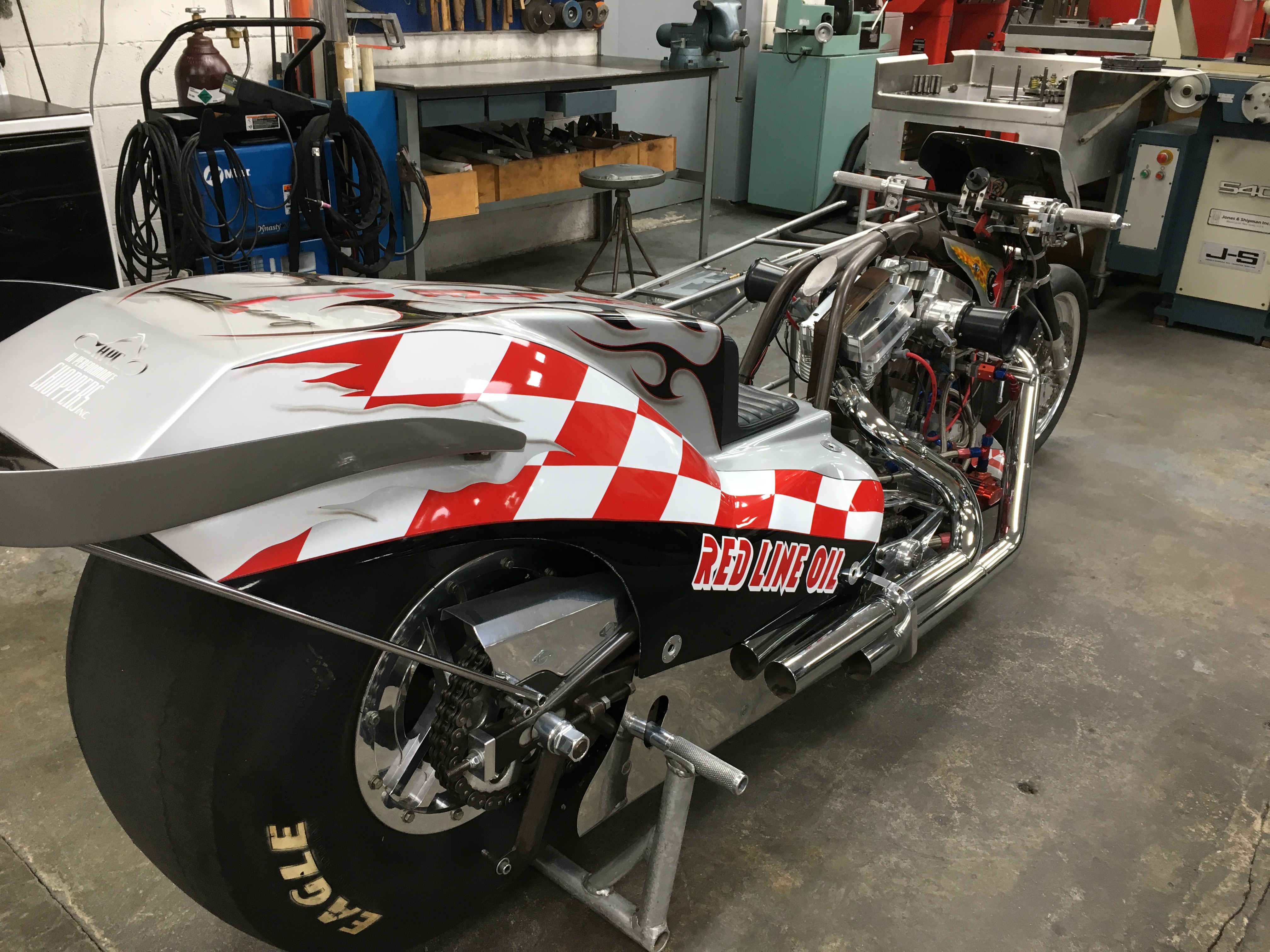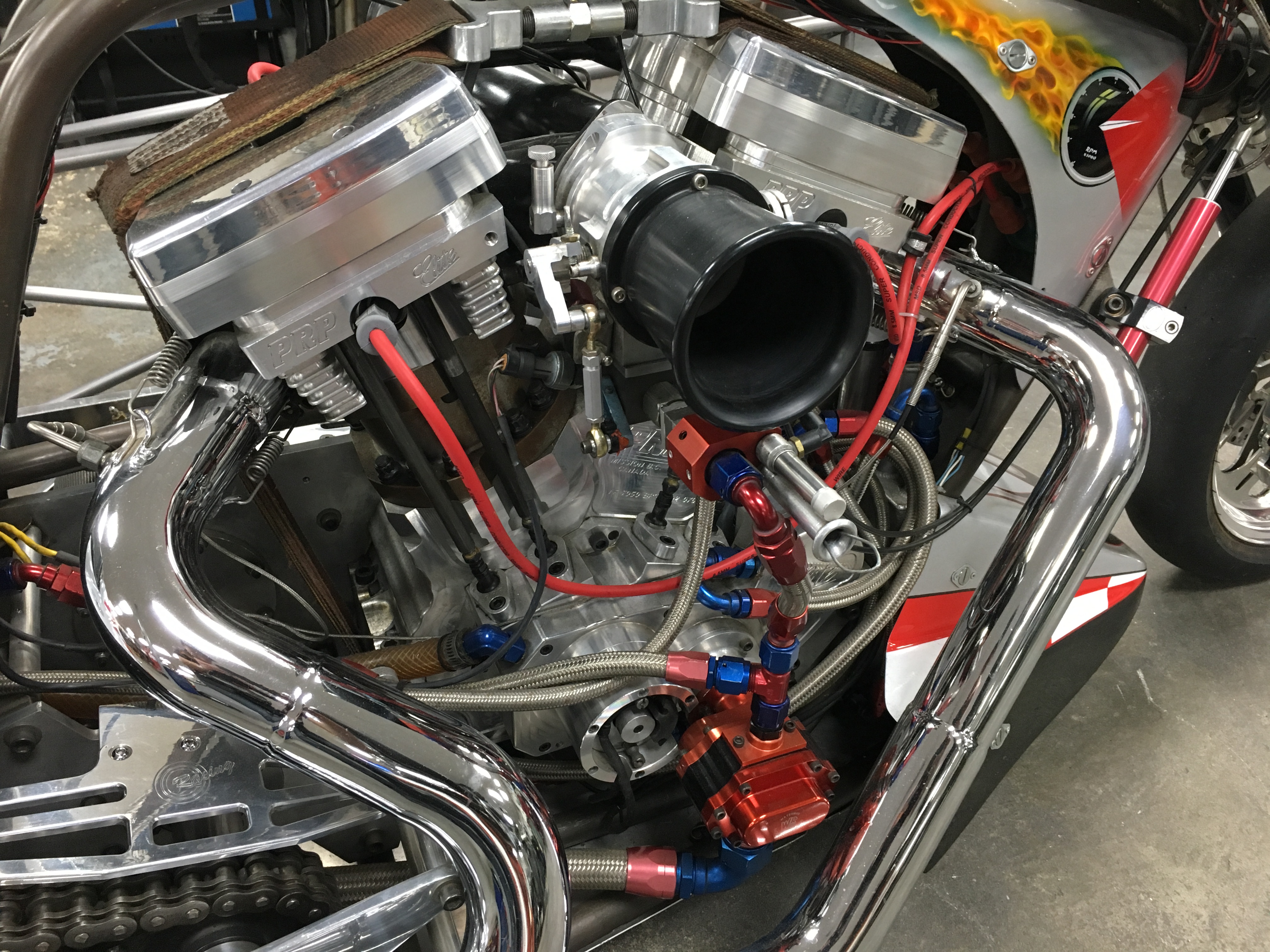 "Unfortunately on this kind of bike it just doesn't happen as quickly as you want it to," McBride said. "We spent a lot of time remounting, really focusing on quality."
McBride says there is one man to blame for his perfectionist nature. It's his greatest racing inspiration and mentor, the late legend Elmer Trett.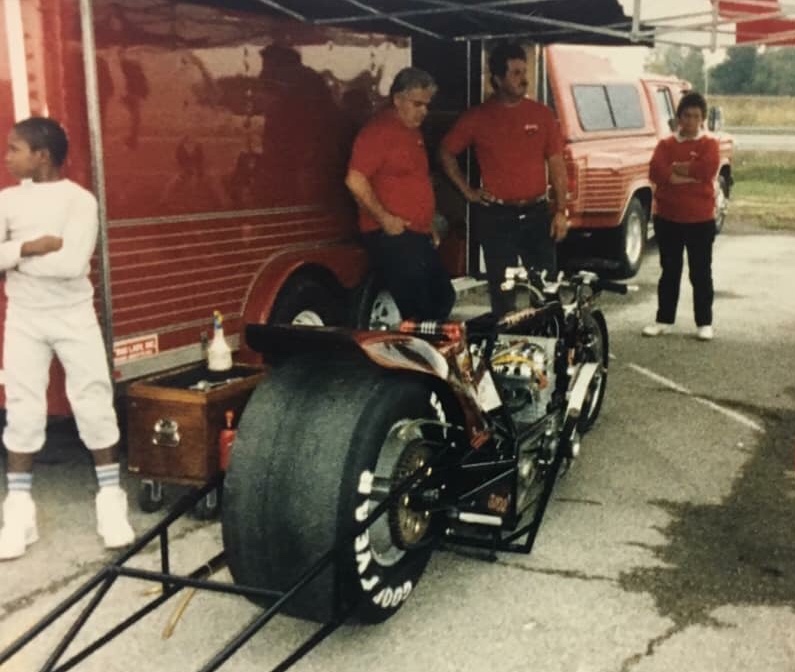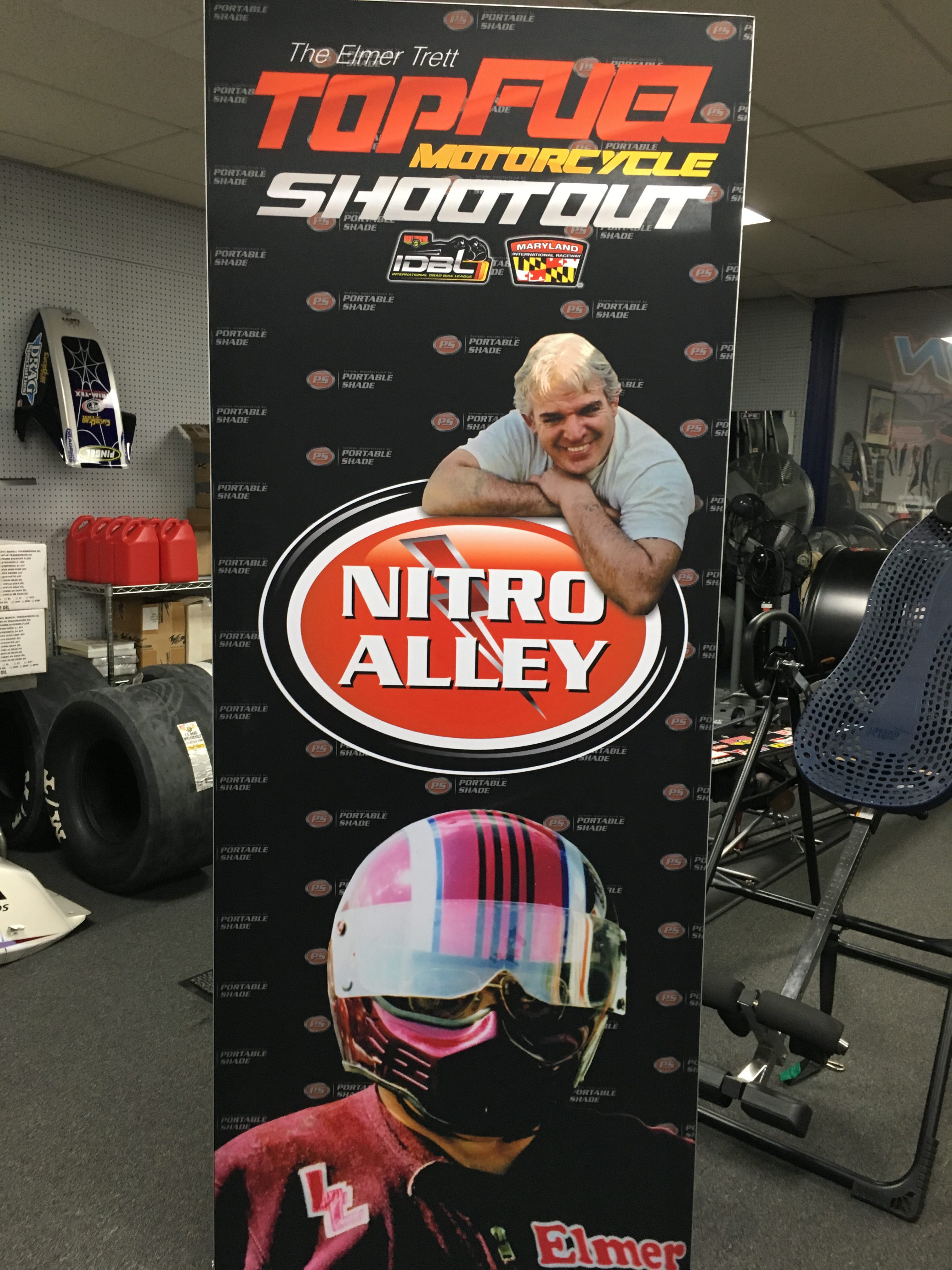 "That's the way he taught us and it stuck," McBride said. "It's the only way we know how to operate now."
McBride hopes getting the Nitro Harley completed will help expedite the completion of the contemporary Fuel motorcycle of returning, former class champion Jimmy "Hulk" Brantley. McBride is pleased to report he has all of the custom parts needed to assemble Brantley's innovative motorcycle.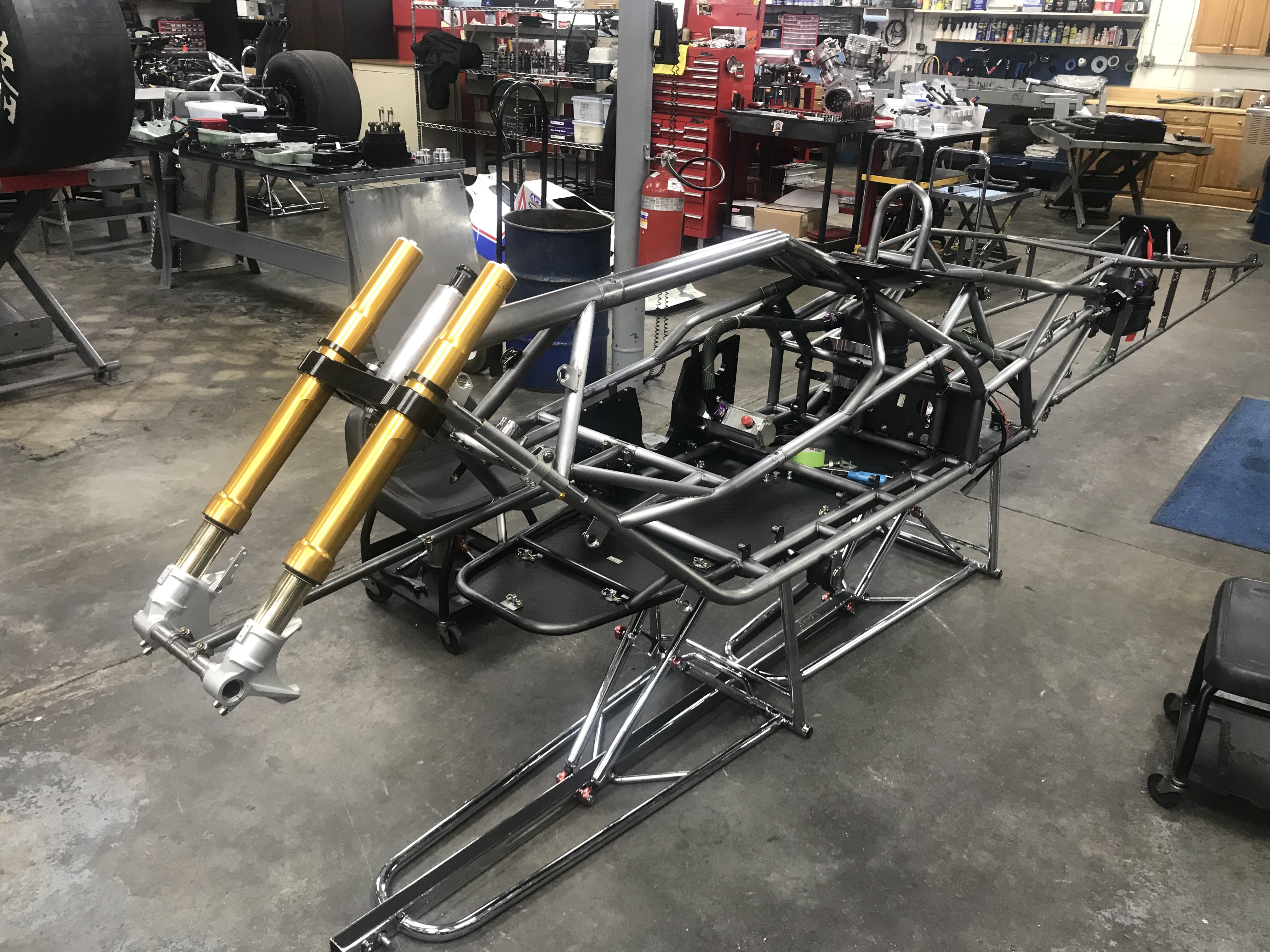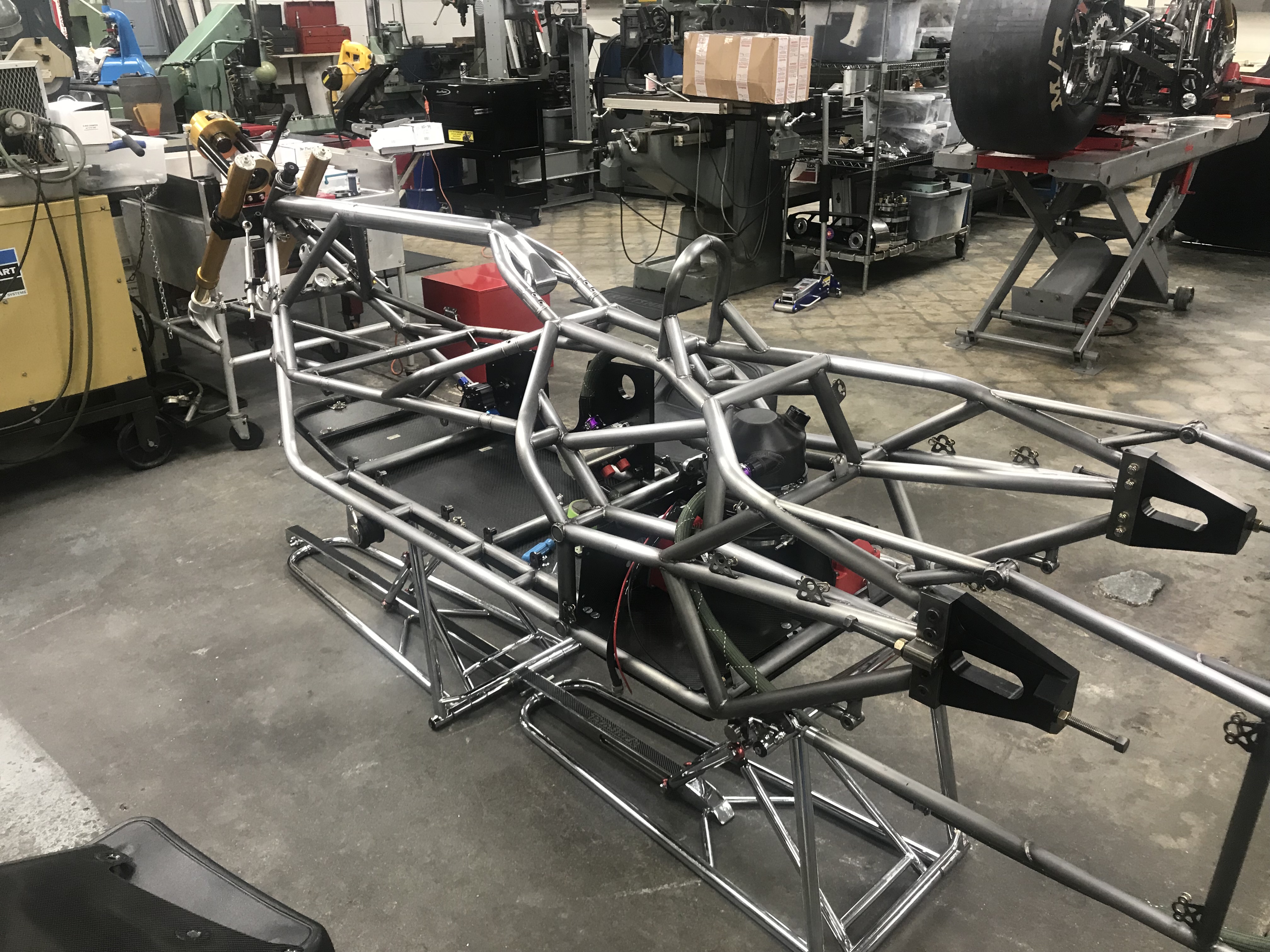 Brantley is due to make a visit to McBride's shop soon to get fitted for the bike. Aside from different handlebar risers and foot peg placement to accommodate Brantley's more compact stature, McBride says the Hulk's motorcycle will be a carbon copy of his 5.61 "Star."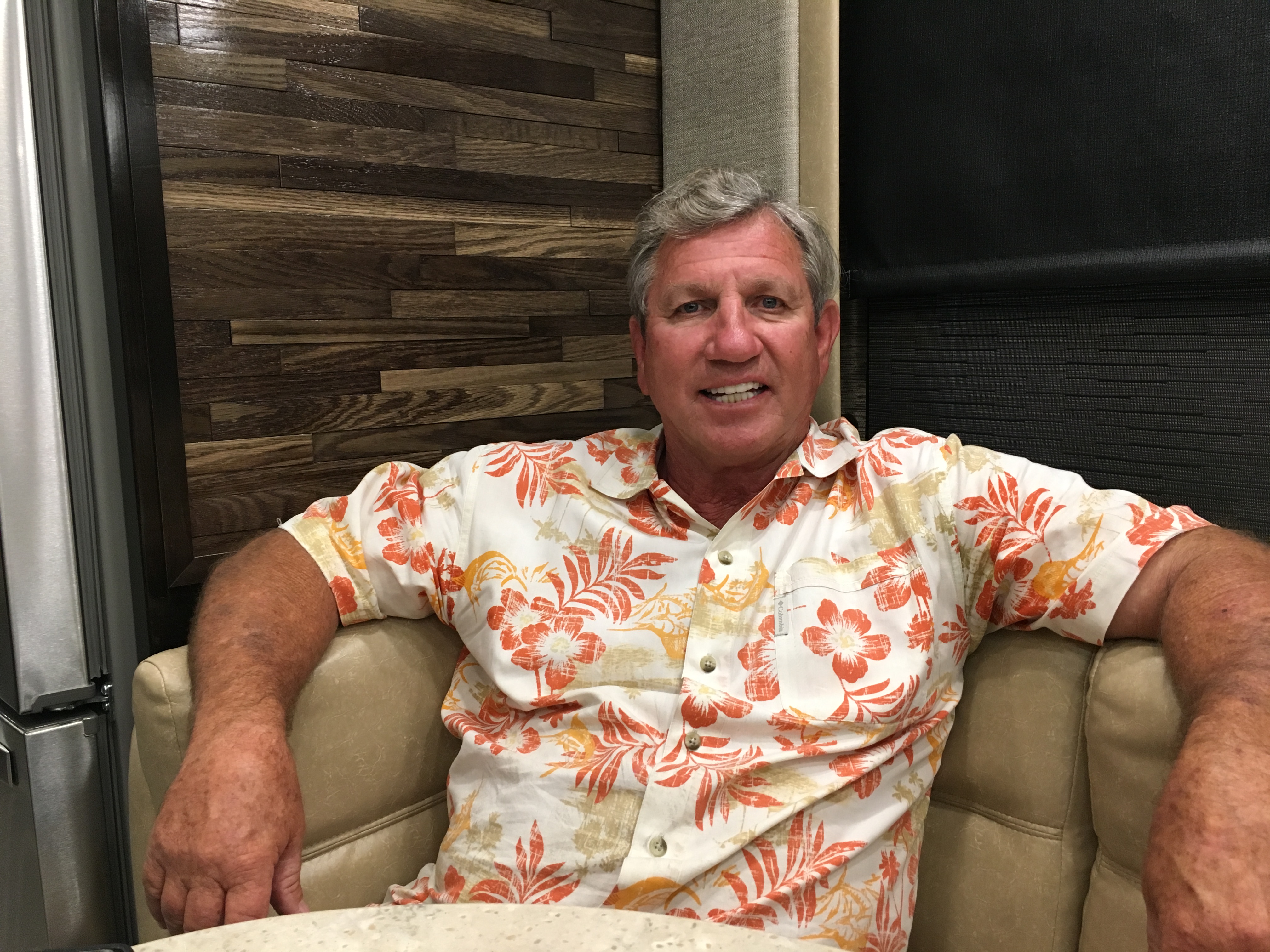 "It's as close to my bike as possible. Jimmy is a great racer and he is going to fly on this thing," McBride said. "We are really pushing hard to have it done for the first race in Valdosta (April 5-7). It's a stretch but we need to set that goal. There is just so much still left to do."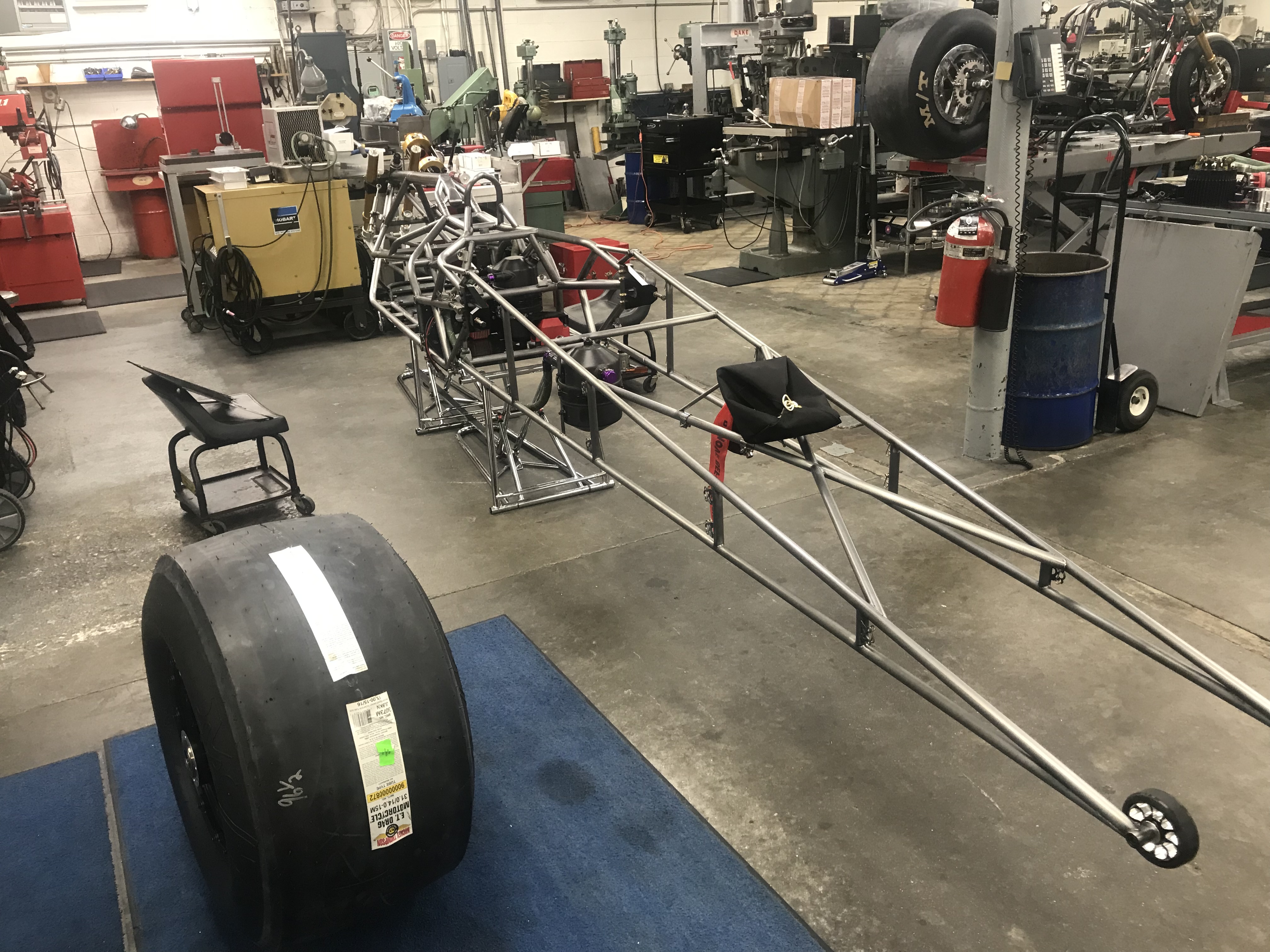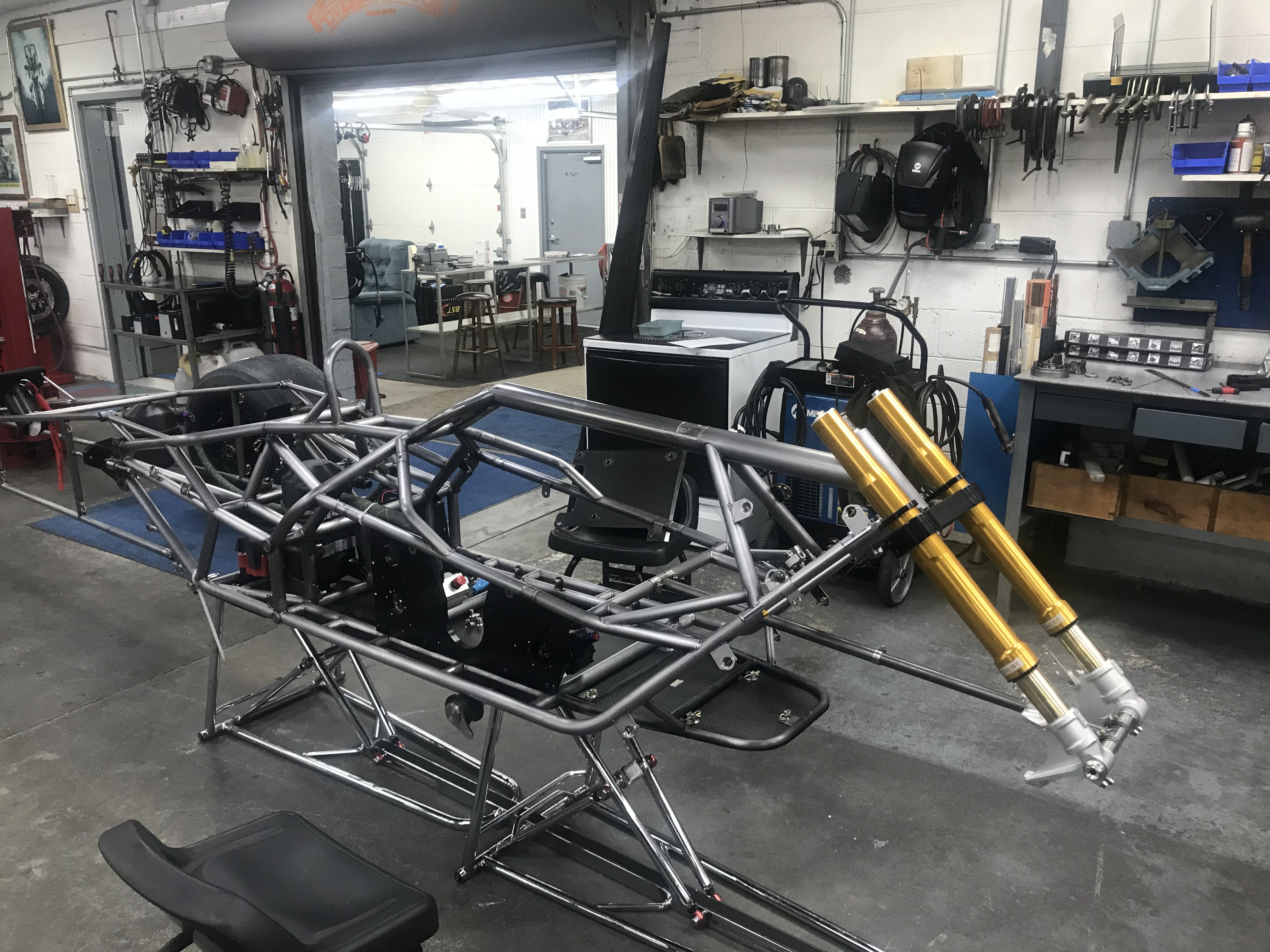 Part of the plan involves getting the motorcycle out to a test session for Brantley to get reacquainted with a nitro-burring beast after more than a decade away.
"At this rate we are just going to give it to him in Valdosta and say we hope it works, good luck," joked McBride. "In all seriousness, we will do whatever it takes to get him comfortable."
McBride says there have been a lot of setbacks during the build that have slowed down the process. The team was devastated as five weeks of work was ruined when specialty parts were destroyed during the hard-coating process.
"A lot of people just anodize, we do hard coating. It lasts a lot longer and it helps the integrity of the material and doesn't wear off. It's a completely different process and it was not done properly. The material didn't take," McBride said. "We tried to save it. We were going to have it etched, but the bearing clearances were too loose to save them."
The parts in question included drives for the magneto, fuel pump, clutch, oil pump and more.
The brothers are ecstatic to have moved past that hurdle. Since they are making everything three-at-a-time, they now also have the parts needed to assemble the new motorcycles for Athol Williams of New Zealand and Top Fuel championship contender Dave Vantine.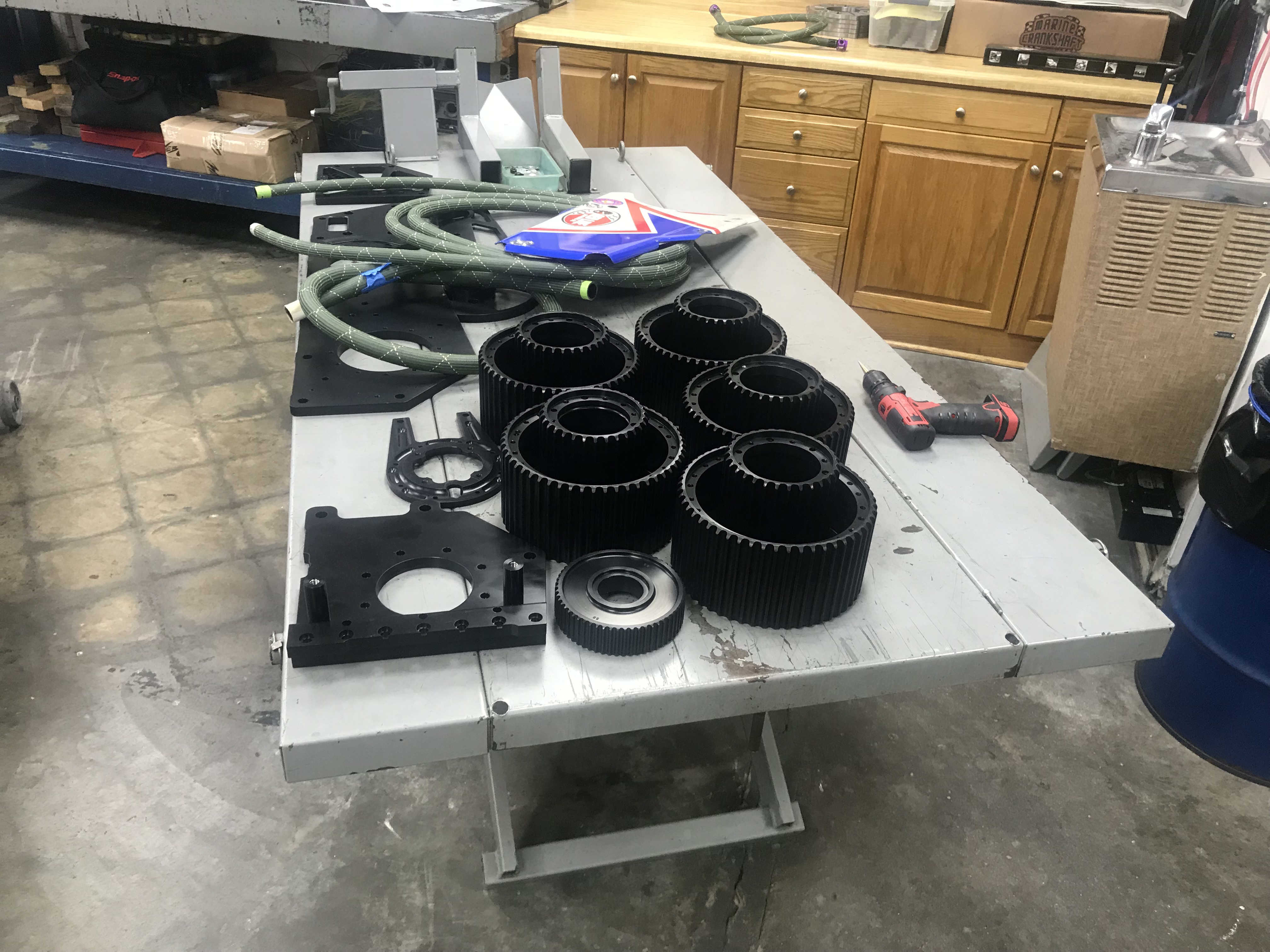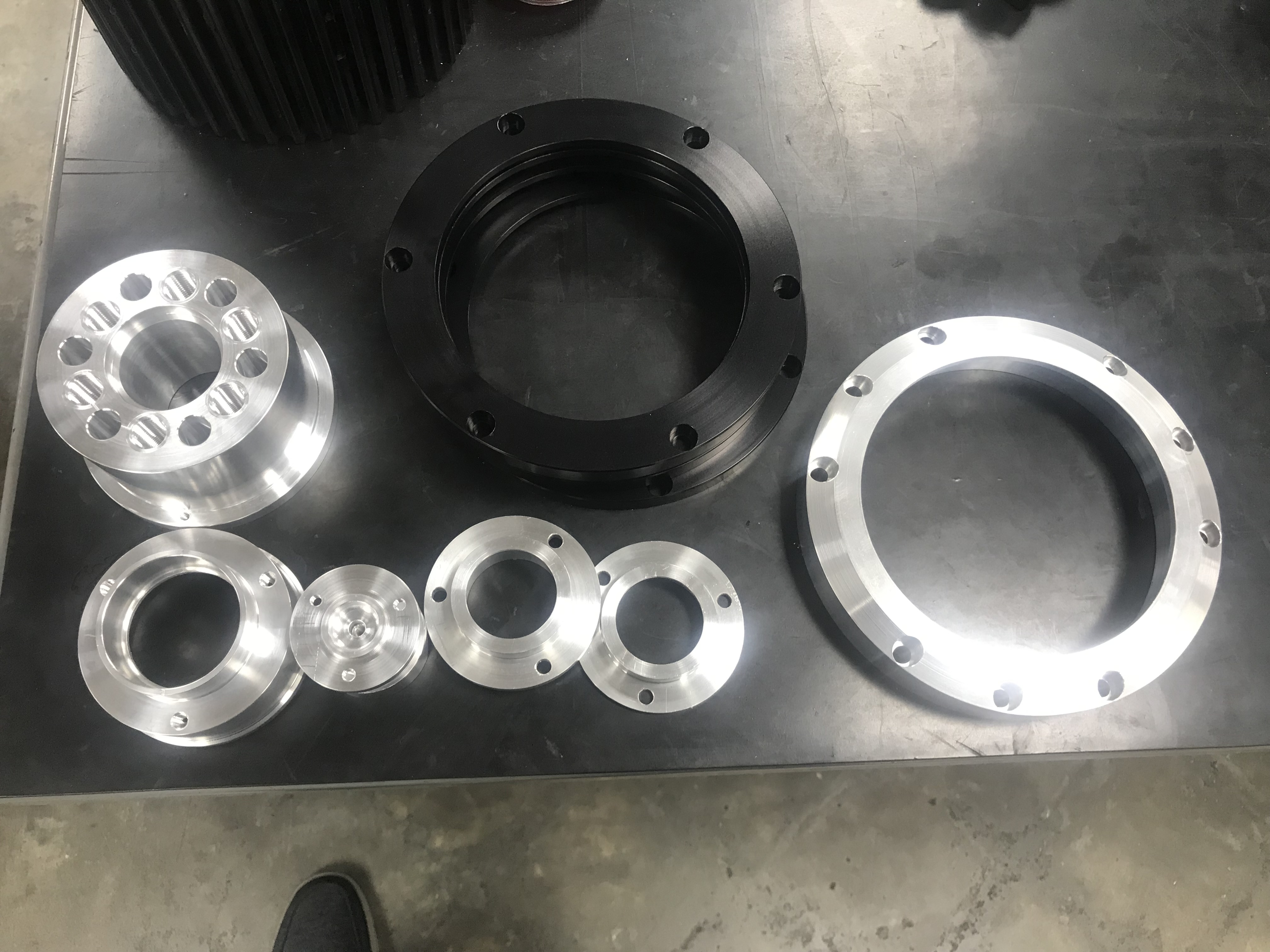 McBride says Vantine's chassis is 90-percent complete and Williams' just needs front-halfed on the frame table. He expects both of those builds to go together quicker than Brantley's now that the parts are in stock.
"Everything we make on the chassis is in a fixture so that should really help speed things up," McBride said.
As for his own program, McBride says since returning from Valdosta with a 19th championship, the team has not had time to fully disassemble its bike, which is incredibly rare for the team.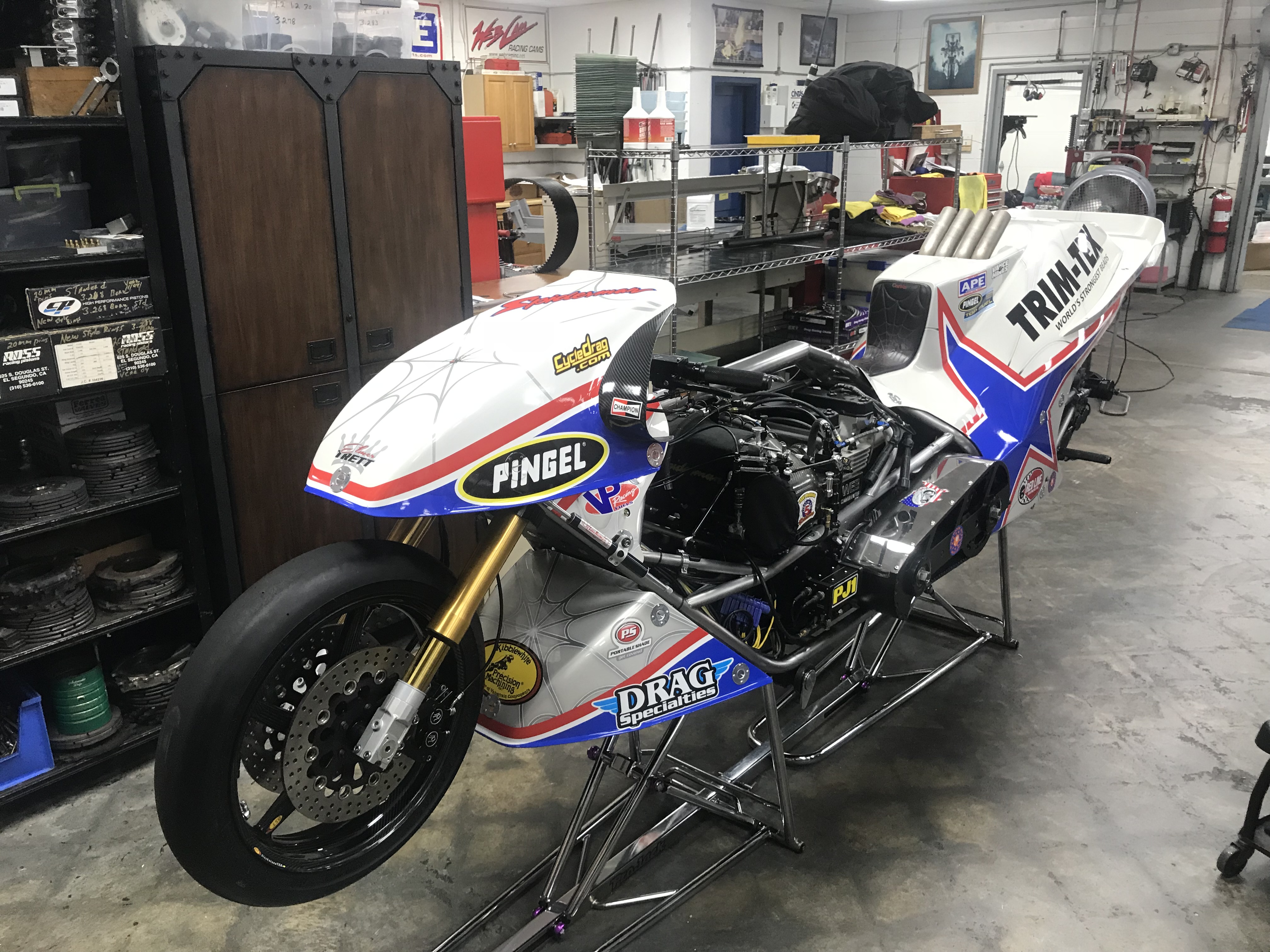 "The good news is everything was in great shape when we left Valdosta so we won't have to do much to be ready," McBride said.
And that's fortunate because the brothers don't have much spare time.
"It's stressful, but it's good stress," McBride said. "We enjoy doing it."
Jimmy "Hulk" Brantley Discusses His Return
For all the continued support McBride thanked his primary sponsors; Trim-Tex Drywall Products, Pingel Enterprise, Drag Specialties-Parts Unlimited, Final Swipe Merchant Services, Web-Cam, APE and Kibblewhite Precision Machining.
Vance & Hines Motorsports, Red Line Synthetic Oil Corporation, Federal Mogul, PR Factory Store, Ferrea Valves, World Wide Bearings, Vanson Leathers, Belt Drives Ltd, Simpson Race Products, Nitrous Express, EK Chain, Arias Pistons, Cometic Gaskets, B&J Transmission, Carolina Cycle, L.A. Sleeve, PJ1, Mickey Thompson Tires, Valco, Goodridge, Carlisle Belts, ProJack, Bullseye Visual and Gates Belts.
There are more videos on the Cycledrag Youtube channel (please subscribe here) and the Cycledrag.com Facebook page (Please like here) and more will be coming all throughout the off-season. Stay connected!