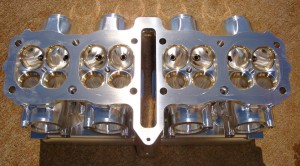 During the Indy Manufacturers Cup Event this weekend Aug. 16-18, Star Racing and Monster Race Products will be offering a discount of over $200 off the normal price for a MonStar head. Wrap your hands around one of these new heads at the racetrack and take advantage of this special offer.
With more than 15 heads already delivered and the recent proven performance of these unique GS-style cylinder heads, we have had five initial customers returning to order a second MonStar head. The third production run is complete with heads on the shelf and ready to ship.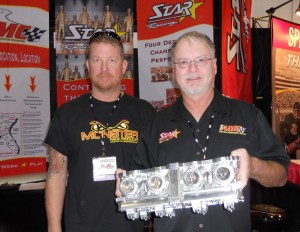 "We've seen some great results from these news heads. One Pro Mod racer produced a 4.09 ET after only a few times to the track with this new state-of-the-art design. The MonStar head is also being used in Europe by FIM racer Kenneth Vik on his Sovereign-Star Racing Suzuki," Monster Race Products owner Mitch Brown said.
As the only new Suzuki GS-based cylinder head in the last 10 to 20 years, the MonStar features begin where the old heads have maxed out. Because it is built from solid billet aluminum instead of soft cast material, this head minimizes damage from blown or melted head gaskets and other engine failures allowing for shorter, easier repairs.
"Our latest racetrack and dyno tests have shown that the newest aftermarket cylinder head for the GS engine produces more horsepower, a better ET and better mile-per-hour than any cylinder head on the market. The MonStar has already been in the 4.00's on a Pro Mod and in the 6's on a Pro Stocker," Star Racing owner George Bryce said.
MonStar heads are in stock and available for the special Indy Manufacturers Cup special price of $3,750 for the bare heads, ready for guides and seats.
Also available are Stage 1 cylinder heads that come fully machined, CNC ported with valve job (35 intake; 31 exhaust) and bronze guides and seats, ready to assemble for $4,795.
MonStar configurations are available for Top Gas, Top Sportsman, Pro Stock, Pro Mod and Top Fuel.
For more information or to see the MonStar in person, visit the Star Racing booth this weekend Aug. 16-18 on the midway at the Pingel Thunder Motorcycle Nationals hosted by the Manufacturers Cup Series at Lucas Oil Raceway in Indianapolis, Ind.
Monster on Facebook https://www.facebook.com/MonsterRaceProducts