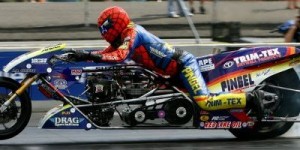 On the first leg of his two-week, racing road trip, 11-time Top Fuel champion Larry "Spiderman" McBride mesmerized over 40-thousand Buckeye-state speed freaks by propelling his swift machine to a new track record of 5.88 at the Night Under Fire, Aug. 10, from Summit Motorsports Park in Norwalk, Ohio.
"We found more power before the event," McBride said. "I was pretty confident that if we did not smoke the tire we would lay down an impressive number."
Even more impressive is the low mph of 220 and the fact McBride didn't hold the throttle open the entire length of the drag strip.  His 3.80 at 203 mph 1/8th mile numbers indicate the run could have been in the 5.70s.
"I knew we were really flying and I wanted to play it safe," McBride said.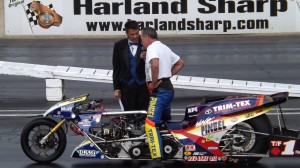 It's good to be king. Not many racers can run a 5.88 while "playing it safe."
Spiderman was enormously popular in the pits and spent most of the weekend signing autographs. McBride was cleaned out of over 2,500 hero cards in a couple of hours.
"I love meeting the fans," McBride said. "It's also great exposure for my sponsors."
McBride and brother Steve now travel to Indianapolis for the Man Cup/NHDRO Pingel Thunder Nationals Aug. 16-18, where the Spiderman will race on the legendary track, formerly known as IRP, for the first time since 2009. With Spiderman on a roll and Indy a proven facility, can McBride hit the 5.70 zone at the Pingel Thunder Nationals?
"We had extremely good weather in Norwalk. If we get the same in Indy we should fly," McBride said. "I'm excited for the event. My sponsors Wayne and Donna Pingel will be there. It will be great to spend some time with them."
In the meantime McBride will stay a few days at Vance and Hines' high-tech race shop in Brownsburg, Ind., where he will service his motorcycle and bounce potential performance upgrades off of his friend and sponsor, drag bike racing genius Byron Hines.
"I'm really looking forward to this," McBride said. "It's a rare opportunity because Vance and Hines has some off time. They are usually very busy with their race program."
McBride thanked his primary sponsors; Pingel Enterprise, Trim-Tex Drywall Products, Drag Specialties-Parts Unlimited, Red Line Synthetic Oil Corporation, Final Swipe Merchant Services and Barry Van Hook.
McBride thanked associate sponsors; K&N Air Filters, Web-Cam, Vance & Hines Motorsports, PR Factory Store, Ferrea Valves, Kibblewhite, Precision Machine, World Wide Bearings, Vanson Leathers, Belt Drives Ltd, Simpson Race Products, Nitrous Express, APE, EK Chain, Arias Pistons, MSD, Protect ALL, Cometic Gaskets, B&J Transmission, Carolina Cycle, L.A. Sleeve, PJ1, Mickey Thompson Tires, Valco, Goodridge, Carlisle Belts and Gates Belts