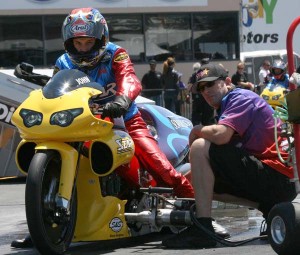 After the Sovereign-Star Racing teammates' successful performances at the National Hot Rod Association (NHRA) Sonoma Nationals they headed home to continue their long hours in the shop on engine updates and improvements over the two-week break.
The crew hopes to see the effects of their hard work on the track this weekend as their racers, Scotty Pollacheck and John Hall, compete August 17-19 at the Lucas Oil NHRA Nationals hosted by the Brainerd International Raceway in Brainerd, Minn.
These two rookie Pro Stock Motorcycle drivers had one of their best race weekends of the season in Sonoma, setting both personal and team best ETs and 60-ft. numbers as they both claimed Round 1 wins.
Star Racing owner, George Bryce, hopes to continue their consistent improvement that seems to be a result of the team's more individualized bike tuning based on each racer's unique driving style.
"Everyone can see that John and Scotty are getting more comfortable with their racing and that the team is really clicking now; we're all working really well together and we must keep blazing the trail that we have been," Bryce said. "Even our European partner, Jeno, who was with us in Sonoma, was pleased with our progress."
"We have new parts and new pieces that we've been testing and we've made lots of dyno runs. We're continuing to find horsepower, and we can't wait to go faster," he added.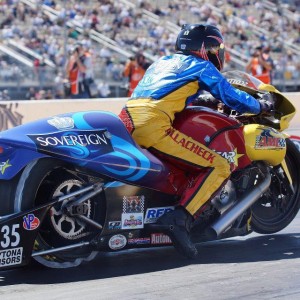 The Sovereign-Star Racing drivers are also hopeful about the coming race weekend after their positive results in Sonoma.
"I'm hoping we can carry it over into the next two races. Scotty is 7th and I'm 12th in the points, so obviously I'm looking to get into the top 10. I'm not concentrating so much on points, though, just on going rounds and doing better; then, hopefully, we'll get the points we need. I just want us to continue on that upward swing," Hall said.
"I'm really excited about this weekend since it seems like a lot of things really came together in Sonoma. I think John and I are riding better than ever and the bikes are performing better than ever. We're getting closer to the Aranas and the Harleys than ever before," Pollacheck said.
"Sonoma was definitely the best race so far just because the team did really well and that was basically my home racetrack, so lots of people I knew were there and came by to visit, which made it a really cool weekend for me," he added.
With the NHRA Full Throttle Series Countdown to the Championship only a few weeks away, the Sovereign-Star Racing Team is concentrating all their efforts on making consistent passes that will earn them a spot in the top 10 season point standings.
The Countdown, which is the six-race playoffs of the season, only advances with the top 10 drivers in each class and resets their points to within 10 of one another, except for the points leader's 30-point advantage over second place. These 10 drivers then compete for the Full Throttle World Championship during the season's final six races.
"We have two races left to go before the Countdown starts. Scotty's in a good position to be in the top 10; we need John to win four extra rounds to get in the Countdown if we're gonna have both bikes in it. If we don't get both bikes into the Countdown, we're still gonna run just as hard every race and continue to learn and continue to gain in experience and performance as we have over the last eight races," Bryce said.
"I think it motivates me because you really, really want to be in the Countdown. And now that there are only two races left before the it starts, you really have to stay focused and do a good job for these races so that you get in there. I think it's really exciting now that it's so close. It's gonna be fun this next couple of weeks," said Pollacheck, who is currently No. 7 in the points.
"I'm just concentrating on what I'm doing – what I know how to do. And as long as l do the best I can possibly do, it'll either translate into points or it won't. But, hopefully, the points will follow," said Hall, who's No. 12. "I'm going into this weekend focusing on making good laps and being consistent – giving my team something that they will be able to tune off of."
The 2012 Sovereign-Star Racing Team is a partnership between Georgia-based Star Racing and the Hungarian-based Sovereign Racing Team, the 2011 UEM European Pro Stock Bike Championship Team, owned by sugar distributor Jeno Rujp.
The Sovereign-Star Racing Team would like to thank the following sponsors: Sovereign, Star Racing, S&S Cycle, Daytona Sensors, Worldwide Bearings, CP Pistons, Permatex, Americus Motorsports Complex, Who's Up Next?, and Quality Tire.
Television Coverage:
Lucas Oil NHRA Nationals
August 17-19; Brainerd, Minn.
Qualifying: 11 p.m. – 1 a.m. ET Saturday, August 18 (ESPN2)
Eliminations: 9 p.m. – 12 a.m. ET Sunday, August 19 (ESPN2)
Star Racing Fast Facts:
Based in Americus, Georgia
Six-time NHRA Pro Stock Motorcycle Championships
78 NHRA national event wins with nine different riders
Owned by George & Jackie Bryce
Sovereign Racing Team Fast Facts:
Based in Budapest, Hungary
2011 European UEM Championship Team with rider Jesper Thiel
Owned by Jeno Rujp
John Hall Fast Facts:
From: Hamden, Connecticut
Job: Real Estate Investor
Years in racing: 16
Scotty Pollacheck Fast Facts:
From: Medford, Oregon
Job: Owns "Quality Tire" store
Years in racing: 27