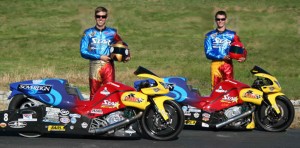 As Sovereign-Star Racing's  championship contender No. 4 Michael Ray continues to compete for the 2013 NHRA  Mello Yello Series Pro Stock Motorcycle title, he will be joined by 19-year-old  rookie teammate Chaz Kennedy this weekend Oct. 4-6 at the Auto-Plus NHRA  Nationals at Maple Grove Raceway in Reading, Pa.
"I'm  looking forward to going to Reading and running really well. We've been taking  those baby steps forward, so now it's just time to keep up the momentum towards  the championship. We're not out of it yet. Maple Grove has been such a truly magical  place for our team. That's where Angelle (Sampey) got her first win with the  Star Racing team.
"The  pressure is really on for all the teams. With the performance gains at that  track, it'll be a good chance for the teams to show what they can do. Especially  with Chaz (Kennedy) coming out, I'm excited to see him get his shot. He doesn't  know how fast that motorcycle is gonna go, so he has a chance to go out there  and break some hearts this weekend," Ray said.
So  far during his 2013 season with Sovereign-Star Racing, Ray has earned two  national event wins, three other semifinal round appearances, two No. 1  qualifiers, low ET for the Norwalk event, and the top speed for Norwalk that  also set a new track record. For the last nine races, Ray has also maintained a  position within the top five competitors in the Pro Stock Motorcycle points  standings, holding the No. 2 position for three consecutive races.
With  only three races left to go in the NHRA Countdown to the Championship, Ray is  only 17 points, or less than one round of competition, out of the second place  position as he enters this weekend's race at Maple Grove Raceway.
"I  have my sights set on the championship just like Michael (Ray) does, but you  can't force it. You have to stay in the moment; make the next run be the most  important one; and collect all the points you can. Then, by Sunday afternoon,  we'll have a new story about where we stand in the Countdown to the Championship,"  Star Racing owner George Bryce said.
Kennedy,  a Sovereign-Star Racing crew member and developmental driver for 2013, has been  training with the team with the intention of making his NHRA Pro Stock Motorcycle  debut aboard the team's Suzuki during the last few races of the season. After  receiving the sudden news that former Sovereign-Star Racing driver Scotty Pollacheck  would be leaving the team to compete as an individual for the remainder of the Countdown,  Bryce made the decision to continue their two-motorcycle program with Kennedy  piloting the S&S Cycle-powered Buell left empty by Pollacheck's  resignation.
"I'm  excited to see Chaz (Kennedy) run because I've helped him for two years to  learn how to do it, and this will be his first time on this 'rocket ship.' It will  be good to see how well his focus is with all the surroundings. It's going to be  intimidating (for him) to say the least. The only thing that will seem normal  to him will be the inside of his helmet. But, as long as I've been working with  him, he's been a quick study and quick learner. I've been impressed with how  fast he adapts," Bryce said.
During  Star Racing's nearly 30 years in NHRA national competition, Bryce has  introduced six other rookie Pro Stock Motorcycle racers into the class,  including three-time champions John Myers and Angelle Sampey.
"I'm  just excited for the opportunity, and my dreams are finally coming true. It's a  great opportunity to race with the best, since I've always wanted to race in Pro  Stock Motorcycle. I was surprised to find out that I was driving the Buell. The  original plan was to go out and race the Suzuki at Vegas and Pomona. We've been  training all year on the Suzuki, so this will really mix it up. But we're gonna  go out and just have fun," Kennedy said.
Kennedy,  who has been racing since age 5, has claimed three American Motorcycle Racing  Association (AMRA) Championships. He was also named AMRA Rookie of the Year,  AMRA Racer of the Year, and All Harley Drag Racing Association (AHDRA) Rookie  of the Year. This weekend's Auto-Plus NHRA Nationals will be his first time  competing at an NHRA National Event.
Kennedy's  father, Chuck Kennedy, has also been a member of the Sovereign-Star Racing team  for the past two seasons as the crew chief for the Buell motorcycle formerly  driven by Pollacheck.
Television  coverage for this weekend's Reading, Pa., race will begin with qualifying from  11:30 p.m. – 1 a.m. EST Saturday, Oct. 5 on ESPN News and final eliminations  from 8 – 11 p.m. EST Sunday, Oct. 6 on ESPN2.
The  2013 Sovereign-Star Racing Team is a partnership between Georgia-based Star  Racing and the Hungarian-based Sovereign Racing Team, the 2011 UEM European Pro  Stock Bike Championship Team, owned by sugar distributor Jenõ Rujp.
The  Sovereign-Star Racing Team would like to thank the following sponsors:  Sovereign, Star Racing, Americus Motorsports Complex, S&S Cycle, Daytona  Sensors, Worldwide Bearings, CP Pistons, Cometic Gaskets, and Uncle Hal  Gottspeed Racing.