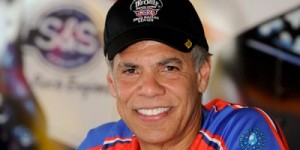 Hector Arana Sr. has been in a championship fight or two in his career as rider of the Lucas Oil Buell, and he knows the right approach to take heading into this weekend's Auto-Plus NHRA Nationals at Maple Grove Raceway.
Arana is tied for second in the Pro Stock Motorcycle standings with his son Hector Jr. and is 75 points behind leader Matt Smith. Arana said sometimes it's difficult to remember that consistency, and not one huge run, will trim that deficit.
"I was telling Hector that we need to stay calm," the elder Arana said. "If you get too worried about the championship, that's when you can lose everything. We need to keep going one step at a time and do the best we can.
"I've been there and know how being in a situation like this feels. I'm doing my best coaching Adam and Hector. I'm letting them know they need to not worry about it and just go do their thing."
Conditions are normally prime for making power at Maple Grove, and Arana believes hitting on the right combination early is key.
"We're really going to have to study our data well so we can come up with the perfect tune-up," Arana said. "We don't have to worry about winning the race until the end of Sunday. We just need to focus on the run that is in front of us and making it the best it can be.
"When I made the great run I made in St. Louis I was pumped, and it got everyone excited and working harder to make the next run just as good. Once you feel comfortable, you feel confident. When your confidence comes back, there's no better feeling to have."