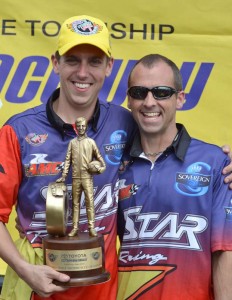 Coming off of their second win this season in Chicago, Ill., the Sovereign-Star Racing teammates, Michael Ray and Scotty Pollacheck, will race for the team's first ever win at Summit Motorsports Park in Norwalk, Ohio, during the Summit Racing Equipment NHRA Nationals this weekend July 5-7.
Both teammates are currently in the top ten Pro Stock Motorcycle points standings for the Mello Yello Drag Racing Series, with Ray in the No. 2 position following his two wins this season and Pollacheck at the No. 6 spot.
Ray claimed the 80th NHRA national event win and coveted Wally trophy for the Star Racing team with his victory over his former crew chief, Matt Smith, last weekend in Chicago, Ill. During Star Racing's 33 years in NHRA drag racing, they have yet to win the Norwalk, Ohio, event.
"We just earned our 80th Wally for Star Racing, and it would be great to claim number 81 this weekend with our first ever win at Norwalk. Our team has trophies from lots of different racetracks over the years except for Norwalk, so this could be another first for us. It would also be great to give our Sovereign Racing sponsor, Jenõ Rujp, his third win this season," Star Racing owner George Bryce said.
The Sovereign-Star Racing teammates have advanced to four final rounds and three semifinal rounds of competition so far during the 2013 season. In addition, Pollacheck set the low ET for the Four-Wide Nationals in Charlotte, N.C., and Ray was the No. 1 qualifier at the New England Nationals in Epping, N.H.
After their increasing success this season, the teammates are confident and ready for the competition this weekend at Norwalk.
"I was packed and ready to race again right after getting that Wally in Chicago last weekend! Our team is on a roll right now, and our momentum is great. We've been very consistent, and it's purely based on how prepared we are for battle," Ray said.
"It seems like the bikes are running really well now, so I feel good about our chances to win. We definitely have two fast motorcycles based on the numbers we've been posting. It all goes back to what everyone at the shop is doing for our engine program to help us go fast," Pollacheck said.
Ray and Pollacheck will race this weekend July 5-7 at the Summit Racing Equipment NHRA Nationals at Summit Motorsports Park in Norwalk, Ohio. Television coverage for the event will air on ESPN2 beginning with qualifying sessions from 6-8 p.m. EST on Saturday, July 6 and final elimination rounds from 7-10 p.m. EST on Sunday, July 7.
The 2013 Sovereign-Star Racing Team is a partnership between Georgia-based Star Racing and the Hungarian-based Sovereign Racing Team, the 2011 UEM European Pro Stock Bike Championship Team, owned by sugar distributor Jenõ Rujp.
The Sovereign-Star Racing Team would like to thank the following sponsors: Sovereign, Star Racing, Americus Motorsports Complex, S&S Cycle, Daytona Sensors, Worldwide Bearings, CP Pistons, Cometic Gaskets, Quality Tire, and Uncle Hal Gottspeed Racing.
Star Racing Fast Facts:
·         Based in Americus, Georgia
·         Six-time NHRA Pro Stock Motorcycle Championships
·         80 NHRA national event wins with 10 different riders
·         Owned by George & Jackie Bryce
Sovereign Racing Team Fast Facts:
·         Based in Budapest, Hungary
·         2011 European Motorcycle Union (UEM) Championship Team with rider Jesper Thiel
·         Owned by Jeno Rujp
Scotty Pollacheck Fast Facts:
·         From: Medford, Oregon
·         Job: Owns "Quality Tire" store
·         Years in drag racing: 27
Michael Ray Fast Facts:
·         From: New Braunfels, Texas
·         Job: Harley-Davidson Motorcycle Salesman
·         Years in drag racing: 11