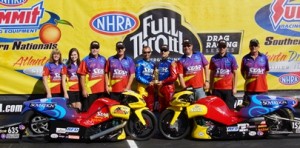 During a whirlwind rookie year in the NHRA (National Hot Rod Association) Full Throttle Series, Sovereign-Star Racing's Scotty Pollacheck honored the team with a No. 7 finish in the Countdown to the Championship and a finalist nomination for the 2012 Automobile Club of Southern California Road to the Future Award, among his many other accomplishments throughout the 2012 racing season.
Pollacheck and his S&S Cycle powered XB12R Buell qualified at all 16 Pro Stock Motorcycle events, ending on a high note with his best qualifying position of No. 3 at the AAA Auto Club NHRA World Finals in Pomona, Calif. He also claimed 12 elimination round wins and made his way to the impressive No. 5 position in the Countdown to the Championship.
"Overall, just to be able to say that we qualified for all the races and that we always did our job as a team is a major accomplishment in itself. On top of that, I feel like we were competitive. We qualified for every race, and in the end we were competitive with the Hectors and much closer to the Harleys. Plus, improving on career bests two or three different times is also nice. We actually started that the first day the team assembled for test and tune in Valdosta," Pollacheck said.
Pollacheck claimed his current career best and the Star Racing team best 6.859-second Elapsed Time (ET) at the NHRA Finals in Pomona and a best 1.03-second 60-foot time at the Sonoma Nationals in Sonoma, Calif., that topped Star Racing's 25-year career in NHRA competition.
"Before going into this season, I think that I was pretty well versed on the competition side of things as far as being used to high pressure situations in racing, but I definitely think that I improved this season as a racer as far as technique and getting the motorcycle down the track in the correct way.
"All of that improvement comes from George (Bryce) and Ken (Johnson) helping me. It was nice to get that sort of knowledge and guidance from those two guys who know more about this type of racing than pretty much anybody else out there," Pollacheck said of Star Racing owner George Bryce and Chief Tuner Ken Johnson.
"John (Hall) and Scotty both produced a lot of firsts for our team this year," Bryce said. "When we started out the season, it was a huge surprise to me, that we could be that far behind after missing 45 NHRA national events. The other teams have definitely improved their performance over the last three or four years.
"We made small improvements incrementally over the first half of the season, but once we got our DTS engine dyno back online in August of this year, we really accelerated our learning curve. Gaining and moving toward the front of the pack was very rewarding, and it was all made possible by our good friend and partner, Jeno, who helped to bring the Star Racing team back to Pro Stock Motorcycle where we belong!
"We're also very grateful to the wives of our team members, Ivette, Susan and Peggy, and the other family members who supported them and allowed our guys to put 16 weeks of their lives into our team effort at the track," Bryce said.
In addition to their No. 7 finish and multiple improvements in ETs, the team also had both rookie drivers nominated as finalists in the 2012 Automobile Club of Southern California Road to the Future Award, which recognizes the top rookie competitor in the NHRA Full Throttle Drag Racing Series. At the Southern Nationals in Atlanta, Ga., the team also claimed the 2012 Best Appearing Crew award, which is given to only one out the approximately 400 entries at each race and is meant to commend teams for their overall presentation and the unity of their team brand.
The 2012 NHRA racing season marked the first for the newly-formed Sovereign-Star Racing partnership between Georgia-based Star Racing and the Hungarian-based Sovereign Racing Team, the 2011 UEM European Pro Stock Bike Championship Team, owned by sugar distributor Jenõ Rujp.
The relationship between these two race-minded businessmen began several years ago when Rujp and his European Sovereign Racing Team drivers attended Bryce's Pro Stock Motorcycle Drag Racing School in Gainesville, Fla.
Later, Bryce steered Rujp's Sovereign Racing Team to the 2011 UEM European Pro Stock Bike Championship as the team's chief tuner, racing instructor and consultant during their first season in competition.
With his team's racing success overseas, Rujp decided to use his resources to fulfill his "big dream" of racing in the U.S. NHRA Pro Stock Motorcycle circuit, but with one stipulation – Bryce had to be the one to manage his team and tune his bikes.
"Jeno and I have a great mutual respect for each other. We may not speak the same language, but we both speak racing!" Bryce said. "I was honored that he wanted me to take his team to the next level by racing NHRA. That's a lot of trust for someone to put in you and your abilities, so I didn't take that responsibility lightly."
Rujp, who attended about half of the 16 races this season, was definitely impressed by the challenging competition within the class and commended his team for the great strides of improvement they made throughout their rookie year.
After the end of the season, the Sovereign-Star Racing team members are increasingly nostalgic and grateful for the unique opportunities and close relationships developed over the past year.
"First of all, I want to thank Jeno, George and Jackie (Bryce) for putting this team and the whole program together. They gave me the opportunity to go do what I've always wanted to do, which is to race Pro Stock. That thanks also goes to everyone back at the Star Racing shop for the huge amount of hard work they do behind the scenes so that we can go racing.
"I'm thankful for my wife, Susan, who is like my right hand personal manager. She's great about handling all the Facebook updates and all of my travel stuff. We're all grateful for Ken and Andrew (Schulz) who put in a ton of work at the track and then had to be on the road for hours, which is brutal on them.
"Chuck was also a crucial part of our team and was always very thorough and professional taking care of my motorcycle. I definitely have to thank John for being a good teammate; it's been great getting to know him this year and becoming close friends. I also really appreciate all the guys at Quality Tire for everything they've done, because they've had to step up and take on a lot more than normal with me gone," Pollacheck said.
The Sovereign-Star Racing Team would like to thank the following sponsors: Sovereign, Star Racing, S&S Cycle, Daytona Sensors, Worldwide Bearings, CP Pistons, Permatex, Americus Motorsports Complex, Who's Up Next?, and Quality Tire.
Star Racing Fast Facts:
Based in Americus, Georgia
Six-time NHRA Pro Stock Motorcycle Championships
78 NHRA national event wins with nine different riders
Owned by George & Jackie Bryce
Sovereign Racing Team Fast Facts:
Based in Budapest, Hungary
2011 European UEM Championship Team with rider Jesper Thiel
Owned by Jeno Rujp
John Hall Fast Facts:
From: Hamden, Connecticut
Job: Real Estate Investor
Years in racing: 16
Scotty Pollacheck Fast Facts:
From: Medford, Oregon
Job: Owns "Quality Tire" store
Years in racing: 27