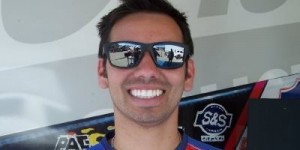 Lucas Oil Buell rider Hector Arana Jr. held on to the Pro Stock Motorcycle points lead after a semifinal finish in the AAA Texas NHRA FallNationals on Sunday at Texas Motorplex.
Unofficially Arana leads by 11 points over Matt Smith after two events in the six-race Countdown to the Championship.
"It's going to be a fight to the finish," Arana said after falling in the semi;s to Smith. "I knew it was going to be a long, hard Countdown, and these two races have done nothing to change my mind. We've all got to dig deep and keep battling."
Arana, who reached the semis in Charlotte last week, suffered an engine problem in his race with Smith, coasting across the finish line with a pass of 33.765 seconds at 30.82 mph. Smith sped to the final with a run of 6.910 seconds at 194.27 mph but lost to Eddie Krawiec there to enable Arana to keep the points lead he's had all season.
"I'm concerned about our motor," Arana said. "We need to work on it and see what's wrong and then fix it. We don't know yet how bad it is, and I hope it's not too bad. St. Louis is coming up quickly, and we don't want to get behind.
"But I can guarantee you one thing: No matter how bad it is, my team and I will work as hard as we have to and we'll be ready."
The AAA Insurance NHRA Midwest Nationals at Gateway Motorsports Park begins in five days, so there is not much turnaround time, but Arana and his team have prepared for all contingencies.
"It's been a great season so far," said Arana, who leads the class with four victories and has led the points standings since the season opener in Gainesville, Fla. "We want to keep that going."
Arana, the No. 3 qualifier, began his day by knocking out another Countdown driver, Shawn Gann. Arana left first with a .014-second reaction time and then outran Gann with a pass of 6.882 seconds at 194.66 mph while Gann ran 7.056 seconds at 190.51 mph.
Arana then ran down Jerry Savoie in the second round with a pass of 6.903 seconds at 193.46 mph as Savoie sat up with a 7.979 at 119.68 mph.