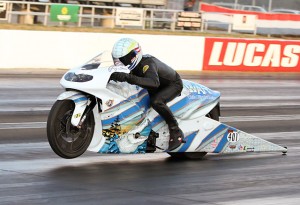 It's been a tough year for Jerry Savoie's White Alligator Racing NHRA Pro Stock Motorcycle team, but then again, farming alligators isn't for the meek.
After running a Suzuki in 2011 and a Buell in 2012, the WAR team switched back to Suzuki for 2013. Two off-season neck surgeries kept Savoie out of the seat to start the year, so he turned the reigns over to veteran rider Chip Ellis. After the Gainesville opener the team switched platforms again, from the Hayabusa chassis back to the TL1000 the team raced until debuting the 'Busa at Indy in 2011. Soon after Savoie returned to racing at Englishtown, the demands of running a 60,000 gator farm during egg gathering season kept him out of the Norwalk round.
As disruptive as all that seems to a team running at the top level of professional drag racing, it all pales to the tragedy that struck when crew chief Tim Kulungian's 5 year-old daughter Lilly Belle passed away unexpectedly in July.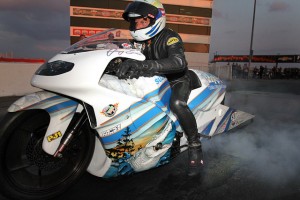 So as other teams prepare to start the NHRA's Countdown to One after this weekend's Chevrolet Performance U.S. Nationals at Lucas Oil Raceway in Indianapolis, WAR is simply trying to get back into the groove as a team. And it seems they're off to a good start. While testing at the track last week, Savoie topped the PSM charts with a 6.971 at 191.70 mph despite neither he nor Kulungian being particularly happy with finding what they were looking for with the changes they made on the bike.
Still, a 6.97 seems like a good lap to come off the trailer with when qualifying starts on Friday. "I was thinking more like a .96," Kulungian said at the end of the test day, totally deadpan and betraying no hint that being only .01 off that wish was a comfortable place to be.
"Testing was really challenging," he continued. "We didn't have all our resources together manpower-wise, and it was hard to quantify all our changes. But we were able to lean on the clutch a bit and learn what we can and can't get a way with. But we would have been better off knowing what we needed to know."
"It seems like we definitely have the power," added Savoie. "It's just a matter of everything coming together."
So as rider Savoie exudes confidence, tuner Kulungian tempers that swagger with the knowledge of how much work lies ahead for the team to collect that Wally in the Lucas Oil winners circle.
"I feel really lucky at Indy, there's something about it," said Savoie, who runner-upped there in his only appearance in 2011 (Savoie had to stay home and man the farm when Hurricane Isaac struck during the Nationals in 2012). "I feel pretty confident. We'll definitely be in the top 7 in qualifying for sure."
On that point, actually, Kulungian is more confident than Savoie. "My goal in qualifying is to be a top 5. Confidence is great to have but we always need to be humble about what we're doing and where we're at. There are a lot of great competitors out there and we're not gonna underestimate any of them."
Temperatures this Labor Day weekend are scheduled to be somewhat warmer than what the WAR team encountered last week in testing. Will that mean it was all for naught? "We've been doing a pretty good job managing different environments, so I think we have a handle on that," said Kulungian. "The jetting and timing package—I would have liked to learn a little more about that though."
One thing that neither Kulungian nor Savoie is concerned about are their powerplants. "Vance & Hines has done a great job working with us and delivering us two respectably fast engines," said Kulungian. "So we'll just continue to work with the package and make sure that Jerry, me, and the team all do our jobs.
"Indy is a very challenging and respected race. We've made huge changes this year and we certainly didn't expect to set the world on fire. But we're gaining consistency and running at the top of the pack, so I expect we'll continue to improve."
"I really think I'm gonna win this race," Savoie said point blank. The Indy race is at the tail end of a three-week hatching period at the farm, and Jerry and wife Vonnie have been busy rustling nests of baby gators in the incubator. Now he's ready to leave the heat of a Louisiana alligator farm in August for the intense heat of U.S. Nationals competition. "We've already had the bad luck this year, now it's time for the good. Now we'll see if we have the mojo."
Pro qualifying for the Chevrolet Performance U.S. Nationals starts at 6 pm EDT on Friday, September 30 and continues with two sessions starting at 2:30 pm on Saturday and two final sessions starting at 11 am on Sunday. Eliminations begin at 11 am on Monday, Labor Day. ESPN2 shows qualifying on Sunday at 1 pm and eliminations at noon on Monday.
for more information about Jerry Savoie and White Alligator Racing go to http://www.whitealligatorracing.com/
contact: info@whitealligatorracing.com
for media inquiries: Tim Hailey timhailey@earthlink.net
find out more about the NHRA at http://www.nhra.com/
This report was prepared by Tim Hailey. Enjoy everything there is to read, see and watch about motorcycle drag racing and more at http://www.eatmyink.com