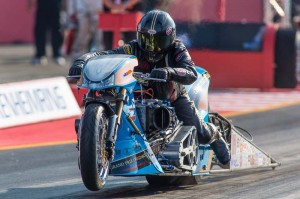 After last year's track surface problems the 2013 NitrOlympX sported a partially resurfaced track. However, it was (understandably) a little green at its first (and only) major event on the calendar. However, the Santa Pod track crew who were directing the track preparation made the best of the situation and all races were finished safely and on time.
A second event win for the year placed Ian King in a strong position to secure a seventh championship at Santa Pod in two weeks time. However, it wasn't totally plain sailing as two qualifying shots were lost due to tyre smoke and another went awry when King hooked right from the start line and suffered (as many others did) a disappointing change in track camber caused by the resurfacing.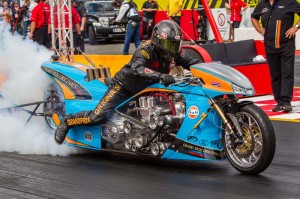 However, the one that did count was a fine 6.175 second pass, good enough for low qualifier and event low ET and handing him a bye before a semi-final match-up against Otto Knebl. The Czech Republic rider ran a new PB and first ever six second pass on his ex Brian Johnson Puma Yamaha, but it was not good enough to overcome King's early shutoff 6.49 secs.
The final was a familiar matchup against Swede Rikard Gustafsson on the world class Funnybike who was duly dispatched by a close but again early shutoff 6.421 secs. @ 219mph after King elected to use the more tricky but aptly titled Grand Prix Originals lane to take the event win. 
Two wins in a row in a four round series has put King two elimination rounds ahead of the Swede in the points, but it will be all to play for at the European Finals in two weeks time.
Pictures courtesy of Ivan Sansom, Rose Hughes and Henrik Vormdohre.
Our thanks to Marcus Moller for his YouTube video of the Final runs – http://www.youtube.com/watch?v=tqtmFxlsHuo
The King versus Gustafsson Final can be viewed at around 1 minute and 10 seconds.
The team will be defending their FIM European Dragracing Championship crown at the final European Championship round, the European Finals at Santa Pod Raceway (UK), 5th-8th September
The Gulf Oil – GPO Dragracing team uses and endorses exclusively Gulf Oil greases and lubricants in their history making machine.
The team is extremely proud to be supported by many leaders in their chosen markets in their challenge for the 2013 European Championship:-
APE  – The world's most innovative manufacturer of aftermarket parts for race bikes
ACTION CAMERAS  – Europe's leading source for action sports cameras
COMETIC GASKETS – The Premier Manufacturer of racing gaskets
GATES – The world's most trusted name in drive belts, hoses and hydraulics
GOODRIDGE – The most innovative and the best in fluid transfer systems
GRAND PRIX ORIGINALS – The brand for drive and lifestyle, past and present
GULF OIL INTERNATIONAL – The world's most iconic brand in automotive fuels and lubricants
HOTROD HANGAR – Home of the world renowned custom artist Knud Tiroch
HYPERPRO – The leading producer of progressive suspension products for motor bikes
JE PISTONS – The world's premier manufacturer of high performance forged pistons
KIBBLEWHITE PRECISION MACHINING – The highest quality valve train components available
KING RACING – The most successful Top Fuel Bike team in European Dragracing history 
MICKEY THOMPSON – Simply the best drag race tyres in the world
MRE – Leaders in trackside support for drag race components nand air shifting systems
MTC ENGINEERING – Manufacturer of clutches for the fastest motorcycles in the world
NITROSHUTTER – Europe's leading dragracing photojournalists
NCTENGINEERING – Manufacturer of the world's leading non-contact motorsport torque sensors
NEXUS UNDERWRITING MANAGEMENT – 1st class support services to underwriting subsidiaries
NGK SPARKPLUGS UK – The world's number one spark plug manufacturer
PAR WILLEN – Master webmeister and proprietor of HarleyDrags.com
PORTABLE SHADE – The best custom branded collapsible canopies available
PRO ALLOY MOTORSPORT – The UK's leading fabricator of alloy tanks, intercoolers and radiators
PUMA ENGINEERING – Manufacturer of the world's most powerful motorcycle engines
RSG CUSTOMIZE – The UK's most creative website designers and vinyl artists
SUPERTOUGH – Custom cases and covers for the Film, TV, Music and Motorsports Industries
SPIES HECKER – the world's leading supplier of paint for car, commercial and industrial finishing.
VAN ES MOBILITY – The leading manufacturer of telematic products for management of moving objects
VANSON LEATHERS – The most iconic brand in motorsport leather goods
WEB CAMSHAFTS INC – Simply THE company for Top Fuel Bike camshafts
WORLDWIDE BEARINGS – The world's leading supplier of ceramic bearings for racing
ZODIAC – Europe's largest supplier of performance and aftermarket HD parts
Read more about Ian King and the Gulf Oil Dragracing – GPO Team at www.gulfoildragracing.com