Pittsburgh-based dragbike racer and aspiring NHRA Pro Stock Motorcycle competitor Ron "RAT" Tornow is fresh off an unforgettable and incredibly exciting experience, the Star Racing Rider's Challenge.  Although Tornow fell just short of advancing to the next level of the competition, the talented and shilled rider remains focused on one day living out his dream at a NHRA national event.
Tornow chronicled his time at the Star Challenge and shares with us his experience.
Day 1
I open my eyes and it's 3:30am Wednesday morning. Three alarms are set for 5:30am, but I guess I won't be needing them today. I don't want to be late for the Star Racing Riders Challenge, but this is a little ridiculous. I lay there for a while, but finally realize I'm not going back to sleep, so I get up and get ready. I grab a quick complimentary breakfast in the hotel lobby and head for Auto Plus Raceway in Gainesville, Florida, a 20 minute drive from where I'm staying.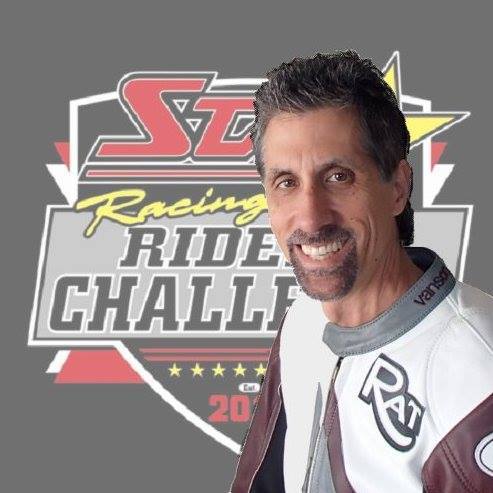 Our instructions say to be there at 7:45am, and I arrive at the track around 7:30am. That gives me enough time to stop at the main gate and record a quick Facebook video before heading to the the tower. As I pull up behind the tower, I see that the other contestants are unloading their gear and heading inside. I do the same and as I pass through the tower gate I'm given a hearty greeting by Jackie Bryce (co-owner of Star Racing) and Rolfe Schnur (judge and owner of Rolfe Schnur Motorsports Marketing), who have come out to welcome all of the participants.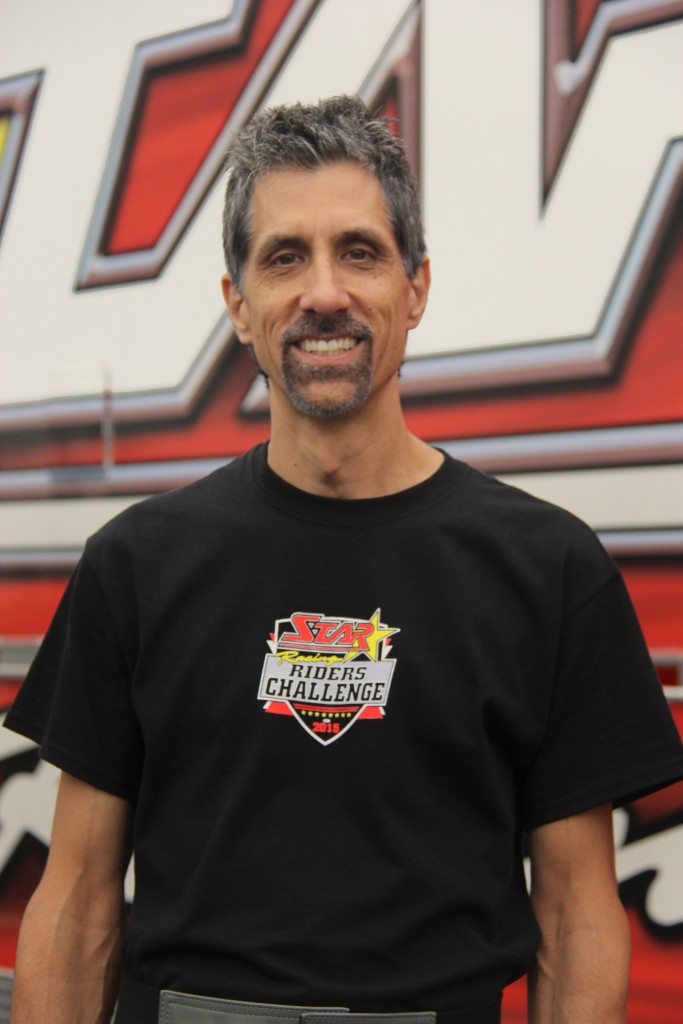 I make my way to the classroom and see that there are eight seats arranged in a "U" shape. I take the last available seat and before I have a chance to introduce myself to my new neighbors, Rolfe walks to the front of the room and officially kicks off The Star Racing Riders Challenge. He begins with an explanation of how The Challenge will work. The on-track portion of the competition will be six runs over the course of two days, and will comprise 70% of the total score. These runs will be judged by George Bryce (owner of Star Racing) and Angelle Sampey (three time NHRA Pro Stock Motorcycle champion), with each one giving a score on ten different aspects of the run (burnout, staging, handling ability, etc.). The remaining 30% of the score will come from the off-track portion of the competition which includes a press room interview and a presentation of our life story. With so much to do in two days, the eight of us will be randomly divided into two groups – red and yellow.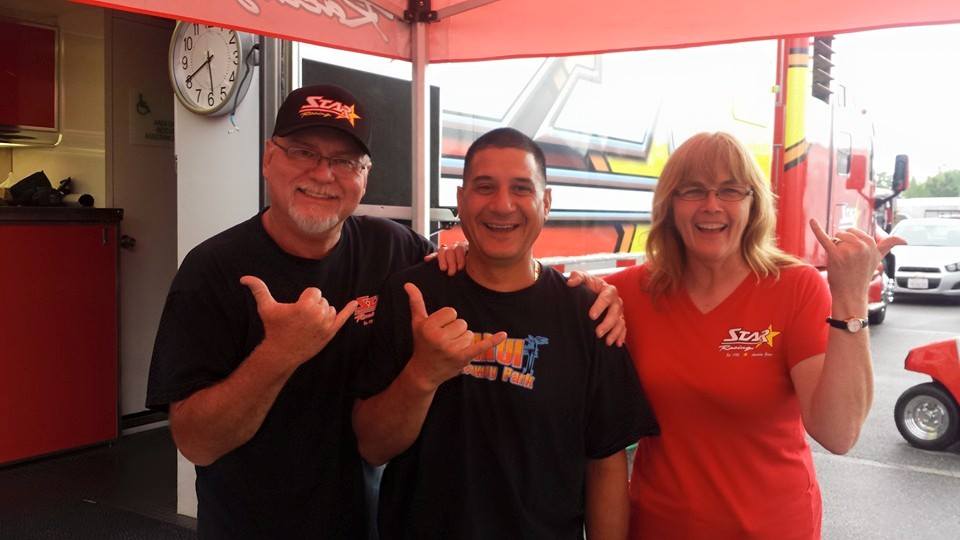 Rolfe then continues with an introduction of himself, followed by each of us going to the front of the room and giving a 1-2 minute summary of who we are, where we are from, how long we have raced, and what we currently race. When we are done with our intros, we pull a piece of paper from a hat which tells us our group and our initial run order (1-8). I draw "Yellow 8", which means my group will be the first on the track and I will be the last one to run. I'm happy about that because I can't wait to get on the bikes and make a pass. The red group will stay inside for the morning and work on presentation skills with Rolfe.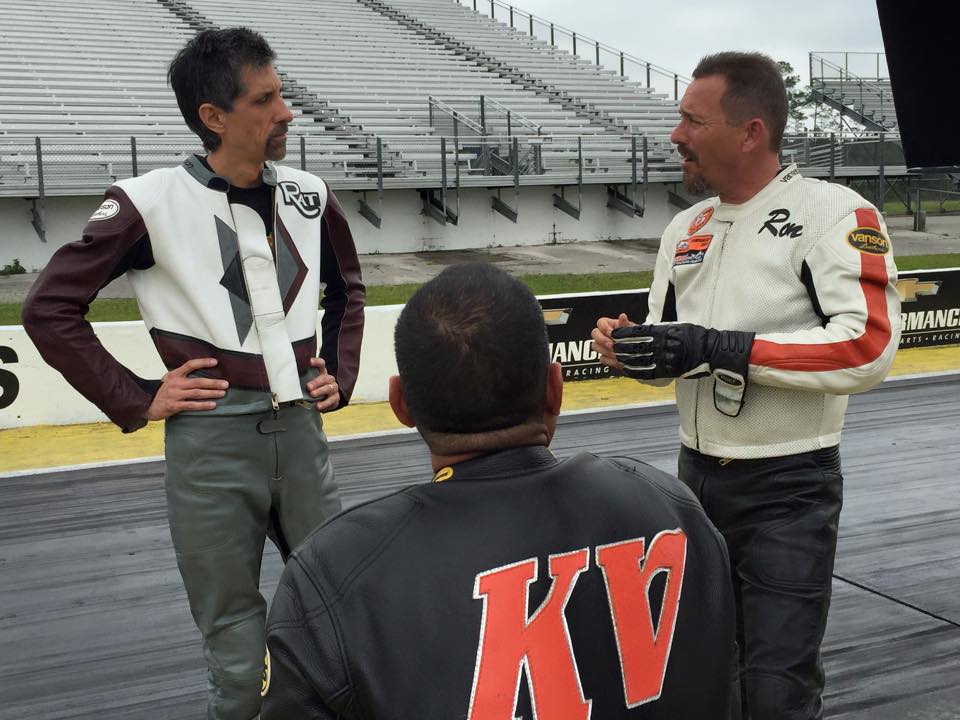 I quickly change into my leathers and head outside. The sky is overcast but no rain is in sight, so we make our way to the starting line to get instructions from George. He explains that we will get six runs over the two days, and that the three Challenge bikes will be rotated so that we get passes on each one. Each bike has a slightly different setup and feel. This is done purposely to see how well we can adapt to different bikes.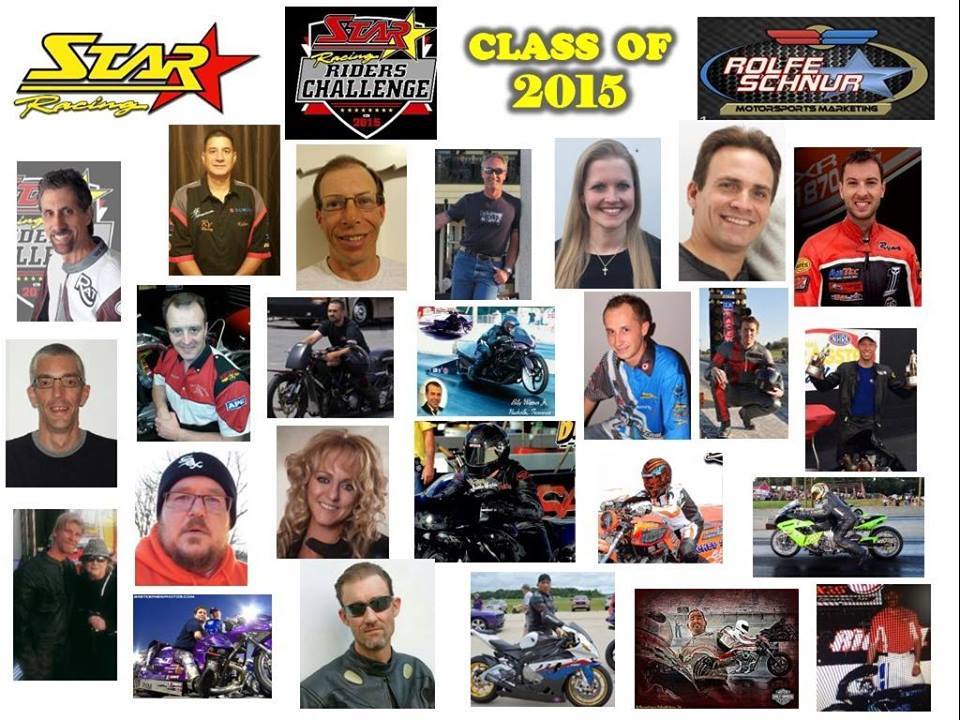 The first run is a burnout followed by a 60′ pass. This allows everyone to get a feel for how hard the bikes launch without worrying about shifting. Many are surprised at how quickly the bikes cover the first 60 feet and all of us are wanting for more.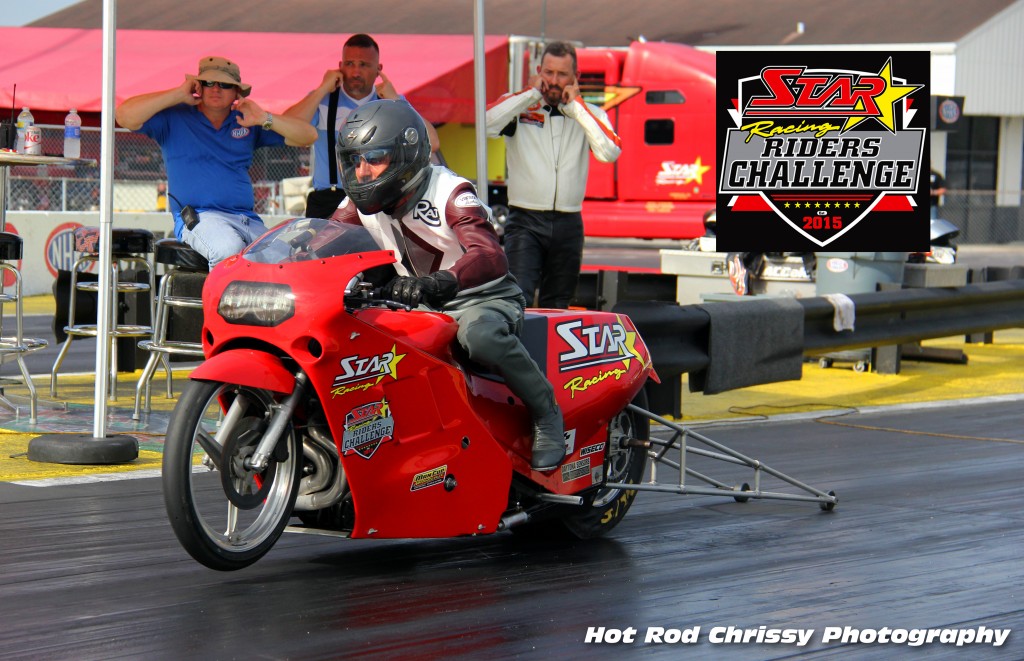 One guy in my group is so excited that he does a cartwheel (with his helmet on!) after he gets off the bike. A 330′ pass is next, followed by a half-track pass which allows us to get through all of the gear changes. After every pass is made, George and Angelle each provide feedback to the driver.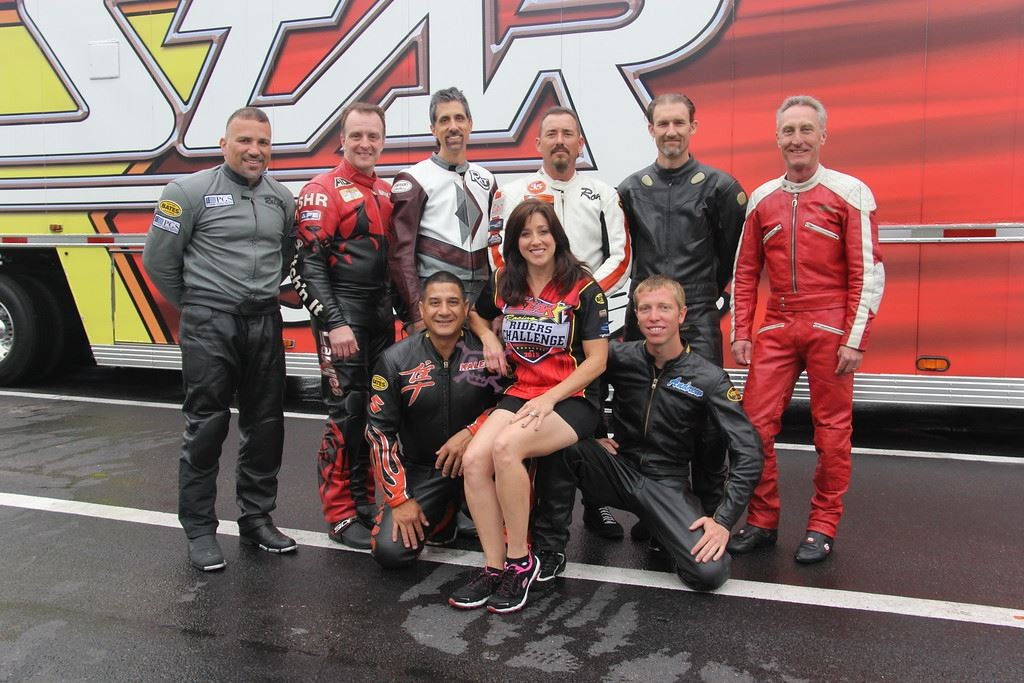 According to the schedule, that was to be our last pass for the day, but with a greater chance of rain on day two, George decides to try and get four passes in for each group on day one instead of three passes. The shutoff cone gets moved to 1000′ and we make our final run of the day. Maybe it's the lack of sleep or just trying too hard, but I can't make the perfect runs that I have pictured in my mind. Either my timing is slightly off, or I don't line up straight, or I can't find the foot pegs after I leave the line. I'm not satisfied with my performance, but I can't change that now and will have to do better on day two.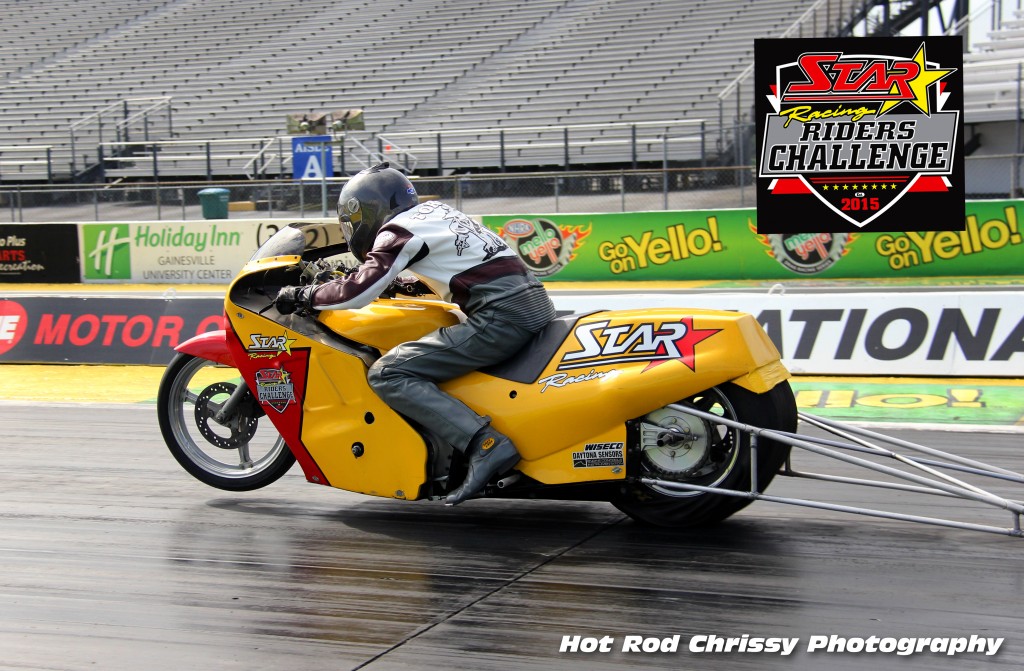 After a quick lunch, we swap places with the red group and begin our classroom session with Rolfe. Through a series of exercises, we learn how to better present ourselves and our thoughts. We also get a chance to tell our story to our fellow group members. This is a practice run for the presentation on day two that will be judged . Rolfe is a great teacher and we see an amazing transformation as the day progresses.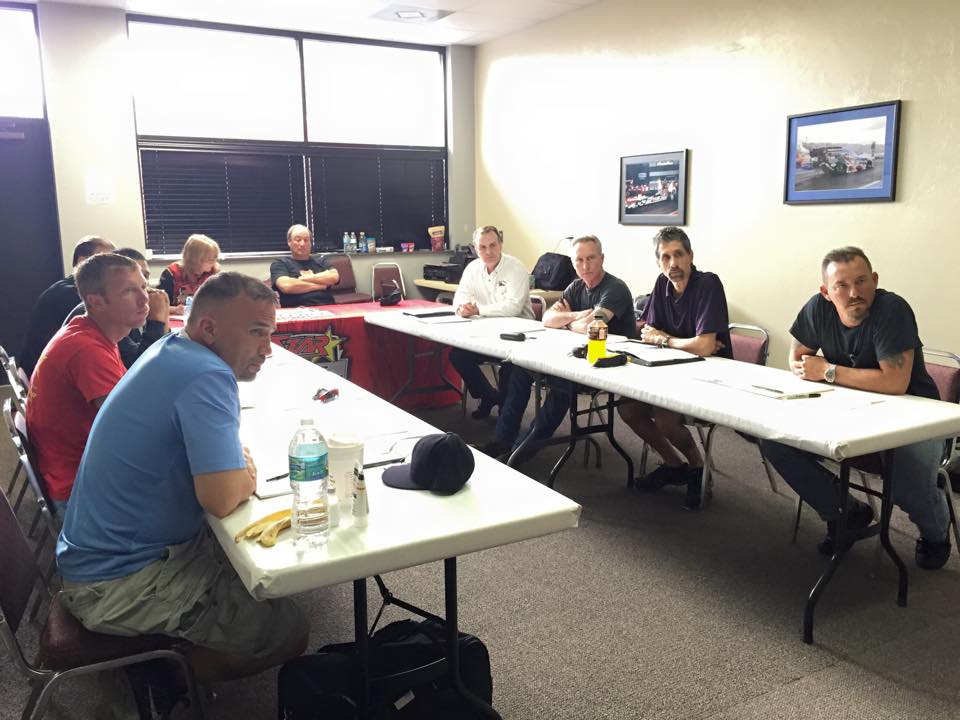 The day passes quickly and soon it is time for a catered southern BBQ dinner. After everyone has had their fill, George and Angelle take seats in the middle of the room and we are invited to ask them anything we want. We get some very candid answers along with some funny stories and great jokes. It is a nice way to end the first day. I get back to the hotel around 8pm — extremely tired after a long day, but too excited to sleep. By 11pm I am finally able to hit the sheets.
Day 2
I open my eyes and it's 3:30am Thursday morning. Are you kidding me? I lay there for the next two hours going over everything that happened on day one and prepare myself for day two. Today we will make our final two passes on the track, make our final presentation to the judges, and participate in a media interview conducted by Angelle.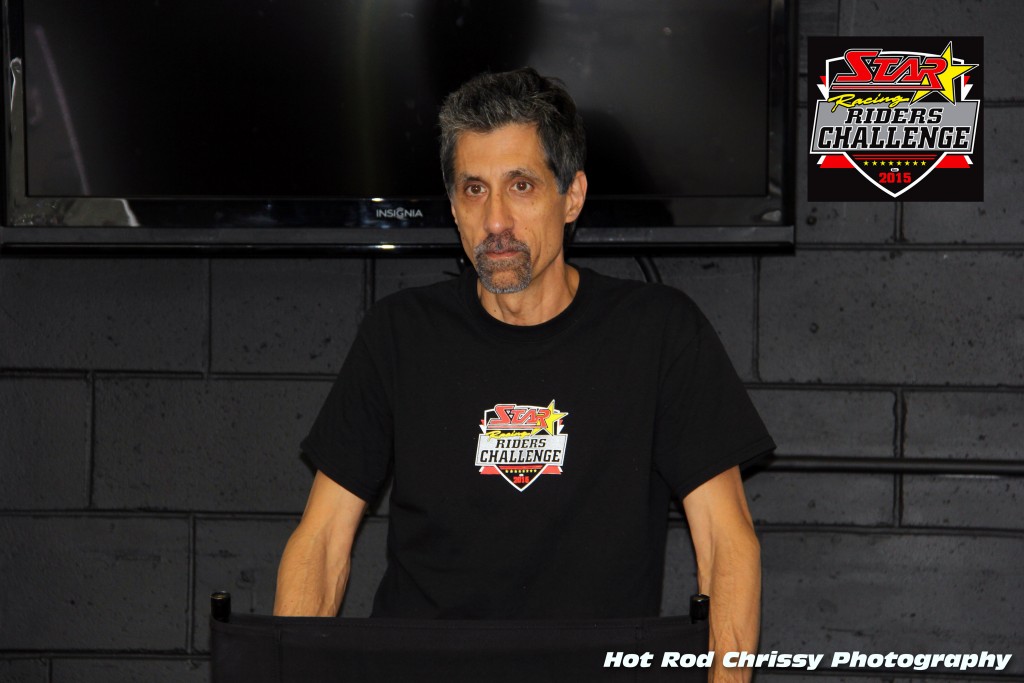 I arrive at the track by 7:45am and head to the classroom. The track is enveloped in a thick fog and the weather forecast is calling for rain for most of the day. It looks like George made a great call in getting through four runs on day one. We are told that we will be called to the track the minute the fog lifts and the surface is dry. It looks like there is a very small window this morning before the rain arrives.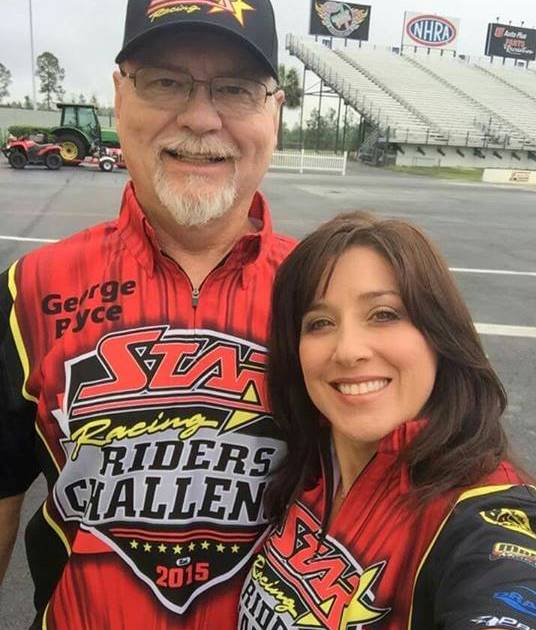 While we wait for the track to be ready, Angelle begins the interviews. We all listen and pay attention to the critiques at the end of each person's session. None of the questions are repeated, so there's no way to prepare for what might be asked. With only two people remaining (and I am one of them because we went from youngest to oldest), the call to the track is made and the red group suits up and heads out. We can't continue the interviews because Angelle has to judge the runs on the track, so we change up the schedule and start the final scored event of The Challenge – the telling of "our story", which will be judged by Jackie and Rolfe. Although the requirement is a four minute story, most are much longer, going for eight or ten minutes, but they are so interesting that you don't notice the time. I am glad when mine is done, and even happier that no one fell asleep!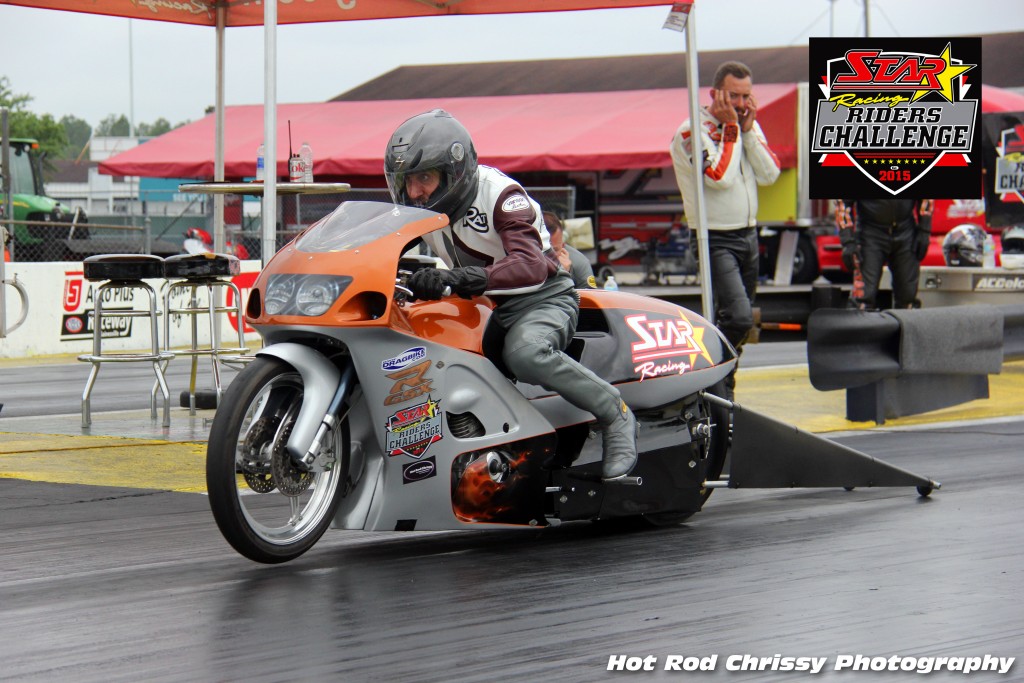 Soon after we finished, the yellow group is called to the lanes. It's time to show what I've learned and not to make any of the mistakes that I made on day one. My last two passes are quarter mile passes and are my best, with the final run being a gear-restricted 7.85 ET with a .007 reaction time. We head back to the classroom and five minutes later the rain begins. Talk about timing!
The interview sessions start up again and when my time arrives I go to the front of the room and sit in the hot seat. Rolfe introduces me and Angelle begins with her questions. It goes better than I expected, but then as he did with every other competitor, Rolfe does his Barbara Walters imitation and throws in a few questions that he knows will invoke a strong emotion to see how we will handle them. All in all, I was happy with how I did. I made it through without throwing up or sweating through my shirt!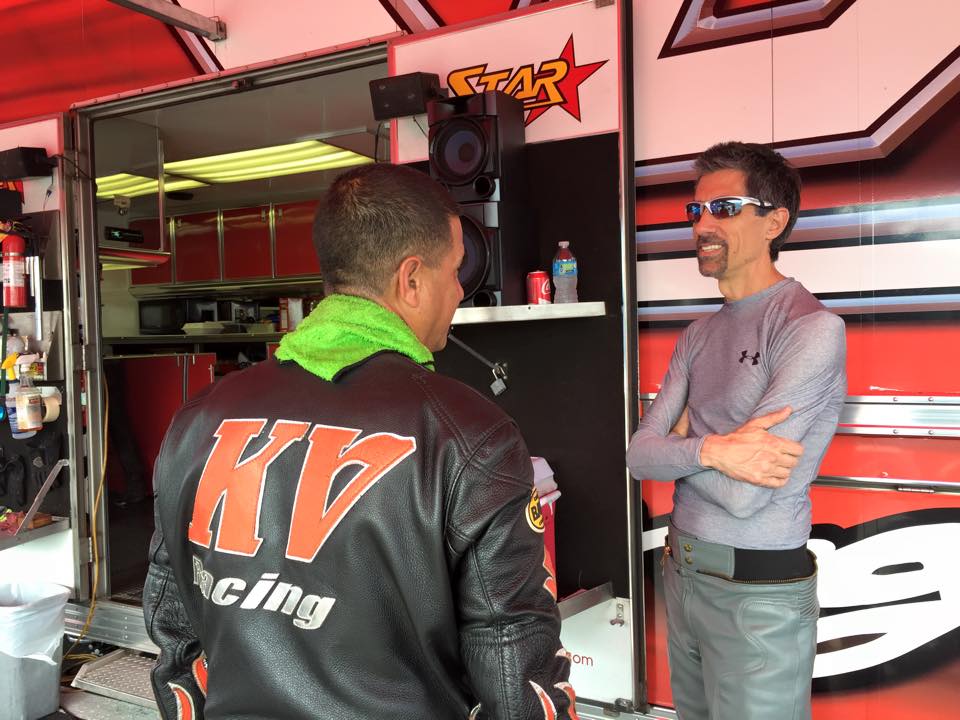 With score sheets in hand, the judges retire to another room to tabulate the results while we stay in the classroom and tell our story one final time. This is the first time that I get to hear the red team's stories, and like my fellow yellow team members', they are incredible. Rolfe has helped us tell our stories in a way that pulls the listener in and makes it personal, and when we are done, we feel like a group of eight brothers.
After the last story is done, the judges return and Rolfe takes his place at the front of the room. He tells us that even with a total of 800 possible points, the scores are all very close. The anticipation in the room is off the charts as we wait for the announcement of the two competitors who will be moving on to round 2 the following week. The first name announced is Andrew Patterson, and a round of applause ensues. Andrew is the youngest in our group and a hard-core racer who lives and breathes racing. At this point I am still holding out hope that I will make it through. However, it is not to be. Ralphie Navarro, a drag racer and land speed racer from New Jersey is named as the other competitor that will be going on to round two. Both are great guys and both brought their "A" game when they needed it. I am happy for both of them and will be cheering them on in round two.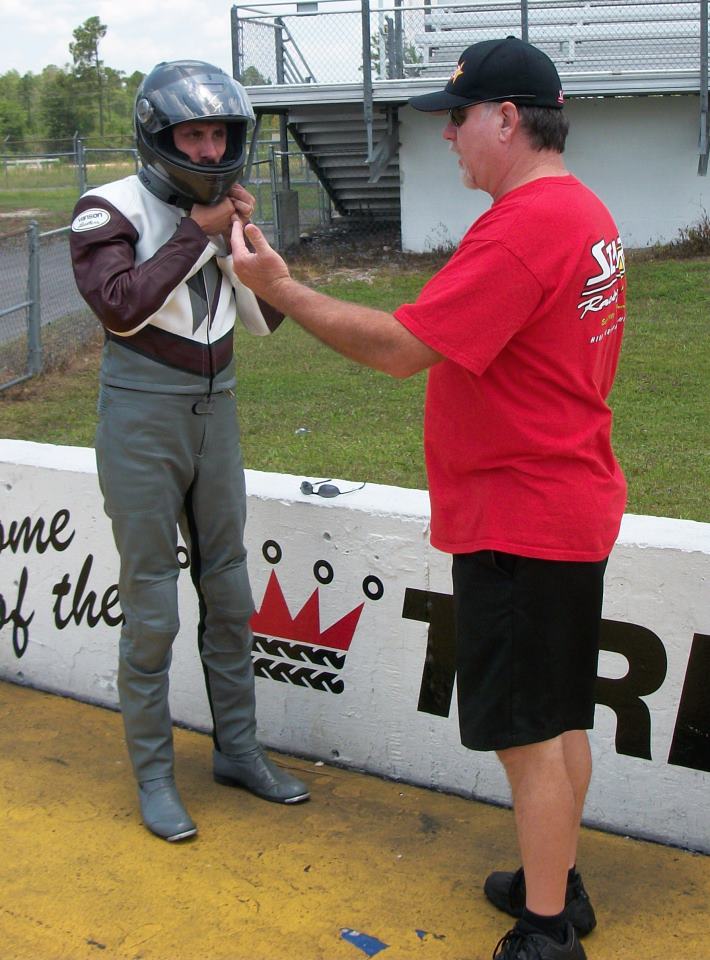 The Star Racing Riders Challenge was an amazing event, and I am proud to have been a part of it. I made some new life-long friends and came out of it a better person both on and off the track. The only drawback is that it didn't last long enough. Some of the guys are throwing around the idea of a reunion event, where we can all get together and run the bikes without being in a competition. I love the idea and will be one of the first to sign up if it happens.
As was said many times during the competition, this is a journey and not a destination. It was indeed an incredible journey, and although I didn't get to fulfill my goal of racing in an NHRA Pro Stock Motorcycle event, I will not stop trying. Someday my journey will get me there.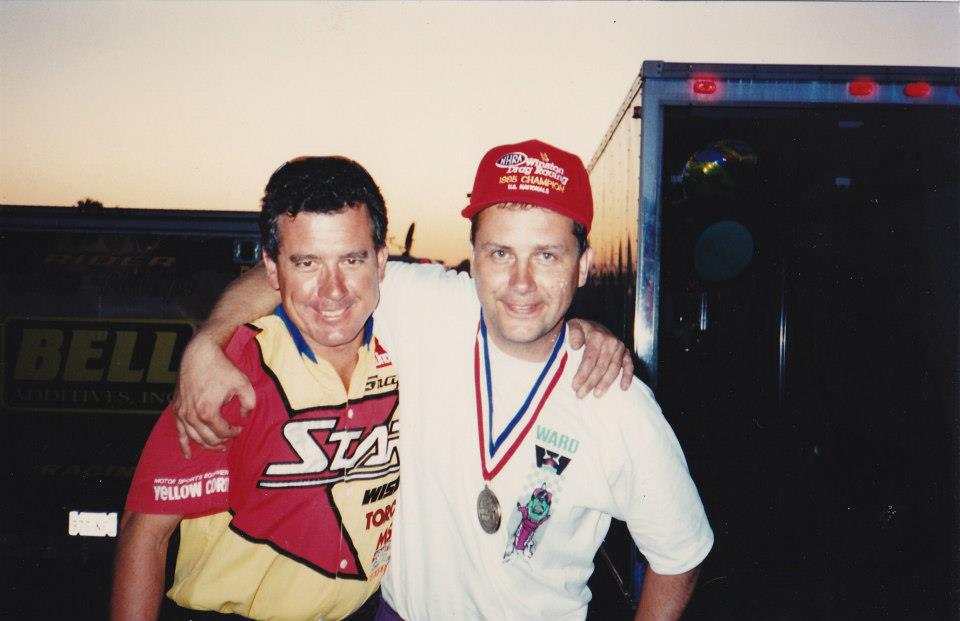 On Facebook longtime Star Racing crew chief Ken "Big" Johnson wrote, "Just wanted to shout out to all the challenge competitors congratulations to all you have all done a very good job, it's just too bad there can only be one winner in any race but just a little pep talk from "BIG "speaking from hard experience, you have to learn to lose before you ever learn to win and it makes you a stronger competitor. Because in the world of P/S BIKE you will lose more than you win so learn from every race win or lose to improve your skills because there is no one else to blame in this game !!!!!!"



Most photos courtesy  of Christine "Hotrod" Perry.  Get in touch with Chrissy to purchase a photo form the challenge.