Below is a blog from Ron Gledhill's Nitro Harley Team.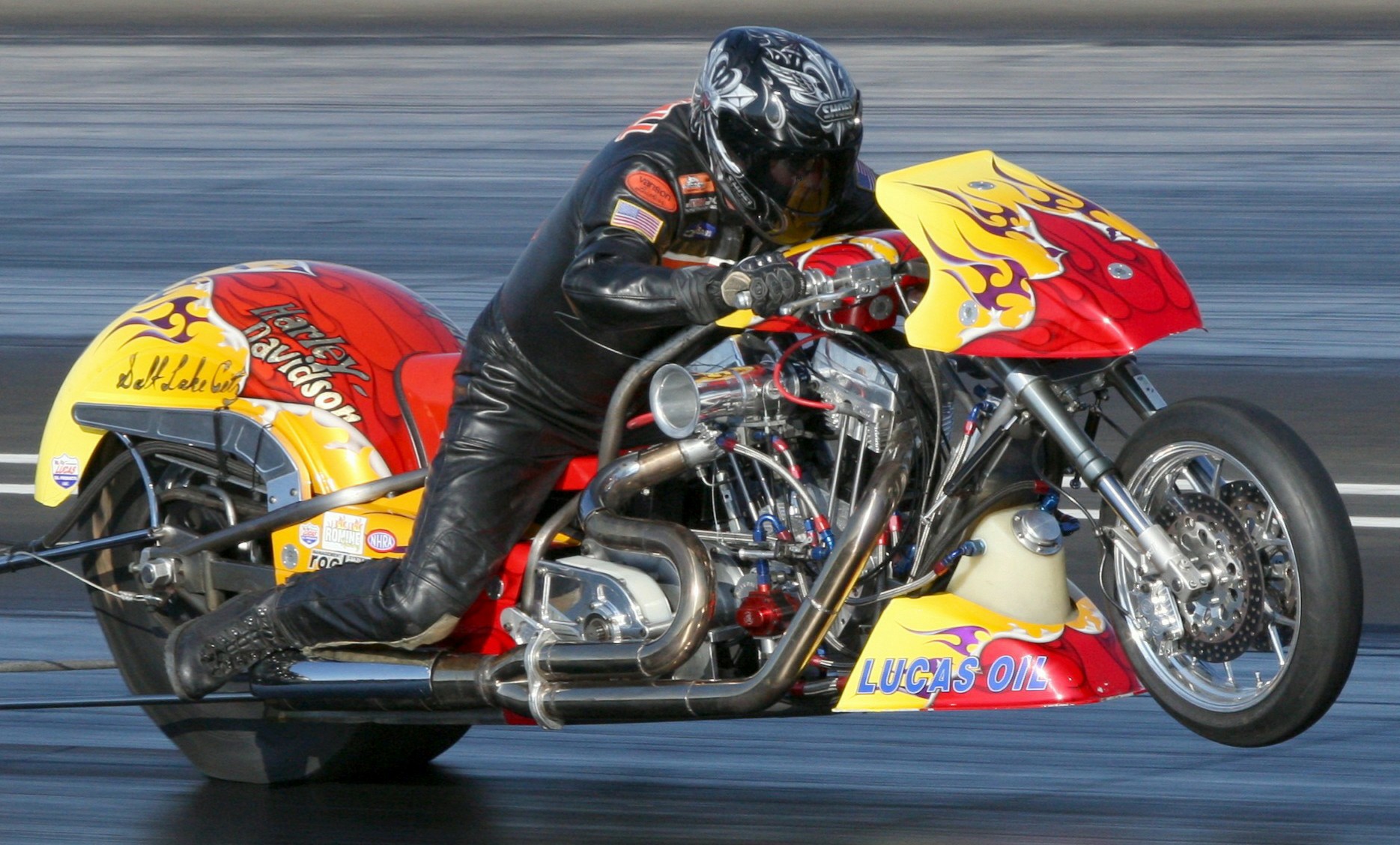 Ron Gledhill Motorcycle Drag Racing has struggled most of the 2014 race season. Every race we were spinning the tire at the same point of the race track. It didn't matter if it was in Tucson, AZ, Houston, TX or San Antonio TX. We tried something different at every race track with the same result. Spinning the tire over and over created an extra amount of wear and tear on the bike and especially the motor. We have spent countless hours fixing and replacing parts just to make the next race.
After several races of the motor not being happy, we got in a routine of tearing apart the motor after every event. It seems after every race this year we found something wrong inside the motor. And we all know that equals $$$$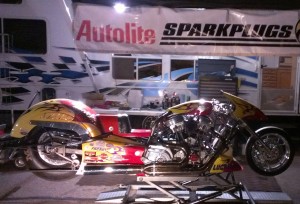 We went to Salt Lake for NHRA Top Fuel Harley Championship Series during the Lucas Oil Divisional. After making lots of changes to the bike before the event, we were able to go from point A to point B without spinning the tire one time.
Saturday we had a rain delay for the entire day. Sunday we got one qualifying round and straight into eliminations. We qualified 3rd. . We won first round with a 6.66 second pass. Second round we were ahead by over .1 seconds at the 60' mark but we shredded our belt around 100' out. Giving the round win to our opponent.
After the race in Salt Lake City , we just tore down the motor and for the first time in a long time, we have a very happy motor. Reassemble and we are ready to go to Las Vegas for the final NHRA Top Fuel Harley race of the year.
All in all it was a big success for the team. We look forward to going to Las Vegas for the final NHRA TFH DRS event. Currently we are sitting in 12th place in points and we are looking to move up into the top ten if everything works out.
Thank you sparkplugs.com for your continued support. For a 20% discount at Sparkplugs.com enter GLEDHILL14 at checkout and by calling in for Wholesale pricing at 888-800-9629. They offer much more than spark plugs.
THANK YOU to all of our current Marketing Partners/ Sponsors for their support. Please support the great companies that help us put on a great show. Without them, we wouldn't be where we are today.
Lucas oil products. www.lucasoil.com, MAV/TV, Protect The Harvest, Six B Apparel, Mickey Thompson tires, www.mickeythompsontires.com, Sparkplugs.com, www.sparkplugs.com, Pingle Enterprises www.pingleonline.com, AIH Chrome 800-782-8235 for all your plating needs, Crazy Car Ads/CRD 801-634-6247 / 801-953-1009, Norjac LLC. www.norjac.com,
Thank you to all the crew members for a great weekend. Without you, we don't go fast.
If your company is interested in becoming a Marketing Partner/Sponsor, please contact us at the number below to discuss the many levels and options available. The possibilities are endless.