The 23rd annual Jim McClure Nitro Nationals made it down to the last couple of Top Fuel Harley-Davidsons in the third and final qualifying round before a heavy storm, followed by persistent drizzles, soaked Steve Earwood's legendary Rockingham Dragway on October 10-12. The American Motorcycle Racing Association season ended there and champions will be crowned as soon as AMRA's Marty Vandenheuvel completes a careful calculation of point totals.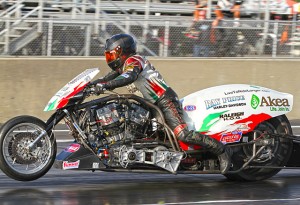 AMRA world record-holder Tommy Grimes qualified number one in the headlining Top Fuel class with a 6.33 at 223.21 mph on The Rock's PJ1-prepped, record-setting quarter mile. Clemmons, North Carolina resident Grimes rides the Jeremy Hoy-tuned bike owned by Harley Hall-of-Famer/Raleigh Harley-Davidson dealer Ray Price.
Texan Rickey "Sharkey" House qualified second, followed by the always exciting Joey Sternotti and Virginia badass Robert "Ziggy" Stewart.
Top Fuel was the class run by the late Jim "Da Judge" McClure—the West Virginian known as the Father of Top Fuel Harley drag racing. His wife Phyllis was at the event.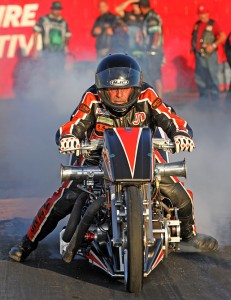 Jim Doyle of Springfield, Massachusetts, qualified number one in Nitro Funny Bike with a 6.74 at 182.53 mph. Doyle also is the Funny Bike points leader. Spring Rockingham winner Jake Stordeur qualified third.
Pro Fuel points leader Rocky Jackson squeaked into the Rockingham field on the bump spot in a pretty tight group. Philly's Kevin Garrow qualified number one with a 7.37 at 165 mph, followed by Wilkesboro's Dale Nilles—the first Harley winner in the MIRock Superbike Series when he won 4.60 at Rockingham in August.
Pro Gas points leader Mike Pearce qualified number one in that class with an 8.068 at 159 mph.
Points leader Morry Straubel qualified number one in Pro Modified with an 8.42 at 154 mph.
Pennsylvanian Tim Grindle qualified number one in S&S Racing Outlaw Street with an 8.65 at 153 mph. Points leader Nick Gonatas Jr. of Youngstown, OH qualified second.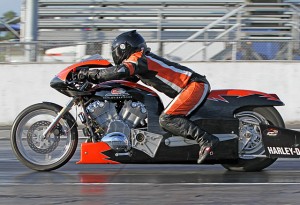 Points leader Dennis Fisher qualified number one in V Mod with a 9.02 at 140.40 mph.
Modified points leader Gary Douglass qualified third behind Justin Collier's 9.14 and Dickie Johnson's 9.61.
Hot Street points leader John Toth qualified number one with a 9.43 at 140.46 mph.
Troy Young qualified number one in 1250 Heads-Up with a 9.87 at 132 mph.
Pennsylvanian David Dennick leads Dresser points but played second fiddle to Paul Vicory's 10.48 at 126 mph in Rockingham qualifying.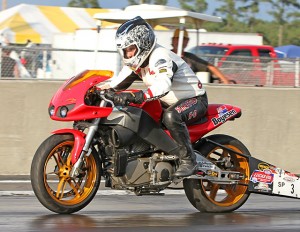 Super Comp points leader Keith Richner qualified second behind Billy Doherty's 8.909 in the 8.90 index class.
Raleigh's Greg Best qualified number one in Super Gas, .012 off the 9.90 index. Points leader Dennis Waldron ran the same number but did it second, so that's where he qualified. Waldron also leads Top Eliminator points.
Brad Croneberger, of the Croneberger racing family out of the Keystone State, qualified number one in Super Pro, only .001 off the 10.30 index. Points leader Dave Doremus qualified sixth.
Croneberger did even better in Pro Eliminator, nailing the 10.90 index dead-on. Points leader Steve Legg qualified ninth.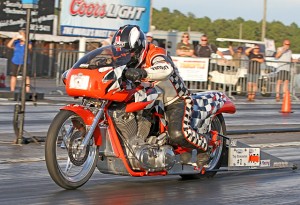 Street Eliminator points leader Donnie Huffman qualified second behind South Carolinian Travis Ellis, who was .005 off the 11.50 index. Lakeland, Florida H-D dealer Huffman also leads Eliminator points and qualified number one in Top Eliminator with a 9.32 at 129 mph.
NHRA Pro Stock Motorcycle stars Matt Smith and Michael Ray lapped their Buells in front of the Rockingham crowd, and Star Racing's Chaz Kennedy toted the wheel on a couple of Dressers.
A post-qualifying concert on Saturday went on as planned despite a steady sprinkle.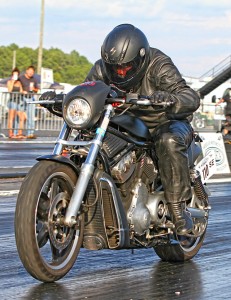 Rockingham Dragway will welcome the AMRA's thundering herd back in the spring of 2015.
Find out more about PJ1 motorcycle products at http://www.pj1.com/
Find out more about Rockingham Dragway: www.rockinghamdragway.com
This report was prepared by Tim Hailey. Photos are for editorial use only. Enjoy everything there is to read, see and watch about motorcycle drag racing and more at http://www.eatmyink.com