It's hard to tell which one is more famous, Clem Johnson the motorcycle drag racer, or his motorcycle, "The Barn Job." Frankly, you can't talk about one without disusing the other. Any way you look at it, they are both legends in not only motorcycle drag racing, but in the sport of motorcycling as a whole. Sadly we report, that on December 2, 2013, Clem passed away at age 82 of natural causes. While he has left this event we call life, what he did and what he created will live on forever.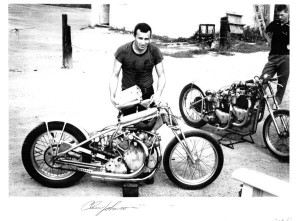 Clem's life story in motorcycle drag racing is truly the stuff legends in racing are made of. He started in the sport when the sport itself was just getting going in the mid 1950's. There were no sixty-foot clocks, no LED starting tree lights, no mail-order go fast parts for drag bikes. When Clem entered motorcycle drag racing, you made it yourself: this was the era of innovation.
Clem was born June 20, 1931, in Buffalo, New York. As a young man growing up, Clem was into things mechanical and started off with "Mini-bikes" and such until his teen years. He got his first motorcycle at age 15 in 1946. That first ride was a 250cc BSA. He also came to own several Velocette bikes, a Norton and eventually had a 1930 Harley. But his heart was with the British bikes.
He mentioned once in a magazine interview conducted by none other than Big Daddy Ed Roth, in the October issue, of Choppers magazine, "I was an odd ball to be sure. Because all the American riders thought Harleys were good machines, but inch for inch, you can't beat the English bikes." Clem liked em all but his love was for British Iron.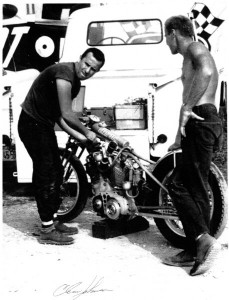 Clem bought one of the first Vincent motorcycles ever to enter the U.S. in 1952, just before he entered the United States Army that year. After he served his country, not long after he got out in 1954, he sold his first one and bought a second Vincent. This time he purchased a 1949 Rapide model. Now keep in mind this bike stock had a 55.5 inch wheel base, and a 998cc motor that was rated for 45hp at 5200 rpm and had a weight close to 460 pounds.
Now according to legend, in the1950's, as stated in a 1965 magazine story in the April edition of Cycle World, Clem read a of a Bonneville salt flats racer named Rollie Free who inspired him. Mr. Free it seems, in 1948 set a new world land speed record for unstreamlined-motorcycle, at 150.313mph while wearing only a bathing hat, Speedo swim trunks and borrowed tennis shoes. Mind you Rollie did this while laying flat out on the bike, planking style, with his feet dangling out past the rear fender of the Vincent H.R.D. The run occurred on the morning of September, 13th, 1948 and resulted in one of the most famous photographs in all of motorcycle racing: "The man in the bathing suit."
Yes folks, that really did happen, the story of Rollie Free. Previous runs with his leathers and his helmet on were only (only) at 147 mph and Rollie insisted he and that bike break 150 miles-per-hour. So the man did what he had to do and according to the Cycle World magazine story, Clem was suitably impressed by reading about this. So much so he was inspired to go racing.
Now as to whether or not the Rollie Free story did or didn't inspire Clem in 1954 when he got out of the Army, what is known is in 1955, when Clem was living in southern California, he discovered drag racing when and where the sport was born. Clem was 23 at the time and he was a hot rodder from the word go. He learned basic machine shop procedures from his teen years in Buffalo and after he got out of the service, Clem was a tool and die maker at Reflex Labs in southern California.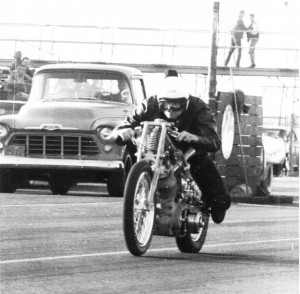 Clem began to frequent Lions Drag Strip in 1955 when the track first opened, run by local hot rodder Mickey Thompson, and was affiliated with the local Lions Club. Clem was also soon to frequent Orange County International Raceway or OCIR as veterans like to refer to it. These race tracks that were the cradle of un-civilization for drag racers was right in Clem's back yard.
It must be made clear here that Clem's version of drag racing was not necessarily the kind of drag racing most racers think of in today's terms of drag speak. Clem was not about national championships, national records or coast to coast barn storming. He was about Man Vs Machine. For him it was old school drag racing, the challenge of how fast could he make it go and what kind of performance could he get out of the bike.
You won't find Clem Johnson's name listed as the top winner in this series or that sanction, nor will you find him listed in conjunction with any National Records. Clem was a racer's – racer, a man of purpose with great focus out to see what he could make his machine do. It is generally accepted that Clem is said to be the first motorcycle drag racer over 130, 140, 150 and even 160 mph.
When you stop to consider Clem Johnson started out with a 45hp, 1949 motorcycle you begin to understand what Clem accomplished in his time. Clem took an antique Vincent motorcycle that could barely run 13 second elapsed times at close to 100mph and over the years he managed to squeeze an 8.40 at 187 mph out of it with a small tire, two cylinders and a homemade aluminum chassis.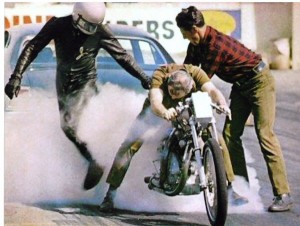 The stock factory 1949 Rapide model Clem started out with had a curb weight of close to 460 pounds. By the time Clem was done with it, he had the bike down to around 260 pounds depending on the combination in the bike on any given day. You see he NEVER stopped experimenting with his combination.
Clem started out like all street bike racers do, first off comes the seat, remove the headlight, change the handle bars, and start modifying the motor. Clem made everything you ever see in photos of the Barn Job himself at home. The only thing Clem didn't do himself was the Heli Arc welding. He considered that a craft unto itself and for that he sought help. Everything else he machined up.
One of the first major changes Clem went for was a second front head for the bike that allowed for better air flow for the carbs. Then the Amal carburetors were scrapped for larger Dell'Orto carbs. In the 1950's Clem was using almost exclusively gasoline, but everyone was tinkering with blends and it would be foolish to think the man who was arguably the ultimate tinkerer would not mass with the fuel mixture. After all, he was not running in a points series, he was out to see how fast he could make it go.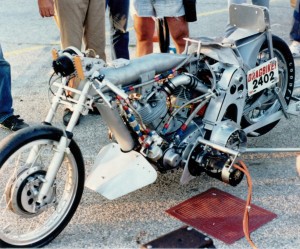 When a racer wants to go really fast, it's only a matter of time before they "Tip the can" as it was known back in the day, back when CH3NO2 was sold in one gallon tin cans, kind a like paint thinner, only more exciting.
Clem ran nitromethane for fuel for the first time in May of 1962. Prior to this he had whittled away at the Barn Job's elapsed times with a best of 9.80 at 149mph before he made the switch to nitro. Once he tipped the can, he was up to 160 mph and he started working on mechanical fuel injection to go with the nitro by the mid 1960's.
As with any long term metamorphosis there were a lot of growing pains. Considering he started out with a bike that only made close to 45 Hp, his achievements were amazing. Clem had to make his own fly wheels, valves, pistons, he even took eight months to make a cam shaft grinding machine to make his own cam shafts with. So please keep in mind, his motorcycle did not run every year. Some times there were many months indeed between runs. And the faster he made the bike go, well, here we go again.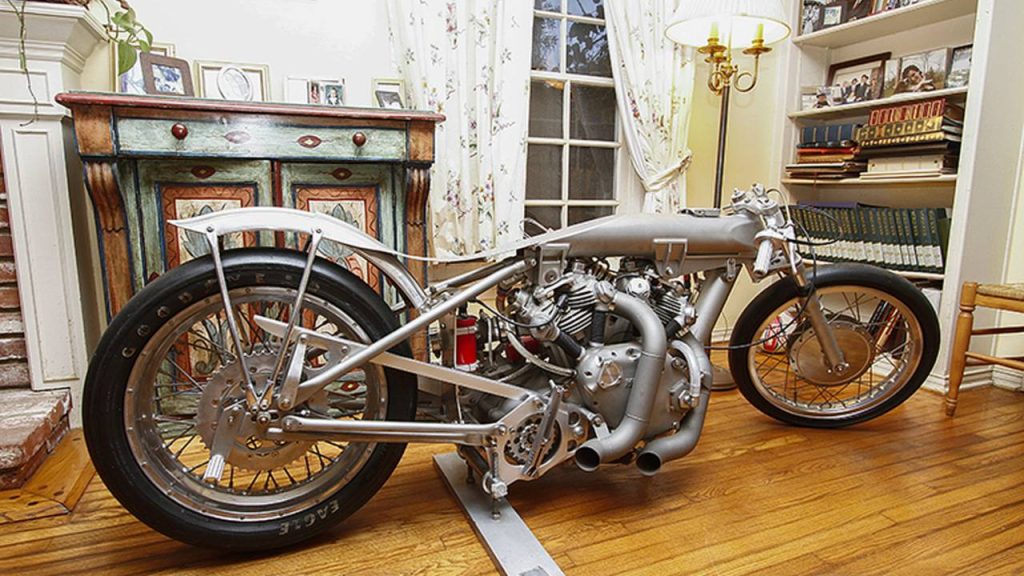 It would be incorrect to say "when he was done with it" about the Barn Job because Clem never stopped loving, never stopped tinkering with his Vincent. But ultimately, over time, there were no more Vincent parts left on Clem's Rapide. Only the side covers of the motor and the cam gears remained as true Vincent components by the 1980's.
Clem added a Harley clutch, various magnetos, front brakes, mechanical fuel injection, even an 80 CID Magnuson supercharger, starting in 1980, graced the famous Barn Job. Clem was a man on a mission.
In 1969 after having been the crew chief, pit crew, sponsor, builder and driver for 15 years, Clem gave up the driving duties to a man he looked up to and believed in as a fellow racer: Jim Leineweber. Jim had been racing and making Harleys go fast since 1956, so they were well aware of each other as racers in the southern California area. In fact for a while, Joe Smith raced for and with Clem in the late 50's till they decided to go separate ways. But in 1969, Jim took over the driving duties and stayed in the hot seat till they made their last pass in 1987.
Clem started tinkering with the Barn Job in 1954 and he continued to do so for at least 33 years. Clem Johnson did all he could to get every last ounce of performance he could out of that bike. And even in 1987 when it's likely the bike made it's last run it was still under development. Clem had just made up a new back-half for the bike as was finally, after three decades, ready to try out a "car tire" type rear wheel assembly. But time had taken it's toll, and in 1987 at age 56, the bike wasn't slowing down, but Clem was.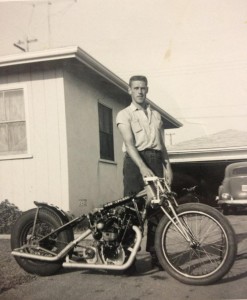 So Clem took a brake for a bit and that made life bit easier for him and for his racing buddies Jim Leineweber and Ralph Owen. Ralph joined Clem's racing efforts in 1964 after Ralph had quite enough of racing his Harley Davidson drag bike. Ralph sold his gear with the help of Marion Owens of Oklahoma, and Ralph transitioned from driver to pit crew. From 1964 till he stopped breathing, Ralph and Clem were racing buddies, and that was that.
When Ralph's health began to falter around 1990, two very important things happened that shaped the future of Clem Johnson and his racing efforts. One was without Ralph his racing buddy, Clem just didn't have the ambition to race. As a reciprocal, Ralph had thoughts on this as well. So instinct took over for the two racers and they both looked out for one another.
Ralph took his son Glen aside one day and said "Look, if anything happens to me, and I'm not around one day, you look after Clem. He's gonna need help one day and I might not be here so you give me your word on this ok son?" Without hesitation Glen assured his dad, Clem would always be looked after. That's when it all changed for this team.
Ralph passed on in 1991 and as Jim Leineweber recalls, "That was it for us, Clem just didn't really have the will or drive anymore to race. I was busy with my cam shaft business and all, so we always kept in touch, but that was it for us."
As for the bike, the world's quickest and fastest Vincent drag bike, the Barn Job stayed with it's maker for more than another decade. In time a collector, a man who truly loved drag bikes, contacted Clem while doing a book on the history of motorcycle drag racing: Mr. John Stein. John knew who Clem was and admired him and his Vincent greatly. They eventually struck a deal so that the Barn Job would get a proper home now that it's racing days were over.
John had Clem freshen up the bike and remove the supercharger so it's original fuel injected magnificence could well be visualized by all who would come to know Clem's creation. The bike is as much art as it is the evil, wicked, mean and nasty fuel bike it evolved into. This gave Clem some time to tinker in his later years, at age 70, once again in his work shop, with his drag bike, the Barn Job, attending his never ending project. The bike now resides with John Stein as part of his growing collection of race bikes.
During the year 2013, Clem suffered a series of strokes that robbed him of his health. True to the Owen family code, on June 30th, Glen Owen accompanied by his wife and two children, moved into Clem's home to care for him. Round the clock, when Clem was not in the hospital from his debilitating decline, there was an Owen family member at Clem's bedside.
On December 2nd, 2013, Clem Johnson passed on from this mortal life. Much to his credit, the Barn Job lives on. I'm sure it came as no small measure of comfort to Clem, knowing his life's work will live on forever.
There are more videos on the Cycledrag Youtube channel (please subscribe here) and the Cycledrag.com Facebook page (Please like here) and more will be coming soon. Check back daily.