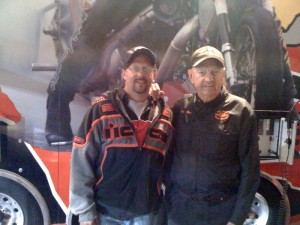 Cycledrag.com has learned that legendary Top Fuel Harley rider and tuner, Ray Price has suffered a heart attack.
Price's good friend Mary Lou Brewer sent the following update, "Ray is resting comfortably. I talked with him and Jean. The doctors have put in a stint and Monday or Tuesday he'll have surgery to remove a blockage. He sounded upbeat.  I'll send another note after his surgery."
Cycledrag.com wishes Ray Price a speedy recovery from this unfortunate situation.
Update: Price's surgery was ruled a sucess by doctors and Price is opptimistic about his recovery.