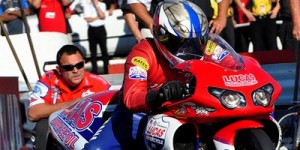 Hector Arana Jr. is 22 years old, a college student and a rookie on the NHRA Full Throttle Series Pro Stock Motorcycle tour.
Now he's a U.S. Nationals champion.
Arana, rider of the Lucas Oil Buell, won his first career Pro Stock Motorcycle race on NHRA's biggest stage Monday, taking the pewter Wally for his victory in the 57th annual Mac Tools U.S. Nationals presented by Lucas Oil.
"It has not sunk in on me yet," Arana Jr. said. "This is the biggest race of the year, and I did it in my rookie year. It's a hometown event, and all my family was here. It doesn't get any better than this."
Arana Jr. follows in the footsteps of his father, fellow Lucas Oil Buell rider Hector Arana Sr., as a U.S. Nationals champion. Arana Sr. won this race in 2009.
"I'm feeling awesome," Arana Sr. said. "I'm proud to see what my son has accomplished. I knew from the get-go that once he found his way, you can't stop him. It's got something that I don't even have: that passion and the patience to stay calm. That's what it takes in this sport. I knew once he got comfortable and confident and feels one with the bike, he's on."
Arana may be in his first year in professional racing, but he's shown plenty of speed in recent races. With the power of a new engine named after his mother, "Gracie," Arana Jr. has qualified No. 1 three times on the last six races, with a No. 2 and a No. 5 qualifier.
He raced to his first finals at Brainerd, Minn., in the series' previous race.
"We slipped and didn't look at the weather and got lost on the tune-up, which cost us the win," Arana Jr. said of the Brainerd race. "We were on top that whole weekend. This time, we made sure we stayed on top of the weather."
At Indy, Arana Jr. overcame some transmission issues to qualify No. 5, and he took down Angie Smith in Round 1 with a pass of 6.929 seconds at 190.35 mph. That put him in a second-round matchup against defending U.S. Nationals champion and 2010 series champion LE Tonglet.
But Arana made a run of 6.912 seconds at 191.10 to beat Tonglet and advance to the semifinals. There, Arana Jr. bounced Jim Underdahl, going 6.982 second at 187.81 mph.
In the finals, Arana Jr. beat No. 14 qualifier and fellow rookie Jerry Savoie with a pass of 6.867 seconds at 192.60 mph.
"We got lucky and were able to hit the tune-up in the first round," Arana Jr. said. "Then we just maintained that. We made slight, little adjustments to keep doing those 60-foot times. We watched the weather as we progressed throughout the day."
Arana Jr. moved up one spot to fifth in the Pro Stock Motorcycle points standings and will begin the Countdown to the Championship, which starts in the O'Reilly Auto Parts NHRA Nationals in Charlotte on Sept. 16-18, 60 points out of the lead.
Arana Sr. had a fast Lucas Oil Buell in Indy, too, but he was eliminated in the second round by Underdahl. Arana Sr. made a better pass (6.982 seconds at 187.81 mph to Underdahl's 6.962 at 188.96) but lost on a holeshot because Underdahl had a quicker reaction time.
In the first round Arana Sr. made a run of 6.985 seconds at 188.46 mph on a single pass after Mike Berry pushed his bike off the starting line.
As happy as Arana Sr. was for his son, he wants to get his Lucas Oil Buell running faster.
"I've got a lot of work to do," Arana Sr. said. "I've been thinking, 'What do I have to do to get back running strong so I can win?' I want to win."