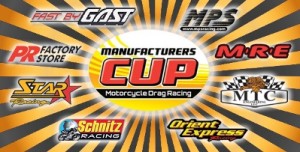 By: Jay Regan, Manufacturers Cup Race Director
The Manufacturers Cup Motorcycle Drag Racing Series rolled into Virginia Motorsports Park this past weekend for the HTP Performance / Southside Harley Davidson East Coast Cup, the second stop of the 2013 season. Hopes were sky high for a great event since it had been a full five years since the Mid Atlantic region had seen a national event. A fantastic advance weather forecast added to the optimism.
The track-operated Thursday test session as well as Friday's test-n-tune session went off without a hitch, as teams arrived early to get acclimated to the VMP race track.
Friday's qualifying proved right off the bat that the VMP racing surface was up to the task as a number of the Orient Express Pro Street bikes topped the 200 mph mark. In the APE Pro Comp class, it took a 4.0-second pass to get into the top of the qualifying field. Larry McBride pounded out yet another 5-second blast straight off the trailer to cap off a stellar first round of qualifying.
Overnight Friday, a low pressure weather system developed just offshore of the Virginia/North Carolina line and was tracking slowly to the Northwest, threatening to disrupt Saturday's scheduled running. Cup officials decided to insert an extra round of Pro qualifying in an effort to provide all in attendance with the show they came to see in case Mother Nature and her precipitation materialized. The crack VMP staff had the racing surface in top notch shape with numerous racers in all Pro classes improving their qualifying positions.
A mid-afternoon rain shower on Saturday interrupted qualifying, but VMP Track Manager Allen Carpenter had the racetrack ready again even earlier than initially projected. Under threatening skies, Shinko/WPS Real Street, Hawaya Racing Pro Dragster and PR Factory Store Top Fuel all got in their third qualifying passes. After just one pair of APE Pro Comp, the skies opened up and brought racing to a halt for Saturday. And it rained. And rained. And rained some more.
The rain did not actually stop until 6 a.m. Sunday morning. A check of the VMP rain gauge showed some 3.75 inches of rain had fallen in the past twelve hours. Sunday morning's skies did not look good either, a near certainty the rains would be back.
Undaunted, Allen and his VMP staff started at 7:30 a.m. with the track preparation. Fields were closed and qualifying ladders posted. As the morning wore on, the skies began to look better with the sun even peeking through at times.
On the track, very serious problems were being tackled. The massive amount of rain had allowed water to get under the rubber, forcing a track scraping of both lanes through the 500-foot mark.
The second half of the VMP surface just would not cooperate. Due to the massive rainfall, water was being pushed up through every crack and crevice of the asphalt surface that makes up the top end. As the sunshine heated the asphalt, the problem amplified. Water continued to pour out through the surface.
Throughout the Sunday delay, Cup officials weighed all available options, including running the event on an eighth-mile basis only. After six and a half hours of nonstop effort and with no end in sight for the top end water issues, Allen deemed the uncooperative racing surface as unable to be made safe enough to race on. This was an unfortunate, but real decision that was concurred by VMP General Manager Bryan Pierce as well as Cup officials from a safety first standpoint.
Then came the hard and unpopular job of ending a canceled event. Since Saturday's eliminations were not completed, those racers still in competition in the MPS Pro ET race and Muzzys Street ET race split their respective purses.
Posted Manufacturers Cup policy calls for no cash refunds, only rain checks to be carried on to future events. After exploring countless scenarios, Cup officials chose an unheard of option: cash refunds. All event competitors were given a refund in cold, hard cash. Based on the tight economy, Cup officials felt it best to refund those in attendance rather than to hold onto their money. As well, all Sunday-only spectators were given a cash refund by VMP gate staff.
Manufacturers Cup points will be awarded in all classes as earned for the event.
Thanks go out to all racers and spectators who attended the event, with special thanks to those coming from distant locations including Texas, Oklahoma, Puerto Rico, Aruba and even Japan and Australia!
The next stop on the Manufacturers Cup tour will be August 16th – 18th for the Pingel Thunder Nationals at the historic Indianapolis Raceway Park. We hope to see you there!