Sometimes a plan truly comes together. It's special when it all works out, especially when motorcycles are involved.
When a longstanding, early October motorcycle drag race at Martin, Mich.'s US 131 was suddenly left without a promoter fans and racers were in jeopardy of there being no drag bike race at all this season at Woody's Super Sled Shootout. Seemingly no ne wanted to see this great race come to an end.
Mid-season, talented sled promotor Jamie Bellman of Bellman Oil linked up with Cycledrag and a plan was hammered out to keep the motorcycle race going. It wouldn't be easy, but when there are wills, there are ways.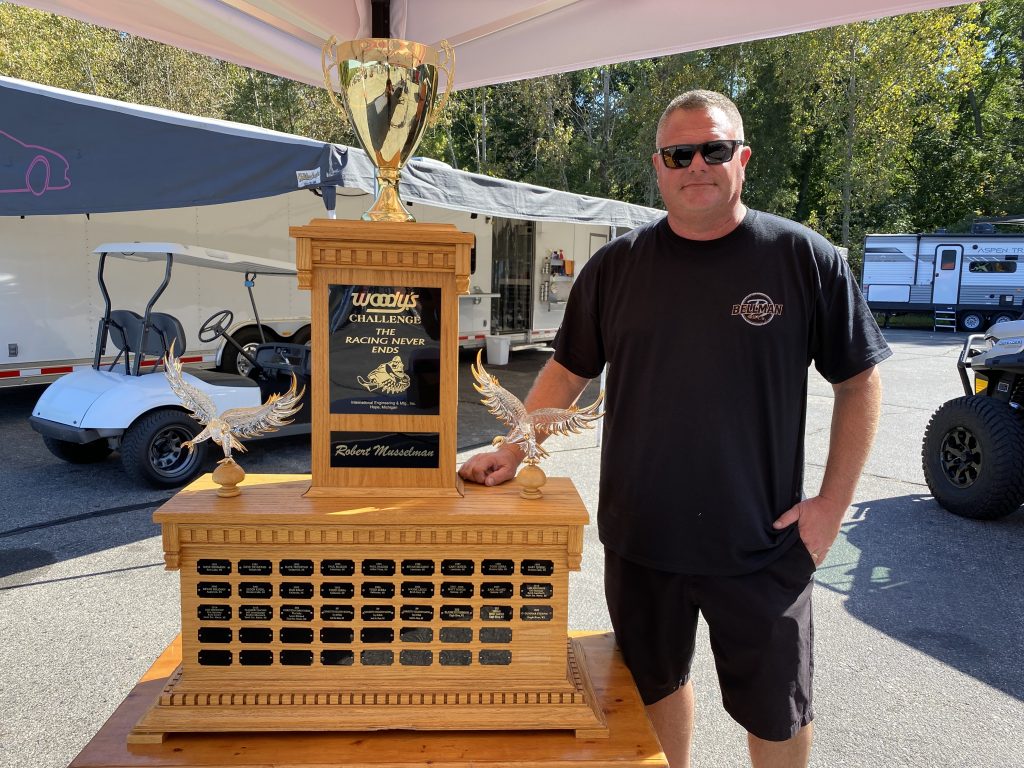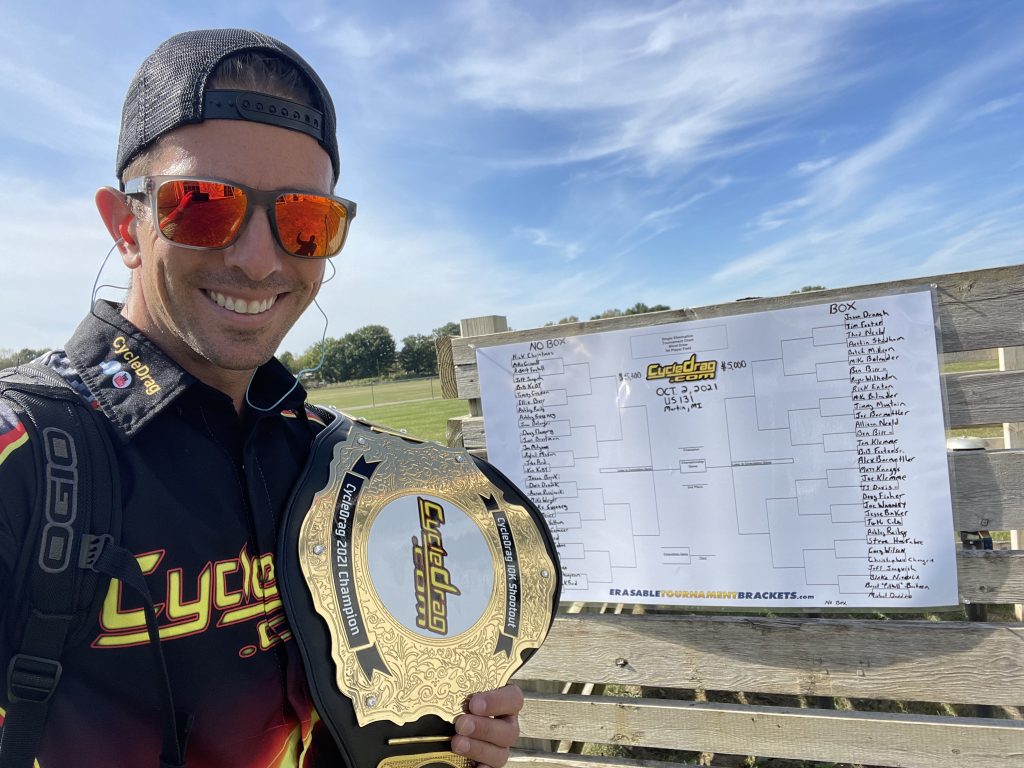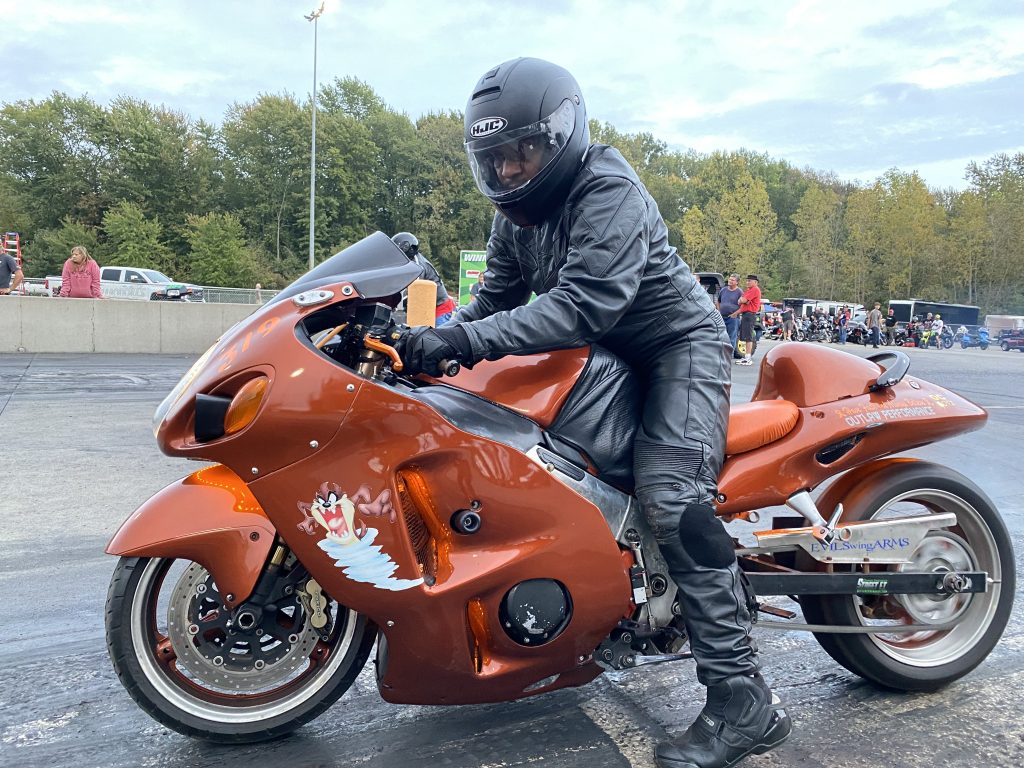 "This sport is losing tracks and events at an alarming rate and I didn't want to see this special race be one of the casualties. I thank Jamie Bellman for the opportunity to keep motorcycles included," Cycledrag's Jack Korpela said. "I wanted to do something special this year that was much different that what had been done before, and that was a $10,000 shootout. It was all about giving back to the racers. It could have been a bit over-ambitious, but Cycledrag likes a challenge. Giving back required industry support, and despite it being late in the year and past due to ask, I was totally humbled at the amount of companies who stepped up to make this race possible."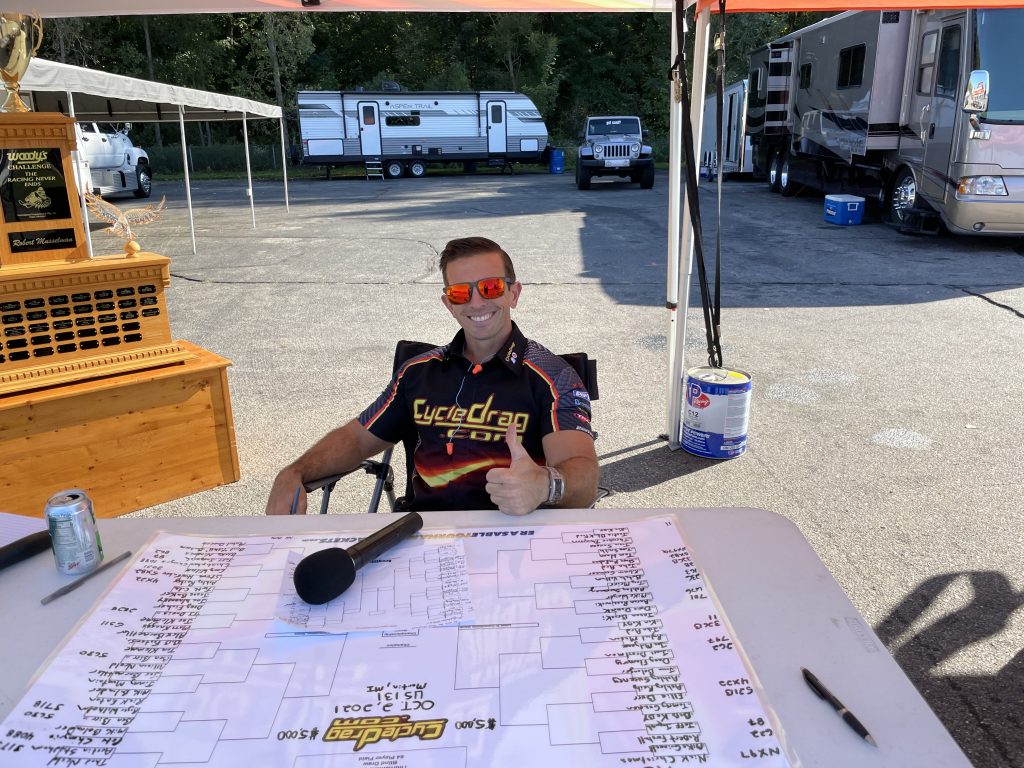 Cycledrag $10,000 Shootout
Nobody said this is easy.
After two picture perfect, Chamber of Commerce approved weather days for pre-race testing on Thursday and Friday the weather forecast turned grim for Saturday's big race, and the remainder of the weekend for that matter. If you were to believe the weatherman, it would start raining at about 2pm on Saturday and would not clear until Monday.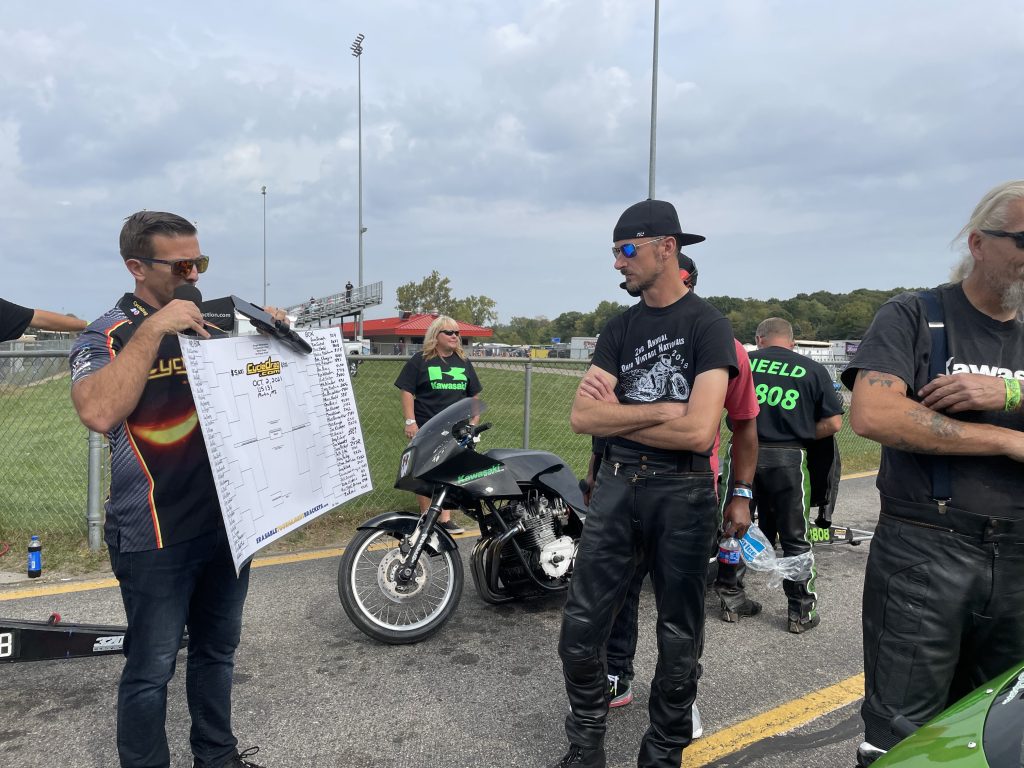 "If there is one thing I have learned in all my years of working races, it's don't trust the forecast! Watch it closely, adjust, but don't believe it," Korpela said. "Fortunately I have been in this situation many times and I know how to expedite a race. Along with Jamie Bellman and US 131 we altered the schedule and I grabbed a wireless mic to keep the lanes full at all times. I really want to thank Bellman, the track and all the racers for rolling with the changes as we did what we had to do to ensure we would get the race in. I wanted to hustle as much as we could while still giving racers in this shootout the two time runs we promised. Thanks to a brisk pace and cooperation from all, we were able to do that."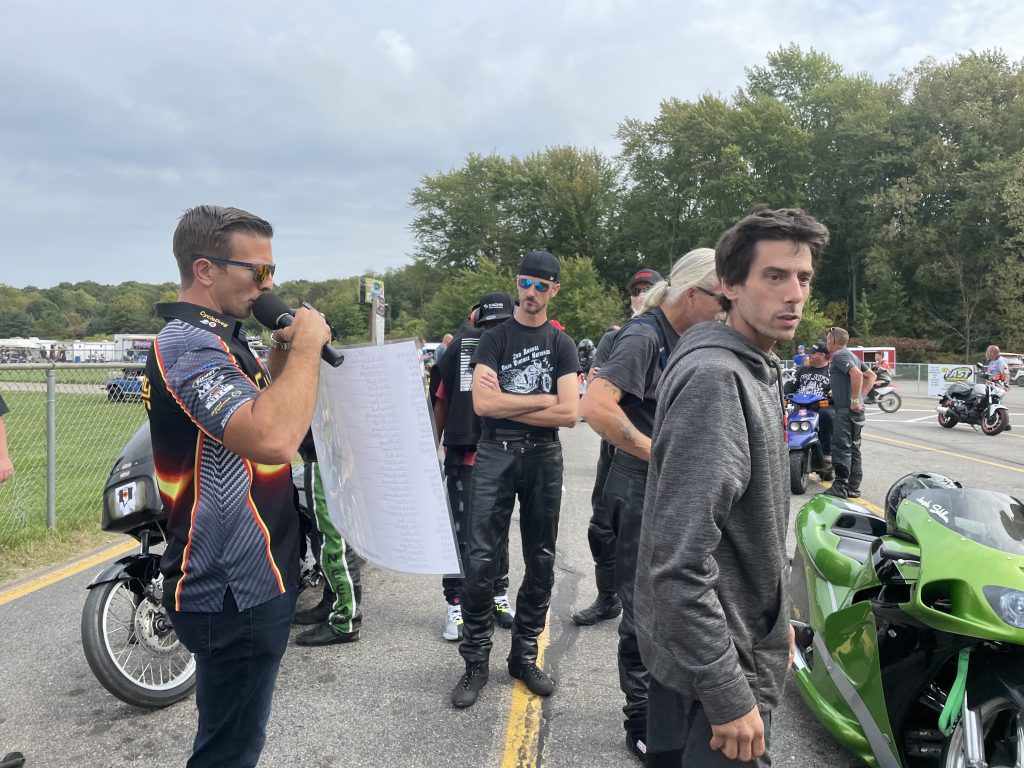 A total of 64 of some of the toughest racers in the country filled the "Box" and "No Box" sides of the bracket with $5,000 to be paid on each side and a gold championship title belt courtesy of Lumbee Racing, APE Race Parts, HPI and MTC going to the overall winner.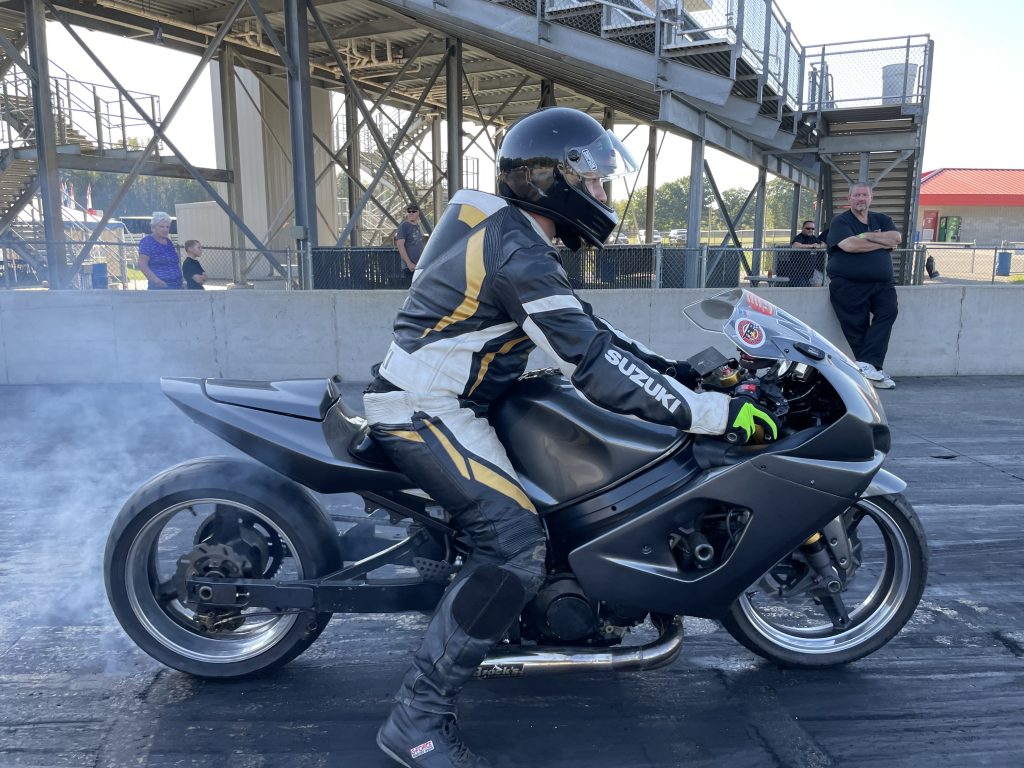 On the no box side all eyes were on defending event champion and No. 1 seed Nick Christmas on his GSXR 1000. Christmas didn't disappoint as he again chopped his way through the field defeating Mike Grinell, Jeff Jaquish, Bob Koby and the red-hot Ashley Sweeney to advance to the No Box final.
Equally impressive was sled ace Butch Veltum, who along with going many rounds in the bracket sled class, beat Koleman Gerencer, Ashley Sweeney on her entry No. 2, tough Haybabusa racer Michael Weyer and the talented Steve Huckabee to set up a giant sled vs. bike no box final.
Christmas stayed razor sharp on the tree to take the overall win, score the big payday and advance to the runoff.
The demand for no-box racing was higher than expected so the box half featured about 40% no box racers, who were kept at the bottom of the ladder to avoid a box – no box showdown until the later rounds. With pre-sold spots going fast one of the last racers to sneak into the field was longtime old school Kawasaki racer Tom Klemme, who initially didn't plan to attend the event. Tom's brother Joe called with a credit card a couple days before the race to make sure he and his brother were locked in.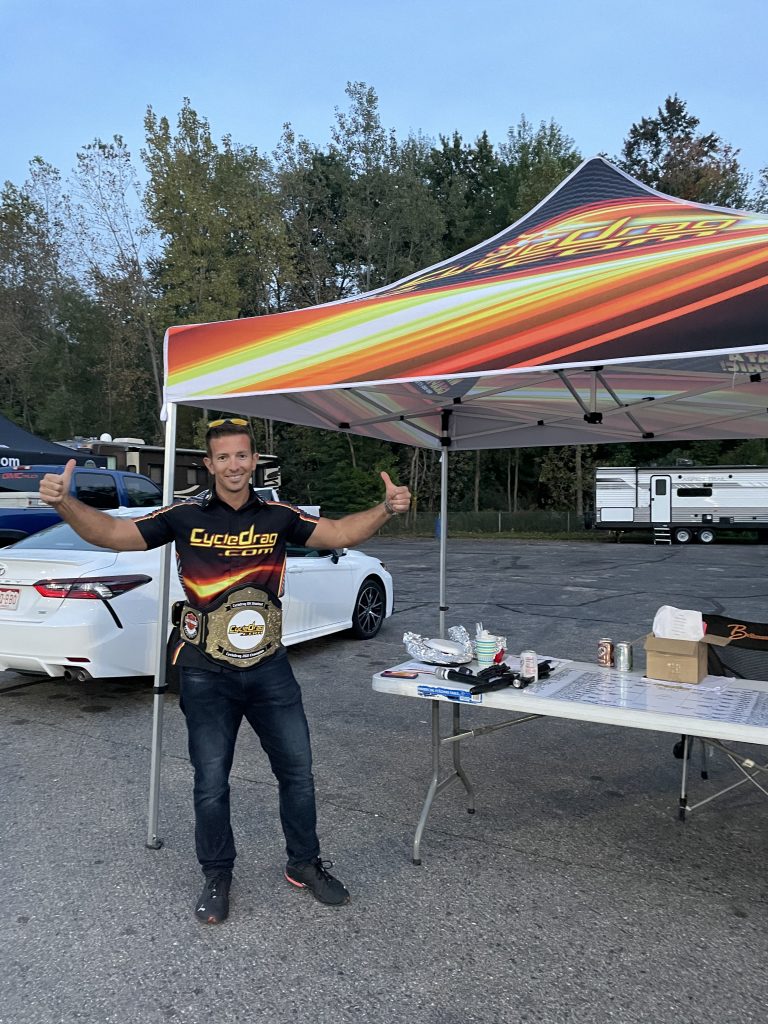 The brother's investment paid off in a big way as Tom Klemme was again unstoppable on his iconic, pink Kawasaki Z1-R defeating Maverick Green, Ben Birr, hot streak-riding Rick Eaton and the always-tough Roger Wilhelm to advance to the Box final. One of the most impressive performances of the event came as Cory Wilson got hot on his no box Suzuki GSXR 1000 and grinded all the way to the box final, beating Christopher Chongris, Steve Huckabeee, Street ET master Blake Niebala, and Alex Barmettler.
Wilson gave it his best shot in the final but Klemme was too much, and on kill with a near-perfect light and dead-on run to take the win. With the split, Wilson walked away with $2,000 – what a feat for a no box bike in box.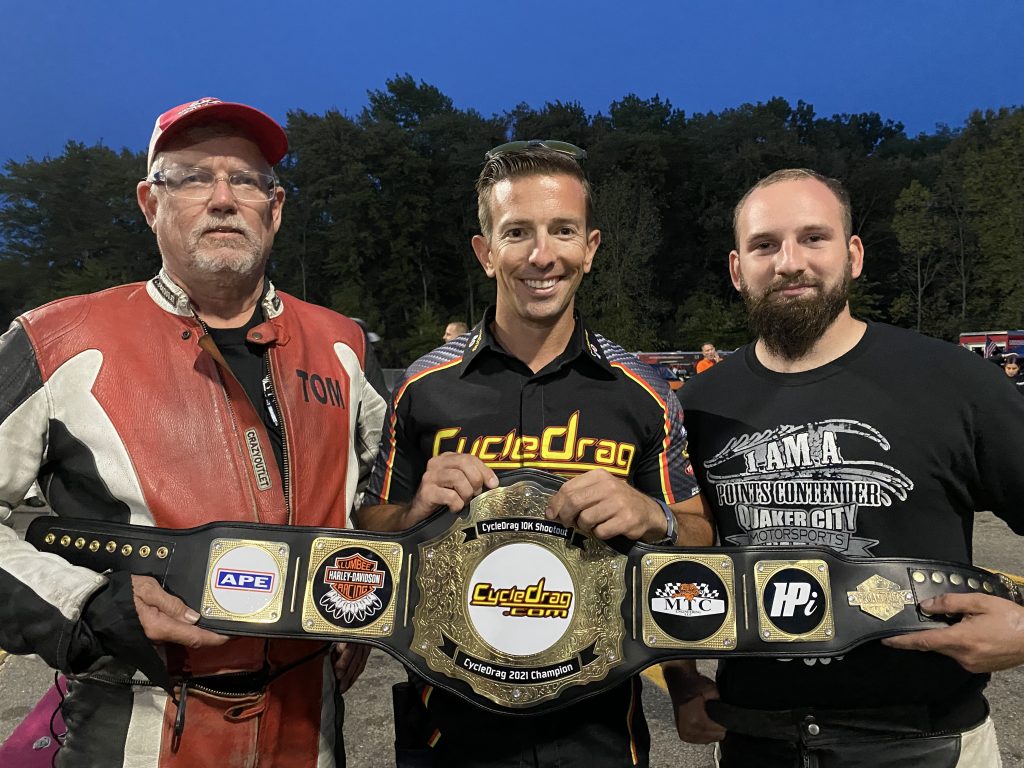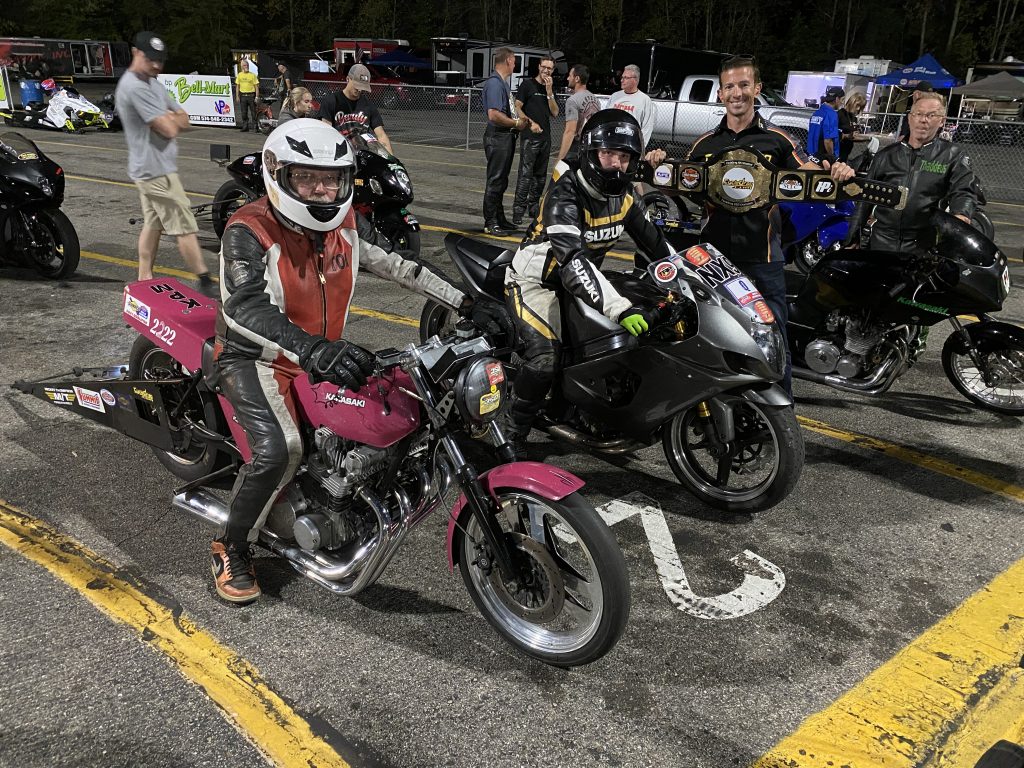 The stage was set for a championship runoff between youth and experience and a pair of motorcycles with nearly 25 years between them.
Christmas brought his A-game but Klemme was again too machine-like, knocking down the tree and running dead on his dial. The win light illuminated in Klemme's lane and it was clear the rider of the old school Kaw was going home with the gold belt.
"I was ok and the bike was on kill. I had one lucky round, but other than that it was tough. I was printing tickets," Klemme said. "It's pretty cool. I've never raced for a belt in my life."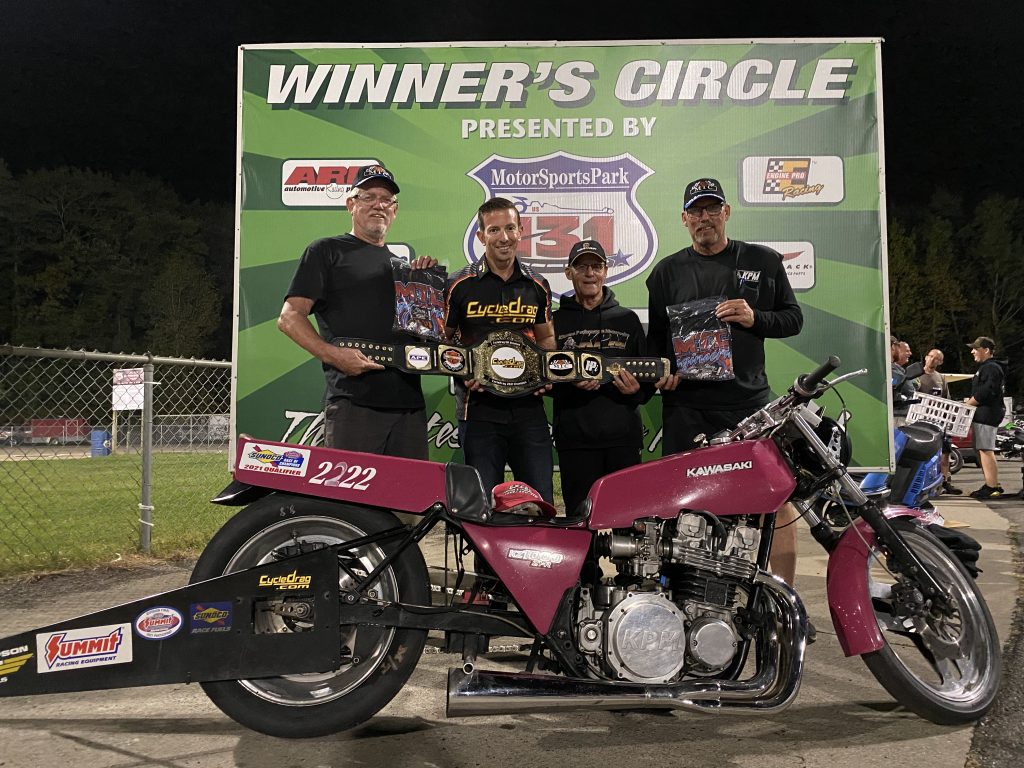 Korpela pointed out Klemme most likely owed his brother a giant steak for dinner after motivating him to enter.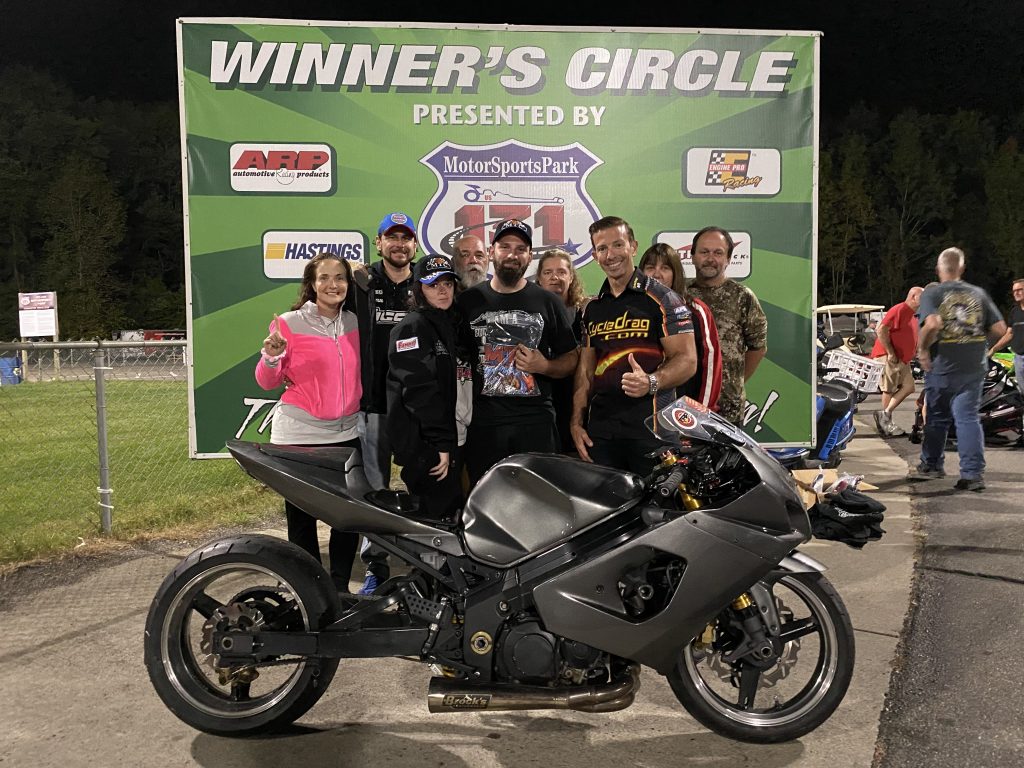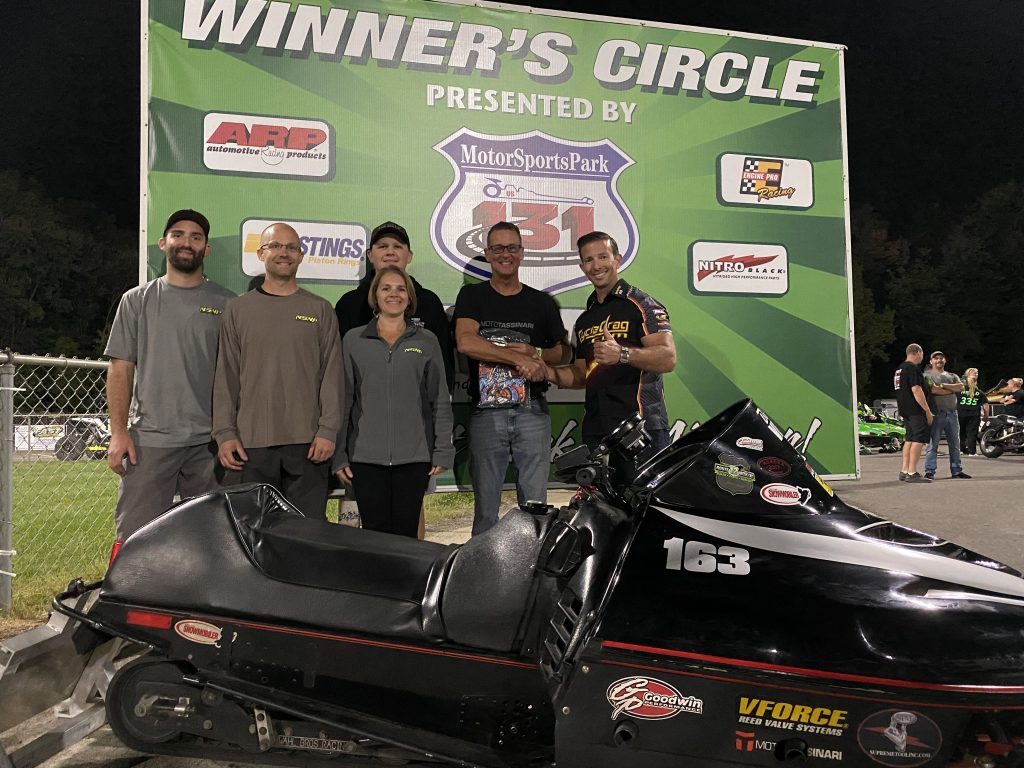 All rounds of the big race, with sponsor shoutouts, can be found on the Cycledrag Facebook page as live videos.
There are more videos on the Cycledrag Youtube channel (please subscribe here) and the Cycledrag.com Facebook page (Please like here) and more will be coming soon. Check back daily.
Super Bowl of Two Stroke Racing
The Super Bowl of two stroke racing was a huge success with some of the nation's quickest and fastest Kawasaki H2 drag bikes showing up for the Fast by Gast, Flannery Racing , Don Fergin-backed category. Even an old school Suzuki 550 and an ultra cool Kawasaki KDX ridden by normal ZX14 racer Rick Steinard really added to the show.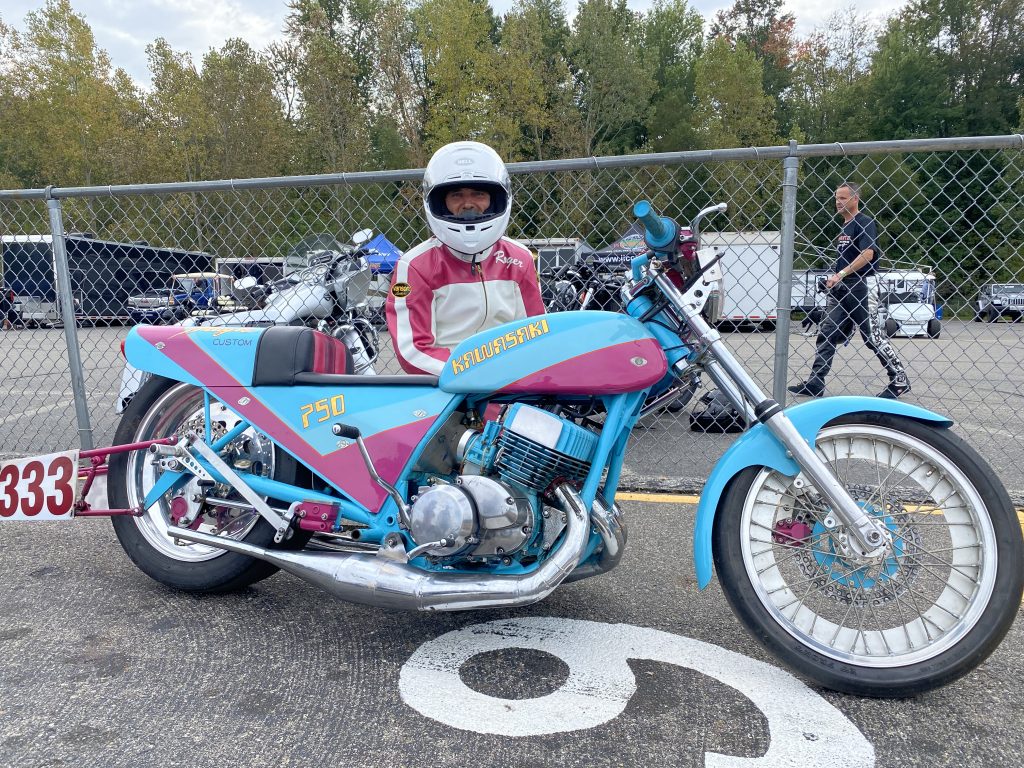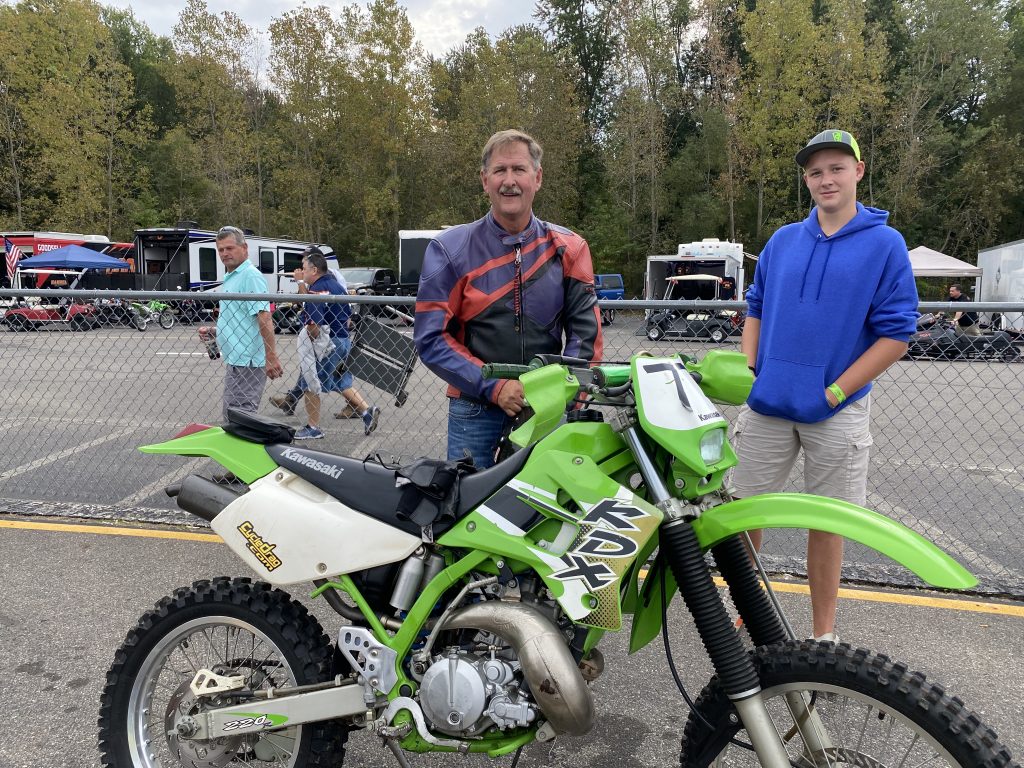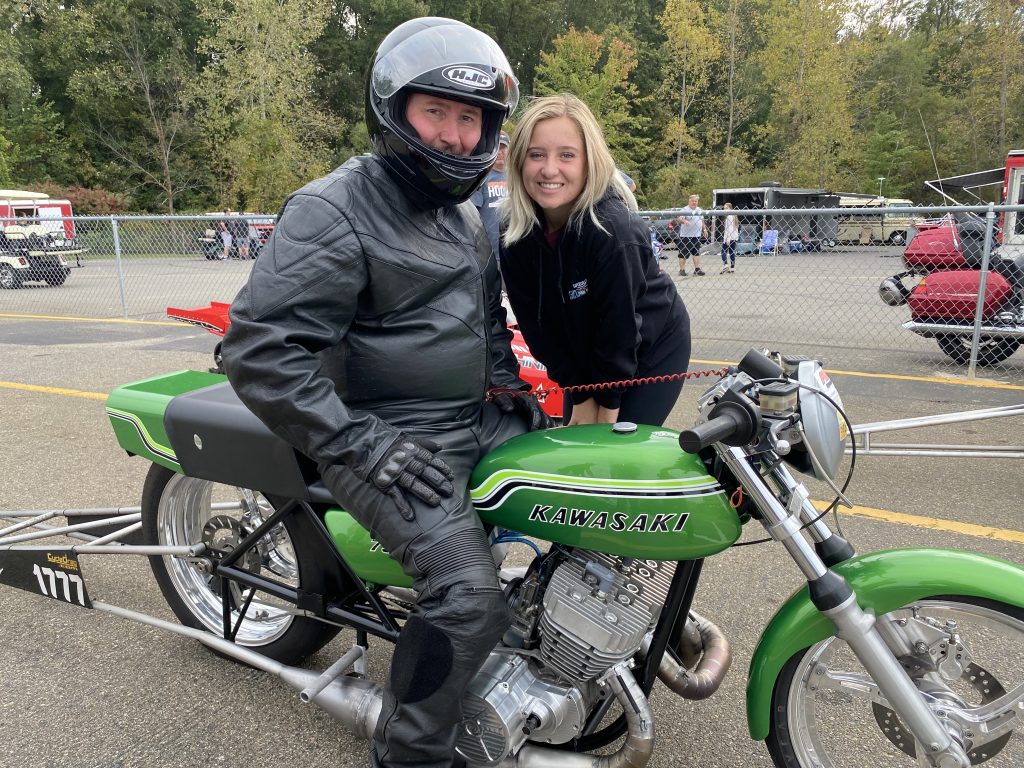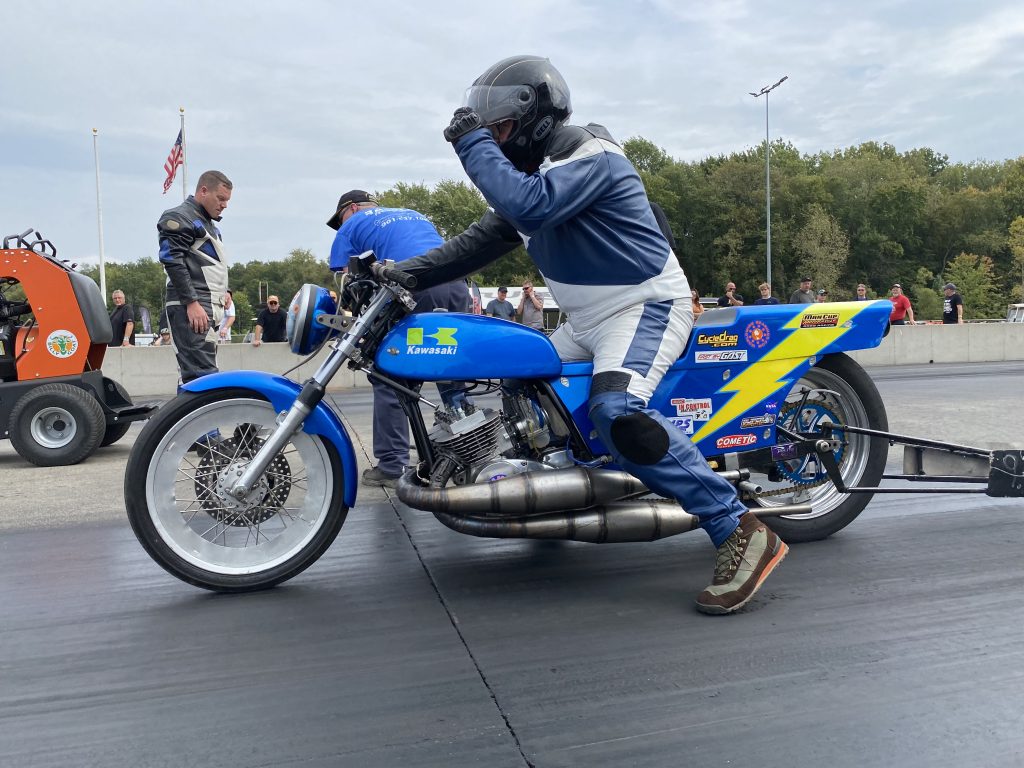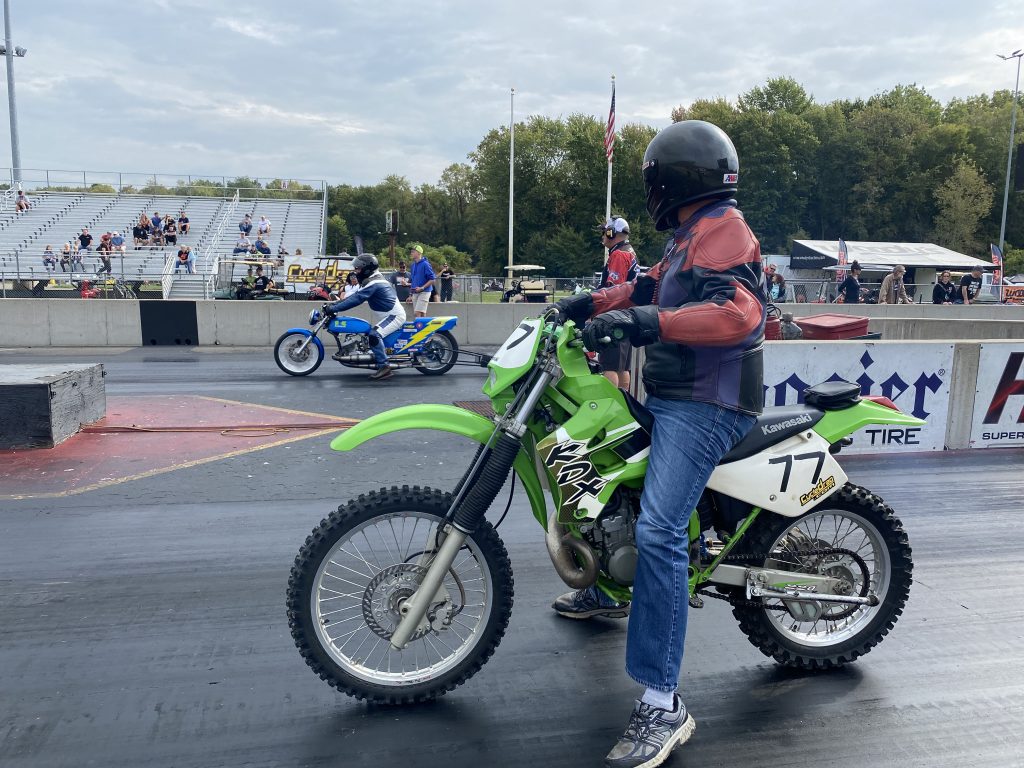 This fine group of racers rallied to make this event the biggest yet and are aiming to get even more two strokes on the property next year.
In the end it was David Boyd who would meet class enthusiast "Smokin" Joe Molyneux in the final. Molyneux's hard work paid off as he rode one of the most immaculate and technologically-advanced two strokes in the world to the win. The machine was just finished up and required several sleepless nights in the garage for Smokin Joe to complete.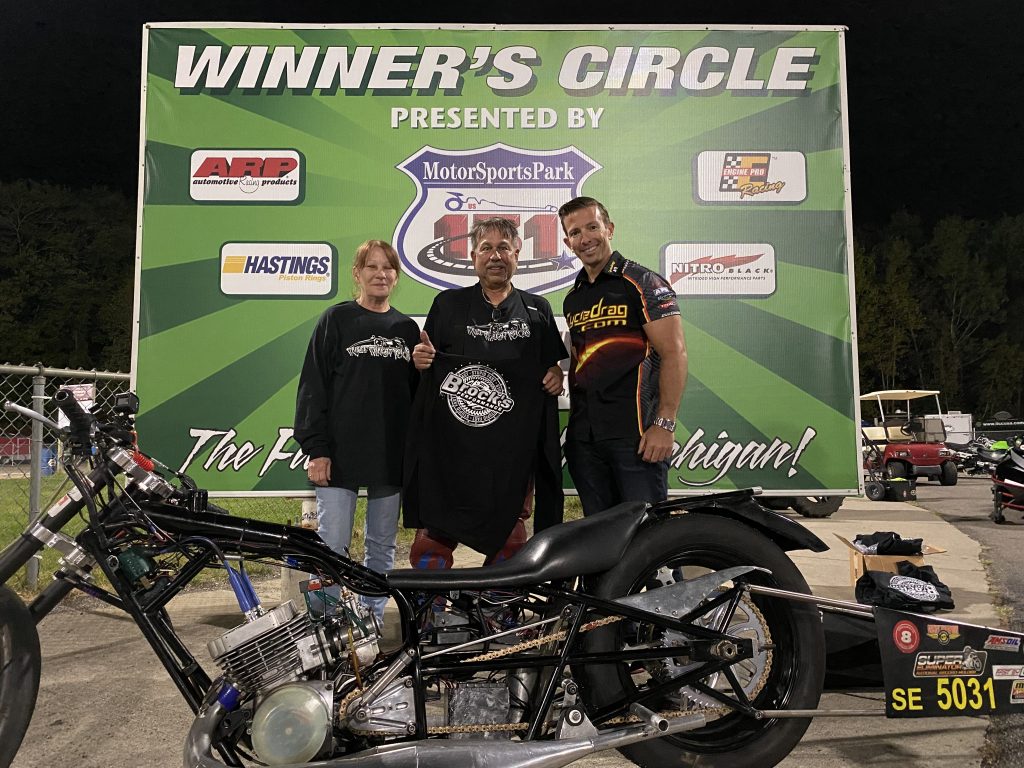 "It means a lot. I've been working really hard on this bike and wanted to bring a good show. I've had some issues, but that will happen when you push the edge," said Molyneux, rider of the stock-bore, naturally aspirated H2. "I'm elated. I built the bike just for this event and this track because I love it so much."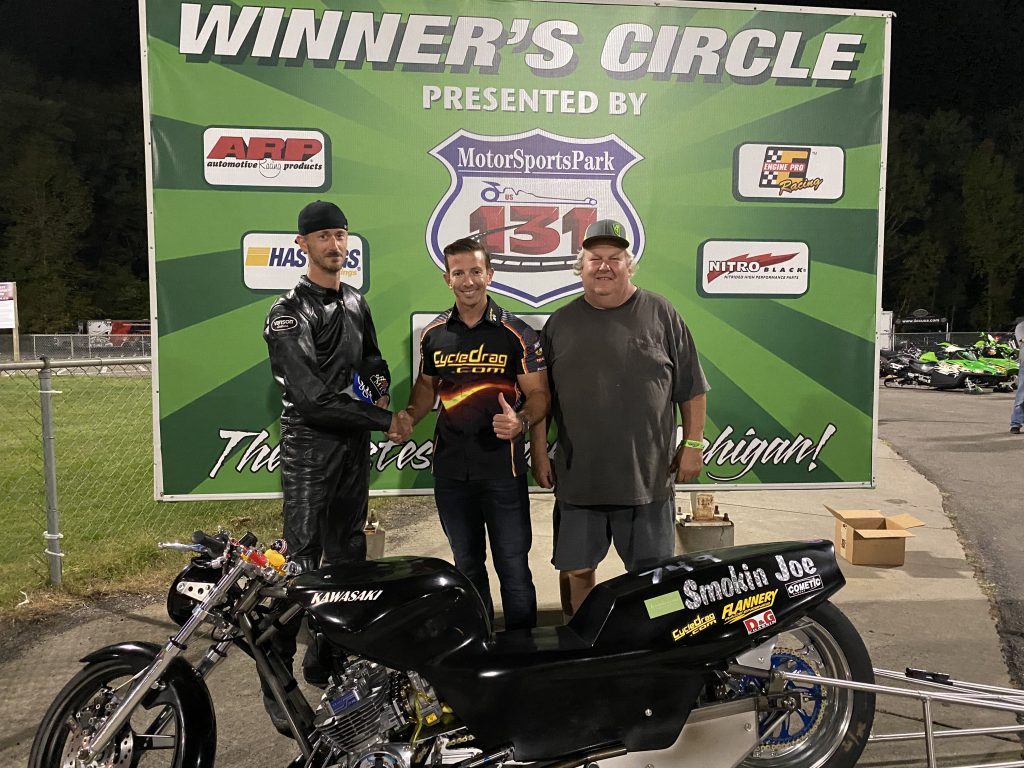 Big thanks goes out to Super Eliminator guru Kevin Hutchinson, who unfortunately damaged his bike prior to the event, so instead of racing he rolled up his sleeves and helped run the race.
Spread the word and start the builds, restorations and tune-ups for the biggest two stroke turnout ever next year.
Harley / Bagger ET
A tremendous turnout of v-twin motorcycles filled the pits at US 131 led by generous class sponsors and grudge racers Assim Chaudhry and Frank Wojckik. Hot Street superstar Marc Fricke also stepped up to support his fellow Harley racers, accepted a grudge race with his rival Chaudhry but was unfortunately unable to attend due to getting sick just prior to the race. Get well Marc.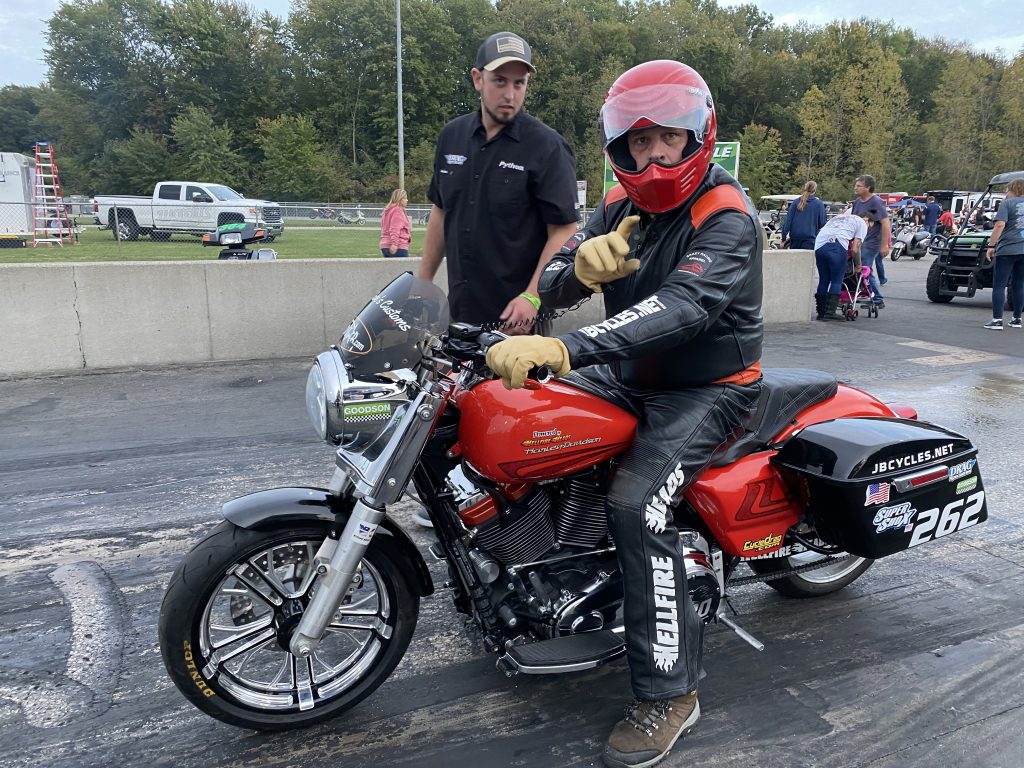 After Chaudhry and Wojckik dazzled the crowd with some grudge runs and Jason Broski refused a money vs. hair challenge by Chaudhry, the spotlight turned to the spirited ET competition that saw Jim Clarke win the day over Steve Lacy.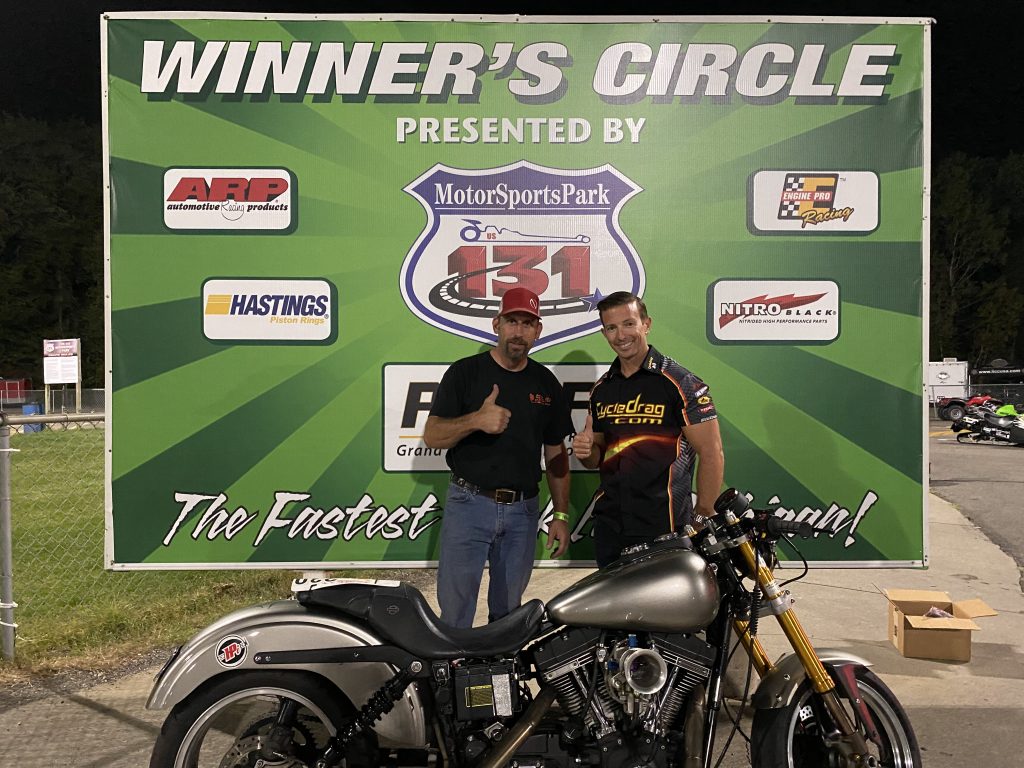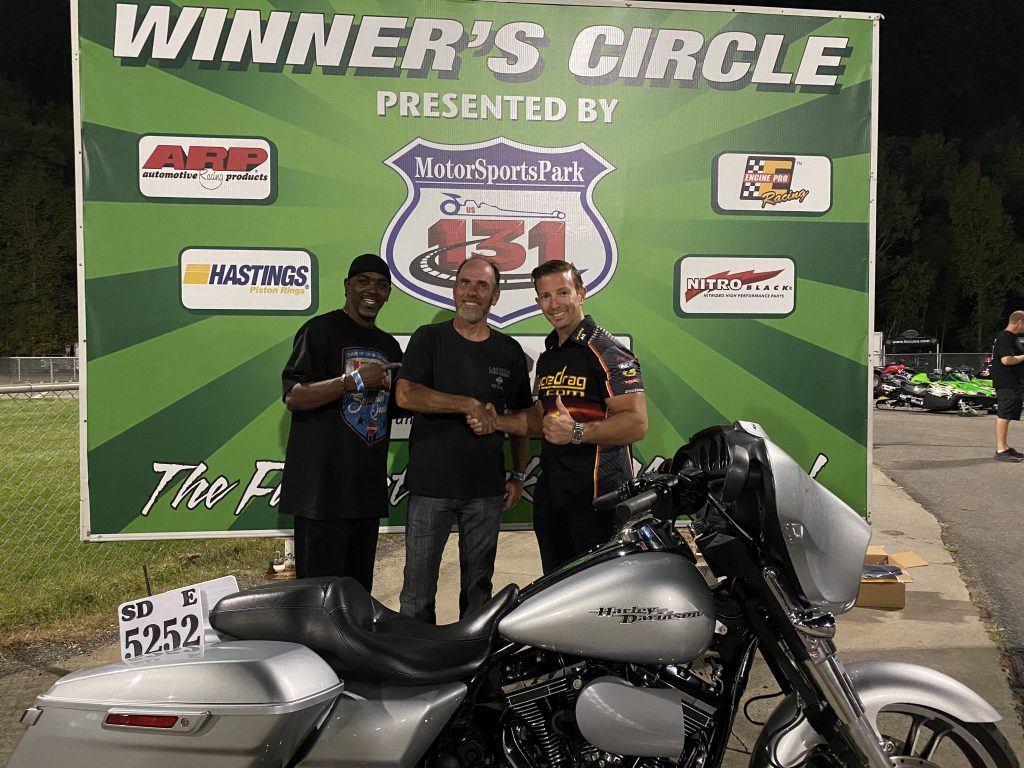 Pro ET / Brock's Performance Street ET
It looked unlikely Pro ET or Street ET would get in at the beginning of the day due to the incredibly pessimistic forecast. The weatherman missed big again as it only rained for about 10 minutes around 5pm, creating about a 30 minute delay – quite a far cry from the total washout predicted.
It was a great turnout in both classes.
In Pro ET Maverick Green took the win over Thad Neeld.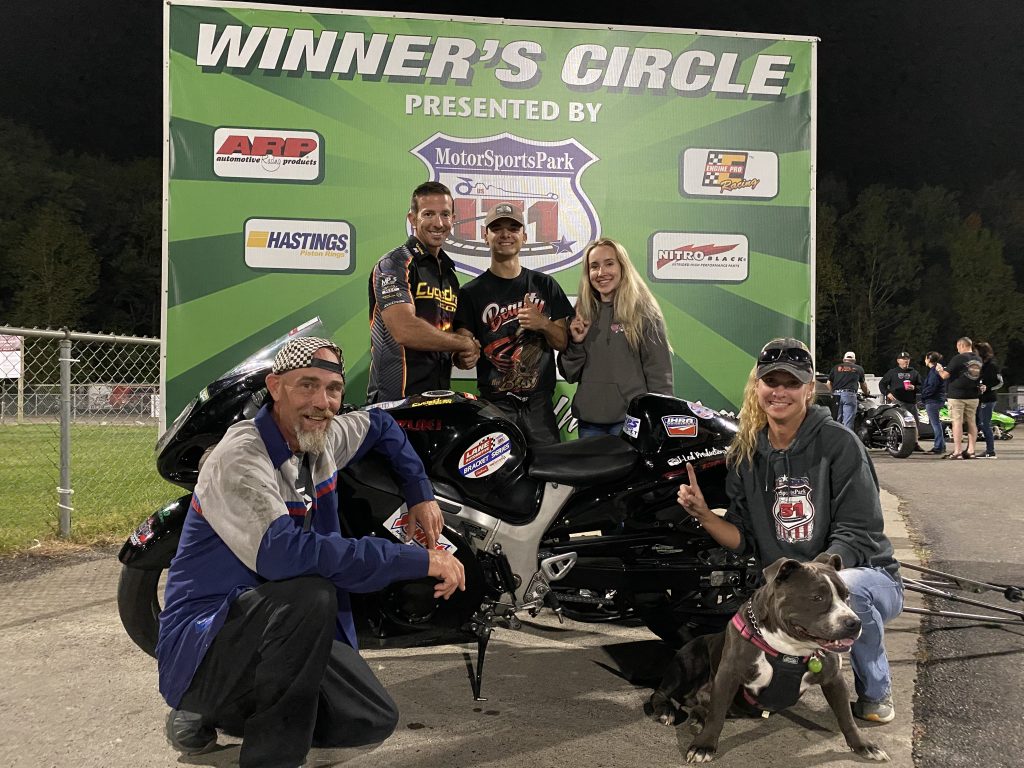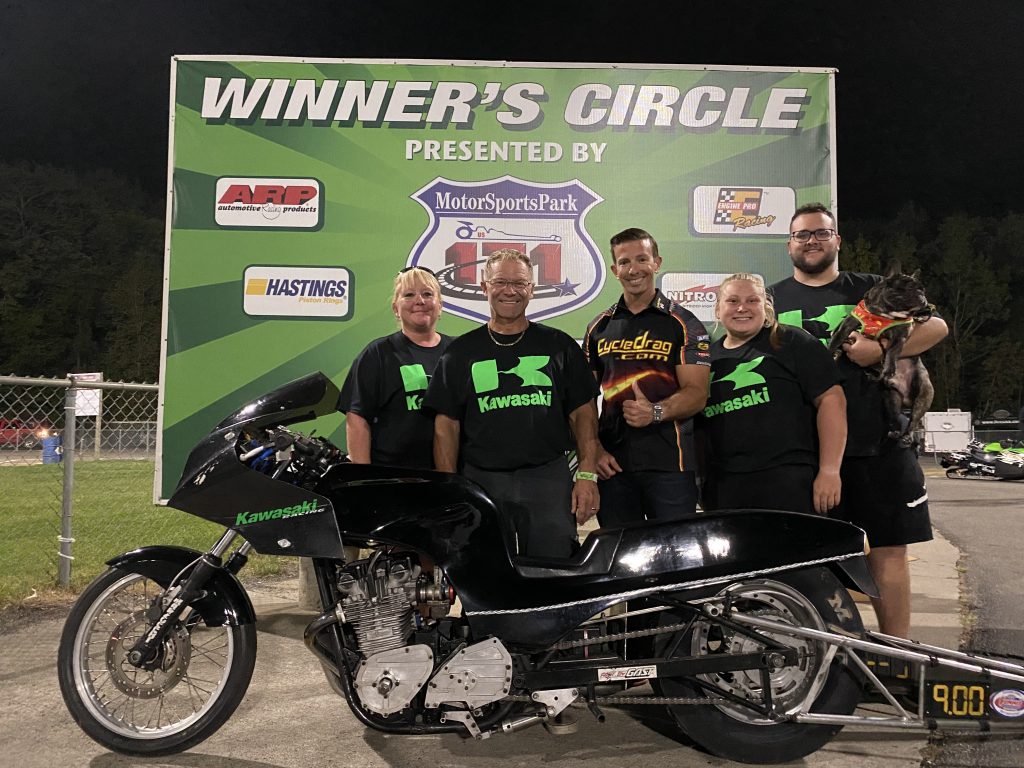 "It was all about staying clam and cutting good lights and making sure my bike was running the number all day," Green said. "I had an issue with my wheelie bars but was able to overcome it."
In Street ET Jayson Knight took the win, the money and scored some swag from Brock's Performance.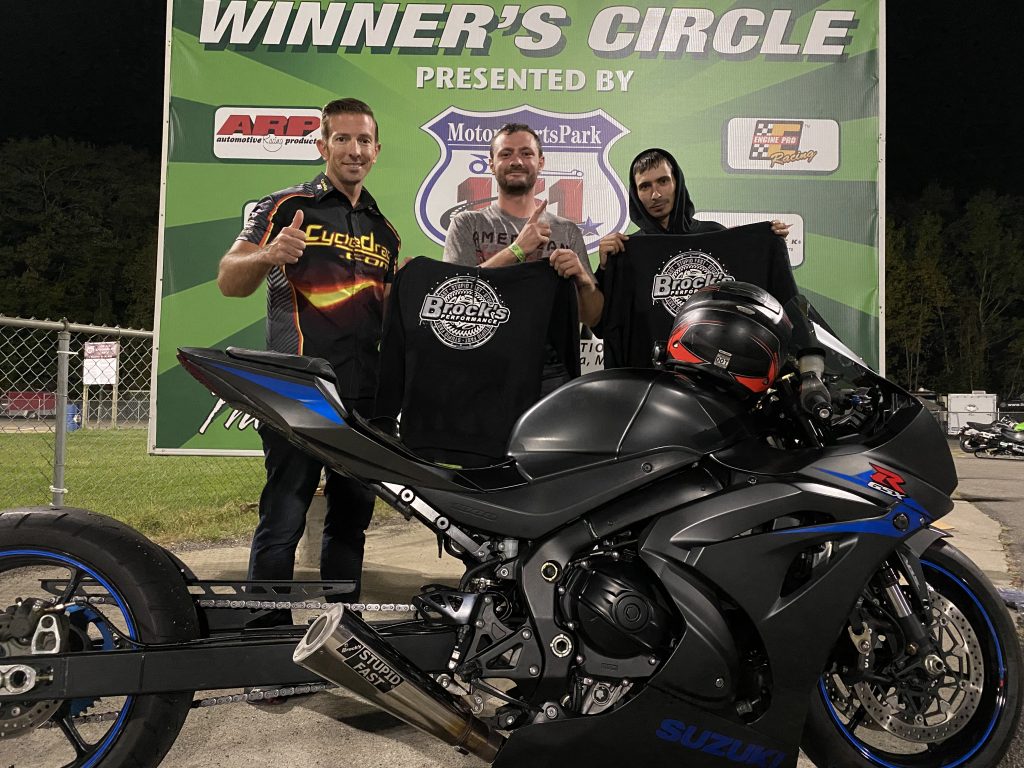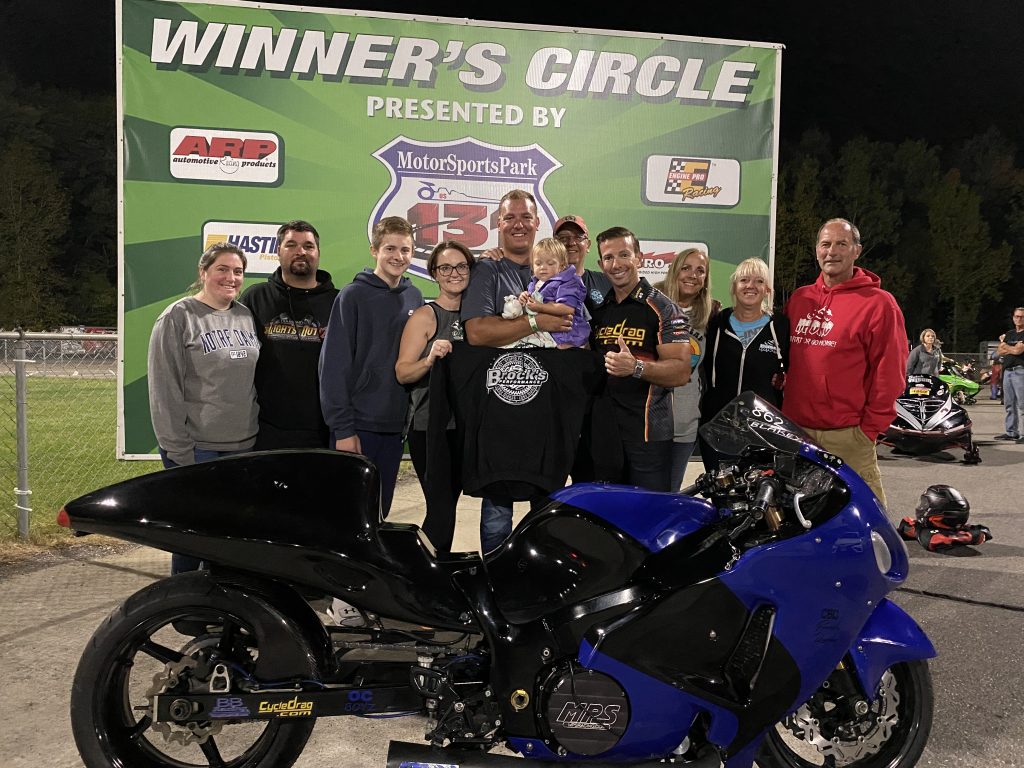 "It was rough. I gave it my all. I wasn't going to buy in because of the threat of rain but I did it any way," Knight said. "If you are debating buying back just do it because you never know what will happen. Here I am in the winner's circle.
There was thrilling on track action in Grudge and in the many sled categories as well. A great time was had by all.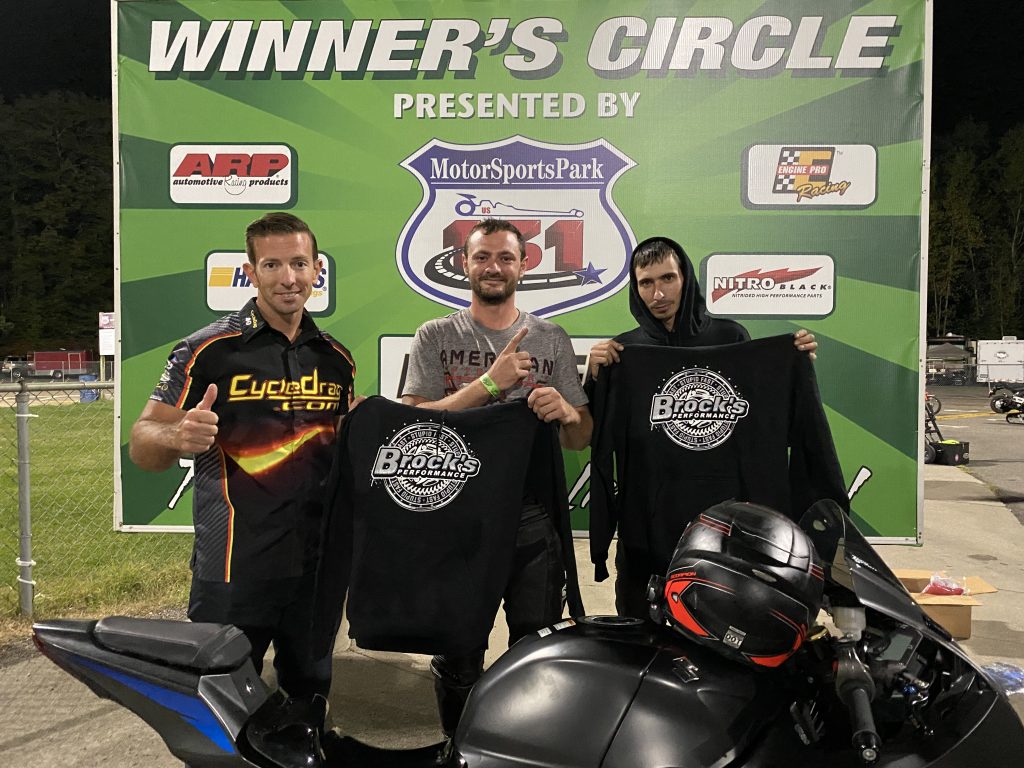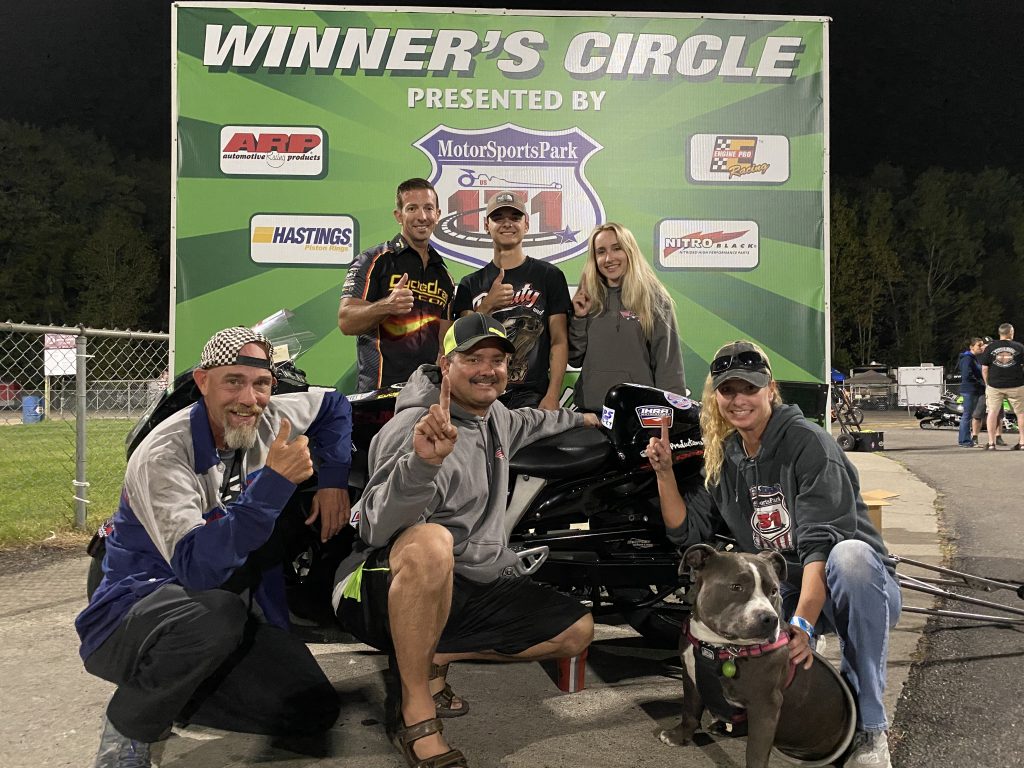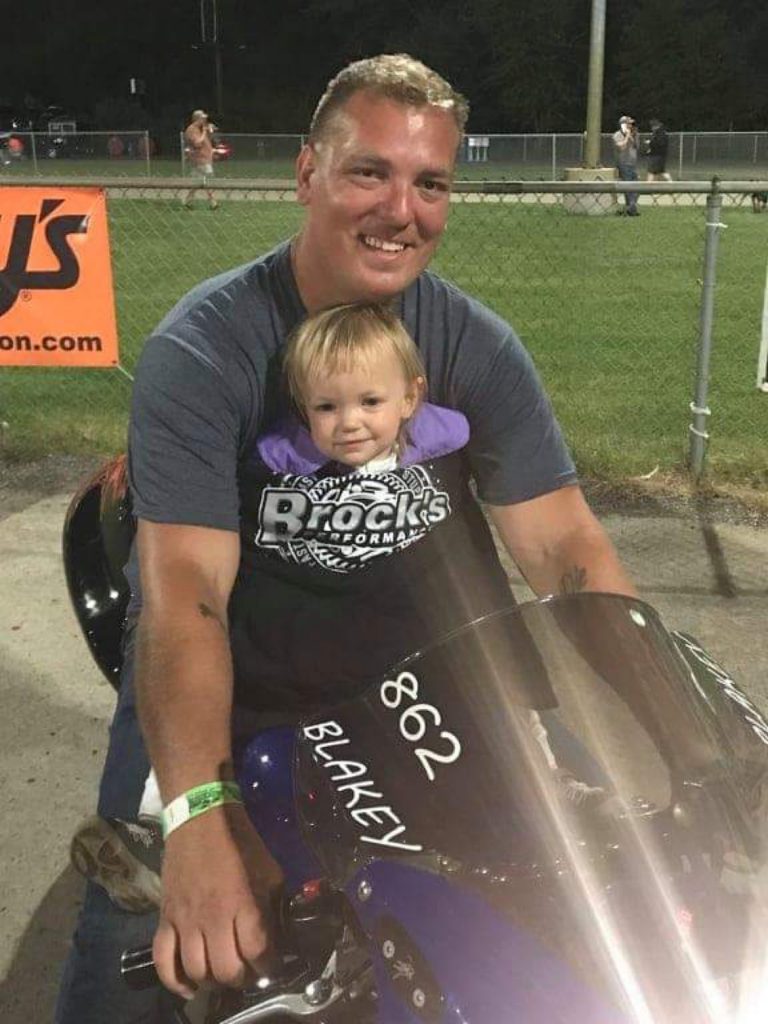 All-in-all the event was a major success.
"I'm reminded of just how hard it is to pull of a successful race but It's a special feeling when it all comes together," Korpela said. "I really want to thank Jamie Bellman, all the folks at US 131 and all the amazing sponsors who made this possible. Support those who support your sport!"
Big thanks to all the sponsors who made this race possible
MPS – Motorcycle Performance Specialties
ProJack Race Car Stands
190Hookup.com
Trick-Tools
FastBy Gast


Horsepower Inc.
187 Custom Cycles
Liska Racing
WHATAGRAPHIC
Paul Watson Lumbee Racing / All Harley World Shootout
Doug Flannery Motorsports
Don Fergin
Vantine Imaging
Scarlett's Performance / Pat's Body Shop
Web Camshafts
Terry Schweigert Racing
Assim Chaudhry Racing
Marc Fricke Racing
Frank Wojcik Racing
22 A Day / Stop Soldier Suicide
Support those who support your sport!