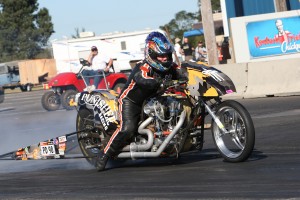 Punisher Racing and Dale Nilles is back to his old form on his new ProDrag bike with his win at the Northwest Nitro Nationals in Woodburn, Oregon.  This was his 5th final in a row winning 2 of them.
Dale won the AMRA Summer event in Bowling Green, Kentucky on June 23rd and 24th – this being his first race back  after his accident at the Rockingham Spring Nationals event in Rockingham, North Carolina.  Dale had to miss 3 races before he could return.
Following the Bowling Green event, Dale competed August 3rd and 4th in the Thunder in the Valley race in Bristol, Tennessee making it once again to the finals with a loss to Steve Pier.  Next Dale competed August 7th and 8th at the WMDRA event in Sturgis, South Dakota making it again to the finals only to lose to Bill Bentz out of Phoenix, Arizona.  On August 18th and 19th Dale competed at the Manufacturer's Cup in Indianapolis, Indiana and again made it to the finals with a loss to Johnny Vickers of Hawaya Racing Products out of Millers Creek, North Carolina.  On August 25th and 26th Dale competed in the Northwest Nitro Nationals, and AHDRA event, in Woodburn Oregon.  Dale was #1 qualifier with his fastest pass yet at 7.386.  He went on to the finals facing Janette Thornley who ran a 7.415 to Dale's 7.460 with a holeshot of .129 to .208 giving Dale the win.  "It was a team victory for us!  We had to do a bunch of work on the bike in order to get to the finals." "I've always had a great team and they really stepped it up this weekend"
Dale is currently sitting 4th in the points for the National Championship with three races left in the season.
Thanks to wife and team, Jan Nilles,  teammates Max Morath and Stephen Vickers. Rich Vreeland of Vreeland Harley Davidson and their race team, High Country Harley Davidson, Venom Batteries, Vanson Leathers, PMFR, Mickey Thompson tires, VP Racing and PR Factory Store.
Johnny Vickers of Hawaya Racing for building such an incredible bike and Johnny and Leanne's support throughout the entire season, and Tara, Travis and Easton Jett Nilles for my inspiration.
August was a very busy month of racing,
Next race will be the Liberty Nitro Nationals in Numidia, Pennsylvania on September 8th and 9th.