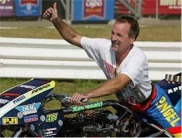 After an elusive mechanical problem hindered Top Fuel dragbike legend Larry "Spiderman" McBride for over 14 months, the ten-time world champion believes the team has solved the mystery after a wildly successful outing at the AMA Dragbike Spring Nationals from Martin, Mich., May 15-16.
Due to the short stopping area in Martin, McBride was shutting the motorcycle off at the 1,000 foot mark, 320 feet shy of the quarter-mile finish line. The team was more than delighted to see a 5.85 flash onto the scoreboard in McBride's lane during his final round victory. Prior to the final, McBride recorded times of 5.99 and 5.95, much to the chagrin of Team Spiderman, considering the early shutoff.
For now the world's quickest motorcycle (5.79, 245 mph) appears to be performing gremlin free. So what exactly was hindering the motorcycle for so long?
"I think we finally figured out," McBride said with a sigh of relief. "We've learned the nitro we have been receiving lately is very different from the nitro I've been using for the last several years."
Why the nitro quality is so much different is something Spiderman can't explain. He says he's been purchasing it from the same place in China for several years. In 2008, veteran NHRA crew chief Ed "The Ace" McCulloch encountered the same issue.
"I've noticed a difference in the fuel, from the color to the smell to the way it acts," McCulloch said. "It's inconsistent from drum to drum."
McBride's team was able to pinpoint the fuel as a problem by going back to their old fuel system, in an attempt to eliminate the team's new state-of-the-art fuel delivery unit as a potential problem. McBride noticed, even with the old reliable fuel system and tune-up in place, the bike was running way too rich.
McBride keeps detailed records of the team's valuable tuning information over the years and was forced to go to a radically different set-up to get the motorcycle to work in harmony with the new fuel.
"We're just trying to give the bike what it wants. I'm now running 28 less pounds of fuel pressure than I have been for the last six seasons. We made a significant drop in jetting," McBride said.
Although the change in fuel composition is a bit frustrating to the veteran racer, it's a tremendous relief to find the cause of the problem and discover nothing was broken, especially after McBride and his brother Steve rigorously inspected each component several times.
"We aren't as dumb as I thought we were after all," McBride said with a smile.
McBride feels if the team would have had one more run in Martin, he could have hit the tune-up dead-on.
After 14 months of uncertainty, one has to wonder if McBride is concerned about getting another drum of nitro with even slightly different characteristics? McBride has a plan to prevent that from happening.
"I just ordered four drums from the same batch," McBride said. "I am hoping for some consistency."
It certainly wasn't a cheap order for McBride, who pays roughly $1,150 for each drum of fuel. The Spiderman gets about a race and a half out of each drum, since his machine guzzles about 30 gallons of fuel at each event.
Spiderman's next opportunity to compete will be at the Portable Shade Nationals from Montgomery Motorsports Park, Ala., June 12-13. McBride raced at the venue back in 2003 when the series was known as Prostar.
"I am a little unsure as to what I should expect. I remember last time the track was pretty bumpy at the eighth, and we had a lot of trouble getting the tire to hook," McBride said. "I'm hoping the track conditions have improved."
McBride also plans to make exhibition runs at the Virginia Mid Summer Bike Bash at Virginia Motorsports Park in Petersburg, Va. on July 10th.
Recently McBride attended an ADRL race at VMP and admits he was thoroughly entertained by the nitrous-oxide powered Pro Extreme Motorcycles.
"They look like a lot of fun," McBride said. "I'd love to build one someday."
When asked if he would ever race one, the Spiderman offers a different response.
"If you can't put nitro and a supercharger on it, I want nothing to do with it," laughed McBride.
The team thanked; Pingel Enterprise, Drag Specialties-Parts Unlimited, Red Line Synthetic Oil Corporation, K&N Air Filters and Web-Cam as well as his other sponsors.
Trim-Tex Drywall Products, Vance & Hines Motorsports, PR Factory Store, Muzzys Performance, Ferrea Valves, Kibblewhite, Precision Machine, World Wide Bearings, Vanson Leathers, Performance Machine, Belt Drives Ltd, Street & Competition, Simpson Race Products, Nitrous Express, APE, EK Chain, Arias Pistons, R/D Spring Corp, Autolite, MSD, Protect ALL, Whipple Industries, Cometic Gaskets, B&J Transmission, Carolina Cycle, L.A. Sleeve, PJ1, Mickey Thompson Tires, Valco, Goodridge, Carlisle Belts and Gates Belts.