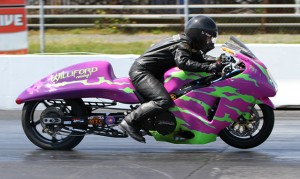 A mid-season Orient Express Pro Street rule change, giving the nitrous bikes back some of what was taken away at the start of the year, promises to give the blue bottle crowd ammunition for revenge against the 6 second turbo onslaught that happened at Maryland International Raceway in April. So expect the wildest street tire showdown of all times when the Mickey Thompson MIRock Superbike Series reconvenes for the Fast By Gast Summer Showdown at MIR on June 2-3, 2012.
The home of the world's first 6-second streetbike pass last October saw two turbo bikes join Ryan Schnitz and the nitrous huffing HTP Performance Suzuki Hayabusa in the exclusive 6 Second Club in April. Pro Street rookie Joey Gladstone on the DME Racing 'Busa and two-time defending champion Rodney Williford rang up the magic number, and several other turbo bikes including Rockingham winner "No Joke" with Jeremy Teasley up top were within striking distance.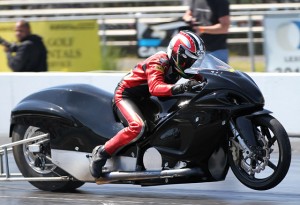 HTP Performance builder/tuner Cecil Towner is covering his bets, though, and debuting his new turbo bike at MIR with rider Lavar "Lil' Charlie" DeLee in the saddle along with Schnitz on the nitrous 'Busa.
Towner and Schnitz will also be returning with the brand new EFI/nitrous/Hayabusa Mickey Thompson Pro Mod combination that debuted so well in April, losing the final to surprise first time Pro Mod winner Mac McAdams.
Pro Street isn't the only class expecting a vengeful pack of nitrous bikes. RS Motorsports owner/tuner Roger Starrette and his three nitrous Kawasaki ZX14s will be ganging up for sure on Johnny "Turbo" Dobrin's turbo 'Busa in DME Real Street. Dobrin's won both races this year, and multi-time Real Street champ (and Adams Performance/RS Motorsports rider) Jeremy Teasley is pissed at seeing his checks and trophies going to someone else.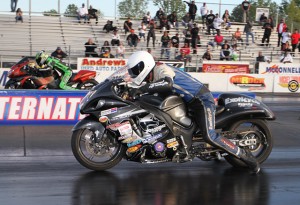 Also expect huge Trac King/APE Top Sportsman, House of Speed Crazy 8s, FBR Shop 5.60 Index, Fast By Gast Pro ET, and Brock's Performance Street ET fields to race deep into the night along with Saturday night's Afterdark Underground. MIR's famous bikini contest, though, will be glistening in the bright light of day on Sunday. You won't want to miss 6 seconds of the Fast by Gast Summer Showdown at Maryland International Raceway.