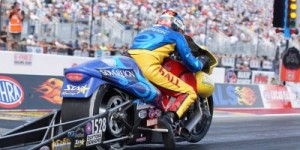 The Sovereign-Star Racing team will aim for safer ways of attracting media attention at this weekend's AAA Insurance NHRA Midwest Nationals in St. Louis, Mo., after racer Scotty Pollacheck nearly lost control of his motorcycle during qualifying at the Dallas AAA Texas Fall Nationals.
"No more trick riding this weekend! Once was enough. We'll have to 'Wow' everyone with ET and speed this weekend instead," Pollacheck said.
At the end of his final qualifying round in Dallas on Saturday, Pollacheck's Buell motorcycle began fishtailing back and forth at 190 mph after his rear tire became flat. The 27-year veteran drag racer was able to keep calm and kept his motorcycle under control as it crossed to the other lane behind competitor Karen Stoffer.
"It was a little more excitement than I needed! I was fine, though," Pollacheck said. "If it had been the morning session and we'd had another run that day I would've been ready to go."
"It was really scary for Scotty, but he was pretty busy afterward and didn't have time to be shaken up about it. He switched channels pretty quickly to get the bike back to the trailer and get ready for Sunday. Luckily, we had enough spare parts to fix it for eliminations. I've been carrying spare wheelie bars in the trailer since 2005 and it's the first time I've gotten to use them," Star Racing owner George Bryce said.
As soon as his team knew he was unharmed, Pollacheck's Sovereign-Star Racing crew got busy repairing the motorcycle for Round 1 eliminations the next day. The team only had one motorcycle running on Sunday after Pollacheck's teammate, John Hall, had bike and driving trouble during qualifying.
"It was just an off weekend for me, I guess. It wasn't my best performance and was hopefully my worst,'" Hall said. "I'm hoping to go into St. Louis this weekend with a fresh attitude so that I can run some interference for my teammate. Scotty is in the points countdown and obviously that's the main focal point for us. We need to get him up front in qualifying so he can get a decent first round matchup on Sunday."
Pollacheck, who according to Bryce made his best five runs in a row since he started with the team, also suffered another red light start during Round 1eliminations against Michael Ray, who went on to win the event.
"We were sorry to see him go red against Michael Ray in the first run, but we were excited that the bike ran its best time on Sunday and that he wasn't too shaken up to drive well," Bryce said. "We went backwards in the points, but everybody got really tight after switching positions, so they're all closer together now. All you have to do is have one good weekend like Michael (Ray) did and it all turns around. Thank goodness we have four more times to try it."
The Sovereign-Star Racing team is also celebrating the recent NHRA decision to change the technical rules for next year's Pro Stock Motorcycle class and to add 10 more pounds to the two Screamin' Eagle/Vance & Hines Harley-Davidsons for the rest of this season. Up until this past weekend, the Harley four-valve double overhead cam motorcycles have enjoyed a 13-race winning streak since 2011.
"I'm really happy with NHRA's decision on the rules. It's going to make the class more exciting, more fun to watch and we'll potentially get some new interest in our class because it'll be more exciting and fun," Bryce said.
"I think it's great that they're finally doing something about the unfair Harley advantage. It's not going to really help us much this year because the 10-pound thing isn't a big deal for the Harleys. Next year it'll make the class better, though, and will help the morale of the teams and racers," Pollacheck said.
The Sovereign-Star Racing team will compete this weekend, Sept. 28-30, at the AAA Insurance NHRA Midwest Nationals at Gateway Motor Sports Park in St. Louis, Mo.
The 2012 Sovereign-Star Racing Team is a partnership between Georgia-based Star Racing and the Hungarian-based Sovereign Racing Team, the 2011 UEM European Pro Stock Bike Championship Team, owned by sugar distributor Jeno Rujp.
The Sovereign-Star Racing Team would like to thank the following sponsors: Sovereign, Star Racing, S&S Cycle, Daytona Sensors, Worldwide Bearings, CP Pistons, Permatex, Americus Motorsports Complex, Who's Up Next?, and Quality Tire.
Star Racing Fast Facts:
Based in Americus, Georgia
Six-time NHRA Pro Stock Motorcycle Championships
78 NHRA national event wins with nine different riders
Owned by George & Jackie Bryce
Sovereign Racing Team Fast Facts:
Based in Budapest, Hungary
2011 European UEM Championship Team with rider Jesper Thiel
Owned by Jeno Rujp
John Hall Fast Facts:
From: Hamden, Connecticut
Job: Real Estate Investor
Years in racing: 16
Scotty Pollacheck Fast Facts:
From: Medford, Oregon
Job: Owns "Quality Tire" store
Years in racing: 27