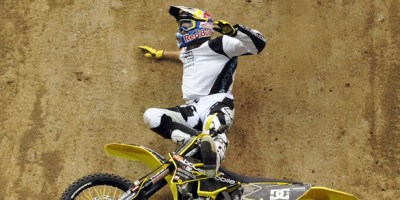 Travis Pastrana has had no desire to get back on a motorcycle in the last couple of months as he tries to rehab his shattered right ankle.
The action sports star competed in the Race of Champions in December, tested a car for the Rolex 24 At Daytona a couple of weeks ago and is scheduled to test a Nationwide Series car next week.
Pastrana had been scheduled to make his much-anticipated Nationwide debut last July but was sidelined for several months after suffering an injury to his right ankle and foot during an X Games competition two days before the Nationwide race at Lucas Oil Raceway in Indianapolis.
So Pastrana, who was going to run seven Nationwide races in 2011 with plans for 20 in 2012, now will do seven Nationwide races in 2012 with sponsorship from Samsung and Boost Mobile plus a full NASCAR K&N East Series season.
"I feel really good," Pastrana said Saturday during NASCAR Preview 2012. "The walking has been a lot better. The therapy the last two weeks has made huge improvements. It has taken so long to where I could put weight on it, and now I'm doing a lot of cycling, doing a lot of swimming and doing a lot of physical therapy.
"No problems in the car. I've definitely got to just stay off the motorcycle for the year and see what happens. … I don't have a lot of motivation to get on a motorcycle at the moment. If my foot catches a rut, I'm back to where I'm started."
The 28-year-old Pastrana plans to make his Nationwide debut in April at Richmond, a place where he has run in the East Series and also close to his home state of Maryland.
"We'll start out with seven Nationwide races and that's kind of a let's see how we do, let's see what we need more work on," Pastrana, who doesn't need a brace on his foot to compete, said. "If we're running OK or if I can get sponsorship to keep running wherever we're running, we're going to keep trying to get seat time."
Mike Greci will serve as his crew chief for both cars, which will come out of Michael Waltrip Racing.
"I was sitting there watching every race," Pastrana said. "On a positive note, I feel like I know a lot more about the drivers. I feel like I know a lot more about the tracks. On a negative note, I think I would have learned a lot more being there [competing] rather than watching on TV."
Because Pastrana is a Red Bull athlete and MWR has sponsor ties to 5-Hour Energy (as primary sponsor for Cup driver Clint Bowyer), it expected that the Nationwide team, known as Pastrana Waltrip racing, will undergo a name change.
While saying he can't comment on the name change, Pastrana obviously will still be associated with the Waltrip team. He is co-driving in the 24-hour race next week in a Ferrari that also has team co-owners Waltrip and Rob Kauffman on the driver lineup.
Travis Pastrana will test next week for his NASCAR Nationwide Series debut in April. (Photo: Getty Images)
"Rob and Michael said, 'Hey have you ever raced a Ferrari?'" Pastrana said. "I said, 'No.' They said, 'Have you ever raced 24 hours?' I said, 'No.' They said, 'Would you like to?' I said, 'I'm in.'
"That's something you don't turn down for sure. That's cool."
The test went well in the endurance car.
"[My foot] was absolutely perfect for driving," Pastrana said. "So no problems there. … It's completely different [than Nationwide] but that was my first time on Daytona banking, so I'll take it. It's cool."
Now Pastrana needs to show he can compete in stock cars – for himself and sponsors.
"We scared a lot of people with the injury," Pastrana said. "A lot of people had invested a lot. When I didn't show up [at Indy], it was like, 'Is he going to be base jumping the night before an event and get hurt or is he going to do this?'
"I basically have to prove I can get in a car."