PAC Racing Spring will pay $50.00 to the winners in the following classes at each 2012 AHDRA Official Event:  Pro Drag, Pro Mod and Super Gas.
To be eligible, you simply need to purchase a PAC Racing Spring product from me or through one of my authorized engine builders. Then register with a simple post card that will be provided to you at time of purchase. In return, you will receive (4) four PAC Racing Spring stickers and our quarterly newsletter. Two (2) of those stickers must be on your bike and visible in the event winners pictures. PAC Racing Spring will distribute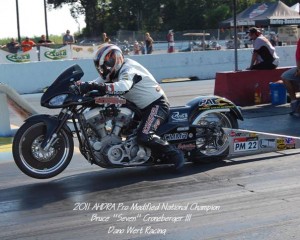 checks to the winners after my validation.
For more information on PAC Racing Springs: visit their website,
As an added BONUS, if you have run a PAC Racing Spring product for a minimum of four (4) AHDRA Official Events and win an AHDRA Official Event during the season, using a PAC Racing Spring product, and then go on to win the National Championship, you will receive a $250.00 bonus award from PAC Racing Spring and Dano Wert Racing, at the 2012 AHDRA Awards Banquet.
The 2012 AHDRA/Screamin' Eagle Championship Series begins with the AHDRA-Florida Nitro Nationals Presented by Gainesville Harley-Davidson on April 21st and 22nd, 2012.  For more information: visit www.ahdra.com.