K-Tech/Orient Express Suspension equipped riders enjoyed tremendous success at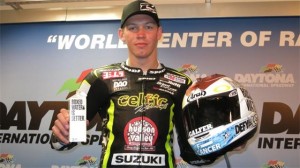 the 2014 AMA Pro Road Racing season opener at Daytona International Speedway. In Fridays opening Supersport event Corey Alexander, riding the #5 Celtic/HVMC Suzuki GSX-R 600, captured pole position by nearly half a second over the field before storming to the race win with nearly eight seconds over second place. Celtic/HVMC Suzuki teammate Wyatt Farris on the #19 GSX-R 600 qualified fifth, and worked his way through traffic with confidence before moving into second place and securing second on the podium. Dustin Dominguez rode a determined race aboard his Houston Superbikes Yamaha YZF R6, challenging Farris through much of the race, before finishing third. All three riders were equipped with K-Tech Suspension 20DDS fork cartridges, and 35DDS Pro rear shocks – providing a podium sweep for K-Tech on Friday.

In Saturday's SuperSport race, Alexander once again took the lead from the outset, and was never challenged. Alexander's K-Tech Suspension equipped Celtic/HVMC Suzuki GSX-R 600 followed his inputs precisely, and allowed him to stretch a nearly seven second gap to second place before taking his second win of the weekend! Wyatt Farris once again navigated his way through the field after a strong start, doing battle with the lead pack, and moving into second position and a comfortable lead over third – for his second podium finish of the season. Dominguez fought his way into the front-running group, but would finish just shy of the podium in sixth place on Saturday. HSBK's Dominguez commented to team owner Bobby Shek "that was the best suspension I have ever ridden on!"
Corey Alexander stated "Since we started working with K-Tech Suspension, the whole Celtic Racing team has worked tirelessly with Chris Nash, Jon Tyus, and Orient Express to get the bikes to the level they are now. I owe much of my success at Daytona this weekend to how well the bike worked, and the confidence and feedback it gave me. I think having both K-Tech Suspension backed bikes on the top of the podium both days is a testament to just how good the suspension is, and how crucial Chris and Jon both are to our program. I can't thank Orient Express enough for providing us with K-Tech support."
Wyatt Farris adapted quickly to the new platform, and his success at Daytona shows how easy that process was. "I'm very happy with how my K-Tech suspension worked all weekend. With only having a hand full of times on the bike going into Daytona, having K-Tech Suspension and the support of Chris and Jon made it that much easier to get comfortable and get the bike up front. I'm highly looking forward to our testing plans between Daytona and Road America" said Farris.
K-Tech Suspension offers high performance suspension and chassis solutions for nearly all late model sport bikes. The championship winning 20DDS fork cartridges feature K-Tech's unique Direct Damping System and a pressurized design for the ultimate in feel, response, tune-ability, and control. The 35DDS Pro rear shock offers precision tuning including the unique By Pass Valve system, and its body is crafted in CNC machined aluminum for great strength and low weight. For more information regarding K-Tech Suspension and all the other products they offer, please contact Orient Express, the exclusive North American importer and distributor: http://www.orientexpress.com • 800.645.6521 • sales@orientexpress.com .