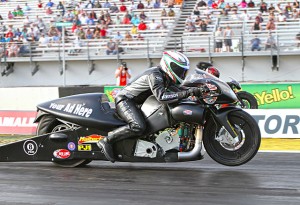 Third year NHRA Mello Yello Pro Stock Motorcycle racer John Hall was pleased to make it to the semis at the first race of the 2014 Pro Stock Motorcycle season, but disappointed in himself for not going further. "Today I just felt like I was in my comfort zone, and that I had real potential to go to the finals and win," said Hall. "But ultimately, being a little late on the tree ended the day short."
Hall runs with the Matt Smith Racing team, and qualifying went great for the whole squad, with defending national champion Smith leading Friday's session. Smith wound up second with a 6.800, Hall fifth with a 6.830, and teammate Scotty Pollacheck eighth with a 6.858. Putting all three MSR bikes in the top half of the field showed that the team had done its homework over the winter. "Matt found some more horsepower in the off-season, so we're running a little stronger than we were last year," said Hall. "He figured some stuff out, like he usually does.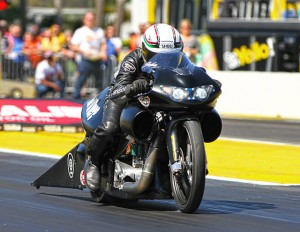 "We got some good testing in at Bradenton a few days before we came to Gainesville. Coming through qualifying, I felt comfortable on the bike and I kept feeling more and more comfortable as the weekend went on."
In round 1 of eliminations, Hall faced Adam Arana—whom he often finds himself paired with on the raceday ladder. Young Arana put a healthy starting line advantage on Hall, but that MSR horsepower carried Hall around for the win and low ET of the round.
eliminations round 1
(W) John Hall .061 rt 6.878 at 192.11 mph
Adam Arana .029 rt 6.945 at 186.38 mph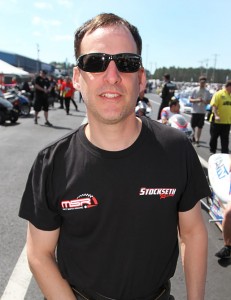 Hall drew a tough opponent for round 2 in three-time national champ Andrew Hines, who led all pre-season testing. A full year of development on their 2-valve motors has Hines' Screamin' Eagle/Vance & Hines Harley-Davidson team back on competitive footing and anxious for results. But they weren't gonna find the results they were looking for this round, as Hall took the tree and the stripe.
eliminations round 2
(W) John Hall .030 rt 6.900 at 193.02 mph
Andrew Hines .105 rt 6.944 at 192.52 mph
The semifinal match against teammate Pollacheck is the one that Hall wishes he could do over. Hall ran a low ET of eliminations 6.847, but only after giving up too much at the tree against another Buell with MSR horsepower.
eliminations semifinals
(W) Scotty Pollacheck .029 rt 6.865 at 195.00 mph
John Hall .067 rt 6.847 at 195.42 mph
"I could have gotten away with that light the round before," noted Hall. "But obviously you can't go back, and I think the whole season's going to be the same way. You're gonna live and die by the tree—definitely when you get to the semis, if not before."
Pollacheck lost the final when his bike failed to shift properly—an all-too-frequent problem on the Buells—against Steve Johnson.
Hall got his first NHRA win at the inaugural New England Nationals in New Hampshire last year, followed quickly by a win at the prestigious U.S. Nationals. A Gatornationals trophy would have looked very nice alongside those other two, but will have to wait another year. Now Hall looks toward the next PSM race at the Four-Wide Nationals at zMax Dragway near Charlotte, North Carolina. "We've discussed testing in Charlotte before the race," said Hall, who addressed racing in the unique four-lane format. "I just race my lane and act like it's any other race. It's more confusing for the fans than it is the racers."
With low ET on raceday in Gainesville, it might seem natural for Hall to think about being quickest in Charlotte. "I'd like to be number one qualifier, that would be great," said Hall. "I never have qualified number one. But at Indy we qualified 15th and won the race. You obviously want to qualify strongly in the top half of the field, but a lot of times it doesn't matter. Number one qualifiers go out first and second round all the time, including today. But number one qualifier would be cool. You get $1000, and you get a plaque. But I'm looking for a win."
And this early in the season, Hall is not yet thinking about the Countdown to the Championship. "I don't get hung up on points, but I obviously want to do the best I can. You get round wins and they equate to points. I want to stay consistent all year, have good lights, no mistakes on my end. You're always gonna have some, but I want to look back at the end of the year and say I did my best. Last year I had the same mentality and had very few mistakes."
And while an .067 light may not qualify as a mistake, it wasn't good enough to do the job. With a strong bike underneath him, Hall has a clear path to achieve his own success and knows where he has to improve.
One improvement Hall would like to see is a primary sponsor logo on his Buell. MSR's 2013 sponsor shut down operations in the off-season, leaving Hall's bike with "Your Ad Here" on the tail section. "Obviously, we'd like to find someone out there that could use the exposure of associating with a top-ranked team," finished Hall. "I know we can give them everything that the NHRA has to offer."
John Hall would like to thank Matt Smith Racing http://www.mattsmithracing.com/ , Rush Racing Products http://www.epiflex.com/ , Red Line Oil http://www.redlineoil.com/ , PJ1 http://www.pj1.com/ , S&S Cycle http://www.sscycle.com/ , Mark Stockseth Racing https://twitter.com/markstockseth , Worldwide Bearings http://www.worldwidebearings.com/ , Nitro Fish http://nitrofish.com/ , Haltech http://www.haltech.com/ , Hype Energy Drink http://www.hype.com/ , NHRA http://www.nhra.com , Mello Yello, Bobby Webb, Colbert Seagraves, Tim Hailey and http://eatmyink.com/ , http://www.dragbike.com , all the contingency sponsors, and his family—wife Ivette, son John and daughter Mika.
John Hall races next at the Four-Wide Nationals at zMax Dragway near Charlotte, North Carolina, USA
contact John Hall: jhall451@aol.com
for media inquiries: Tim Hailey timhailey@earthlink.net
for more about the NHRA http://www.nhra.com/
This report was prepared by Tim Hailey. Photos are for editorial use only. Enjoy everything there is to read, see and watch about motorcycle drag racing and more at http://www.eatmyink.com