International drag racing news broke from Sweden, the magnificent facility known as Tierp Arena, located 120 kilometers from Stockholm, Sweden was sold at auction today for 20 million SEK (Swedish Kronor).  The principle purchase was accomplished by Mr. Cemoni Ohlsson representing the management company Sanna ForvaltningsAB.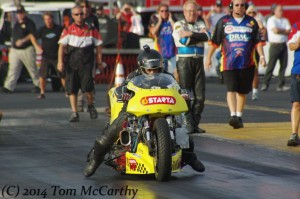 It is reported that there were close to forty bidders interested in the Tierp Arena property and assets currently valued at close to 37m/SEK.  The facility has seating capacity rated at close to 20,000 spectators, is a favorite among European drag racers and is home to the quickest Top Fuel motorcycle in the world campaigned by the Svensson brothers of Sollebrunn, Sweden.
In a news report today filed by Stefan Bowman of Sweden, who was present at the auction, Stefan reported for Eurodragster.com, that while there are details yet to ironed out, it appears at this time the two FIA rounds of European Championship racing that were slated for 2014 may still be contested.
It should be noted that all aspects of this deal are still in a state of flux at this time.  While there is no rock solid guarantee at this moment that Tierp Arena will have drag racing in 2014, there is now room for optimistic hope that one of the worlds premier drag racing facilities will once again open it gates to racers and fans this season.