Moving with the skill and agility of a prizefighter (but without the $100 PPV charge), Jason Miller's Maryland International Raceway crew bobbed and weaved around unexpected showers, covered up against the ropes during the forecast overnight rain, then delivered a knockout track when spotting an opening on Sunday. So despite huge bike counts, the Pingel Spring Nationals—opener of the 2015 Mickey Thompson International Drag Bike League season—went the distance and proved a great new hope for motorcycle drag racing.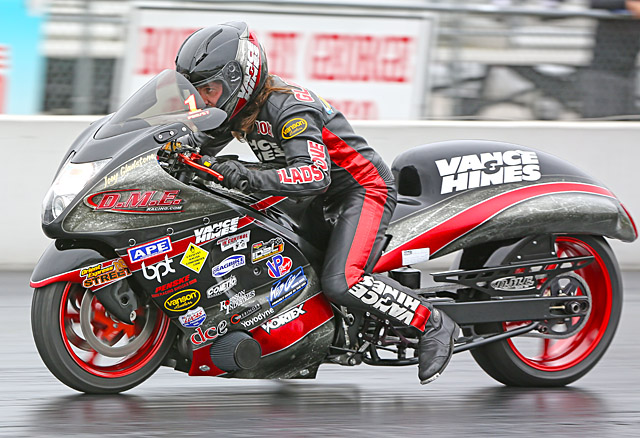 But "hope" is something that most Orient Express Pro Street competitors will have to train a little harder for. Two-time champion Joey Gladstone set the Budds Creek quarter mile on fire with a well-below-the-record 6.76 at an incredible 221 mph during Friday test and tune, then made that ET official with another .76 during Saturday qualifying and a 221 mph lap on Sunday. He went two steps further during eliminations, clicking off a .74 and the new record of 6.720 on his way to meeting his DME Racing teammate Terence Angela in the final.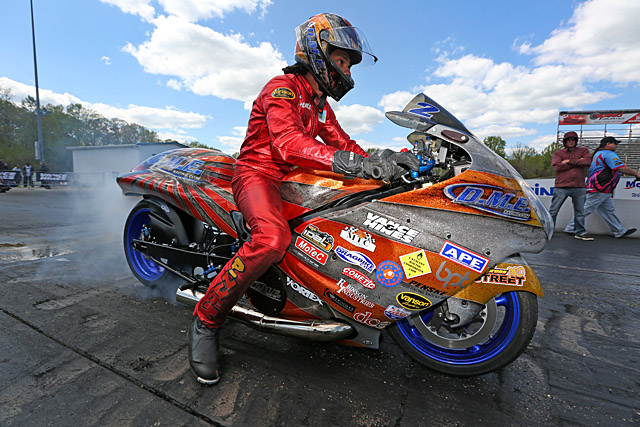 That's where the wheels fell off the wagon for Gladstone, whose Vance & Hines turbocharged Suzuki Hayabusa fell victim to a broken cam chain and wouldn't start for the final. He and the DME team took the misfortune in stride and celebrated the win for Angela, who came into the weekend struggling mightily but made consistent gains in performance and confidence. Angela is now the fourth Pro Street racer to officially run a 6.80-something, running 6.86 at 216 in the semis.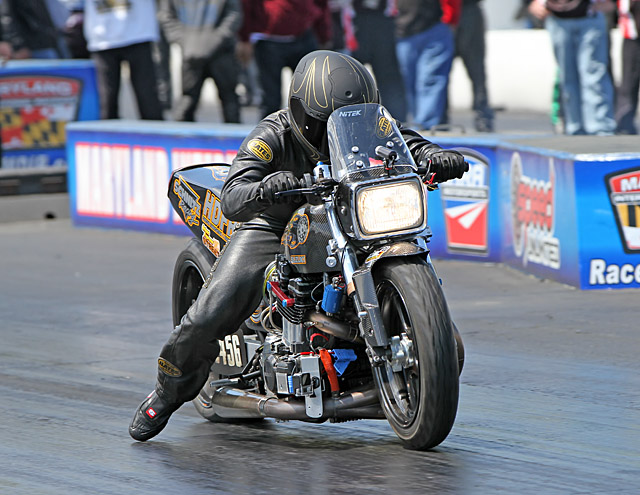 Angela's semifinal winning round was still a huge victory for his losing opponent—Richard Gadson on Brad Mummert's old school, air-cooled Suzuki GS. The pair pushed the crowd favorite bike to its first ever 6 second pass, a 6.98 at 190 mph.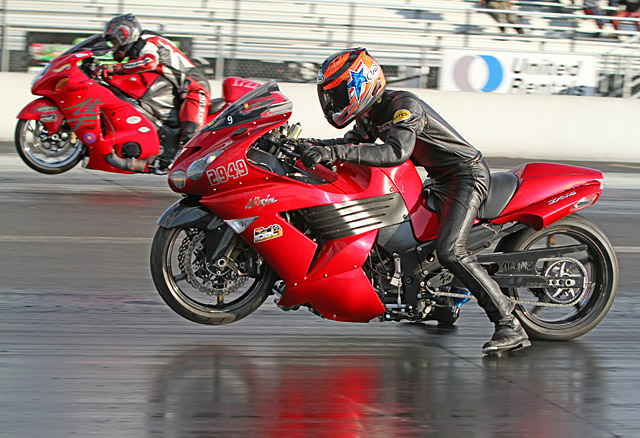 DME Racing Real Street was won by a familiar name in an unfamiliar situation. Multi-time champ Jeremy Teasley showed up without a ride in the class when bike owner Roger Starrette decided he was sitting out the Maryland commute this season. Starrette was home in South Carolina on his way to get barbecue for Saturday night dinner when he heard that the second round of qualifying had been postponed by rain until Sunday. One U-turn and an overnight drive later and Starrette was unloading his trailer in Maryland.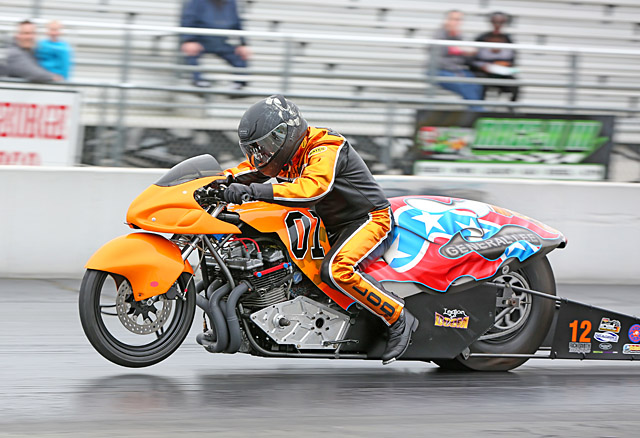 And unloading in a big way. Riding teammate David Merks' turbo 'Busa, Starrette qualified number one with a 7.85. Teasley qualified third behind Rickey Gadson. But Starrette scattered Merks' motor all over the track on an E1 bye pass and Gadson lost to "Super Dave" Stewart in E2. Teasley beat supercharged record holder Tom Federici in the semi to set up the final with Stewart, who was way late at the tree and came up short on the big end against the champ.
Maryland racer Mac McAdams recently made the switch to a blower car but still likes to get his kicks on two wheels as well. He detuned his PDRA spec Pro Extreme Motorcycle to run Vance & Hines 4.60, the world's quickest 2-wheeled index class and the IDBL's fastest growing. McAdams faced off in the final against number one qualifier Curtis Griggs Jr, who redlit the win away to Mac.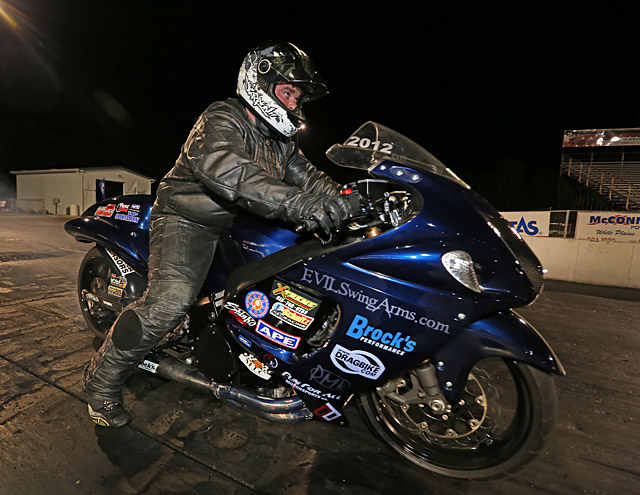 In contrast to all-out dragbikes like McAdams' and Griggs', FBR Shop 5.60 boiled down to Ben "Hardest Working Man in MC Drag Racing" Knight and Dustin Lee on streetbikes. Knight was at his wits' end on Saturday with two 'Busas that wouldn't go down the track. But a Sunday morning epiphany and a quick throttlebody exchange (with Lee's help) brought one of those 'Busas back to life. Not enough life, though, to overcome Lee's .007 Bond bulb in the final.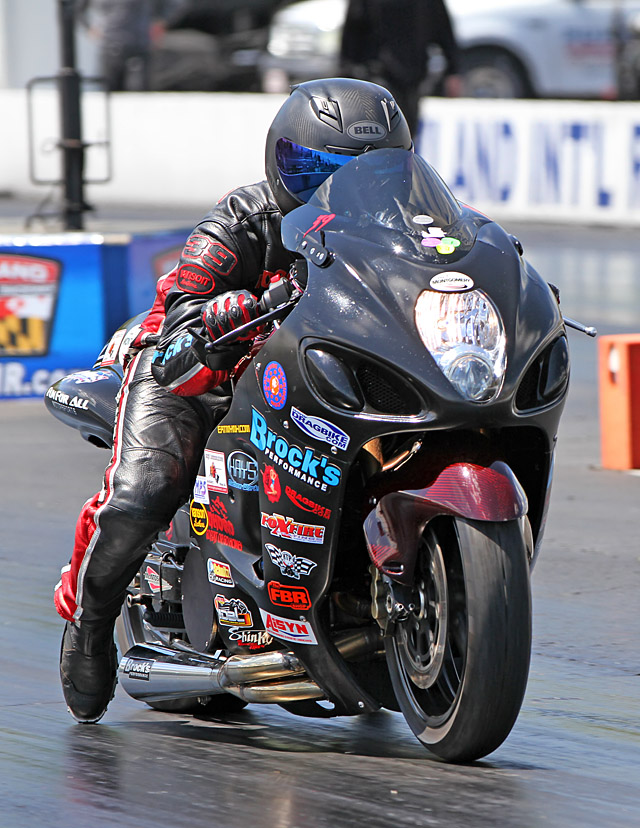 Knight didn't suffer defeat long, drilling defending Carpenter Racing Crazy 8s champion Teasley at the tree for the final round win in that class. Number one qualifier Bubba Driscoll went out in round 4 of IDBL's largest index field.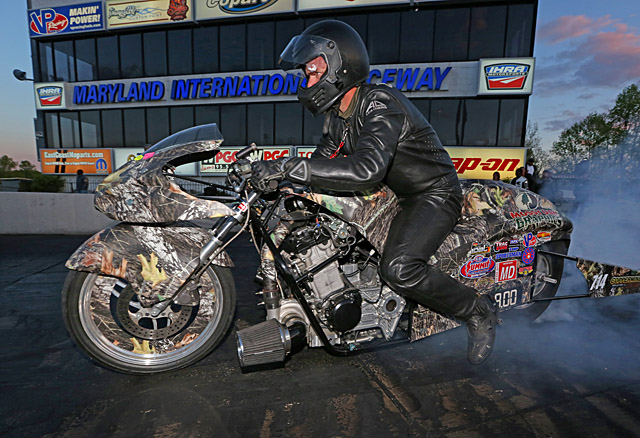 West Virginia racer Brian Canoles makes a habit of winning Trac King Clutches Top Sportsman and did so again to start off 2015. Canoles rode his reliable turbo 'Busa dragbike to the win over Delaware's Preston Hopkins. Number one qualifier Doug Robinson went down swinging against George Shriver in round 2.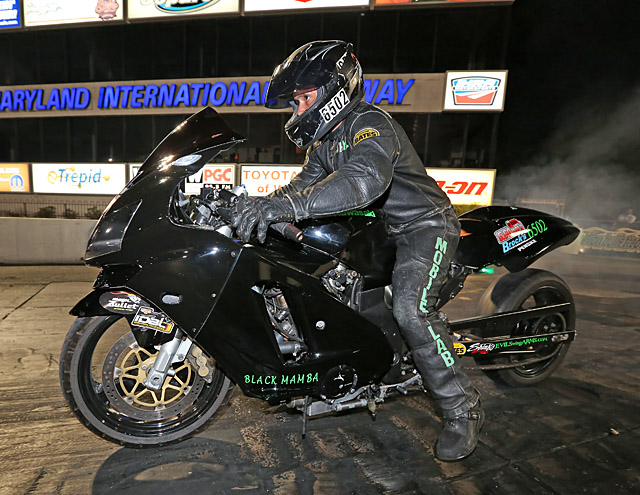 Shriver fought his way through 142 Shinko Pro ET entries, only to lose to MDIR hero Shayne Proctor in a classic dragbike (Shriver) vs. streetbike (Proctor) final.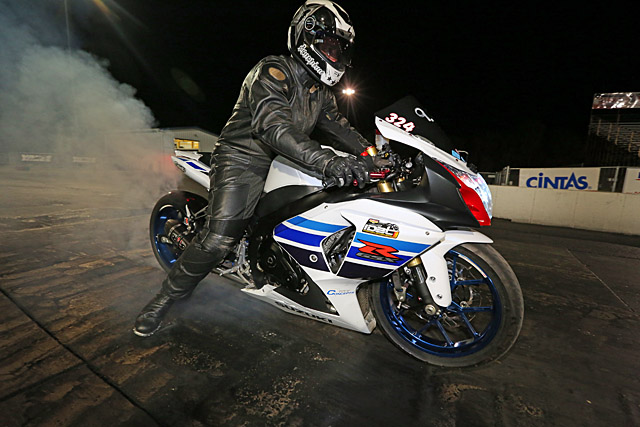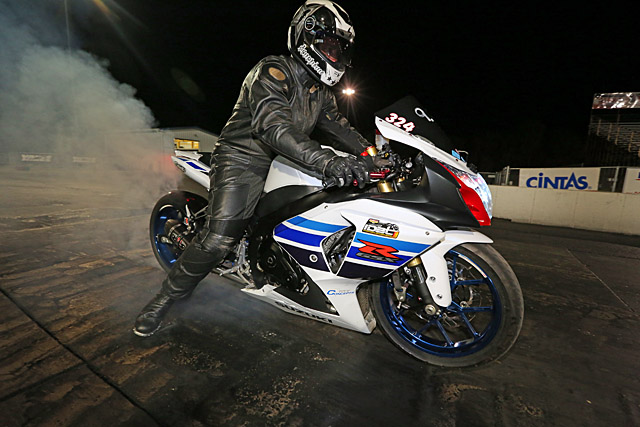 Brock's Performance Street ET whittled down to Virginia's Brian Guarino vs. Spencer Claycomb. Guarino took the tree by a small .033 to .041 margin, enough to push Claycomb to a breakout pass and Guarino to the latenight win.
5.60 winner Lee redlit against Mike Schulz in Friday night's gambler's race.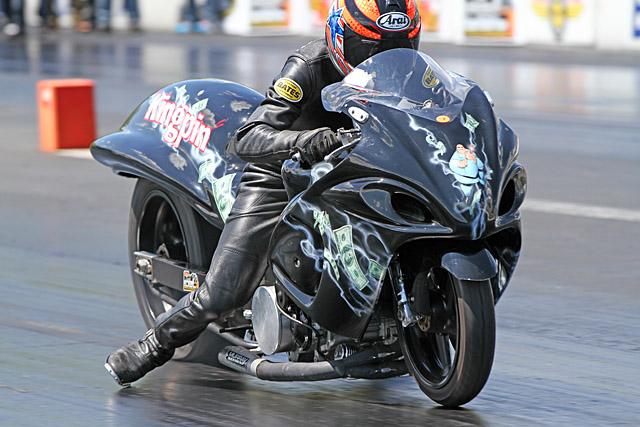 The weekend's biggest Eastside Performance Grudge race matched Teasley on Buck Burrough's HTP Performance-tuned "Kingpin" vs the "Cold Water" ZX14, with the latter staging with the back tire. That was the last lead "Cold Water" saw as "Kingpin" delivered the knockout punch early.
IDBL ties on the gloves again at MDIR with the 29th annual MTC Summer Nationals on May 29-31.
Full results: http://www.RaceIDBL.com/results/2015/race_1_mdir/index.htm
Find out more about the Mickey Thompson Performance Tires International Drag Bike League at http://www. RaceIDBL.com
Find out more about Maryland International Raceway at http://www.RaceMDIR.com