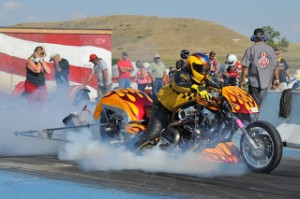 More than likely the most unique and oldest standing all-motorcycle bracket race will be coming to Kansas International Dragway in Maize, Kansas. The Truett & Osborn bike drags is held from August 15-17,or whichever date falls on the third weekend of August.
T&O will feature everything from a stock Kawasaki KZ 650 to a heavily modified Kawasaki ZX-14R, and from Top Gas Kawasaki drag bikes to the beloved fuel Harleys. The T&O bike drags is unique not only because it is open to only motorcycles, but it also features a .400 Pro Tree, and is in fact the oldest all-motorcycle drag race in the world. Instead of being a .500 Full Tree (which you would typically see in time trial and qualifying runs), the race is run entirely on .400 Pro Tree; this will make things tough on the entry-level racer who has only seen a .500 tree, and is used to leaving before the light goes green on the bottom bulb of the tree. The concept may confuse some others, but it is what makes the race unique and challenging.
​
Bonnie Truett and Paul Osborn had to move the race to Mid- America Dragway from 1987-1997 because of difficulty with the track owner of what was then Wichita International Raceway. WIR has been under the name of Kansas International Dragway since 2008, and had a resurface in 2013.
​
The T&O Bike drags also features 4 classes, and three additional brackets for those bikes that just don't fit in any of the classes.
​
Open Fuel – Racers must be running a minimum fuel mixture of 50% Nitromethane, and a pushrod engine. This class is where most of the Nitro Harley Davidson bikes will be running, and burning some of that beautiful fuel we all know and love; Nitro!
B-Fuel – Bikes in this class must be running a carburetor, and high gear only. Racers can run Nitro or Methanol.
Top Gas Pushrod – As the class says, Pushrods only! Racers can run Methanol or Nitrous.
Top Gas Open – Usually where most to all of the turbo and nitrous bikes will reside. Racers in this class can run Methanol or Nitrous. Bikes in this class will also be running anywhere from 8.50 to 6.70 depending on how KID is wanting to hook up. Some of these bikes if they are put out by competition can move on to Bracket 1.
Brackets – As stated, there are three different brackets that a bike could be in. There are different set indexes or times that a bike could run, and there it will be determined which bracket that it would go into.
ex. Bracket 3 – 13.01 and slower
Bracket 2 – 13.00 to 8.51
Bracket 1 – 8.50 and faster
The event is well-known to many drag racers around the Kansas area, and some racers as far from Texas, Alabama, and even North Carolina have attended the event.
​
The Christian Motorcyclist Association and a handful of its members show up bright and early on the first day of the event, and commonly provide free earplugs, snacks, water, coffee, and cold bandannas for the racers, as well as some candy for the kids!
​
2013's Truett & Osborn bike drags turned out to be an interesting race, with Mike Bahnmaier on one of his well-known H-Ds from Wichita going out in the finals of Open Fuel to Dustin Werner of Park City, Kansas.
​
Top Gas Open saw an unexpected turn of events, with PMRA's Mark Rendeluk bringing his Nitrous Suzuki up from OKC, and throwing down a new track ET Record for motorcycle; 6.78 @ 194 miles an hour. A few of the turbo Kawasaki bikes weren't able to keep up with Rendeluk on his 6-second Suzuki, but Kenwane Fulson of Collinsville, OK (Suzuki), Roderick "Rod" Mansaw of Kansas City, MO(Suzuki), and Otis Kelley of Wichita, KS on his turbo Kawasaki seemed to be unable to keep up with Rendeluk's 6- second Nitrous 'Zuk, but indeed put up a good race for Mark and others.
​
Sean Morley of Derby, Kansas took home the gold in Bracket 1, and as well as Bracket 2. Racers Jordan Peterson from Titonka, IA, Les Knaack from Wichita, and Andy Miller from Wichita trailed him in bracket 1. Sean was also trailed by Calvin Blackwood, Will Marquardt, and Fred Johnson in Bracket 2.
​
Despite being put out in Bracket 2 to Morley, Calvin Blackwood went on to win Bracket 3 on his Screamin' Eagle HD running mid-12 second passes all bone stock and street tire. Blackwood only has a Vance & Hines straight pipe exhaust system on his HD in the means of modifications. He was trailed by Grady Wheeler, Jason White, and Ron Case.
​
This year is looking to be a good, successful, and fun season for everyone, and be sure to pay a visit to Kansas International Dragway at 61st and Ridge Road just outside of Wichita for the 43rd annual Truett & Osborn Bike Drags, August 15-17, 2014!
​
Track Phone: 1-316-729-2882
http://www.kansasdragway.com/
​